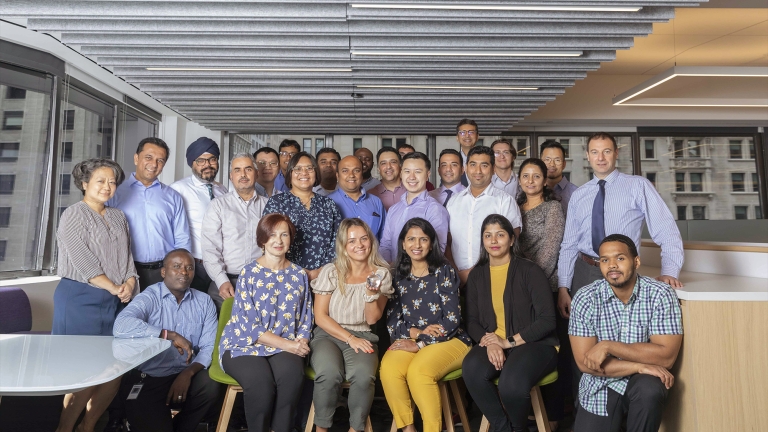 Our Passion
The people who work at NYCEDC are passionate about NYC, committed to building a sustainable and inclusive economic future for the city, and excited to help bring our business programs, infrastructure projects, groundbreaking studies, and more to fruition.
There's no such thing as a typical NYCEDCer. We're experts in everything from urban planning to real estate to marketing and public relations, and everything in between. Learn more about the individuals who move NYCEDC—and the city—forward.
Our Leadership
Andrew Kimball
President & CEO
Andrew Kimball is President & CEO of New York City Economic Development Corporation, where he leads NYCEDC's work growing an innovative and inclusive economy for all New Yorkers. Prior to his appointment in 2022, Andrew served as the CEO of Industry City, where he directed the transformation of the long-underutilized industrial facility in Sunset Park, Brooklyn. Under his leadership, Industry City invested over $450 million in infrastructure and place-making initiatives, and grew thousands of jobs and hundreds of businesses, ranging from startups to Fortune 500 companies.
Andrew previously served as President and CEO of the Brooklyn Navy Yard Development Corporation, overseeing the transformation of the 300-acre former Naval ship-building facility into a national model for the creation of innovation-economy jobs, sustainability, and community partnerships.
Prior to his time at the Navy Yard, Andrew served as director of operations for NYC2012, the privately funded bid to bring the 2012 Olympic Games to New York City, and as vice president of the New York Public Library.
Up until his appointment to NYCEDC, Andrew sat on numerous boards, including the Coro New York Leadership Center, where he served as chair; Prospect Park Alliance; Gowanus Canal Conservancy; Brooklyn Chamber of Commerce; Citizens Budget Commission; and the NYS Regional Economic Development Council.
He holds a bachelor's degree from Hamilton College and is a graduate of the Coro Public Affairs Fellowship program. A life-long New Yorker, Andrew lives in Park Slope, Brooklyn with his wife, Sarah Williams, and two children.
Fred D'Ascoli
Executive Vice President and Chief Financial Officer
Fred D'Ascoli was hired as NYCEDC's Controller in 2015. Prior to joining NYCEDC, Fred was the Controller and Deputy Chief Financial Officer at the New Jersey Transit Corporation. He has held positions as Assistant Treasurer, Budget Director, and Senior Director of Finance. He has experience in all areas of finance and he also has worked with NYCEDC's Human Resources, Management Information Systems, and Procurement teams and held a CPA certificate.
Lydia Downing
Executive Vice President, External Affairs
Lydia Downing is NYCEDC's Executive Vice President for External Affairs, where she oversees the Public Affairs, Marketing, and Government & Community Relations departments. Leading up to this role, she served as NYCEDC's interim Chief of Staff in the spring and summer of 2020. Lydia joined NYCEDC in 2012 in the Government and Community Relations department and went on to lead the team as Senior Vice President from 2017 to 2020, during which, she managed multiple land-use approval processes and oversaw the development of an equity-focused engagement framework. Prior to joining NYCEDC, Lydia spent several years at the NYC Department of Consumer Affairs and the NYC Commission on Human Rights. She is an alumna of the Colorado College, the NYC Urban Fellows Program, and NYU Wagner's Fellowship for Emerging Leaders in Public Service. Lydia lives in Brooklyn with her husband. 
Joshua Kraus
Executive Vice President and Chief Infrastructure Officer
Josh Kraus is the Chief Infrastructure Officer at NYCEDC, where he works across divisions to ensure successful delivery of the corporation's highest-priority capital and planning projects. Prior to Joining NYCEDC in April 2021, Josh served as Director of the New York City Mayor's Office of Capital Project Development. There, since 2013, he managed complex, multi-stakeholder capital and planning projects across the five boroughs, from Pre-K sites and post-Sandy rebuilding to cultural institutions, parks, public plazas, and COVID care facilities. Josh also coordinated the City's engagement on planning for regional infrastructure projects, such as the Gateway project, Moynihan and Penn Stations, and Port Authority Bus Terminal—a role he now continues to play at NYCEDC. Josh previously spent seven years in the Lower Manhattan Borough Commissioner's Office of the NYC Department of Transportation, where he supported the rebuilding of the World Trade Center site as well as reconstructing streets and utilities across Lower Manhattan following the 9/11 attacks. Josh holds a master's in urban planning from McGill University and a bachelor's in social geography and urban development from Boston University. He lives in the Bronx with his wife and three children.
Cecilia Kushner
Executive Vice President and Chief Strategy Officer
Cecilia Kushner is the Chief Strategy Officer, a role in which she leads multidisciplinary teams to deliver projects and programs focused on developing emerging sectors equitably and building neighborhoods of economic success. Prior to her current role, Cecilia spent over a decade working for the City on a range of infrastructure, transit operations, land use, and community development programs and policies, most recently as the Executive Vice President for Planning and NYC Ferry at NYCEDC, and earlier at the Department of City Planning in the Brooklyn, Resiliency, and Executive Offices.
Prior to immigrating to New York City in 2005 from France, Cecilia lived in London for two years, working on economic analysis for historic preservation. Cecilia received her bachelor's degree from La Sorbonne and holds a master's degree in historic preservation from the Bartlett School of Planning at University College London, and a master's degree in city planning from Hunter College, where she has taught planning as an adjunct. She lives in Brooklyn with her husband and two children.
Elizabeth Verostek
Executive Vice President and Deputy Chief Financial Officer
Elizabeth Verostek serves as the Deputy Chief Financial Officer. She oversees the Funding Agreements, Compliance, and Corporate Services departments. She also manages special projects for the CFO Division. Elizabeth joined NYCEDC in 2012 as the Budget Director. She led the City and grant components of NYCEDC's budget; the Financial, Planning, and Analysis Team; and Funding Agreements. Prior to joining NYCEDC, Elizabeth worked for the NYC Office of Management and Budget and the NYC Department of Education. Her career started in Amman, Jordan, working with refugees with the UNHCR. She earned a BA and BS from the College of Charleston, a language certificate from the University of Jordan, and her master's at the George Washington University. She lives in Manhattan with her husband and daughter.
Elizabeth T. Arnaiz, AIA
Executive Vice President, Capital Division
Elizabeth leads a multidisciplinary team, composed of engineers, architects, landscape architects, and technical project support staff, to deliver on a diverse portfolio of over 100 projects, representing nearly $6 billion in construction costs. The work implemented by the division provides critical citywide improvements, with particular focus on infrastructure, resiliency, open space, and civic projects. The team works closely with other City agencies to align on project goals, delivering projects to improve the quality of life for all New Yorkers. As a registered architect, Elizabeth brings expertise to design, construction and the built environment. During her time at NYCEDC, Elizabeth has led the planning and building improvements for Health + Hospital's billion dollar resiliency program, the reconstruction efforts for Orchard Beach, design and coordination for NYCEDC's headquarters, and other critical projects across CAP's portfolio. Before joining NYCEDC, Elizabeth worked at the architecture firm Ennead Architects, focusing on healthcare and resiliency in New York City. She is a graduate of Williams College and Columbia GSAPP, where she earned a masters of architecture. She lives in Brooklyn with her family.
Spencer Hobson
Executive Vice President and Treasurer, Finance Group
Spencer oversees NYCEDC's Finance Division, which includes the Accounting, Budget, and Grants Management departments. Previously, he assisted in managing NYCEDC's Internal Audit group for many years. He is a life-long resident of Queens, NY and received his bachelor's degree in accounting from CUNY at York College in Jamaica, Queens. He is a certified public accountant as well as a certified internal auditor. Before joining NYCEDC, Spencer spent several years conducting audits throughout the east coast for a hotel and restaurant employee's union trust fund.
Meredith J. Jones
Executive Vice President and General Counsel
Before joining NYCEDC, Meredith worked at corporate law firms and as counsel to a multi-national engineering and construction company. She also served as general counsel for the National Oceanic and Atmospheric Administration and as Chief of the Cable Services Bureau of the Federal Communications Commission. She is a graduate of Swarthmore College and received her Juris Doctor from Yale Law School.
Hester Muis
Executive Vice President, Real Estate Transaction Services
Hester oversees NYCEDC's Real Estate Transaction Services department, leading the organization's public-private partnerships involving City-owned property to support the growth of quality jobs, promote livable and affordable communities, and facilitate redevelopment projects that drive inclusive growth and positive return to the city. Prior to NYCEDC, Hester did real estate acquisitions and eventually went on to head the Debt Capital Markets team in J.P. Morgan's Real Estate Asset Management division. Hester holds a master's in real estate finance from New York University and a BA in economics and architectural history from the University of Virginia.
Vaughn Ratchford
Executive Vice President, Asset Management
As Executive Vice President of the Asset Management division, Vaughn leads NYCEDC's Portfolio Management, Property Operations, Design & Construction, and Business Operations departments, which manage the division's 65 million-square-foot portfolio. Vaughn has been with NYCEDC since 2018, all with the Asset Management (AM) division, where he previously led the Business Operations department. There he managed the division's rent relief program, oversaw the Asset Management budget and reforecast processes, and instituted a number of new policies and processes across the division to tighten financial oversight. 
Before joining NYCEDC, Vaughn held asset management positions with the Related Companies and Starwood Hotels & Resorts. Additionally, he has held public sector positions with the City University of New York and the New York State Division of the Budget. He holds bachelor's degrees in management and economics from Rensselaer Polytechnic Institute and a master's degree in real estate from New York University.
Jennie Wallace
Executive Vice President, Internal Audit
Jennie Wallace oversees the Internal Audit function for NYCEDC. Jennie is a seasoned audit executive with a passion for the profession and over 20 years of experience partnering with company leadership to assess, manage, and mitigate risk. She started her career with 10 years at PwC, and then held audit and controls leadership roles at glacéau (part of The Coca-Cola Company), OnDeck Capital (FinTech startup, now public), and Horizon Media (largest independently owned media agency). Jennie is an active member and speaker with the NY Institute of Internal Auditors and a member of the Advisory Board at St. John's University's Internal Audit program. She is a Certified Public Accountant (CPA) in the state of NY, a Certified Information Systems Auditor (CISA), and a Chartered Global Management Accountant (CGMA).