Employee Profile
Jennifer Montalvo, Chief of Staff, President's Office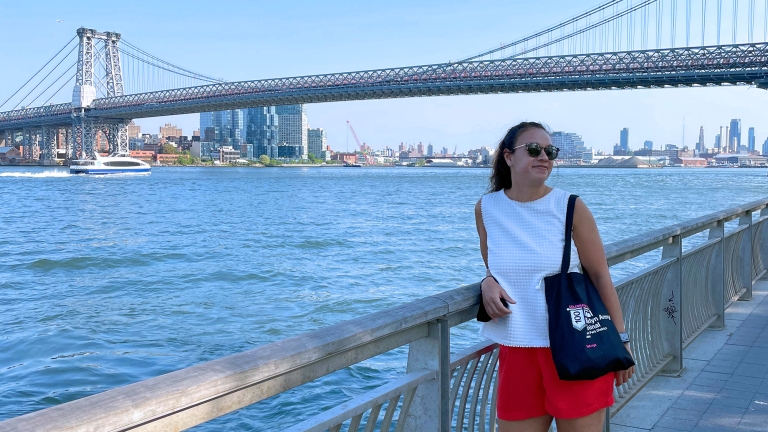 What was your first job?
Officially my first professional job was as special assistant to the director of the office of rural health for the NYS Department of Health. My first job ever was at Pier One Imports (my mom really wanted my employee discount).
Why was the mission of NYCEDC important to you?
NYCEDC serves to strengthen communities through various types of initiatives—whether through the LifeSci NYC internship program, managing and supporting public markets like La Marqueta, or making sure the Hunts Point peninsula is protected against the next 100-year storm, NYCEDC is at the forefront of ensuring our communities are protected and thriving not only today but for the next generation of New Yorkers.
When did you join the company? What's your day-to-day role?
I joined NYCEDC on April 1, 2019. My day-to-day role is supporting our president & CEO and my staff in advancing projects, initiatives, and programs that will, once realized, have great community impact throughout the five boroughs. This means I am part of many NYCEDC projects and I am always learning—never a dull moment!
How do you relax when you're not working?
I enjoy exploring this great city—you can catch me walking all over Manhattan, riding an NYC Ferry to the Rockaways, or grabbing some Spanish food with my family in the Bronx. There's always something new to see, a new restaurant to eat at, a neighborhood to explore for the 20th time, or live bands and other entertainment to take in—you truly can never get bored.
What surprised you most when you joined NYCEDC?
During the pandemic, I truly realized how important NYCEDC was to the city's response and recovery. I was happy to be at NYCEDC because I was able to play a small part in helping the city get back on its feet. It was rewarding to know that in some small way I was giving back and being part of the solution.