Employee Profile
Melissa Pumphrey, Senior Vice President, Economic Research & Policy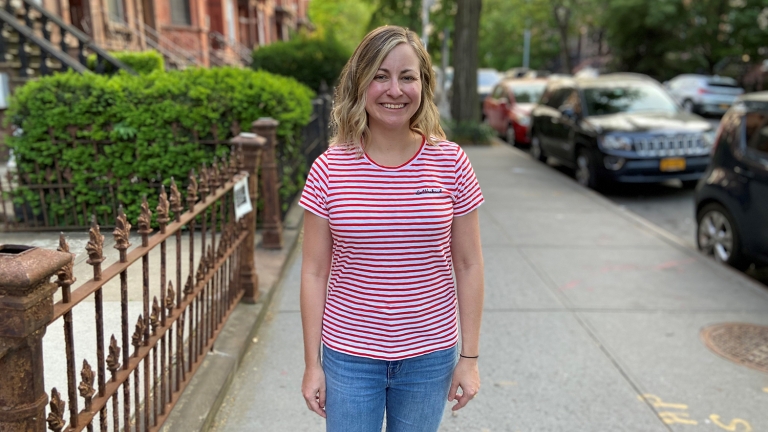 What was your first job?
As a high schooler in Annapolis, MD, I worked in a bagel shop and coached kids at sailing. For my first real job, I worked in macroeconomic research for a small research shop called Decision Economics in NYC, focusing on the US and Canadian macroeconomic outlook.
How did your previous roles lead you to NYCEDC?
Before NYCEDC, I spent about seven years in finance and economic consulting. I learned the tools and skills for evaluating specific projects, tracking economic data, and forming a macro view of an economy. But I never felt consistent joy in my work—in finance, most of my clients were institutional investors (in other words, large money managers), and I wasn't particularly fulfilled by that. Instead, I wanted to use my talents at a mission-driven organization. When I learned about NYCEDC and the work it does, I thought "This could be a great fit."
Why was the mission of NYCEDC important to you?
I love that NYCEDC endeavors to grow lasting, good-paying, and accessible jobs for New Yorkers. Between the high cost of living, rising income inequality, migration trends, and pressures of automation, cities around the country are struggling to retain or grow middle-class families. But NYCEDC leverages the tools at our disposal to build a city that is more inclusive, equitable, and sustainable—supporting legacy industries like urban manufacturing while growing emerging clusters like the life sciences, using proceeds from real estate assets to roll out upskilling programs for our local labor force, enabling grocery stores to open in food deserts through initiatives like the FRESH program, and so much more.
What's the most rewarding part of your job? And the most challenging? (Is there a specific project or borough you enjoy working on?)
I love solving problems. When someone has a question, I love to think through how we can use data or models to best answer it. I think my superpower is synthesizing information across data sets. Usually, we're combing multiple data sources to answer a single question, and you have to know which tools to pull out of the toolbox at which times. My most rewarding projects have been when I am focusing on underserved or overlooked populations. Recently, I have had the opportunity to work on the Childcare Innovation Lab, trying to re-frame access to affordable childcare as a public policy and economic growth issue rather than a private family issue.
How has working for NYCEDC changed your perspective on NYC?
I lived in NYC for over five years before joining NYCEDC, and I really thought I knew a lot about the city's economy. Working in my role at NYCEDC has given me the opportunity to dig deeper into data on projects, neighborhoods, and industries. And through this digging, I came to realize that I previously had a very narrow, dollars-and-cents view of the NYC economy. At NYCEDC, I've come to take 360° view of the economy—with people at the center. I am interested in human-centered questions like "Who got hired or lost their job last month?" because the answers to these questions give us clues on how to best structure future policy interventions to benefit New Yorkers.