Access to affordable, quality food is critical to building strong neighborhoods. The Food Retail Expansion to Support Health (FRESH) program brings healthy and affordable food options to communities by lowering the costs of owning, leasing, developing, and renovating supermarket retail space.
Since launching in 2009, 28 projects have been approved for FRESH tax incentives across five boroughs. 22 projects have completed construction and are open to the public. These supermarkets represent over 700 thousand square feet of new or renovated space, creating over 1,000 new jobs, retaining more than 600 jobs, and an investment of $100 million into New York City's economy.
By the Numbers
28
Projects approved to date
Tax Benefits
FRESH provides tax breaks for supermarket operators and developers seeking to build or renovate new retail space to be owned or leased by a full-line supermarket operator. 
Building Taxes: May be stabilized at pre-improvement real estate tax amounts for up to 25 years (with benefits phasing out at not more than 20 percent per year, starting in year 21). 
Land Taxes: May be fully abated for up to 25 years (with benefits phasing out at not more than 20 percent per year, starting in year 21). 
Sales Taxes: City and state sales taxes may be waived on materials used to construct, renovate, or equip facilities. 
Mortgage Recording Taxes: May be reduced from 2.8 percent to 0.3 percent for project mortgages.  
By the Numbers
866K
Square feet of new or renovated space expected to be provided by these supermarkets
Application Considerations
All benefits, including FRESH, are discretionary. NYCIDA will assess the need for financial assistance and the economic impact of the proposed project. From application deadline until benefit closing, expected timeline is 6 months. Stores that benefit from the program must be located in an eligible area (see below map) and provide: 
A minimum of 5,000 square feet of retail space for a general line of food and nonfood grocery products intended for home preparation, consumption, and utilization. 
A minimum of 30 percent of retail space dedicated to perishable goods that may include dairy, fresh produce, fresh meats, poultry, fish, and frozen foods. 
At least 500 square feet of retail space for fresh produce. 
By the Numbers
2,000
Jobs retained or created through FRESH
Additional factors considered by NYCIDA include (without limitation): 
Size of capital investment. 
Jobs retained and/or created, average wages and benefits. 
Neighborhood. 
Overall financial picture of applicant(s). 
For developer projects, tenanting strategy and timeline. 
Environmental review.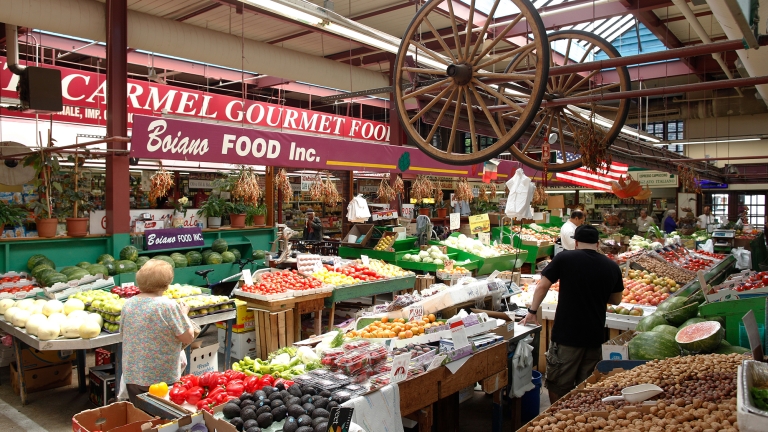 FRESH Supermarkets Citywide
FRESH supermarkets are located across all five boroughs.
Explore the Map
FRESH-Eligible Areas 
See the map below for designated FRESH-eligible areas.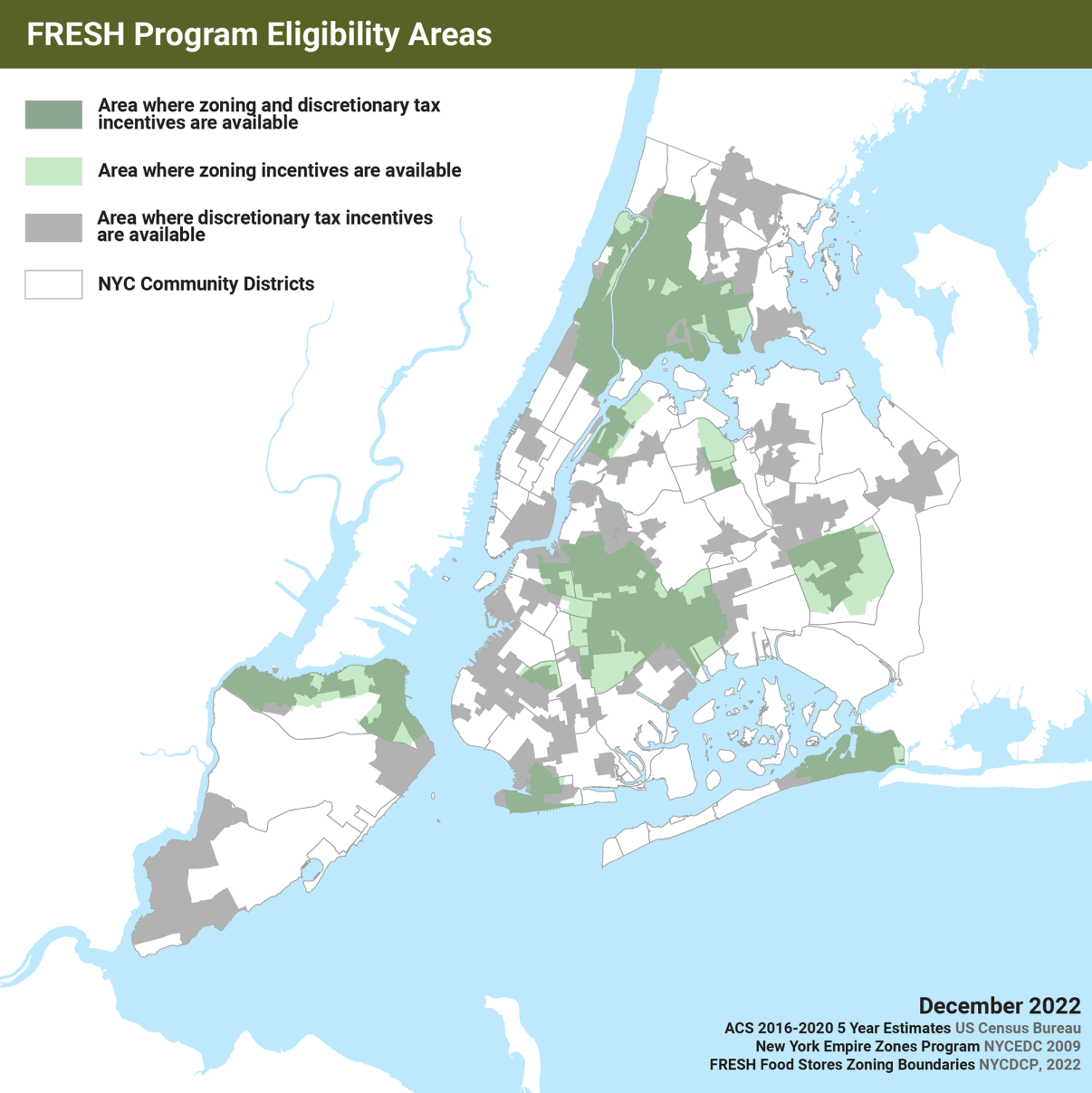 By the Numbers
$140M
The amount of money invested into NYC's economy through FRESH
The FRESH program tax incentive program is administered by the New York City Industrial Development Agency (NYCIDA) and the FRESH zoning benefit program is administered by the New York City Department of City Planning (DCP). All NYCIDA benefits are discretionary and companies must request NYCIDA assistance prior to entering into any property lease, acquisition, or renovation contract unless such contracts are contingent upon NYCIDA assistance.
FRESH Focus Areas
Certain neighborhoods around the city can benefit even more from investment in supermarket construction and renovation. The areas listed below are most in need of food retail investment, based on how much currently exists and the surrounding population.
The Bronx
Co-Op City/Wakefield
Grand Concourse
Hunts Point
Van Cortlandt Village
Brooklyn
Borough Park/Bensonhurst
Brownsville
Coney Island
Flatbush
Manhattan
Queens
Astoria/LIC
Far Rockaway
Jamaica
Staten Island
Do you have a question, comment or suggestion for us? We would like to hear it.