Employee Profile
Eric Goodnight, Vice President, Marketing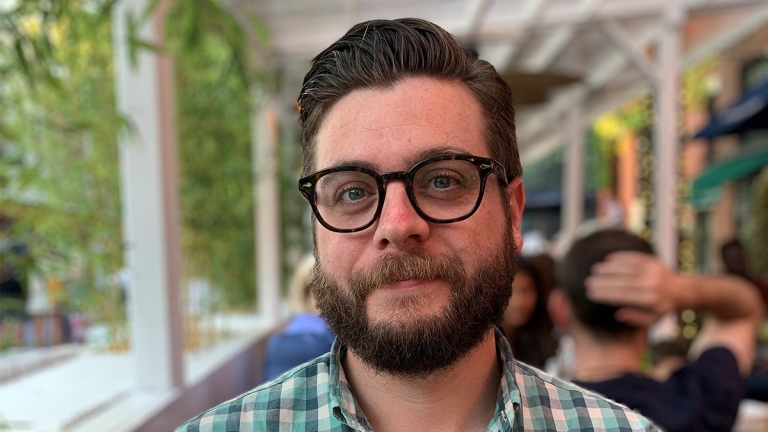 What was your first job?
My first job ever was mid-way through high school when I worked at a frozen custard shop in my hometown in northern Virginia, scooping custard, and making concretes and sandwiches.
How did your previous roles lead you to NYCEDC?
My first job out of college was going from intern to junior account rep at a DOD-targeted marketing and PR agency. After relocating to New York (life-long dream, followed my college sweetheart-now-wife), I landed at a small healthcare technology startup doing a little bit of everything—marketing, sales, production, social media. The company was a participant in a former NYCEDC program that paired startups with the healthcare industry looking to pilot new healthcare tech. When the time came, NYCEDC was one of the first places I looked.
Why was the mission of NYCEDC important to you?
It actually started with the job hunt. I genuinely thought it was cool that "the government" was supporting startups in a meaningful way (our pilot project turned into a real customer). And as a marketer, I thought it would be rewarding to join that side of things coming from the industry. Now, having been in New York for some time, NYCEDC's mission is even more important to me. My in-laws are small business owners in the city, this city is my adopted home, and I have a growing family to raise in Brooklyn. Being able to market the seemingly innumerable projects and initiatives NYCEDC works on is almost like a playground for marketing tactics of all kinds. And those tactics end up benefitting our city and the people who live here.
When did you join the company? What's your day-to-day role?
I joined at the end of the Bloomberg administration in May 2013 to support RFP marketing, the M/W/DBE program, and NYC Public Markets. Now, leading our department's Operations group, I'm responsible for ensuring our team has the tools they need to work effectively and that our department processes and workflow are as efficient as possible. I oversee an all-star team that supports our management of NYCEDC's web properties, our email marketing platform, and the project management workspace that enables our department to track and collaborate on dozens of simultaneous projects.
How do you relax when you're not working? 
I recently took up pottery, which has been a really fun, all-new experience for me. It sounds counterintuitive, but there's something relaxing about the number of ways the thing you're trying to make can be ruined. You have to accept a good amount of failure… and then immediately start over.
How has working for NYCEDC changed your perspective on NYC?  
I grew up with a sort of "NYC in the movies" view of New York… traffic, crowded commutes, etc. Now having lived and worked here for some time, and after almost a decade at NYCEDC, I know how much more there is to the city and its people.
Eric Goodnight was named NYCEDC's "Employee of the Month" for December 2022.