Employee Profile
Sakiru Okeowo, VP, Capital Program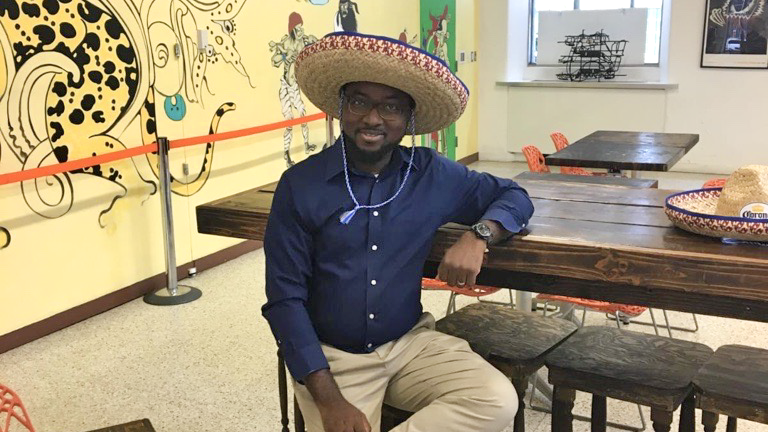 How did your previous roles lead you to NYCEDC?
I fell in love with construction of infrastructure as a young engineering intern working on a citywide roadway rehabilitation program for the government of Lagos, Nigeria's largest city. I understood then the long-lasting impact infrastructure development can have on the economy and quality of life of the intended users. After moving to the US in 2009, I enrolled for a master's in construction management to hone my project delivery skill set and was set for the construction industry.
Why was the mission of NYCEDC important to you?
Working for NYCEDC has made me realize the immense work that goes into designing and implementing the programs and initiatives that keep NYC striving as the greatest city in the world, from combating the immediate threat of climate change and building a more resilient community, to gender and diversity inclusiveness, to making the city a fun and affordable place to work and live. This laudable role played by NYCEDC aligns perfectly with my goals of serving and facilitating the growth of people and society.
When did you join the company? What's your day-to-day role?
I joined NYCEDC in October of 2013. My days are spent managing various aspects of the projects in my portfolio. One minute I could be problem-solving with colleagues or external project stakeholders, the next minute I am on a call with permitting and approval agencies negotiating my way to keep a project on schedule, but no two days are the same. I get to manage the people and processes that lead to the successful delivery of my projects.
What's the most rewarding part of your job? And the most challenging? (Is there a specific project or borough you enjoy working on?)
Nothing beats the joy of seeing a project completed and delivered for beneficial use. I have had the pleasure of completing several projects during my nearly decade-long career at NYCEDC. The completion of the Water Siphon, Caribbean Centre for Cultural and African Diaspora Institute (CCCADI), Atlantic Avenue Extension Roadway and Parks Project, Saw Mill Creek wetland mitigation, and the St. George Ferry landing have all given me great joy. I can point these projects to friends and family as my contribution to the growth of the city we all live in and love.
What would you be doing if you hadn't decided to follow this career path?
I stumbled upon civil engineering, and I am glad I did. My early career goal was to be a doctor because I saw it as an opportunity to help the poor, ailing, needy, and less fortunate in society. My passion took me to teaching and mentoring peers and young adults. Now my role in the delivery of infrastructure has helped me accomplish my goal in a different way.
Sakiru Okeowo was named NYCEDC's "Employee of the Month" for August 2022.