Press Release
Mayor De Blasio Expands NYC Ferry System, Connecting All Five Boroughs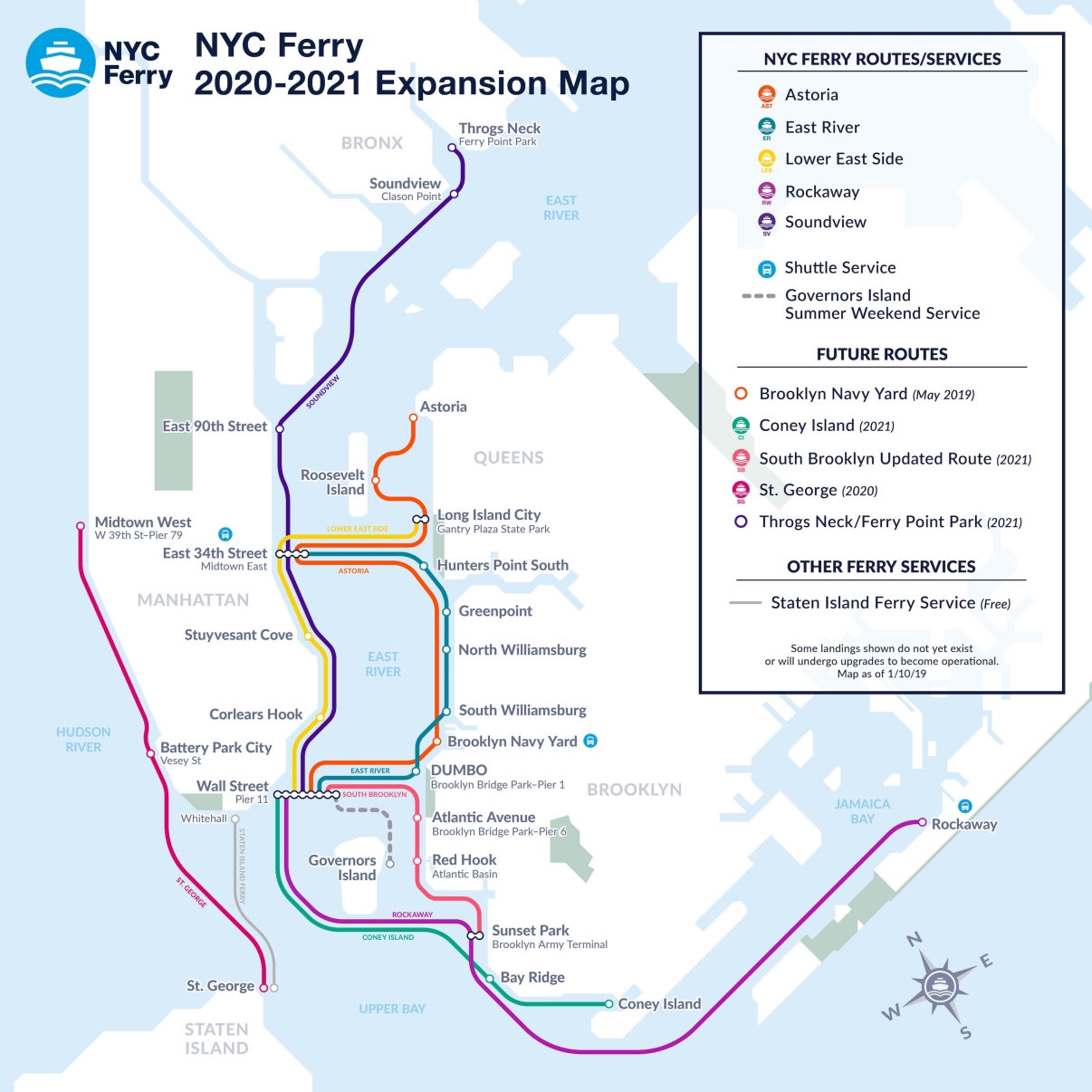 Revised Ridership Projections Anticipate Serving 11M Annual Riders by 2023
NEW YORK, NY—Following his State of the City address last week, Mayor de Blasio today released additional details about the expansion of the NYC Ferry system, which will begin serving all five boroughs in 2020. The expansion includes the addition of two new routes that will run from Staten Island and Coney Island, plus the modification of two existing routes to include new stops in the Bronx and Brooklyn. A new ferry stop in the Throggs Neck/Ferry Point Park section of the Bronx will join the Soundview route, and a stop at the Brooklyn Navy Yard will be added to the Astoria Route.
"It's official. The NYC Ferry will now serve all five boroughs!" said Mayor de Blasio. "We're delivering new routes to Staten Island, Coney Island, and new stops in the Bronx and Brooklyn. As New Yorkers take to the water to get around our city more than ever before, we will look forward to improving the NYC Ferry system to make it better than ever."
"In less than two years, NYC Ferry has become one of the most reliable, affordable, and beloved transit systems in the city," said James Patchett, New York City Economic Development President and CEO. "Expansion of the system means getting even more New Yorkers where they need to go, increasing access to good-paying jobs, schools, and other neighborhoods, all for the price of a subway ride. We are proud to have delivered an invaluable asset to the city that makes all five boroughs fairer and stronger."
The expansion will increase service for many waterfront communities where neighborhoods are growing, and job centers are burgeoning. The NYC Ferry expansion includes:
Launch of the St. George Route in 2020: The new route will run from St. George to Battery Park City/Vesey St., ending at Midtown West (W. 39th St. /Pier 79). Anticipated total run time is ~35 minutes.
Launch of the Coney Island Route in 2021: The Coney Island route will launch in 2021, with a stop in Bay Ridge, before ending at Wall St. /Pier 11, an anticipated total run time of ~35 minutes from start to finish. The route is estimated to serve approximately four thousand NYCHA residents that live within a half-mile radius of the landing.
Extension of the Soundview Route in 2021: A new landing in Throggs Neck/Ferry Point Park will be added to the Soundview route. Launched in August 2018, the Soundview route connects residents and workers in the East Bronx with stops on Manhattan's Upper East Side (E. 90th St.), Midtown East/E. 34th St. and Wall St./Pier 11. Riders boarding at the new Throggs Neck/Ferry Point Park ferry stop are able to transfer for free to the East River, Rockaway, Astoria, and South Brooklyn routes at East 34th St. and Wall St. /Pier 11. The extended route will take approximately ~51 minutes from start to finish.
Modification of the South Brooklyn Route in 2021: The South Brooklyn Route will be reconfigured to start from Sunset Park/Brooklyn Army Terminal (BAT) instead of Bay Ridge, which will be added to the new Coney Island Route and will no longer stop at DUMBO/BBP1. Alternatively, DUMBO/BBP1 will only be accessible via the East River Route. Starting in 2021, the new estimated run time will be ~34 minutes from start to finish. In addition to current route reconfiguration, future modifications may occur to expand service to emerging job clusters.
Modification of the Astoria Route in 2019 to include the Brooklyn Navy Yard: This May, a stop will be added at the Brooklyn Navy Yard on the Astoria Route. The Navy Yard, which currently serves as NYC Ferry's homeport, is undergoing a historic expansion of the campus and is expected to more than double its workforce by 2020. The Navy Yard ferry stop also offers a new commuting option for the many surrounding neighborhoods along the stretch of waterfront, including over 14,000 NYCHA residents. Starting this May, the Astoria Route will take ~45 minutes from start to finish.
Following the launch of the Lower East Side route in August 2018, New York City Economic Development Corporation (NYCEDC) commenced the 2018 Feasibility Study to determine whether the system could expand to serve more waterfront communities throughout the five boroughs. The study included feedback from New Yorkers, elected officials, and community boards. The feasibility study results are available here.
In 2015, Mayor Bill de Blasio announced his vision for a six-route citywide ferry service that would expand transportation access across the city affordably and reliably. In the summers of 2017 and 2018, NYCEDC launched the East River, Rockaway, South Brooklyn, Astoria, Lower East Side and Soundview routes. With 21 landings across New York City, NYC Ferry has served nearly eight million riders to date. With the addition of the St. George and Coney Island routes, and the Throgs Neck/Ferry Point Park and BK Navy Yard's landings, revised annual ridership forecasts project the system will reach 11 million annual riders by 2023.
In May of 2018, the de Blasio administration announced it was preparing to invest $300 million in capital for the service over the next five years. The long-term capital plan announced in May 2018 will invest in infrastructure improvements and upgrades to existing infrastructure, larger capacity vessels, a second homeport facility, and improvements to the City's two main ferry terminals, Wall St./Pier 11 and E. 34th St. The City will invest an additional $100 million in capital to add fleet capacity, build new landings, and invest in existing landings to support the system's expansion.
"Our City's ferries have proven to be a great alternate mode of transportation and a useful utilization of our waterfronts," said City Council Speaker Corey Johnson. "I'm thrilled that ferry service is being expanded across the City, and that residents on the West Side will now have a direct link to Lower Manhattan and Staten Island. I want to thank EDC and the administration for their commitment to expanding ferry service in the city."
"For years, south Brooklyn residents have suffered with limited and congested transportation options," said Congressman Hakeem Jeffries. "Ferry service on the Coney Island peninsula will help address this important quality of life issue and make it easier for commuters to get to work and for others to experience iconic Coney Island locations. I thank Council Member Treyger, the Mayor and all who have been involved in fighting to secure this critical investment in south Brooklyn's future."
"This new ferry service, particularly for Roosevelt Island, the East Side of Manhattan, Western Queens and North Brooklyn will provide important new transit options for New Yorkers, better connect our neighborhoods, and strengthen our local economy. I applaud the Mayor and the City for their continued dedication to this project," said Congresswoman Carolyn Maloney.
"Everything we can do to end our commuting nightmare is a step in the right direction, so I commend the Mayor for recognizing the need for fast ferry service on Staten Island. But that's what this must be: a first step," said Congressman Max Rose. "As I've told anyone who will listen and even those who won't, the ultimate goal for this ferry route must be to shorten the tortuous commute that Staten Islanders on the South Shore endure. I look forward to working with my colleagues to ensure we bring every idea and resource to the table to accomplish that goal—including creating a super express train for South Shore residents as the Borough President has proposed."
"Staten Islanders endure some of the worst commutes, not only in the City, but in our nation," said Borough President Jim Oddo. "We desperately need options, and this new fast ferry route will provide that for some Islanders. I have already spoken with New York City Transit President Andy Byford and he wholeheartedly agreed to work with us to explore ways of utilizing express trains on the Staten Island Railway to open up the new ferry service to residents across the borough. Simply put, this route is going to improve the commute for Staten Islanders and this is a good thing."
"The expansion of NYC Ferry service to Coney Island is a milestone achievement, a common-sense solution that affirms our years of advocacy on behalf of transit-starved residents on the West End and small businesses that depend on tourist activity. Our city has historically underutilized its waterways, what some consider to be the honorary sixth borough," said Brooklyn Borough President Eric L. Adams. "As borough president, I've been proud to oversee the growth of ferry service from Bay Ridge to Greenpoint, and I thank Mayor de Blasio for hearing our call to establish a new route to Coney Island in 2021.  In the months ahead, I will continue conversations with NYCEDC and the Coney Island community on the establishment of this new ferry route as well as the location of a dedicated landing, which I have called for siting along Coney Island Creek at West 21st Street. Additionally, my pursuits of ferry service to Canarsie — a community in true need of transit equity — as well as a ferry connection between Brooklyn and Staten Island are as strong as ever."
"I have long championed expanded ferry service across the city, and Mayor de Blasio's announcement of expanded service in Throggs Neck is a welcome one. New service at Ferry Point is a victory for The Bronx, and I congratulate the mayor and the New York City Economic Development on this expansion. I look forward to working with all stakeholders to make this expansion a success and to deliver necessary transportation options to my constituents," said Bronx Borough President Ruben Diaz Jr.
"New ferry routes and stops are welcome additions to waterfront areas--where New Yorkers increasingly live, work, and enjoy recreational activities but are underserved by public transit," said State Senator Brian Kavanagh."The growing NYC Ferry service also adds flexibility and resiliency to our overall transportation network. I hope that it will continue to expand and that we will increasingly be able to integrate it into our public transit system."
"I'm pleased by the announcement that the NYC Ferry Soundview route will be including an additional stop at Throgs Neck in 2021. This is a win for our Bronx commuters," said Senator Luis Sepulveda.
"Sunset Park commuters will welcome expanded ferry service from its terminal. This growing community deserves additional transit alternatives. I am very pleased to see new ferries available to transport people to and from our neighborhood," said Assistant Assembly Speaker Felix W. Ortiz.
"I've always felt a ferry landing at Ferry Point Park made sense. I'm glad New York City chose this location - a location readily accessible from several major highways and tremendous parking options," said Assembly Member Michael Benedetto.
"NYC Ferry has delivered a monumental improvement in the quality of life and transportation needs of all New Yorkers. This invaluable service continues to grow across our City and in our beloved Bronx County," said Assembly Member Marcos Crespo. "After exceeding ridership expectations at the Clason Point Pier, the Soundview Ferry line expansion to Ferry Point will have a great impact improving and shortening the commute of thousands of Bronx residents. I'm grateful to Mayor De Blasio and EDC for having the vision and commitment to make this all possible."
"As Chair of the Council Committee on Transportation, my priority is to reduce traffic congestion and fatalities. By expanding the ferry service to all five boroughs, we will decrease our carbon footprint, create new alternative transit options for commuters, and spur economic growth to additional neighborhoods in NYC," said Council Member Ydanis Rodriguez.
"Our city's waterways are a unique resource that provide opportunities to expand the transportation options available to New Yorkers," said Council Member Paul Vallone, Chair of the Committee on Economic Development. "I applaud this investment into our city's rapidly growing ferry service and will continue to advocate for further expansions, especially into the northern Queens waterfront."
"Ferry service finally coming to Coney Island is another great victory for our community," said Council Member Mark Treyger. "The expansion of the NYC Ferry system to Coney Island is a major step forward for southern Brooklyn's students, working families, seniors, and the millions from across New York City and beyond who visit the iconic People's Playground and Riegelmann Boardwalk every year. I thank Mayor Bill de Blasio, Congressman Hakeem Jeffries, Council Speaker Corey Johnson, Brooklyn Borough President Eric Adams, my colleagues, and all of the community groups and leaders for their advocacy and support."
"Our years of advocacy for fast ferries on Staten Island has paid off with this newest addition to our ongoing North Shore Renaissance," said Council Member Debi Rose. "Travelers to Manhattan's West Side now have a new option, a water-borne route that will take more people out of the cars and buses that congest our highways and add to pollutants to the air. I am working with NYCEDC to ensure that riders of the new ferry will be able to reach their destination quickly and efficiently. Staten Island's inclusion in the long awaited five-borough plan is a welcome addition to our North Shore transportation options and a start toward a comprehensive plan that addresses our transportation issues. I look forward to working on further developing our transportation network."
"Lower Manhattan is a vibrant economic hub attracting hundreds of thousands of workers a day," said Council Member Margaret S. Chin. "These working New Yorkers need more transportation options. The new ferry stop in Battery Park City will provide Staten Islanders with an easier commute to their jobs here in the City. In addition, the new stop will provide an opportunity for greater connection between our two boroughs."
"Connecting Coney Island and Bay Ridge by water is a no-brainer. It sure beats the heck out of the Belt Parkway! This is really a win-win because now, not only will Coney Island become part of the NYC Ferry network, but Bay Ridge will benefit by getting a much faster ride into Manhattan," said Council Member Justin Brannan. "So many people fought so hard over the years to bring the ferry back to 69th Street in Bay Ridge – and we made it happen. But the real dream has always been to get an express ferry direct to Wall Street – and now the day has finally come! This will be an absolute game-changer for our neighborhood. I am very excited about this and I thank the Mayor for making it happen."
"The ferry system is quickly becoming a viable transportation option for residents in South Brooklyn, particularly Red Hook and Sunset Park. I am pleased to see that access will expand to more parts of the City and to more people in the coming years," said Council Member Carlos Menchaca.
"The NYC Ferry has fundamentally improved Roosevelt Islanders' commutes, and the new connection to the Brooklyn Navy Yard will open up even more opportunities," said Council Member Ben Kallos. "By connecting Cornell Tech to the Navy Yard, we are further cementing Roosevelt Island's role as an innovation hub. Thank you to Mayor de Blasio and Economic Development Corporation President James Patchett for continuing to expand this great service."
"I applaud the city administration for taking action to expand ferry service into Throggs Neck at Ferry Point Park. This decision, which community leaders and I have advocated for, will provide transportation options to our neighborhoods which have long been transportation deserts," said Council Member Mark Gjonaj.
"I am thrilled to see that NYC Ferry service will be expanded to serve the Brooklyn Navy Yard starting this summer. The system will offer a great new transportation option for residents of Fort Greene and Clinton Hill to access major job hubs throughout the five boroughs, and I look forward to the launch," said Council Majority Leader Laurie A. Cumbo.
"The City of New York has taken a preliminary but exciting step in completing a more manageable transportation map for all five boroughs. Finally, North Shore residents have a more viable option to get to Midtown Manhattan in 35 minutes without multiple modes of transportation," said Nicholas Siclari, Chairman of Staten Island Community Board 1.
"The new link will make the fast ferry system truly an All-NYC Ferry. Staten Islanders (and tourists too) will have a link to midtown in 35 minutes without multiple modes of transportation. Next, we need a return of the fast ferry to Brooklyn that ceased service in 1964," said Nicholas Zvegintzov, Transportation Committee Chair of Staten Island Community Board 1.
"This is a great opportunity not only to offer an additional transportation option, but also to shave some time off Staten Islanders' already extraordinarily long commutes," said Joe Carroll, District Manager of Staten Island Community Board 1.
"Thank you to all those big and small who helped see our vision of bringing ferry service to Coney Island succeed. The hard work and determination of those who put their hearts into this project is greatly appreciated," said Joann Weiss, Chairperson of Brooklyn Community Board 13.
"I am pleased by the improved ease of access to the Brooklyn Navy Yard, which will be home to over 17,000 jobs by 2020," said Lenue H. Singletary III, chairperson of Brooklyn Community Board 2. "The B67 bus was extended to and through the Navy Yard, management upgraded its own fleet of buses and this spring, NYC Ferry will begin service to the industrial park."
"On behalf of Bronx Community Board #10, we thank Mayor de Blasio and NYC EDC for supporting our efforts to have ferry service in Throggs Neck! Our community experiences some of the longest commute times in to Manhattan. We look forward to working with the City during the planning stages and are delighted to have this opportunity. Congratulations to all!" said District Manager Matthew Cruz.
"CB1 is bounded on three sides by waterfront and is keenly aware of and values this asset as a transportation alternative for all New Yorkers. More and more, there are residential and workplace developments along our waterfront so ferry service is increasingly important when balanced with quality of life. We applaud this latest announcement," said Anthony Notaro, Chair of Manhattan Community Board 1.
"MCB4 has for a number of years been urging the city to initiate ferry service up and down the West Side on various routes from Brooklyn and other areas of metro New York.  The board is pleased to hear of the new north/south Hudson River ferry service stopping at Pier 79.  We certainly support this move and hope to soon see more routes and more stops, further north in Hell's Kitchen at Pier 97, and near our southern boundary at Pier 57," said Burt Lazarin, Chair of Manhattan Community Board 4.
"From Soundview to Rockaway, NYC Ferry has been a resounding success with booming ridership, shortening New Yorkers' commute times and closing gaps in transit deserts," said Roland Lewis, President and CEO, Waterfront Alliance. "Waterfront Alliance applauds Mayor de Blasio's announcement today of new and expanded NYC Ferry routes—Staten Island to Battery Park City to West 39th Street in 2020 and Coney Island Creek to Bay Ridge to Wall Street in 2021, plus new stops on existing routes. Less than two years old, the City's savvy vision for a robust ferry fleet serving millions of New Yorkers has already promoted greater equity, improved resilience, and stimulated local economies. Waterfront Alliance looks forward to continued growth in ferry transit in other corners of the City. We are surrounded by water, and we've only begun to tap the transit potential of our blue highways."
"With the launch of the Coney Island Route and St. George Route, we are excited to continue expanding across New York Harbor, building connections where neighborhoods are growing and job centers are flourishing," said Cameron Clark, Senior Vice President of NYC Ferry operated by Hornblower. "These new routes will enhance commutes and shorten travel times for millions of additional New Yorkers."
"NYC Ferry will provide a critical and convenient link for Yard workers as our number of sustainable middle-class jobs continues to grow," said David Ehrenberg, President and CEO of the Brooklyn Navy Yard Corporation. "As we approach the completion of our largest expansion since WWII, new and revamped buildings are opening their doors to an exciting array of manufacturing and creative office tenants and we know many of them are excited to start commuting to work on the ferry this spring."
"The Staten Island Chamber of Commerce is pleased to see that Staten Island is now being included in NYC's Ferry Service expansion with routes to Battery Park City and Pier 79 in Manhattan. Kudos to Borough President James Oddo who has fought long and hard to bring fast ferry service to our borough. It is also important to recognize the significance of Mayor Bill de Blasio and NYCEDC President James Patchett's commitment to making this service a realty for Staten Islanders. As a borough that has limited transit options, fast ferries are a welcome addition. St. George is seeing unprecedented development and adding service will help to alleviate future strain on the Staten Island Ferry which already sees significant ridership. We welcome today's announcement and hope to see fast ferry services expand even further into the Island in the future; eventually connecting us to boroughs beyond Manhattan," said Linda Baran, President & CEO of the Staten Island Chamber of Commerce.
"We are thrilled to see ferry service expanding further and look forward to continuing to work with our partners in government and the community to grow more routes that will connect people in Brooklyn with good jobs throughout all the boroughs," said Hector Batista, President & CEO, Brooklyn Chamber of Commerce.
"We were ecstatic to hear the City's announcement that NYC Ferry will be coming to Coney Island! The implementation of ferry service in Coney Island is a game changer for the community and provides a much needed transit alternative for our residents, visitors, and those who commute to Coney Island. This ferry service is reminiscent of the service Coney Island had a century ago and ushers in a prosperous future for Coney Island. We look forward to partnering with the City and New York City Economic Development Corporation to bring this new infrastructure to our community thereby creating a more equitable and accessible neighborhood" said Alexandra Silversmith, Executive Director of the Alliance for Coney Island.
"The expanded ferry service, especially from Throggs Neck, Bronx, to Manhattan, is highly welcomed by the the SUNY Maritime College community" said Rear Admiral Michael A. Alfultis, President of SUNY Maritime College. "Not only will the added ferry service provide additional affordable, public transportation to and around New York City, but as the leading educator and trainer of the maritime workforce in NYC, we look forward to working with NYC Ferry to educate and train the captains and crew that will be needed to operate the ferries safely and efficiently."
"The announcement by Mayor de Blasio of the city's planned expansion of ferry service is great news for Coney Island and for the New York Aquarium. In addition to significantly cutting travel time to and from Manhattan for commuters and visitors, the new services will provide the added benefit of inspiring views of the city's skyline and beautiful waterways. Nothing could be more appropriate than to have residents and visitors alike traveling to the Aquarium over the very wilderness—and marine life—the Aquarium works so diligently to protect and celebrate," said Jon Forrest Dohlin, VP of the Wildlife Conservation Society and Director of the New York Aquarium.
"Coney Islanders 4 Ferry is highly appreciative of the announcement that Coney Island will be included in the Citywide ferry network. We look forward to participating in future discussions on how to best implement ferry service to our neighborhood," said Daniel Ioannou, Coney Islanders 4 Ferry.
"NYC Ferry service at Pier 79 will add a new way for visitors to get to Hudson River Park, including those from Staten Island who would otherwise have a difficult commute," said Madelyn Wils, President and CEO of the Hudson River Park Trust. "We're pleased that NYC Ferry service will be coming to the West Side for the first time, giving riders a close up view of all Hudson River Park has to offer along the way."
"The Port of NY/NJ, the largest on the East Coast, third largest in the nation, and soon again largest in the United States welcomes the restoration and expansion of waterway transport of people. We applaud Mayor de Blasio and his team and urge them to now to focus on revitalizing cargo transportation at our small and medium size terminals in our Ports creeks, rivers, and canals. The under-utilization of our waterway for cargo transportation is a leading factor in increased truck traffic and congestion. The expansion of the Panama Canal, shifting manufacturing centers, and ever-increasing population numbers has driven a large increase in Ultra Large Container Vessels (ULCV) and Articulated tug barges calling on the Port of New York. The blue highway trade of box cargo will remove thousands of trucks a year from the regions already congested highways and bridges," stated Captain Eric Johansson, Executive Director, Towboat & Harbor Carriers Association of the Port of New York and New Jersey.
"Red Hook Container Terminal fully supports and applauds the continued expansion of the NYC Ferry service as a means of providing valuable transportation services to the community. Utilizing one of the cities greatest natural resources, our waterways are an under- utilized means of moving people and goods in and around the city, reducing our dependence on other modes of transportation. We will continue to support these efforts and work with the NYCEDC to also fully realize the 'Marine Highway' through Freight NYC, as an alternative mode of transportation for freight, in and around NYC, further reducing the carbon footprint left behind by trucks moving food and goods in NYC and the region," said Mike Stamatis, President and CEO of Red Hook Container Terminal.
NYC ferry has created over 325 jobs such as captains, deckhands, customer service agents, ticketing, operations and more and is currently accepting applications. Hiring in advance of the system's expansion in 2020 and 2021 will commence next spring. New Yorkers of all backgrounds and skill levels are encouraged to apply. Jobseekers can apply directly at ferry.nyc/careers.
About NYCEDC
New York City Economic Development Corporation creates shared prosperity across New York City's five boroughs by strengthening neighborhoods and creating good jobs. NYCEDC works with and for communities to provide them with the resources they need to thrive, and we invest in projects that increase sustainability, support job growth, develop talent, and spark innovation to strengthen the City's competitive advantage. To learn more about our work and initiatives, please visit us on Facebook, Twitter, or Instagram.