East Midtown Waterfront
Location:
Turtle Bay-East Midtown
The East Midtown Waterfront project is part of a grand vision to "close the loop" of the Manhattan Waterfront Greenway, providing New Yorkers with continuous waterfront open space around Manhattan.
The construction of East Midtown Greenway and Andrew Haswell Green Park Phase 2B is scheduled to be complete by the end of December 2023. The greenway esplanade is not open to the public due to ongoing construction.
Filling a Gap
The project fills a major gap in the Manhattan Waterfront Greenway between East 38th and East 61st Streets along the East River, providing much-desired waterfront access and open space for the East Midtown community and the public at large. Its goals: to improve access to the East River, create new, connected spaces for pedestrians and bicyclists, and provide waterfront amenities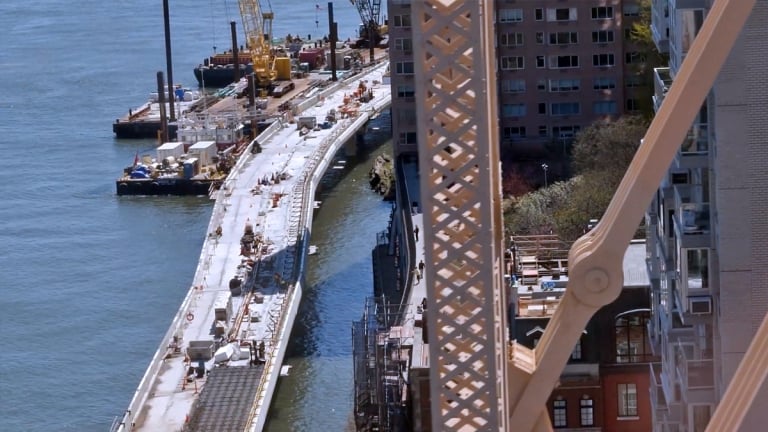 What's in an Esplanade?
The East Midtown Waterfront esplanade consists of three sections:
East 38th–41st Streets/Waterside Pier: An existing City-owned structure formerly used by Con Edison. (Construction completed in 2016)
East 41st–53rd Streets/the UN Esplanade: This middle section of the esplanade would pass by the UN campus.
East 53rd–61st Streets/the ODR Esplanade: Now known as East Midtown Greenway - 53rd to 61st Streets, this northern section of the esplanade connects to Andrew Haswell Green Park at 62nd Street and will include a pedestrian bridge to East 54th Street (In progress)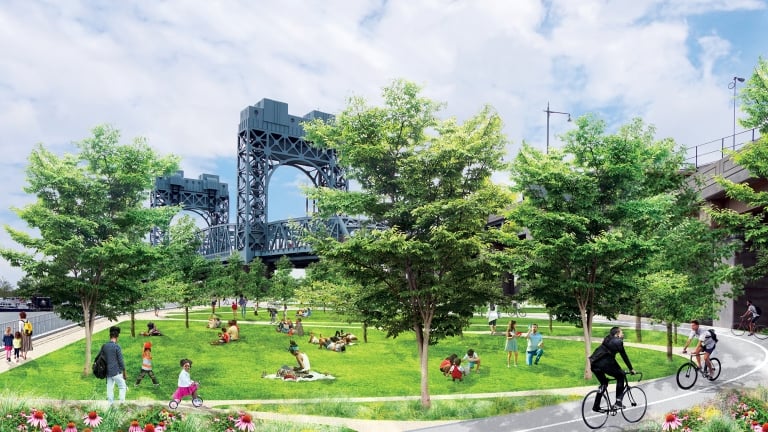 Manhattan Waterfront Greenway
The Vision: Closing the Loop
Guided by four principles:
Maximize the location along the waterfront

Enhance safety for pedestrians and bicyclists

Improve access from upland areas

Account for sea-level rise
What Led to Now
In April 2017, the mayor announced capital funding for design and construction for the East Midtown Greenway – 53rd to 61st Streets, along with an upland 'flyover' connection at 54th Street. An RFP for a designer followed that summer and the selected team led by Stantec began design in October 2017. Construction is expected to be complete in 2023.
Community Roots
The design phase that began in 2017 was only possible after years of conceptual planning and collaboration with East Midtown communities in the neighborhoods of Turtle Bay, Kips Bay, Sutton Place, Tudor City, and Murray Hill..
Joined by the design team, we look forward to continuing to work with the community as the project moves forward. We'll be attending CB6 and CB8 meetings to continue to provide updates.
Our partners also include NYC Parks, NYCDOT, and local elected officials. The East Midtown Waterfront's goals are in accordance with Vision 2020: New York City Comprehensive Waterfront Plan and OneNYC.
Art-Driven Design
In partnership with NYC Parks and NYCDOT, we selected an environmental artist to serve on the design team. Stacy Levy joined the team after an extensive selection process—culminating at a public meeting in February 2018—and involving an invitational competition with 47 artists, interviews, and a presentation before the community.
Learn more about the East Midtown Waterfront project and how you can get involved.
November 9, 2023

Presentation to CB8 Parks & Waterfront Committee

February 27, 2023

Presentation to CB6 Land Use and Waterfront Committee

October 2022

Construction Update

October 13, 2022

Presentation to CB8 Parks & Waterfront Committee and 197-A Queensboro Bridge Area Committee

July 2022

Construction Update

March 10, 2022

Presentation to CB8 Parks & Waterfront Committee and 197-A Queensboro Bridge Area Committee

April 8, 2021

Presentation to CB8 Parks & Waterfront Committee and 197-A Queensboro Bridge Area Committee

October 8, 2020

Presentation to CB8 Parks & Waterfront Committee

September 29, 2020

Presentation to CB6 Land Use and Waterfront Committee

December 5, 2019

Presentation to CB8 Parks & Waterfront Committee and 197-A Queensboro Bridge Area Committee

February 7, 2019

Presentation to CB8 Parks & Waterfront Committee and 197-A Queensboro Bridge Area Committee

January 28, 2019

Presentation to CB6 Land Use and Waterfront Committee

June 27, 2018

Presentation to CB8 197-A Queensboro Bridge Area Committee

June 25, 2018

Presentation to CB6 Land Use and Waterfront Committee

March 28, 2018

Presentation to CB8 197-A Queensboro Bridge Area Committee

March 26, 2018

Presentation to CB6 Land Use and Waterfront Committee

January 22, 2018

Presentation to CB6 Land Use & Waterfront Committee

November 27, 2017

Presentation to CB6 Land Use and Waterfront Committee

June 7, 2017

Presentation to CB6 Land Use & Waterfront Committee

November 6, 2013

Presentation to Community Board 6 Land Use & Waterfront Committee

May 2012

Presentation to East Midtown Waterfront Community Working Group

June 2013

Presentation to East Midtown Waterfront Community Working Group

East Midtown Waterfront Q&A
Environmental Assessment

FHWA Finding of No Significant Impact for UN and ODR Esplanade

Final Design Report and Environmental Assessment for UN and ODR Esplanade

Volume 1

Final Design Report and Environmental Assessment for UN and ODR Esplanade

Volume 2 (Appendices A-B)

Final Design Report and Environmental Assessment for UN and ODR Esplanade

Volume 3 (Appendices C-O)