The Made in New York (MiNY) Campus in Sunset Park will bring together an affordable, best-in-class garment manufacturing hub with a film and media production facility that will advance diversity and equity in the industry and create thousands of jobs.
A Home for Film and Media Production
The MiNY Campus will be home to a 500,000-square-foot film and tv production hub including eight new soundstages and gut-renovations of two historic buildings.
The production hub, located on the MiNY south campus, will be operated by Brooklyn-based Steiner Studios, which NYCEDC announced with the Mayor's Office of Media and Entertainment (MOME) in August 2020 following an RFP process.
By the Numbers
2,200
Jobs are expected at the production hub upon completion.
In addition to the production facilities, Steiner Studios will complete the adjacent Bush Terminal Piers Park, build a new playground designed with community input, and contribute $25,000 annually to recreational programs in the park.
Steiner Studios expects the site to support 2,200 jobs upon project completion, including set builders, electricians, scenic artists, grips, propmasters, set dressers, hair and make-up artists, and costume designers.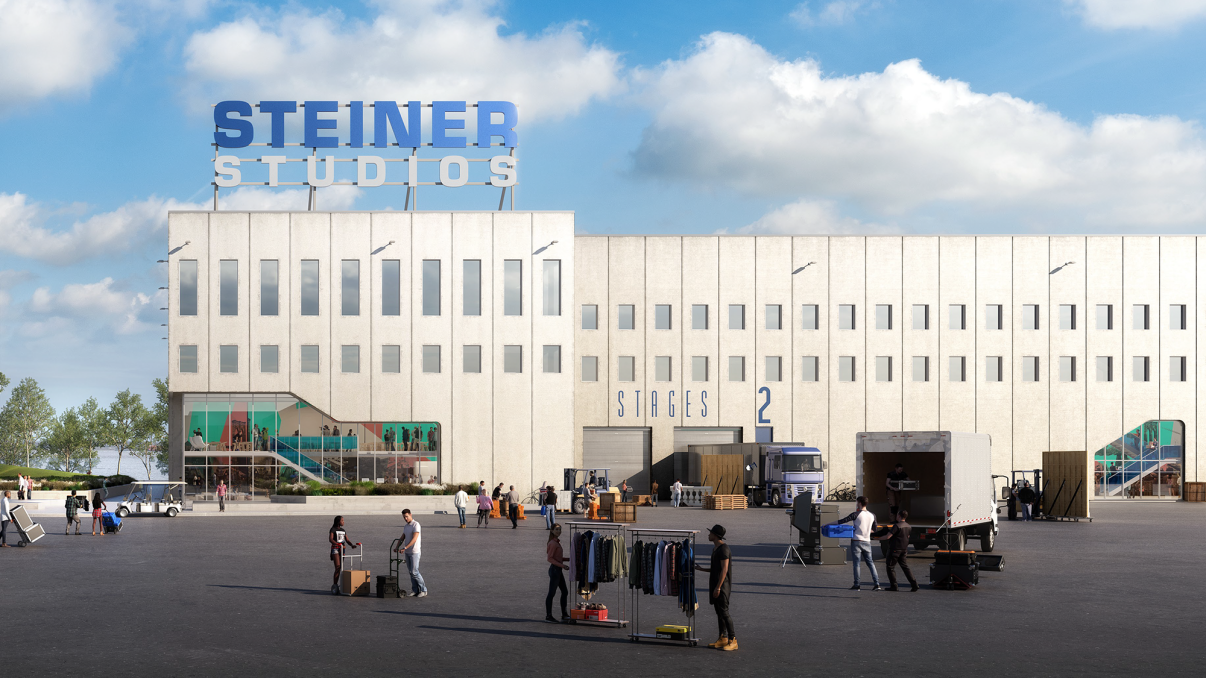 Advancing Equity, Investing in Workforce
Beyond a state-of-art facility, completion of the park, and jobs, the production hub will bring a true investment in the future of the local workforce, and in advancing diversity and equity in media and entertainment in NYC.
Through a combination of existing programs and new local initiatives, the production hub will bring more New Yorkers into the fold of the media industry, largely through opportunities for those who live Sunset Park itself.
The investment includes:
Expanding MOME's highly successful Made in NY Production Assistant and Post-Production Training Programs to advance opportunities in media and entertainment to New Yorkers from diverse communities
Funding over 10 years for a nonprofit supporting gender equity, diversity, and inclusion in the NYC film and television production industry
Long-term free office and/or classroom space for one or more nonprofits that advance racial equity, diversity, and inclusion in the production industry
A new local program for high school students to train for jobs in the production industry, plus school-year and summer internships
The recruitment of qualified candidates from the local community through NYCEDC's HireNYC program
An M/WBE participation goal of 25 percent for the construction of the campus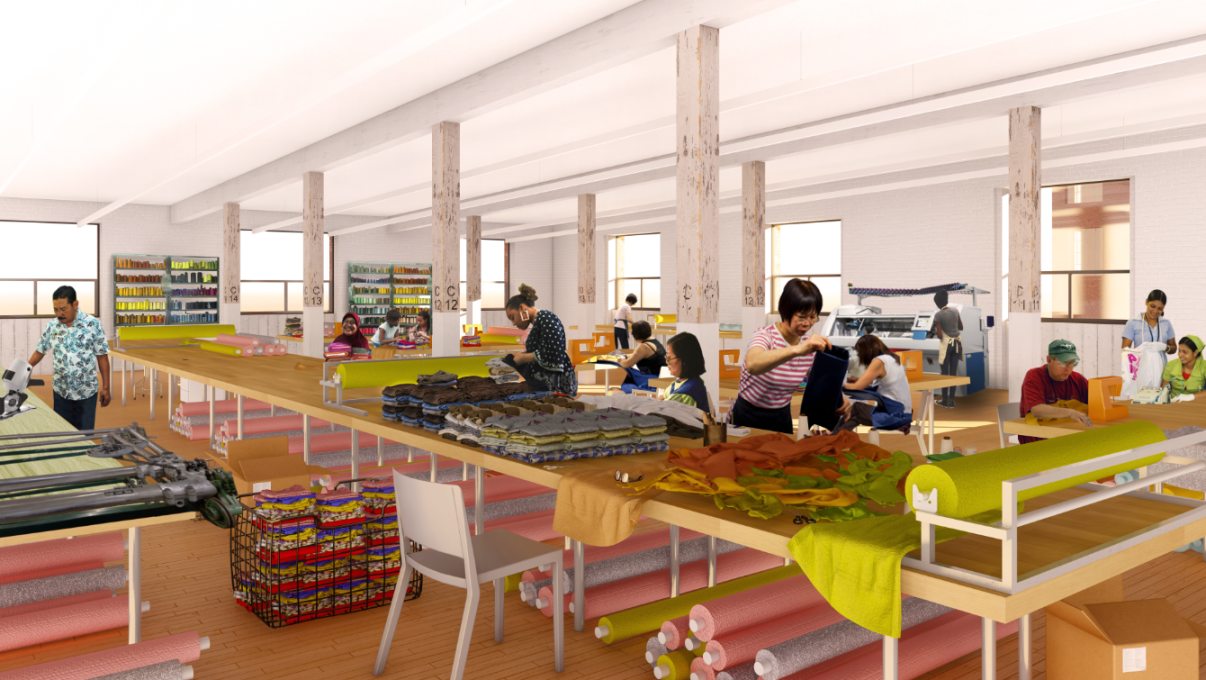 A Garment Manufacturing Hub
MiNY's north campus will be home to a garment manufacturing hub, bringing together garment manufacturers and emerging designers to create a center of gravity for local manufacturing, sustainable fashion, and textile technology innovation in NYC.
The hub will support 25 to 35 tenants, and will provide small white-box spaces from 2,000 to 35,000 square feet to companies working in pattern making, marking and grading, cutting and sewing, and sample making. Shared services will also be onsite to support the success of these garment firms and the larger Sunset Park garment-manufacturing community.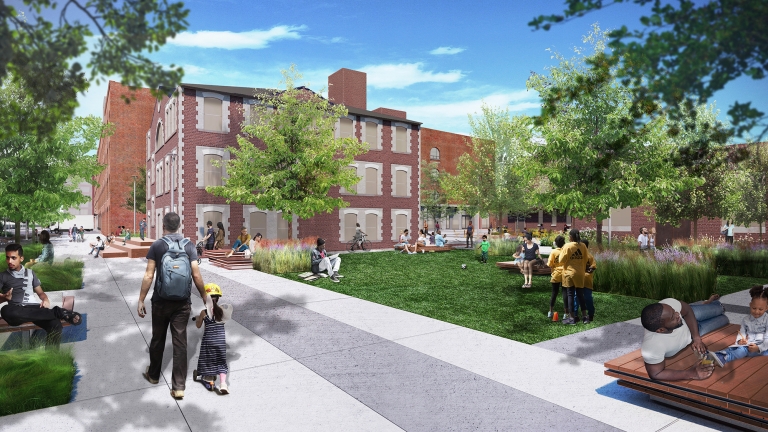 Leasing at the MiNY Campus
The 36-acre campus offers best-in-class industrial spaces for garment manufacturing, film/tv/media production, and related light industrial and creative uses.
Explore Leasing
Also on the north campus will be 5.3 acres of new public space adjacent to Bush Terminal Piers Park, along with new amenities to the community and campus workers: landscaped waterfront access, enhanced streetscapes, pedestrianized plazas, and a water play feature.
The garment manufacturing hub and public space were designed by the Brooklyn-based team of nARCHITECTS, W Architecture, and Landscape Architecture.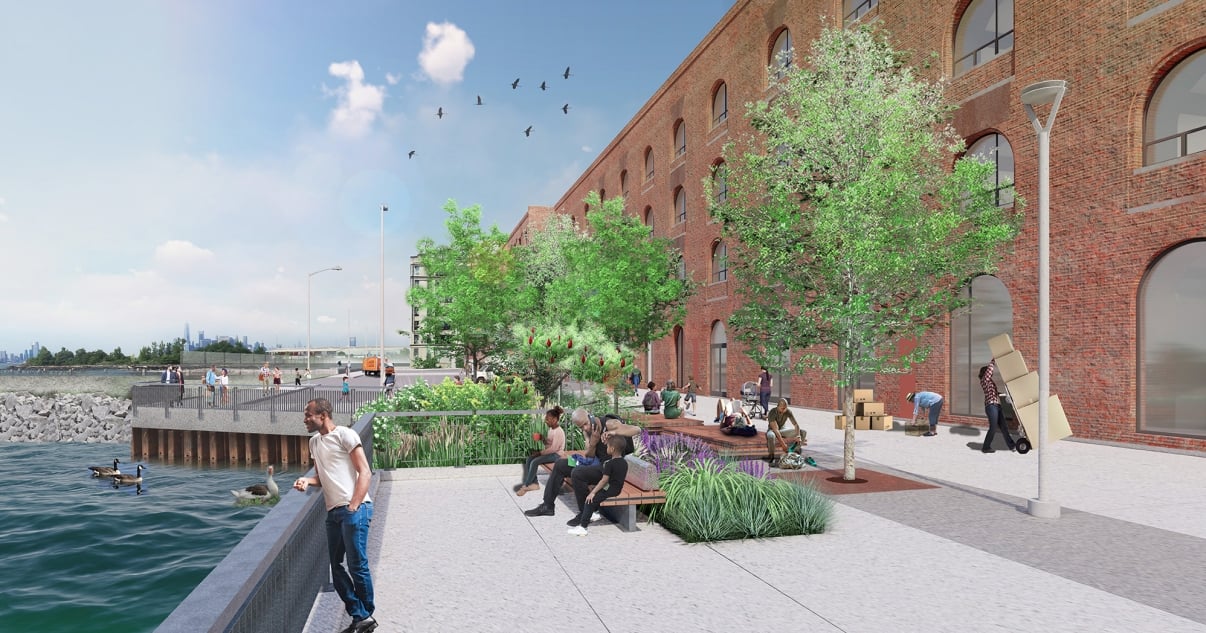 Strengthening Industry in Sunset Park
The future of the MiNY Campus reflects the goals of the Industrial Action Plan, released in 2015 by the mayor to spur thousands of good-paying manufacturing jobs through large investments in City-owned assets. Then, in 2017, the mayor announced the vision for the collocation of production jobs in garment and film/tv at the Made in New York Campus at Bush Terminal.
NYCEDC's and the City's investments in Sunset Park anchor a continued industrial economy in the neighborhood and celebrate this significant maritime and industrial area. Investments in the area are driven by NYCEDC's Sunset Park Vision Plan and the local community board's 197a plan, to promote industrial redevelopment and job creation in Sunset Park while retaining existing industrial jobs, and to maximize waterfront access and open space, among other priorities.
The MiNY Campus will join the Brooklyn Army Terminal, with its 100+ manufacturing businesses and thousands of jobs, and nearby South Brooklyn Marine Terminal with its recent public and private investments to transform it into a port for offshore wind and support hundreds of local jobs.
Take a Virtual Tour
Join Brooklyn-based Turnstile Tours and the project's architectural team for a virtual educational tour of the MiNY Campus.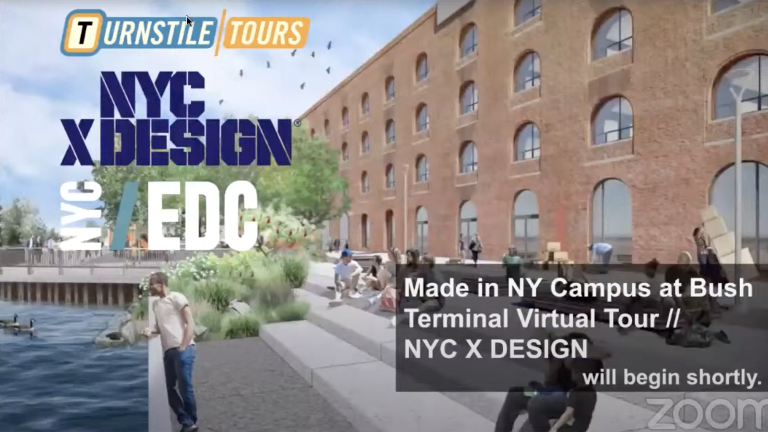 To access, click on the + button to view more.
Public Participation Plan Summary Report

Bush Terminal (North Campus)

SPDES Permit Application

Bush Terminal (North Campus)

Draft SPDES Permit

Bush Terminal (North Campus)

Notice of Complete Application

Bush Terminal (North Campus)

Public Participation Plan

Bush Terminal (North Campus), 13 42nd Street, Brooklyn, NY

Fact Sheet

Bush Terminal (North Campus) Redevelopment Project

Invitation

Bush Terminal (North Campus) Redevelopment Project
Get In Touch
To find out more about the MiNY Campus, please email our team.
Fill out our leasing inquiry form.