Press Release
NYCEDC Announces NYC Ferry Summer Schedule Amidst Record Setting Ridership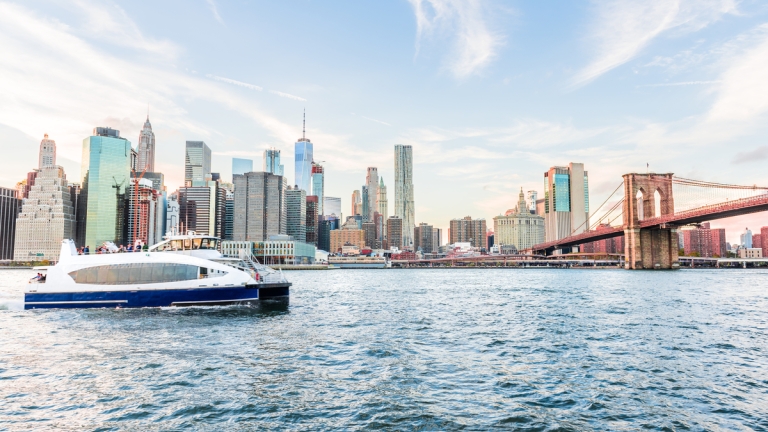 As Summer Arrives, Record Numbers of New Yorkers are Expected to Ride NYC Ferry, and this Schedule Provides More Capacity so More New Yorkers can Enjoy the Ride
NYC Ferry Summer & Holiday Schedule changes will go into effect beginning Monday, May 22, 2023
NYC Ferry Continues Ferry Forward Plan to Make the Ferry System More Equitable and Accessible for All New Yorkers
NEW YORK, NY—Today, the New York City Economic Development Corporation (NYCEDC) and NYC Ferry implemented the NYC Ferry Summer 2023 schedule changes. As always, the summer schedule will continue to provide NYC Ferry riders with a dependable way to commute and ride throughout Manhattan, Brooklyn, Queens, the Bronx, and Staten Island along the East River and Hudson River. 
This program supports the "NYC Ferry Forward" plan, an initiative launched in July 2022 to create a more equitable, accessible, and fiscally sustainable NYC Ferry system. As the school year comes to a close and more students, parents, guardians, and teachers alike are outside exploring New York City, NYCEDC is committed to making the NYC Ferry an accessible option for everyday transportation and summer fun with pricing options and schedule changes.
NYC Ferry ridership peaks during the summer months. In 2022, summer daily average ridership was 54% higher than the annual daily average. On summer weekends in 2022, average daily weekend ridership was 75% higher than the annual average. The 2023 summer schedule change will address 2023's record-breaking ridership start to the year  as we move into NYC Ferry's busiest season.
Summer schedule changes include are below:
Increased seat capacity across the system.
Rockaway weekday schedule has been modified to use highest-capacity vessels and reduce afternoon delays.
Starting May 30, the South Brooklyn route will continue serving Governors Island until around 9:20 PM.
On Summer weekends and holidays, NYC Ferry serves Governors Island via a direct shuttle from Pier 11 that will operate from 10 AM to 8 PM. All NYC Ferry riders can make a free transfer to the Governors Island Shuttle at Wall St/ Pier 11.
NYC Ferry will operate a weekend schedule on the following holidays: Memorial Day, Juneteenth, July 4th, and Labor Day
"Whether you are commuting to work or simply exploring, there is no better way to see New York City than on our waterways, and we are looking forward to a safe and fun summer for all our riders," said NYCEDC President and CEO Andrew Kimball. "As ridership continues to break records, it's clear New Yorkers are endorsing the NYC Ferry Forward vision to create a more accessible, equitable and fiscally sustainable ferry system for all New Yorkers to enjoy."
"After a record-setting start to 2023 and recently surpassing 30 million riders since the launch of NYC Ferry in 2017, Hornblower Group, the system's founding operator, is proud to build on Mayor Adams' leadership to offer more New Yorkers than ever a convenient, accessible, and affordable commute," said Timothy O'Brien, SVP of Ferries and Transportation, Hornblower Group. "Whether traveling to work or to their favorite destinations this summer, NYC Ferry offers its riders a unique, efficient, and reliable commuting experience. Our crew looks forward to welcoming millions onboard and building on our tremendous start to the year."
While the summer schedule operates with more passenger capacity than any other time of year, higher ridership demand still limits capacity and regularly scheduled NYC Ferry trips operate on a first-come, first-served basis. Riders are advised that in the summer, ridership is highest on weekends between 11 AM and 7 PM. During good-weather days, riders may not get on the first boat of their choice. Onboard concessions will be available at the Snack Bar and can also be ordered directly from your seat.
Riders can avoid long ticket machine lines by using the NYC Ferry app to purchase tickets and view real-time schedules (download in the App Store or Google Play). Tickets can also be purchased at ticket vending machines at NYC Ferry landings. Tickets must be purchased prior to boarding and are not available on board. All transfers within the NYC Ferry system are free and valid for 120 minutes once your ticket is activated. Round-trip journeys do not qualify for free transfers.
The new summer schedule continues to support the "NYC Ferry Forward" plan, an initiative launched in July 2022 to create a more equitable, accessible, and fiscally sustainable NYC Ferry system. The program has continued to build on the system's early success to expand the Ferry Discount Program for seniors, people with disabilities, and participants in the Fair Fares NYC program.
The Ferry Discount Program makes $1.35 tickets available for people with disabilities, seniors, and participants in the Fair Fares NYC program. Sign up today at ferry.nyc/discount.
More information, real-time schedules, service alerts, and trip planning are available in the NYC Ferry app or at ferry.nyc.
About NYCEDC   
New York City Economic Development Corporation is a mission-driven, nonprofit organization that works for a vibrant, inclusive, and globally competitive economy for all New Yorkers. We take a comprehensive approach, through four main strategies: strengthen confidence in NYC as a great place to do business; grow innovative sectors with a focus on equity, build neighborhoods as places to live, learn, work, and play; and deliver sustainable infrastructure for communities and the city's future economy. To learn more about what we do, visit us on Facebook, Twitter, LinkedIn, and Instagram.