Press Release
Mayor Adams Unveils Phase One of "NYC Ferry Forward," Vision for a More Equitable, Accessible, Fiscally Sustainable System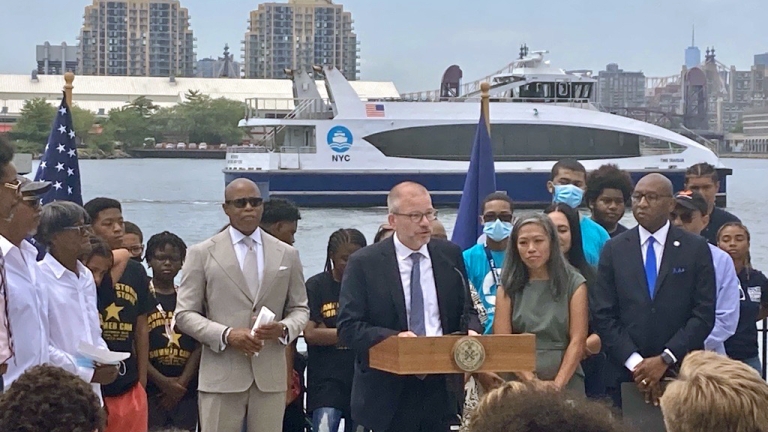 New Fair Fares-Style NYC Ferry Discount Program Will Make System More Equitable, Lower Prices for Low-Income Riders, Seniors, and People With Disabilities
New, Progressive Fare Structure Will Help Reduce Public Subsidy
Elimination of Bike Fee, Additional Outreach to NYCHA Residents, Support for Alternative Payment Methods Will Help Attract Riders
NEW YORK, NY—New York City Mayor Eric Adams today unveiled "NYC Ferry Forward," his vision for a more equitable, accessible, and fiscally sustainable citywide ferry system. The plan includes a new NYC Ferry Discount Program—modeled after the city's Fair Fares program for subways and buses, which offers reduced-fair rides for seniors, people with disabilities, and low-income riders. Starting in September, a at least 1 million - New Yorkers can take advantage of the program and ride the ferry, one way, for the low price of $1.35. The plan also features a new, progressive fare structure, free trip vouchers and expanded outreach to NYCHA residents, makes it easier for New Yorkers to bike to and from the ferry, and creates opportunities for revenue generation.
"Getting around New York City shouldn't feel like you're running a 5K. Wherever you live in the five boroughs, we want you to have choices, and our vision for the NYC Ferry helps provide New Yorkers with those choices," said Mayor Adams. "More and more New Yorkers are now using the NYC Ferry to get to work and get around, so we are writing a new chapter in the history of the NYC Ferry system and of transportation in our city—one built on the three pillars of equity, accessibility, and fiscal sustainability. Our NYC Ferry Forward vision will keep our city on the map as a leader and innovator in public transportation."
"NYC Ferry not only connects waterfront communities long underserved by mass transit, but it has also proved to be a boon for small businesses in the neighborhoods it serves," said Deputy Mayor for Economic and Workforce Development Maria Torres-Springer. "The NYC Ferry Forward plan will make the system more equitable, accessible, and financially sustainable. I thank the mayor for his vision, the EDC team for their stewardship of the system to date, and the work put into evolving the system to better serve New Yorkers and our communities."
"We welcome all New Yorkers to experience NYC Ferry," New York City Economic Development President and CEO Andrew Kimball. "Under Mayor Adams' new plan, we are prioritizing equity by reducing fares for lower-income riders, seniors, and people with disabilities, and we are launching new fare polices to optimize our cost structure, while exploring new opportunities to generate revenue. We are committed to improving NYC Ferry, so it operates more efficiently and continues to connect millions of New Yorkers to jobs, schools, recreation, and our waterfront communities."
Eligible New Yorkers will be able to apply for the Ferry Discount Program using the NYC Ferry website or by mailing in an application. Once verified, eligible riders can buy discounted tickets through the NYC Ferry app or at NYC Ferry ticket windows and agents. The NYC Ferry app will also support digital wallet apps like Cash App to expand access for more New Yorkers. A discounted one-way ticket price of $1.35 will help to make the ferry accessible to even more New Yorkers, while also helping to diversify NYC Ferry's ridership.
To help more New Yorkers to apply for the Ferry Discount Program, NYC Ferry will send mailers this summer to almost 60 New York City Housing Authority (NYCHA) developments within about one mile of each ferry landing, ahead of the program's launch. Additionally, NYC Ferry in partnership with NYCHA and other community organizations to conduct targeted and ongoing outreach to NYCHA residents and offer two free NYC Ferry app tickets to encourage first time riders to explore and enjoy the ferry. The plan also focuses on increasing revenue and ridership by establishing a new, dynamic, and progressive fare structure, which reduces costs to the city. This means keeping the cost low for regular riders, while asking infrequent riders to pay a little more. The plan ensures everyday riders can still take advantage of the $2.75 fare by purchasing aa 10-trip pack for $27.50, while single ride fares will cost $4.00 for visitors or infrequent riders. This scale will allow the system to continue to best serve riders, while generating as much as $2 million in additional annual revenue, helping to reduce the system's public subsidy.
Mayor Adams will also eliminate the $1.00 bike fee across the entire NYC Ferry system to help encourage environmentally sustainable multi-modal transportation. Now, New Yorkers are more encouraged to bike to and from the ferry, while also taking a mode of transportation that decreases commuters' reliance on cars and simultaneously reducing the city's carbon footprint. The elimination of the $1.00 bike fee and fare changes take effect on September 12, 2022. The city will be working with NYC Ferry operator City Experiences to implement these initiatives over the coming weeks.
"The NYC Ferry Forward plan is a needed and innovative step toward achieving a ferry system that is deeply accessible while also fiscally sustainable. I have worked closely with President Andrew Kimball and the team at EDC to make sure that we were keeping what was already great, while also thinking creatively and proactively on how to lower costs, increase ridership, and keep the ferries affordable for everyone," said Council Member Amanda Farías, chair, Committee on Economic Development. "Thank you to Mayor Eric Adams for prioritizing affordability for the riders as well as the city's pockets and to President Andrew Kimball for your commitment to improving our ferry system throughout these last seven months. I look forward to continuing to work together on the success of our NYC Ferry system."
"Outreach and engagement around the discounted NYC Ferry rates in NYCHA facilities, like Hammels Houses in my district, ensure more New Yorkers will have access to affordable, fast, and reliable modes of transportation," said NYC Council Majority Whip Selvena N. Brooks-Powers, chair, Committee on Transportation and Infrastructure. "Offering $1.35 discounted rates for underserved and disabled New Yorkers and $27.50 monthly rates will increase ridership. I applaud New York City Economic Development Corporation (EDC) and President Andrew Kimball on this announcement, and I am hopeful EDC will continue to make the necessary changes to ensure the longevity and greater access of the NYC Ferry."
"I applaud the New York City Economic Development Corporation for unveiling a new plan for the NYC Ferry focused on equity and access for all New Yorkers," said Bronx Borough President Vanessa Gibson. "For too long residents living in transportation deserts have faced long commutes each day lasting well over an hour each way. Yet, since its launch in Soundview in 2018, straphangers have seen their commutes decrease. With up to 35% of NYC Ferry riders from the Bronx, it is clear this program will benefit even more under this plan by allowing our NYCHA residents to ride for free and eliminating the $1 charge to bring your bike on board. This proposal is a step forward towards transit equity, financial sustainability, and to giving more of our residents access to our beautiful waterways."
"NYC Ferry remains an innovative way to utilize our historically underused waterway, connect previously unconnected communities across borough borders and help preserve our environment. Ensuring this system continues to successfully transport thousands of New Yorkers across our rivers and bays each day is critical to the overall health of our city," said Queens Borough President Donovan Richards Jr. "I look forward to working with the Adams administration to further invest in and support NYC Ferry and, by extension, Queens families who use the water to get to work, school and more."
"We are pleased to see the continued success of the NYC Ferry as Mayor Adams announces his vision plan "NYC Ferry Forward." This plan is expected to open the door for more people to access this commonsense commuting option for our borough," said Staten Island Borough President Vito Fossella. "Fast ferry availability has many benefits - it takes cars off the roads, it is good for the environment, and it's a relief to commuters who crave an alternative option to what can be an often burdensome journey into Manhattan. We hope to see additional NYC Ferry routes open up to serve more Staten Islanders who would benefit from an affordable and accessible mode of transportation. I want to thank the mayor and his team for this investment in public transportation."
In an effort to generate new revenue and continue increasing ridership, NYC Ferry will launch the Rockaway Rocket this month. The new, reservation-based shuttle pilot program with direct service from Pier 11 in Lower Manhattan to Rockaway. The shuttle will run on summer weekends and holidays from July 23 until Labor Day weekend, supplementing the current NYC Ferry service on the Rockaway route. Additionally, NYC Ferry will work to generate additional revenue by seeking new public-private sponsorship opportunities and developing a plan to maximize revenue from any underused vessels, including for film or TV productions. These opportunities will further reduce system costs and public subsidies in the future.
Additionally, New York City Economic Development Corporation (NYCEDC), which oversees NYC Ferry, will initiate a competitive, open bidding process for a new ferry operation contract this summer. This new contract will further allow the system to remain a permanent fixture of the New York City landscape.
The NYC Ferry system provides more than 6 million riders annually with safe, dependable, affordable, and accessible transit across the five boroughs. With six routes that touch every borough, 25 landings, and 38 vessels, the system spans 70 nautical miles and is now the largest passenger-only fleet in the nation, based on hours of service. NYC Ferry has further proven to be among New York City's most resilient transit network with the fastest ridership recovery of any city transit system since the pandemic.
"NYC Ferry can play a key role in how New Yorkers get around without a car, and this update includes many important steps forward for the system. We especially applaud NYCEDC for providing Fair Fares and eliminating the surcharge for bikes on NYC Ferry. These changes will be good for our climate, transportation equity, and will make riding the ferry more accessible to New Yorkers," said Danny Harris, Executive Director of Transportation Alternatives.
"Ferries are zipping around New York Harbor and local waterways reaching new corners of New York City and connecting communities, opening new recreational opportunities, and shortening commutes. We commend Mayor Adams and EDC for envisioning the next chapter of NYC Ferry's growth by supporting revenue generation through a variety of new farebox collection options with equitable and fair ticketing for commuters," said CEO and President of The Waterfront Alliance Cortney Worrall. "There is great opportunity to expand services to new locations, to identify transit deserts that would be well-served by ferries, and to increase revenue through new advertising, concessions, and partnerships. We urge the city and transit advocates to continue to comprehensively understand the benefits of New York City's ferry system."
"Astoria Houses residents are grateful for the ferry. It's an added transportation option that is now even more affordable to those who need it most," said NYCHA Astoria Houses Resident Association President Vanessa Jones-Hall. "Not only does the ferry provide easy access to get downtown to go to work, it offers residents a nice ride along the waterway, and it allows New Yorkers to visit Astoria and see all we have to offer. We applaud the Mayor and NYCEDC for working to improve affordability and accessibility."
"NYC Ferry connects communities across the city," said Urban Upbound President and CEO Bishop Mitchell Taylor, "With the fare discounts and public engagement outlined in the NYC Ferry Forward plan, a greater number of New Yorkers will have the opportunity to benefit from the ferry's links to where they work, where they live, and spaces for recreation. I applaud NYCEDC, NYC Ferry, and Mayor Adams on launching this next chapter for the ferry system and placing equity at its center."
"The ferry system has made such a difference on the peninsula, and we are very excited that NYC Ferry is deepening its partnership with NYCHA," said community advocate Ms. Claudia Coger. "By providing free tickets to families in NYCHA and expanding fare discounts, the ferry will continue to provide much-needed transit connection to jobs, healthcare, and all that the city has to offer."
About NYCEDC   
New York City Economic Development Corporation is a mission-driven, nonprofit organization that works for a vibrant, inclusive, and globally competitive economy for all New Yorkers. We take a comprehensive approach, through four main strategies: strengthen confidence in NYC as a great place to do business; grow innovative sectors with a focus on equity, build neighborhoods as places to live, learn, work, and play; and deliver sustainable infrastructure for communities and the city's future economy. To learn more about what we do, visit us on Facebook, Twitter, LinkedIn, and Instagram.