Press Release
NYCEDC and NYC FERRY Announces Record Breaking Ridership Numbers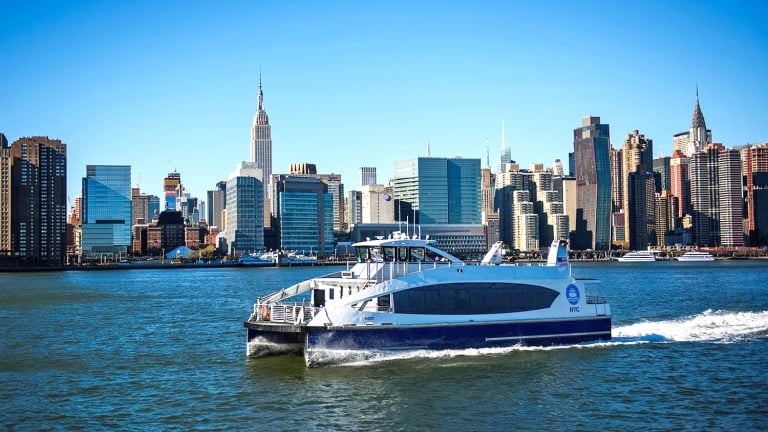 Over 1 Million Riders Boarded NYC Ferry in the First 13 Weeks of 2023, the Earliest the System Has Reached This Ridership Number in Any Year to Date
With the Roll Out of the South Brooklyn Faster Connections and Harbor School Pilot Programs, NYC's Ferry Forward Plan Continuing to Deliver Results
NEW YORK, NY—Today, the New York City Economic Development Corporation (NYCEDC) and NYC Ferry announced record ridership numbers with one million riders using the ferry system in the first 13 weeks of 2023, which is the earliest the system has reached this ridership number in any year to date.
These new ridership numbers build on NYC Ferry's record ridership return in 2022, as well as breaking pre-pandemic ridership numbers in February 2023.
The most popular routes were the East River, Astoria, and Soundview routes with 37%,24%, and 13% of the ridership share respectively. In addition, the average daily ridership for the first Quarter of 2023 included 11,531 passengers boarding NYC Ferry on weekdays and 9,980 passengers per day on weekends.
"New York City is not coming back, it's back – and we're seeing that not only on the subways but also on our ferries," said New York City Mayor Eric Adams. "Our NYC Ferry Forward plan is delivering a more equitable, accessible, and fiscally sustainable ferry system and showing how we 'Get Stuff Done' for New Yorkers. Whether you're going up to Soundview or out to Rockaway Beach or stopping at Governors Island, I look forward to seeing my fellow New Yorkers on the ferry."
"Last July, Mayor Adams announced the NYC Ferry Forward vision to create a more accessible, equitable and fiscally sustainable ferry system. With record numbers of over 1 million riders in just the first 13 weeks of the year NYC Ferry users are offering a resounding endorsement of this new vision." said NYCEDC President and CEO Andrew Kimball. "More than ever, New Yorkers are taking advantage of the efficiency and beauty of travel on our waterways." 
"As the Council Member representing Soundview, it is great to see that my community and New Yorkers citywide enjoy taking the Soundview line as much as I do," said Councilmember Amanda Farías. "As Chair of the Committee on Economic Development, I am proud to be able to work closely with the NYCEDC and NYC Ferry on the NYC Ferry Forward plan and see that its mission of making the ferry accessible is paying off. I look forward to seeing ridership numbers continue to grow."
"Since launching in 2017, NYC Ferry has proven to be a vital transportation resource for everyday New Yorkers, especially for those living in transit deserts," said Timothy O'Brien, SVP of Ferries and Transportation, Hornblower Group. "We are thrilled to share that we are pacing towards record-breaking ridership in 2023, following our most successful first quarter to date as more New Yorkers than ever embrace our waterways as their preferred commuting option under Mayor Adams' Ferry Forward Plan."
After Mayor Eric Adams launched New York City's NYC Ferry Forward plan in July 2022, NYCEDC and NYC Ferry have worked to implement the plan, which calls for a more equitable, accessible, and financially sustainable five borough ferry system. The program has continued to build on the system's early success to expand the Ferry Discount Program for seniors, people with disabilities, and participants in the Fair Fares NYC program. 
Earlier this month, NYCEDC launched a discount pilot program for high school seniors at the Urban Assembly New York Harbor School. Additionally, in February the South Brooklyn Faster Connections Pilot was launched, reducing morning commutes along the South Brooklyn route by 20 minutes for some riders.
NYCEDC and NYC Ferry will continue to develop new strategies for improving the system, building on its record-setting successes, and incorporating lessons learned in the years since the system's launch. NYC Ferry's early record-setting pace in 2023 continues to show the impact of these updates.
About NYCEDC 
New York City Economic Development Corporation is a mission-driven, nonprofit organization that works for a vibrant, inclusive, and globally competitive economy for all New Yorkers. We take a comprehensive approach, through four main strategies: strengthen confidence in NYC as a great place to do business; grow innovative sectors with a focus on equity, build neighborhoods as places to live, learn, work, and play; and deliver sustainable infrastructure for communities and the city's future economy. To learn more about what we do, visit us on Facebook, Twitter, LinkedIn, and Instagram.