Press Release
City Officials, Local Elected Officials and Community Stakeholders Break Ground on Mixed-Use Development in East Harlem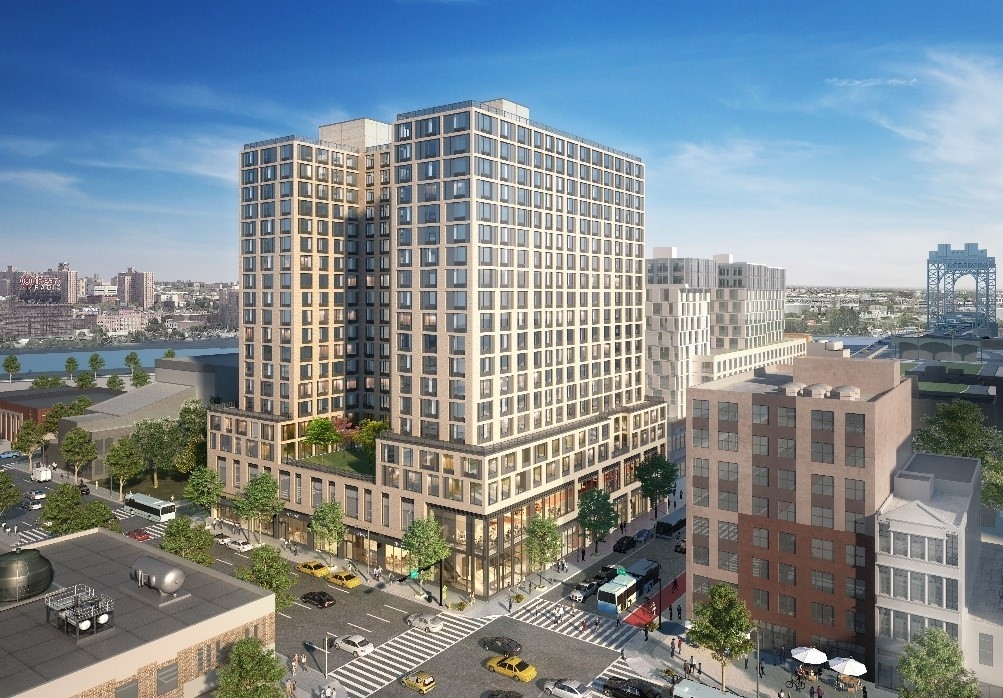 One East Harlem Will Create Nearly 300 Units of Affordable Housing, and Cultural, Retail and Open Space to East Harlem
EAST HARLEM, NY—Today, New York City Economic Development Corporation (NYCEDC) Executive Vice President and COO Rachel Loeb, Department of Housing Preservation and Development (HPD) Acting Commissioner Eric Enderlin, Housing Development Corporation (HDC) Acting President Richard Froehlich, Manhattan Borough President Gale Brewer, and Councilmember Diana Ayala and community stakeholders broke ground on One East Harlem, a vibrant one-acre, mixed-use development that will bring nearly 300 units of housing to East Harlem. Officials were joined by representatives from development team comprised of Richman Group Development Corporation, Bridges Development Group, Monadnock Development LLC., Hope Community Development Inc. and El Barrio Operation Fightback.
The One East Harlem project is a key component of the City's East 125th Street Development Project. The project will deliver:
Just over 400 housing units, 300 units of which will be affordable
65,000 square feet of retail space including a Food Bazaar supermarket
5,000 square feet dedicated to local retail
10,000 square feet of public open space
5,000 square feet of cultural space to be tenanted by Groove With Me, a local development organization offering free dance classes and performance opportunities for young girls
Additionally, the project is expected to create nearly 300 construction jobs and over 140 permanent jobs. The project is expected to be complete in 2021.

"Today's groundbreaking marks a new beginning for East Harlem," said NYCEDC Executive Vice President and COO Rachel Loeb. "One East Harlem will provide much-needed affordable housing, community space and promote economic development in El Barrio. We thank our partner agencies, local elected officials, community stakeholders and our development partners for their support and commitment to bring this game-changing project to fruition."

"HDC is proud of its role in making One East Harlem possible in part due to its innovative financing techniques and the creative vision of many dedicated stakeholders" said HDC Acting President Richard Froehlich. "We consistently demonstrate the transformative outcomes that can be achieved when working within a public-private partnership model. Thanks to our development and financial partners, local elected officials, community representatives, and of course our incredible teams at HDC, HPD, and EDC who all worked tirelessly to ensure this project provided much-needed affordable housing and lasting economic opportunity to the East Harlem community."

"The One East Harlem project will bring affordable housing, job opportunities, locally-based cultural space, and a much-needed supermarket to our community," said Council Member Diana Ayala. After years of planning, I am excited to finally see this project come to fruition. I thank EDC, HPD, Community Board 11, The Carey Group, and my predecessor, Melissa Mark-Viverito — all of whom have been incredibly instrumental in making today possible."

"What a wonderful day to celebrate the groundbreaking of the East 125th Street development," said Community Board 11 Chair, Nilsa Orama. "This community has waited a long time for this day. The combination of the retail spaces along with the community spaces and the various bands of housing affordability will add to the continued revitalization of 125th Street."

"Our team remains incredibly excited about the development of the next phase of our mixed-use, mixed-income project in East Harlem," said Richman Group Development Corporation President, Kristin Miller. "We are grateful for this opportunity and eager to continue to work with the community and City leaders to collectively create a vital and dynamic project.

The One East Harlem project was borne out of the East 125th Street Development, a revitalization plan created in partnership with the East 125th Street Development Task Force to bring affordable housing, quality jobs as well as space for retail, arts and culture. There have been two phases of development, including 48 low-income units and approximately 5,000 square feet of retail space on the southeast corner of E 125th Street and Third Avenue. The second phase includes the New York Proton Center, the first proton beam therapy facility in New York State that will provide advanced cancer treatment.

The project is financed under HDC and HPD's Mixed-Middle Income Program. HDC is providing roughly $74 million in tax-exempt bonds and another $15 million in corporate reserves. HPD is contributing $33 million in subsidy. Citi provided a $63.5 million taxable participation loan and provided the credit enhancement during the construction phase. Credit enhancement during the permanent phase will be provided under a Freddie Mac/HDC risk share structure. The project benefits from Low-Income Housing Tax Credits (LIHTC) resulting in $16.7 million in tax credit equity. Additionally, former City Council Speaker Melissa Mark-Viverito committed $3 million in Reso A funding.
About NYCEDC
New York City Economic Development Corporation creates shared prosperity across New York City's five boroughs by strengthening neighborhoods and creating good jobs. NYCEDC works with and for communities to provide them with the resources they need to thrive, and we invest in projects that increase sustainability, support job growth, develop talent, and spark innovation to strengthen the City's competitive advantage. To learn more about our work and initiatives, please visit us on Facebook, Twitter, or Instagram.