Broadway Junction and East New York
Investing in Broadway Junction
Broadway Junction is one of Brooklyn's major transit centers, sitting at the intersection of five subway lines, six bus routes, and the Long Island Rail Road. It is uniquely connected to employment and transit hubs citywide, with a 15-minute ride to Downtown Brooklyn, Jamaica, or Williamsburg; 20 minutes to Lower Manhattan; and 35 minutes to Midtown Manhattan or JFK. It is also the meeting point of six largely residential neighborhoods: Bedford-Stuyvesant, Brownsville, Bushwick, Cypress Hills, East New York, and Ocean Hill.
NYCEDC and the City are committed to long-term equitable growth in Broadway Junction and East New York through:
Community engagement
Workforce development
Public realm improvements
Establishing a new jobs hub
With improvements to open space, new office development, retail, and housing planned for the area, Broadway Junction will become a true transit hub and thriving 24/7 community.
NYCEDC is also working in East New York to strengthen the historic industrial hub and secure its future as a thriving employment center and contributor to the local economy of East New York and Brownsville by promoting the East New York Industrial Business Zone (IBZ) to attract new industrial businesses, grow emerging green and manufacturing industries, and support local businesses.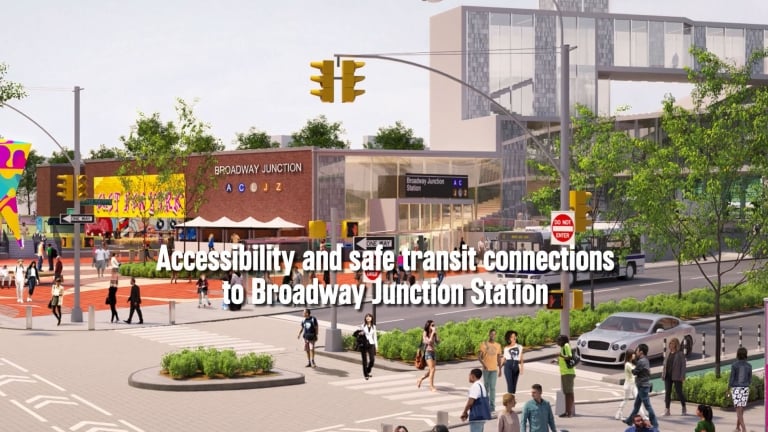 Reimagining the Public Realm
We're reimagining Broadway Junction with $95M in City capital that will:
Deliver vibrant public space
Improve quality of life
Unlock inclusive economic growth throughout East New York
NYCEDC is investing in new streetscape and public space improvements to improve pedestrian safety, enhance connections to transit, and revitalize the surrounding area.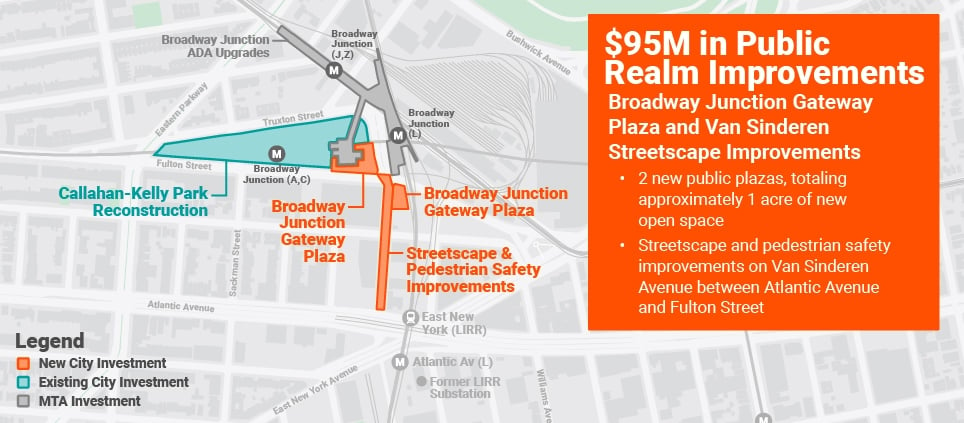 The City capital funding will bring improvements to open space adding:
A gateway plaza at the main Broadway Junction Station entrance
A new public open space
Streetscape improvements to install new pedestrian safety measures and lighting, signage, street furniture, and bike infrastructure
The City's public realm investment is bolstered by a $400 million investment from Governor Hochul and the MTA, which will bring Brooklyn's third-busiest station into the 21st century with:
A new station entrance
Seven new elevators
Escalators to finally bring full ADA access to the station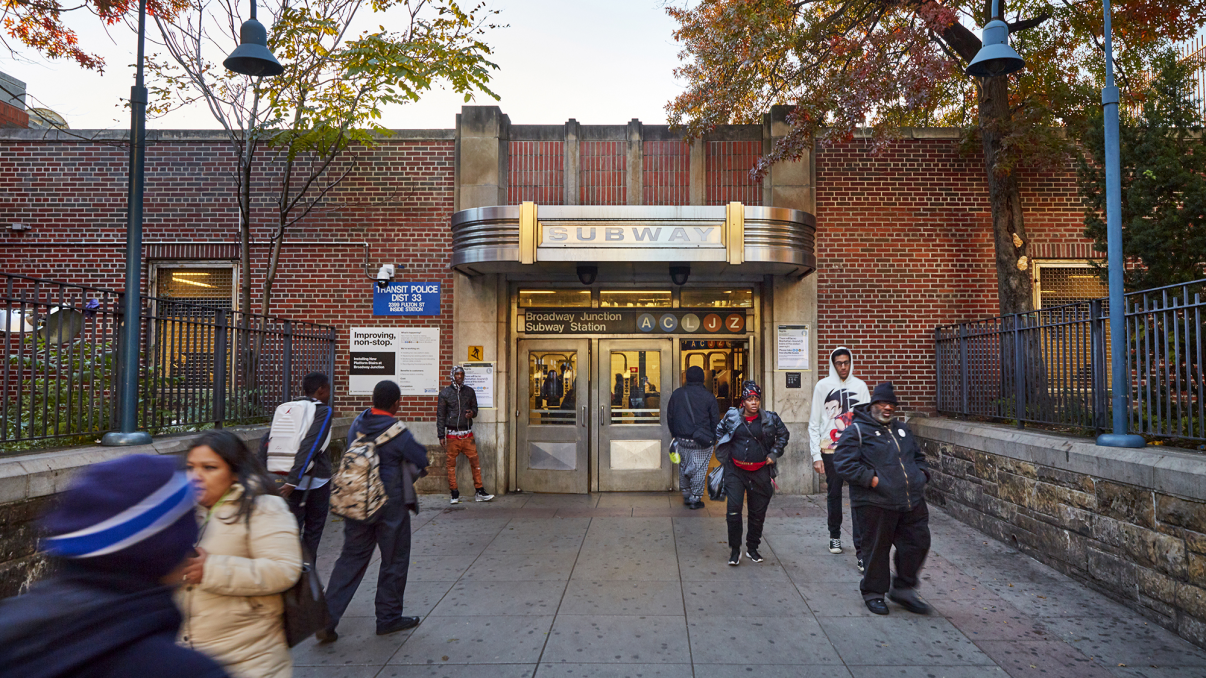 A New Jobs Hub
Through the City Agencies Revitalizing the Economy (CARE) strategy, the City aims to create job hubs across NYC by strategically locating City agency offices in key neighborhoods. Currently, construction is underway at 2440 Fulton Street, on what will be the largest-ever commercial building in the Broadway Junction area. The new building will create local jobs and support existing local businesses in East New York.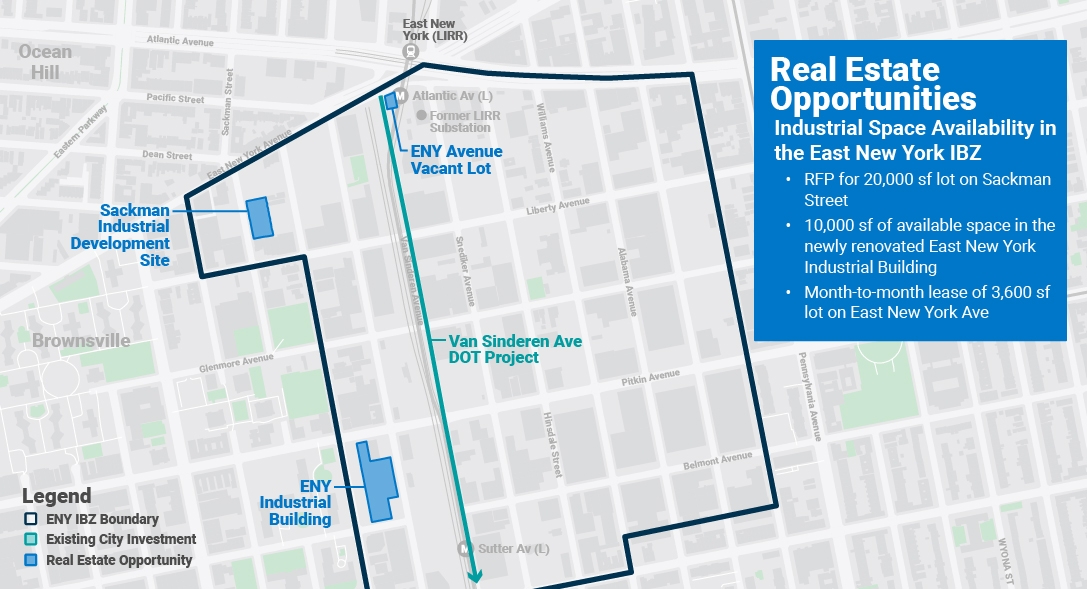 A growing Broadway Junction will also support continued business development in the adjacent East New York IBZ, which is already home to over 100 local industrial businesses. NYCEDC is advancing opportunities to activate underutilized City-owned sites in the IBZ for use and development by industrial and manufacturing businesses in growing and emerging sectors to the IBZ through:
A Request for Proposals (RFP) in 2024 to activate a 20,000-square-foot lot on Sackman Street
An opportunity to lease up to 10,000 square feet of space at the newly renovated East New York Industrial Building
Month-to-month leasing of a 3,600-square-foot lot on East New York Avenue
To receive updates on these upcoming real estate opportunities, you can sign up for our mailing list.
Workforce Development
With these new investments, the City is expected to see over $11.6 billion in economic impact over the next 30 years, including opportunities for local businesses, nonprofits, and minority- and women-owned business enterprises (M/WBEs).
With this opportunity in mind, NYCEDC will focus on strategies to empower local businesses, specifically by:
Setting aside a minimum of 35 percent of contracts for the design and construction of $95 million in public realm improvements around Broadway Junction for M/WBE businesses
Working with local minority, women, and other disadvantaged businesses in the community to become M/WBE-certified
Prioritizing these businesses for admission into the next cohort of NYCEDC's ConstructNYC program
At the same time, the City will reduce barriers for the local workforce to access training and new job opportunities related to this investment. The New York City Department of Small Business Services (SBS) will partner with NYCEDC, the MTA, and other employers to do targeted outreach and marketing of upcoming training and recruitment events at the East New York Workforce1 Center and across the City's Workforce1 system to meet hiring goals. Additionally, the MTA has set a goal to hire at least 20 percent of the project's New York State workforce from the project's surrounding neighborhoods as part of a local hiring pilot.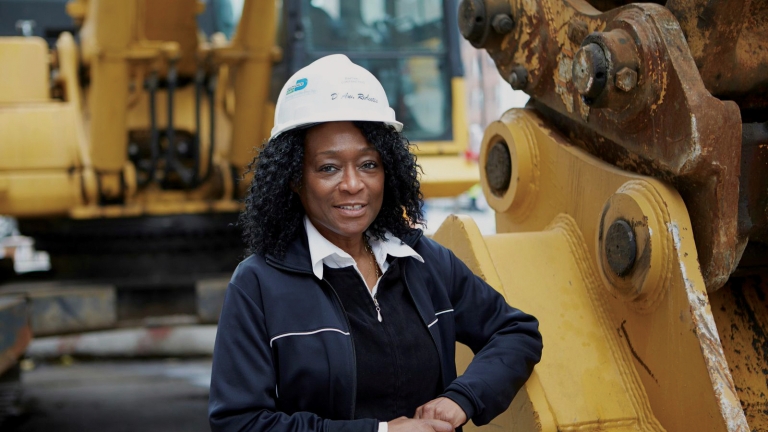 Opportunity M/W/DBE
Helping Minority, Women-Owned, and Disadvantaged Business Enterprises (M/W/DBEs) overcome challenges that may make it difficult to win contracts on public projects.
Learn More
Your Community, Your Voice
NYCEDC will be kicking off public engagement in July 2023 to understand community priorities around local investments being made in the area. We'll be offering a series of public engagement opportunities, including:
Receive updates on upcoming real estate opportunities in East New York or to hear about upcoming community engagement.