We're reimagining Broadway Junction to create a more accessible and dynamic transit hub and economic center—to offer more opportunities to the surrounding neighborhoods and the city at large. Public realm improvements are coming to Broadway Junction!
NYCEDC is investing in new critically needed streetscape and public space improvements focused on improving pedestrian safety, enhancing connections to transit, and revitalizing the surrounding area. In partnership with Governor Hochul and the MTA, Broadway Junction Station will become a 21st century subway station with:
A new, grand entrance
Seven new elevators
Escalators to finally bring full ADA access to the station.
With improvements to open space, new office development, retail, and housing planned for the area, Broadway Junction will finally move toward achieving the goals of 2019's Broadway Junction: Vision for the Future, by becoming a true transit hub and thriving 24/7 community for the thousands of Brooklynites who live and work in the surrounding communities.
NYCEDC will invest $84 million of capital funding in public realm improvements to create a new gateway plaza to Broadway Junction Station with space for new lighting, art, vending, seating, and a new public open space across the street at Van Sinderen and Fulton Streets. An additional $11 million of funding comes from the New York City Strategy for Equity and Economic Development (NYC SEED) Fund, part of Mayor Adam's Rebuild, Renew, Reinvent Blueprint, which prioritizes investments that address historic disinvestment and safety, while creating jobs and spurring economic growth. This is the first disbursement of NYC SEED funding and will be used for streetscape improvements to install new pedestrian safety measures, lighting, signage, street furniture, and bike infrastructure on Van Sinderen Street between Fulton Street and Atlantic Avenue.
In addition, NYCEDC is working in East New York to strengthen the historic industrial hub and secure its future as a thriving employment center and contributor to the local economy of East New York and Brownsville by promoting the East New York Industrial Business Zone (IBZ) to attract new industrial businesses and growing sectors, and supporting local businesses.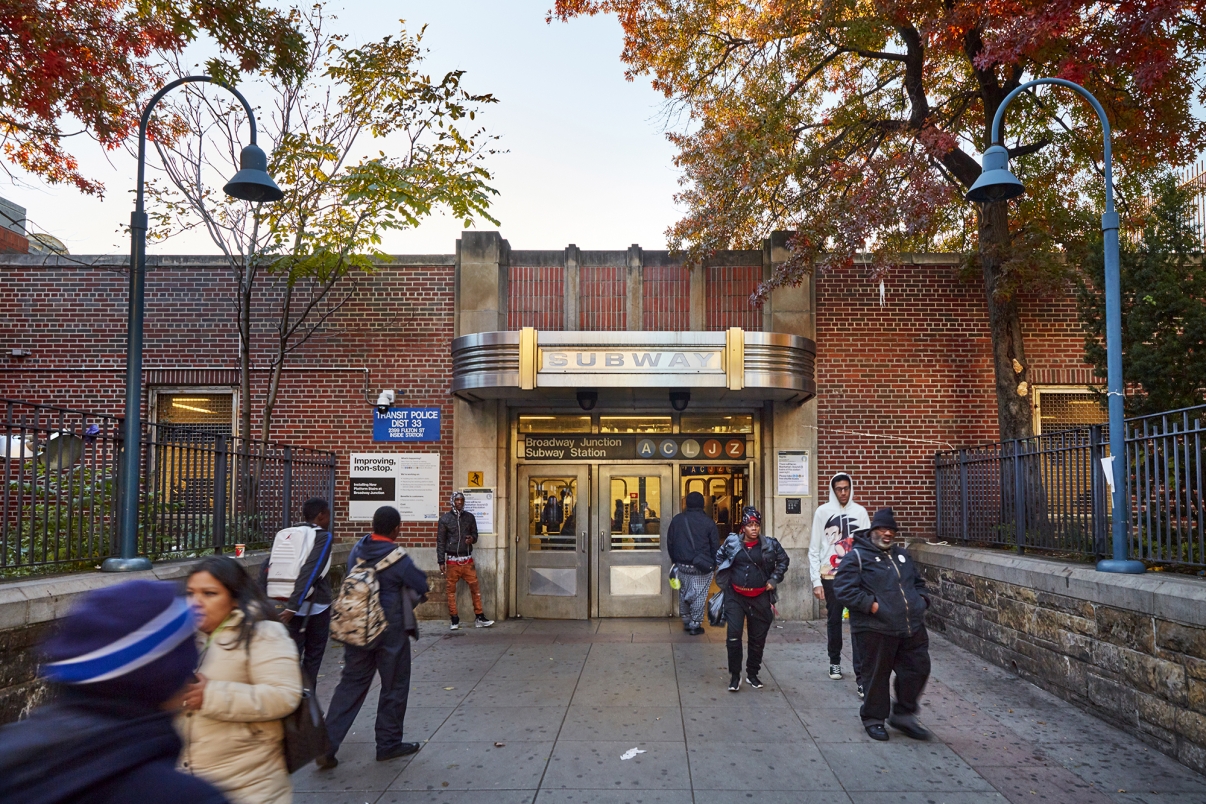 Ingredients for a Hub
Broadway Junction is one of Brooklyn's major transit centers, sitting at the intersection of five subway lines, six bus routes, and the Long Island Rail Road. It is uniquely connected to employment and transit hubs citywide, with a 15-minute ride to Downtown Brooklyn, Jamaica, or Williamsburg, 20 minutes to Lower Manhattan, and 35 minutes to Midtown Manhattan or JFK Airport. It is also the meeting point of six largely residential neighborhoods: Bedford-Stuyvesant, Brownsville, Bushwick, Cypress Hills, East New York, and Ocean Hill.
A growing Broadway Junction will also support continued business development in the adjacent IBZ, which is already home to over 100 local industrial businesses. NYCEDC is issuing a Request for Proposals (RFP) to activate a 20,000-square-foot lot on Sackman Street, leasing of up to 10,000 square feet of space at the newly renovated East New York Industrial Building, and the leasing of a 3,600- square-foot lot on East New York Avenue.
Untapped Potential
Despite its exceptional transit access and vibrant surrounding neighborhoods, Broadway Junction is not yet a true transit hub or economic center. The area lacks basic services and amenities and is dominated by vacant sites, parking uses, poor lighting, and confusing streets. Broadway Junction Station itself is the third-busiest station in Brooklyn but has no accessibility to any of its four levels.
The City is investing in more than just public realm improvements at Broadway Junction. This public realm investment follows the first phase of New York City's "CARE" strategy in East New York. "City Agencies Revitalizing the Economy," aims to create job hubs across the city by strategically locating City agency offices in key neighborhoods. Currently, construction is underway on what will be the largest-ever commercial building in the Broadway Junction area. The new building, located at 2440 Fulton Street, is across the street from Broadway Junction Station, both of which play a key role in creating local jobs, revitalizing East New York, and catalyzing new developments outside of traditional central business districts.
Broadway Junction: A Vision for the Future
By the Numbers
100K
The number of commuters per weekday that pass through the station.
In August 2019, NYCEDC and the City released Broadway Junction: A Vision for the Future in partnership with then-Council Member Rafael L. Espinal Jr. and then-Borough President Eric L. Adams. The plan set out a vision for the future of Broadway Junction to realize its potential as an accessible transit hub and vibrant economic center. The plan advocated for investment in the public realm around Broadway Junction to provide quality-of-life, transit equity improvements, and more economic development opportunities to the surrounding neighborhoods and the city at large. The plan was developed with community leaders; Community Boards 4, 5, and 16; and the broader public, and highlighted a series of recommendations focused on and still relevant to current plans and investment in the area:
Transit access and equity
Inclusive growth
Economic and workforce development
Active places and neighborhood amenities
Public realm improvements and open space
This year-long process represented the first effort led by both the City and community to focus solely on Broadway Junction.
Learn More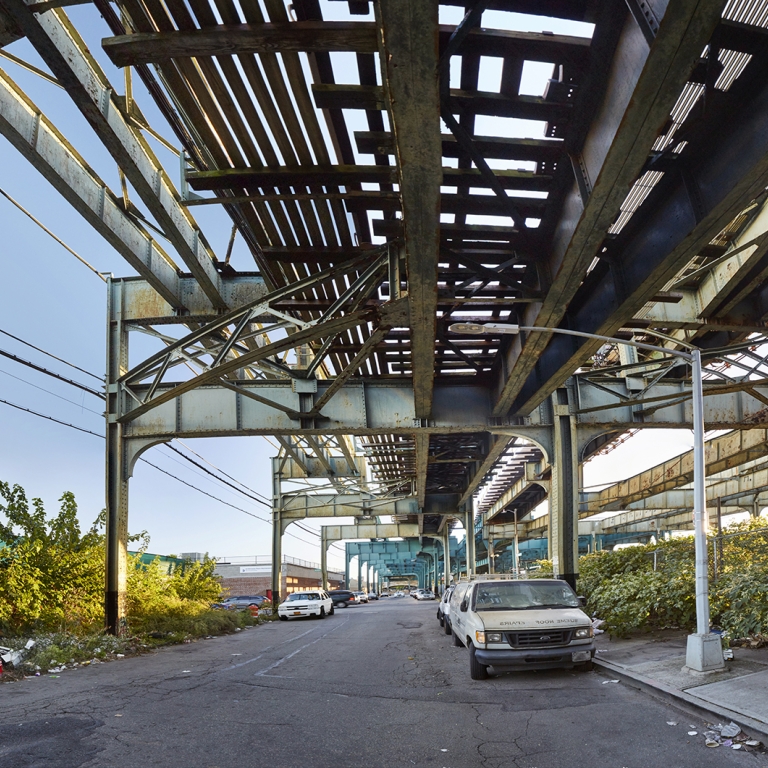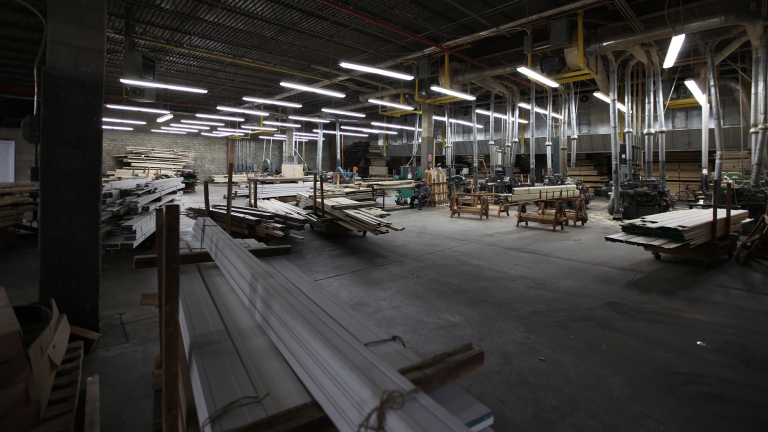 East New York Industrial Business Zone
A thriving industrial area that is home to over 100 businesses in a variety of sectors, providing over 3,000 accessible jobs to New Yorkers of all backgrounds.
Learn More