Press Release
NYCEDC Launches Climate Innovation Pilot Program at Brooklyn Army Terminal in Sunset Park to Test New Innovations and Unlock Solutions for Global Climate Challenges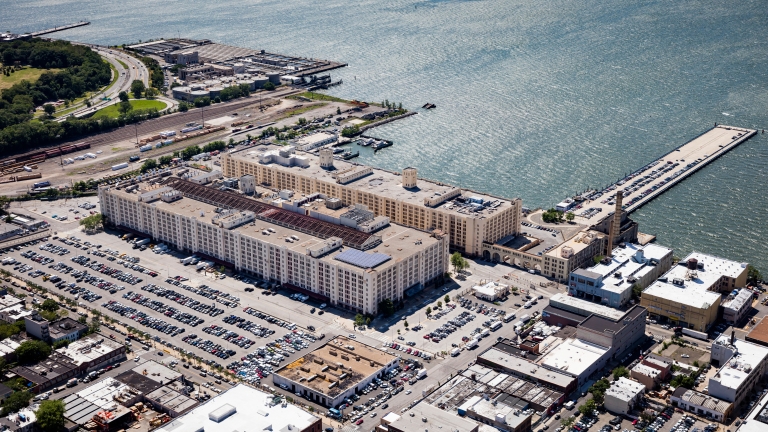 New Pilot Program Builds on Adams Administration's Goal of Establishing New York City as a Global Hub for Urban Innovation
Applications For December 2023 Cohort Are Now Live 
BROOKLYN, NY—New York City Economic Development Corporation (NYCEDC) today announced the activation of one of its flagship assets, the Brooklyn Army Terminal (BAT), in Sunset Park, for climate innovation pilot projects allowing companies to test and scale their technologies in live environments. The program will allow companies to pioneer groundbreaking technology and solve for city challenges around energy, transportation, and building decarbonization. NYCEDC's Sunset Park Portfolio features over 200 acres of waterfront space and assets that provide unique opportunities for industries of the future.
Recognizing the global threat of climate change and the need to accelerate a just transition to a green economy, this new piloting program highlights the potential and value of public-private partnerships to grow emerging technologies and companies. Pilots will have access to parking spaces and electrical, roadways, waterfront access, plumbing and water systems, building façade and windows, roof areas, and heating and boiler systems. These spaces and infrastructure will offer a live environment for companies to test their technologies, develop their products, show viability for customers and investors, and tap into New York City's economy, the 9th largest in the world.
"New York City is a global leader in the urgent work of transitioning the built environment to be more resilient and less energy intensive. This exciting project at BAT is another example of the Adams' administration's work to bring the public and private sectors together to identify, test and scale innovative tools and technologies that will help to reduce carbon emissions and advance the city's climate agenda," said Deputy Mayor for Economic and Workforce Development Maria Torres-Springer.
"The Brooklyn Army Terminal is steeped in history, a fixture of the Sunset Park community and New York City economy and will now be in the frontlines of the fight against climate change by piloting new technologies and unlocking new solutions to tackle this global crisis," said NYCEDC President & CEO Andrew Kimball. "Through this new piloting program, we will demonstrate the potential of public-partnerships and continue to further New York City as a global hub for businesses, entrepreneurs, working families, while accelerating our city towards a just green transition."
NYCEDC selected three companies to participate in the inaugural cohort who will start their piloting program in September 2023. NYCEDC will issue a quarterly call for companies that are strategically aligned with NYCEDC's industry development and real estate portfolio management objectives. Pilots will be selected based on a number of criteria including industry need, impact, and feasibility. The inaugural cohort includes: 
Conservation Labs is a startup that will pilot its H2know product, an affordable smart water monitor that uses AI to manage water consumption and detect leaks.
Enertiv, a startup based in NYC, will digitize select meters and submeters to produce granular insights into electricity consumption and demonstrate its potential for monthly utility cost recovery.
Trakref, acquired by the facilities management software company, Fexa in April, will pilot refrigerant management software that helps to reduce carbon emissions by surfacing HVAC inefficiencies and refrigerant leaks. 
NYCEDC evaluated these companies in conjunction with JLL Technologies (JLLT) as part of the interagency Property Technology (Proptech) Piloting Program that surfaces innovative startups that are interested in working with NYCEDC, the New York City Department of Citywide Administrative Services (DCAS), and the New York City Housing Authority (NYCHA) to improve quality of life for tenants and address real estate sustainability. The Proptech Piloting Program, like many of the innovation programs around New York City, requires live demonstration sites, a need that BAT will fill for this program and others as it emerges as a campus.
"With Climate Week coming up this September, it is urgent that we continue to invest in more innovative climate solutions that fit the needs of our City. This Climate Innovation Pilot Program allows for us to move on sustainable solutions to protect our communities and waterways, while also supporting our green economy and life science workforce. I look forward to seeing the positive outcomes of this pilot program, and to supporting more innovative solutions, both in the immediate and long term, to the climate crisis," said Council Member Amanda Farías.
"We are in a climate emergency and we need to use all the tools in the box to put the City of New York on track to meet its climate goals" said Sunset Park Council Member Alexa Avilés. "The Sunset Park community has spent years planning on how to shift to a green, sustainable economy. In conjunction with the Green Resilient Industrial District (GRID) Plan 2.0, this pilot initiative at the Brooklyn Army Terminal, demonstrates the importance of alignment and action - right here in Sunset Park - as we begin to address one of the biggest challenges of our time," said Council Member Alexa Aviles.
"I am excited to see New York City partnering with the growing climate tech sector and leveraging its infrastructure to find 21st century solutions for our environmental and climate goals. It's fitting that the Brooklyn Army Terminal will be used for this purpose, as it was historically used to aid the nationwide mobilization to fight two world wars, and now it will be a center to prove and improve technology needed to aid the fight against climate change. I applaud EDC and the City for taking this initiative," said New York State Senator Andrew Gounardes.
"I am thrilled that NYCEDC is activating Brooklyn Army Terminal for climate innovation. Our community in Sunset Park is at the forefront of the climate justice movement because we face the most harm when it comes to damaging climate change. Right now, my neighbors shoulder increased risks of health issues due to pollution and dangerous conditions due to natural disasters. We must be proactive about confronting these issues to keep Sunset Park safe. I applaud NYCEDC for leading climate innovation and supporting projects that will protect our community," said New York State Assemblymember Marcela Mitaynes.
"The Climate Innovation Pilot Program is one piece of a decades-long fight for a green reindustrialized waterfront in Sunset Park. This Climate Innovation Pilot Program positions Sunset Park at the forefront of the growing green economy and will support statewide climate goals while providing well paying manufacturing jobs in a frontline climate justice community. UPROSE applauds EDC for demonstrating what is possible when frontline leadership and government entities collaborate to implement community led visions," said Executive Director of UPROSE Elizabeth Yeampierre. 
"As advocates of Sunset Park's thriving industrial waterfront, we welcome NYCEDC's Climate Innovation Pilot Program. This forward-looking initiative will help activate one of our community's most important economic development assets – the Brooklyn Army Terminal – as a place to incubate critical technologies and products that can help address the climate crisis. SBIDC looks forward to partnering with NYCEDC and the inaugural program's companies to forge a greener and more resilient industrial waterfront," said Southwest Brooklyn Industrial Development Corporation (SBIDC) Director Jesse Solomon.
"This public-private program demonstrates the enormous opportunity to empower emerging prop-tech companies in our fight against climate change while creating new economic drivers for the city," said Peter Riguardi, Chairman and President of JLL's New York Region. "JLL Technologies is proud to partner with the city to identify innovative startups that will develop and employ new technologies to advance our efforts on sustainability and climate change."
"Our collaboration with NYCEDC's climate tech initiative targets unwanted water use and associated carbon emissions, emphasizing the pivotal role of water solutions in addressing climate challenges. We expect our partnership to demonstrate the importance of water and are excited about the transformative potential it holds for urban sustainability," said Founder and CEO of Conservation Labs Mark Kovscek.
"Enertiv is excited to have been selected for the opportunity to take part in the NYCEDC's Piloting Program. Our project at the Brooklyn Army Terminal will showcase the advanced capabilities of our Operational Intelligence Software, while providing the NYCEDC the energy consumption transparency and cost recovery opportunity they've been deprived of to date. Our software will offer the NYCEDC and its tenants an opportunity to understand their true energy impact, helping them to reduce costs while achieving their decarbonization goals," said Enertiv Founder and CEO Connell McGill. 
"Trakref has been on a mission to protect the environment by solving the fugitive refrigerant emissions problem. Our merger with Fexa is allowing us to reach more organizations, HVAC technicians, and cooling assets. We are thrilled to pilot our technology at the Brooklyn Army Terminal with NYCEDC," said Fexa, Inc. Chief Compliance & Sustainability Officer Ted Atwood. 
Sunset Park in South Brooklyn is poised to be an emerging hub for climate innovation. The waterfront district has extensive industrial infrastructure, a diverse array of tenants and uses, and connection to major transportation networks. NYCEDC's primary assets in Sunset Park include the Brooklyn Army Terminal, the South Brooklyn Marine Terminal, and the Made in New York Campus (MiNY). Each of these assets provides unique opportunities for innovation, business development and support a just transition to decarbonize New York City's economy. 
BAT is a modern industrial campus powered by the rich legacy of the South Brooklyn waterfront. NYCEDC has worked to transform BAT into a modern manufacturing hub. The four million square foot campus is home to over 100 businesses and over 4,000 jobs. BAT is the premier affordable hub for modern industrial businesses, entrepreneurs, and working families in New York City.
The pilot program at BAT builds on NYCEDC's and New York City's efforts to support innovation, entrepreneurship and a just transition to a green economy.
This program also represents an example of expanding opportunities to test new technologies and approaches as outlined in the "New" New York Action Plan with the goal of making New York the hub of urban innovation that will bring vibrancy to New York City. Additionally, this program will sit alongside a consortium of pilot sites across City owned assets including Brooklyn Navy Yard and Governors Island.
"EDC's pilot program is a great example of New York's future-focused strategy to create new opportunities to cultivate a diverse ecosystem of innovators," said "New" New York Executive Director B.J. Jones. "The Brooklyn Army Terminal will provide more fertile ground in the city to help spur creative new solutions across a range of industries to help adapt to new challenges in an urban environment."
"New York has a golden opportunity to become the global leader in urban innovation. We have always been the city that the world looks to for new and exciting ideas that can improve urban life, including mobility, sustainability, buildings, and data infrastructure. Making it easier for entrepreneurs to test out new ideas is a first step toward becoming that global leader, which can produce lots of new jobs and, more importantly, create a less costly, more sustainable city," said "New" New York Co-Chair and Sidewalk Labs former CEO Daniel Doctoroff. 
"Initiatives like this program play a key role in fostering new solutions for making buildings more efficient and advancing our shared net zero goals," said Chris Beach, Chief Technology Officer for the Real Estate Board of New York (REBNY). "REBNY is proud to support this program and looks forward to continued partnership with City officials on exciting proptech efforts." 
"As a Brooklyn born startup, itselectric could not have found a better location than BAT to debut our innovative climate solution. While awards and accolades are good on paper, what you need is to actually test your technology in real-world urban conditions. The support and collaboration provided by NYCEDC at BAT was unmatched. It's a true partnership and a model for the City to pilot technologies with private companies with both speed and scale," said itselectric Co-Founder & COO Tiya Gordon.
"At Newlab we've orchestrated over 90 pilots of emerging technology - a critical stepping stone to getting new technologies out of the lab where they are developed and into the real world," said Newlab Vice President of Products and Programs Shaina Horowitz. "Piloting activity at Brooklyn Army Terminal will allow early-stage companies to gather invaluable experience and feedback that will ultimately shape how they take their technologies to market. We look forward to working closely with NYCEDC to foster this unique testbed to help companies get from idea to impact faster." 
"New York City is an incredible market for climate tech startups with access to a climate-engaged customer base, world-class capital partners and a deep reservoir of workforce talent. However, critical to companies' capacity to scale is the ability to pilot their technologies. BAT's climate tech pilot program is an invaluable addition to the city's testbeds to overcome this significant pain point, driving New York City's green economy and ambitious decarbonization goals," said The Clean Fight Managing Director Kate Frucher.
"At Streetlife, we invest at the intersection of cities and climate and are excited to support the green transition right here in the streets and neighborhoods of New York City." said Streetlife Ventures Co-Founder and Managing Partner Sonam Velani. "NYCEDC is taking a bold step to leverage its assets to develop a strong climate tech ecosystem, and make our city a world leader in innovation and entrepreneurship in this high-growth sector." 
"The EDC is showing great vision by offering up it's 4 million square feet of Real Estate, 4,000 feet of waterfront and 56 acres as a test bed for climate solutions. At NYU Tandon's Urban Future Lab, we work only with innovative companies who offer market ready climate solutions. Renovation of existing buildings is much less carbon intensive than building new. NYU would be delighted to help the city, while showing the world its great new technologies in smart buildings, smart cities, smart mobility and smart grid. We have several battery storage solutions, solar solutions, radiator solutions, efficient building controls, window retrofits, EV charging and more— all ready for just such an enlightened customer," said Urban Future Lab NYU Tandon Managing Director Cleantech Initiatives Pat Sapinsley.
"One of the key takeaways from our experience in accelerating over 100 urbantech startups at URBAN-X is that the scarcity of sites available for running pilots is a major hurdle to product validation. A program to address this issue in NYC not only speeds up the global decarbonization efforts but also makes the city a more conducive environment for startups to choose, thrive in, and contribute to the local economy," said URBAN-X Platform Director Tristan Bel.
"It's great to see the City of New York unlocking value for entrepreneurs, reducing emissions in city-owned buildings, and catalyzing job growth in a sector that will outperform for years to come.  We all benefit when we speed the deployment of digital infrastructure to make our buildings more efficient and our infrastructure more resilient.  Blackhorn Ventures looks forward to building on our commitment to backing the best and brightest founders accelerating the energy transition, many of whom are bringing their solutions to market here in New York," said Blackhorn Ventures Partner Micah Kotch.
NYCEDC is now accepting applications for the December 2023 cohort, click here for more information on how to apply.
About NYCEDC    
New York City Economic Development Corporation is a mission-driven, nonprofit organization that works for a vibrant, inclusive, and globally competitive economy for all New Yorkers. We take a comprehensive approach, through four main strategies: strengthen confidence in NYC as a great place to do business; grow innovative sectors with a focus on equity; build neighborhoods as places to live, learn, work, and play; and deliver sustainable infrastructure for communities and the city's future economy. To learn more about what we do, visit us on Facebook, Twitter, LinkedIn, and Instagram.