Scaling Innovative Technologies on the South Brooklyn Waterfront
Emerging climate tech companies, especially in sectors like energy, mobility, and buildings, need live, built environments like roofs, streets, and HVAC systems to test, refine, de-risk, and demonstrate their products for New York City's complex urban environment.
Through the Pilots at BAT program, NYCEDC is excited to activate its flagship asset, the Brooklyn Army Terminal (BAT)—a vital 60-acre industrial campus on the South Brooklyn waterfront—to pilot new and emerging technologies for climate innovation. This will play a key role in advancing public sector partnerships that support and grow promising new technologies for communities and for the city's future economy. The BAT team has allocated several pilot zones throughout the BAT campus to serve a variety of technologies. These include: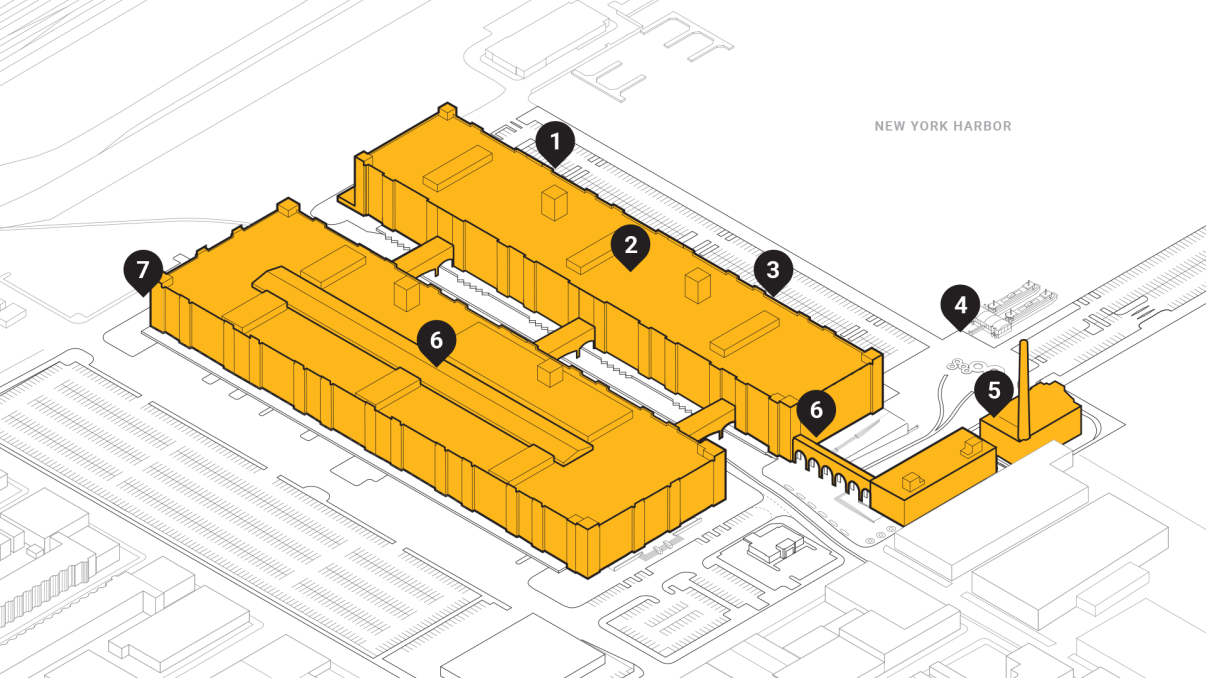 1. Plumbing and Water Systems
2. Roof Areas
3. Parking Spaces and Electrical Connections
4. Waterfront Access
5. Heating and Boiler Systems
6. Building Façade and Windows
7. Roadway and Sidewalks
About BAT
BAT is a modern industrial campus powered by the rich legacy of the South Brooklyn waterfront. NYCEDC has worked to transform BAT into a modern manufacturing hub. The four-million-square-foot campus is home to over 100 businesses and over 4,000 jobs. BAT is the premier affordable hub for modern industrial businesses, entrepreneurs, and working families in New York City.
How It Works
NYCEDC will issue a quarterly call for applicatons from companies that are aligned with our strategic priorities. Projects will be prioritized based on feasibility, anticipated industry development impact, and alignment with NYCEDC real estate portfolio needs.
During the course of the program:
Demonstrations will run for around six months to a year, after which point participating companies must remove any installed technology and restore the site to its original condition.
Demonstrations will be at no cost to NYCEDC, although NYCEDC support and operations personnel will support with site access and oversee installation and removal.
Companies shall be responsible for their own liability insurance.
NYCEDC reserves the right to terminate the program for any reason, at any time.
Look out for future updates to the program including public sector and investor demo days, innovation challenges, permitting and marketing support, and benefits from additional innovation partnerships.
FAQs
Q: What are the benefits of participating in Pilots at BAT?    
A: Companies will benefit from high visibility proof-of-concept opportunities in a live environment; direct connection to NYCEDC; and support with necessary permitting, contracting, and site access.
Q: How long is the program?    
A: Most pilots are anticipated to run for six months. Two-week application windows will open each quarter.
Q: How many pilots will be deployed at a given time?    
A: The program will launch with a small cohort of one to four pilots per quarter to build capacity before scaling the number of pilots, strategic partners, available programming, and NYCEDC sites.
Q: When does the program start?    
A: Applications for December demonstration projects will open in September 2023 and close on September 22, 2023.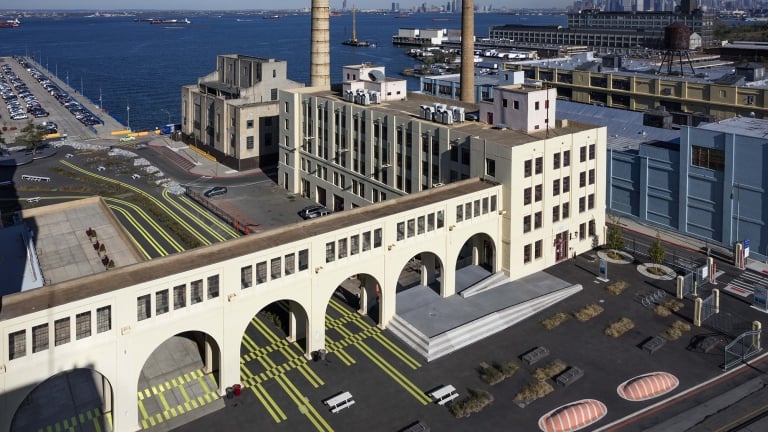 Make It at BAT
Located on the Sunset Park waterfront, BAT is the premier affordable hub for innovative climate tech businesses and entrepreneurs.
Learn More