Press Release
NYCEDC Announces Selection of Steiner Studios to Develop and Operate Made in New York Film and TV Soundstage Facility in Sunset Park, Brooklyn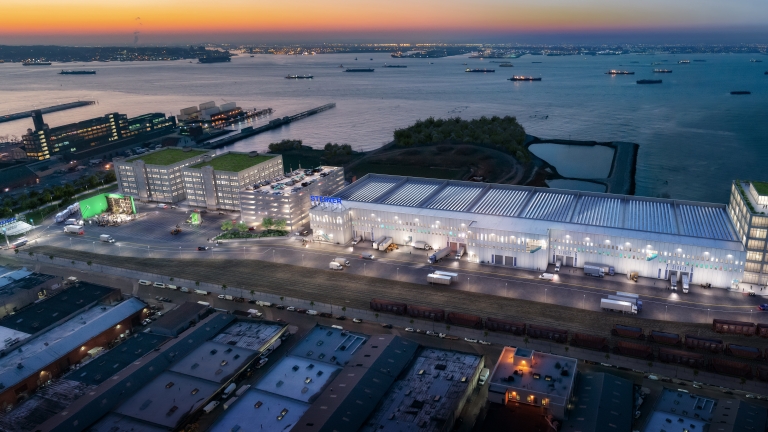 $320M in Private Investment to Support 2,200 Industry Jobs, Create 1,800 Construction Jobs, and Advance Diversity and Equity in the Media and Entertainment Industry
Deal Creates 500,000 SF Production Hub, Expands Training Programs for New Yorkers, Provides Support to Non-profits Focused on Inclusion in the Industry, and Funds Completion of Bush Terminal Piers Park
BROOKLYN, NY—New York City Economic Development Corporation (NYCEDC) and the Mayor's Office of Media and Entertainment (MOME) today announced Steiner Studios, a highly experienced Brooklyn-based soundstage operator, has been selected to establish a 500,000-square-foot film and television production hub in Sunset Park that will advance diversity and equity in the media and entertainment industry and create thousands of jobs.
The project will be established on the Made in New York Campus at Bush Terminal in Sunset Park. It will include eight new soundstages, gut-renovations of two historic buildings, and a new parking facility. Steiner will complete the adjacent Bush Terminal Piers Park, build a new playground designed with community input, and contribute $25,000 annually to recreational programming in the park.
"Making sure that New York City's economic recovery is both robust and fair requires us to couple investments in high-growth industries with demonstrated programs that increase workforce equity and inclusion," said Vicki Been, Deputy Mayor for Housing and Economic Development. "Today's announcement demonstrates that New York City remains a hub for both industry investment and economic opportunity. Thank you to New York City Economic Development Corporation, the Mayor's Office for Media and Entertainment, and Steiner Studios for their commitment to helping to bring economic opportunities to the City that are diverse and accessible to all New Yorkers."
In addition to creating thousands of jobs and new public open space, this project will focus on investing in the local workforce and on advancing diversity and equity in the media and entertainment industry through the following investments:
$50,000 per year to advance opportunities in media and entertainment to New Yorkers of color and women through MOME's highly successful Made in NY Production Assistant and Made in NY Post-Production job-training programs, ensuring that an additional 25 to 30 participants a year gain work experience, training, and connections to jobs.
$250,000 over 10 years to a non-profit organization supporting gender equity, diversity and inclusion in the New York City film and television production industry.
Providing free office or classroom space for one or more non-profits that advance racial equity, diversity and inclusion in the production industry.
Creation of a new, offsite local program for high school students to train for jobs in the production industry, with up to $50,000 towards its establishment, plus $25,000 per year for resources and programming and school year internship opportunities.
A summer internship program that will include two paid 10-week positions, focusing in the areas of stage operations, lighting and grip, and production facilities management. These will be filled through local community organizations.
Steiner Studios expects to support 2,200 jobs upon project completion, including set builders, electricians, scenic artists, grips, propmasters, set dressers, hair and make-up artists, and costume designers.
This investment is also expected to create at least 1,800 temporary construction jobs and comes with a goal of 25% participation rate by Minority and Women Owned Business Enterprises. Steiner Studios will also be required to recruit qualified candidates from the local community through NYCEDC's HireNYC program.
"Businesses are not only here to stay, they are doubling down on building their future right here in New York City," said James Patchett, President and CEO of New York City Economic Development Corporation. "Today's significant investment by Steiner Studios represents a major milestone for both Sunset Park and the City. This project will bring thousands of locally-accessible and family-supporting jobs, expand training opportunities for New Yorkers, and bring greater equity and inclusivity to the media production industry. As we continue to focus on our economic recovery and building a more equitable New York, private sector partnerships like these will play a critical role."
"This new production hub builds on the City's commitment to increasing access and opportunities for New Yorkers in the film and television industry with expanded soundstage facilities and centers for skilled job training and talent development," said Commissioner of the NYC Mayor's Office of Media and Entertainment, Anne del Castillo. "Situated alongside tech and garment manufacturing in the heart of the Made in NY Campus, the new facilities with added soundstage space will strengthen our local industry and raise the city's profile as a global creative capital."
"TV production is a thriving industry in New York, and this project helps jump-start the city's economic recovery and growth," said Doug Steiner, Chairman of Steiner Studios. "We're beyond thrilled to have been selected, and to bring 2,200 high-paying jobs and opportunities to Bush Terminal."
"The future of Sunset Park's waterfront is at a crucial turning point. Fortunately, EDC's stewardship of the Made In New York campus shows that we can pursue equitable development that is publicly accountable," said Council Member Carlos Menchaca. "We should always be pushing for greater climate resilience and community leadership, but I look forward to seeing Sunset Park benefit from this new opportunity and ensuring EDC delivers."
"This production hub will expand diversity and inclusion in the film and television industry, while generating local economic activity, opportunity and job creation in south Brooklyn, said Rep. Nydia M. Velázquez (D-NY). I'm particularly pleased that Steiner Studios has been selected to build the soundstages and production facilities. This company has a tremendous track record of local hiring and utilizing minority and women-owned businesses. Once completed, this project will also provide educational and career pathways in Sunset Park through apprenticeship, internships and production assistant programs. New York is a creative capital and Brooklyn has been central to this hotbed of artistic activity. This project builds on that success, while providing valuable public benefits."
"The new production hub at Bush Terminal shows that Brooklyn is becoming a magnet for the media and entertainment industry, which has become a major economic contributor in our city in recent years. The thousands of jobs this hub will create are especially welcome in light of the challenging economic times our borough and city are facing due to the COVID-19 pandemic. I am especially pleased to see the emphasis being placed on diversity, which will ensure we are making the industry more equitable and accessible to all New Yorkers. I thank EDC and MOME for spearheading this exciting project, and I look forward to building on these investments to cement Brooklyn's status as the creative capital of New York," said Brooklyn Borough President Eric Adams.
"We're excited to say, 'lights, camera, action' to this brand new media and entertainment space, which will bring thousands of job opportunities to New Yorkers while further securing our City's lead role in the worldwide television and film industry," said Council Member Paul Vallone, Chair of the Committee on Economic Development. "I look forward to the highly anticipated debut of the Film and TV Soundstage Facility in Sunset Park and thank NYCEDC for their hard work in making this project a reality."
"The new production hub is an exciting development for New Yorkers. The soundstage facilities will provide a great opportunity for our film and television industry," said Senator Diane J. Savino. "I am most excited about the prospective jobs that this project will bring for industry professionals, local residents, and Minority and Women Owned Business Enterprises. The expanded soundstage will bolster Sunset Park as one of the foremost creative capitals in the country."
"SBIDC is excited to welcome Steiner Studios to Sunset Park's working waterfront and to the Industrial Business Zone (IBZ)," said Ben Margolis, Executive Director, Southwest Brooklyn Industrial Development Corporation (SBIDC). "From afar, we have seen the company go above and beyond for community. So we are eager to lend support and to see the positive impact this investment will have on our local workforce, on our small manufacturers, and on The Made in NY Campus."
In 2017, Mayor Bill de Blasio announced the Made in New York Campus at Bush Terminal, including garment manufacturing, film/TV/media production and other light manufacturing and significant upgrades to the north campus. NYCEDC started construction on the garment hub renovation and north campus upgrades in February 2020. Construction was temporarily paused due to COVID-19, but has resumed as of July 2020.
In advance of today's announcement, NYCEDC signed a pre-development agreement with Steiner Studios for a long-term ground lease. In addition to the more-than-$320-million in private investment, the City of New York will contribute approximately $15 million towards site preparation work.
About NYCEDC
New York City Economic Development Corporation is a mission-driven, non-profit organization that creates shared prosperity across New York City by strengthening neighborhoods and growing good jobs. NYCEDC works with and for communities to provide them with the resources they need to thrive, and invests in projects that increase sustainability, support job growth, develop talent, and spark innovation to strengthen the City's competitive advantage. To learn more about our work and initiatives, please visit us on Facebook, Twitter, or Instagram.
About MOME
The mission of the Mayor's Office of Media and Entertainment (MOME) is to ensure New York City continues to be the creative capital of the world by supporting film, television, theater, music, publishing, advertising and digital content and ensuring those industries work for New Yorkers. The creative industries account for more than 300,000 local jobs and have an economic impact of $104 billion annually. MOME comprises four divisions: The Office of Film, Theatre and Broadcasting; NYC Media; the Office of Nightlife; and educational and workforce development initiatives.
About Steiner Studios
Steiner Studios, founded in 2004, will continue to operate its 780,000-square foot state-of-the-art film and television production facility on 50 acres in the historic Brooklyn Navy Yard. Its affiliate Steiner NYC recently developed Admirals Row, a 686,000-square foot mixed-used project which includes the first Wegmans Supermarket in New York City, and "Hub," a 55-story, 750-rental unit building which is the tallest completed building in Brooklyn and includes 150 units dedicated to low and middle income tenants.