Press Release
NYCEDC Announces New Plan to Create an Expanded Open Space in Willoughby Square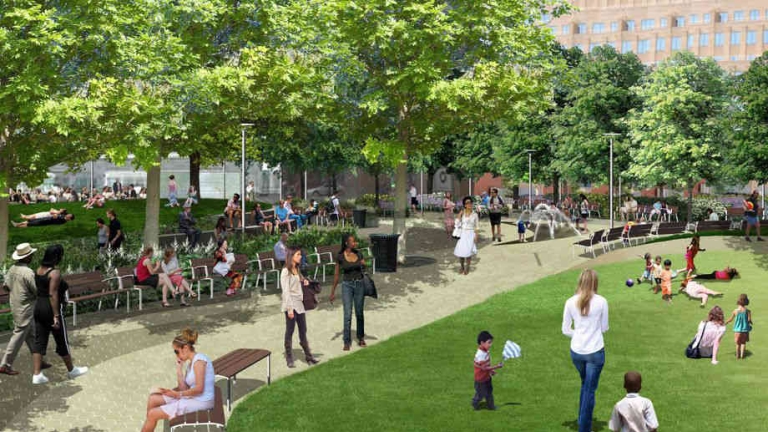 The Site Will Feature an Enlarged Public Open Space and a Memorial Dedicated to the Abolitionist History of the Neighborhood
NEW YORK, NY—New York City Economic Development Corporation (NYCEDC) today announced that it will be advancing development of publicly accessible open space in Downtown Brooklyn's Willoughby Square. Located on Willoughby Street between Duffield and Gold Streets, NYCEDC anticipates beginning construction on the 1.15-acre street level site in 2020 with completion expected by 2022. The previous proposal involved a financially unfeasible underground garage whose rampways will now be converted into useable green space.

The site will feature 1.15 acres of green open space and new community amenities for the area, along with a permanent public artwork commemorating the abolitionist history of the neighborhood. NYCEDC plans to open a portion of the site this summer for use by the local community while the design and development plan is being finalized.

"Downtown Brooklyn continues to expand as one of New York's most exciting and versatile districts, and enhancing Willoughby Square is critical to the neighborhood's future," said James Patchett, NYCEDC President and CEO. "We're committed to creating open space that meets the needs of this growing community while honoring its historic legacy and look forward to moving ahead with this new development plan."

"The development of green space at Willoughby Square is vital to the future of Downtown Brooklyn, especially as the neighborhood continues to grow and the need for healthy open space increases," said Brooklyn Borough President Eric L. Adams. "The commitment made to this community fifteen years ago must be upheld. I appreciate NYCEDC for continuing to move this important project forward, as well as to create a memorial that will uplift this borough's role in the Underground Railroad and greater abolitionist movement."

"I am pleased to see the Willoughby Square development project is moving forward," said Council Member Stephen Levin. "The creation of a green space which honors Brooklyn's role in the abolitionist movement will be a welcome addition to the Downtown Brooklyn community."

"I am pleased that EDC re-evaluated the need for parking at Willoughby Square," said Lenny Singletary, chairperson of Community Board 2. "Downtown Brooklyn is rich in public transportation options and eliminating the garage will expedite construction of the open space."

"You can't have a thoughtfully planned downtown without great open spaces, and Willoughby Square will -- at long last -- add an essential patch of green right in the heart of Downtown Brooklyn," said Regina Myer, President of the Downtown Brooklyn Partnership. "Workers, residents and visitors to Downtown have waited years for it, and I applaud EDC for sticking with the project and seeing it through to this milestone."

In partnership with the NYC Department of Cultural Affairs' (DCLA) Percent for Art program, NYCEDC will soon begin the process to select an artist to design the memorial commemorating the 19th century abolitionist movement, with particular attention to the Underground Railroad and its ties to Brooklyn. This builds on the work of In Pursuit of Freedom, a multifaceted public history initiative created by a partnership between Brooklyn Historical Society, Weeksville Heritage Center, and Irondale Ensemble Project that explores the everyday heroes of Brooklyn's anti-slavery movement. Artists interested in being considered for the commission should send a request to [email protected].

"Across the city, we've been actively collaborating with residents to bring new monuments to our public spaces that reflect the full breadth and diversity of NYC's people and history," said Cultural Affairs Commissioner Tom Finkelpearl. "We're excited to expand these efforts to Willoughby Square as part of this ongoing project, and to work with local stakeholders to commission new public artwork that commemorates Brooklyn's abolitionist past."

"In Pursuit of Freedom was an incredibly important exploration of a little-known but central story of Brooklyn activists joining forces in the anti-slavery movement during a period of time when great courage and creativity were required to stand up against the atrocities of slavery," explains Deborah Schwartz, President of the Brooklyn Historical Society. "I am thrilled that the city will continue to shine light on, and honor the stories of Abolitionists in this public and highly accessible project."

Planning for the development of Willoughby Square has been underway since 2010, when NYCEDC facilitated a community design process with local residents, stakeholders, elected officials and City agencies.

Willoughby Square is one of a series of more than $100 million in public investments in open space and infrastructure commitments made under the Downtown Brooklyn Redevelopment Plan that was adopted in 2004 to reinvigorate the neighborhood and celebrate the area's unique heritage. The new development plan is based on recent evaluations as the original need for parking has lessened given the many new public transit options in the area.
About NYCEDC
New York City Economic Development Corporation creates shared prosperity across New York City's five boroughs by strengthening neighborhoods and creating good jobs. NYCEDC works with and for communities to provide them with the resources they need to thrive, and we invest in projects that increase sustainability, support job growth, develop talent, and spark innovation to strengthen the City's competitive advantage. To learn more about our work and initiatives, please visit us on Facebook, Twitter, or Instagram.
About NYC Department of Cultural Affairs
The New York City Department of Cultural Affairs (DCLA) is dedicated to supporting and strengthening New York City's vibrant cultural life. DCLA works to promote and advocate for quality arts programming and to articulate the contribution made by the cultural community to the City's vitality. The Department represents and serves non-profit cultural organizations involved in the visual, literary, and performing arts; public-oriented science and humanities institutions including zoos, botanical gardens, and historic and preservation societies; and creative artists at all skill levels who live and work within the City's five boroughs. DCLA also provides donated materials for arts programs offered by the public schools and cultural and social service groups, and commissions permanent works of public art at City-funded construction projects throughout the five boroughs. For more information, visit www.nyc.gov/culture.