Press Release
NYCEDC, NYC Parks, and DOT Celebrate Completion of Atlantic Avenue Extension Project and Unveil New Gateway Park in Downtown Jamaica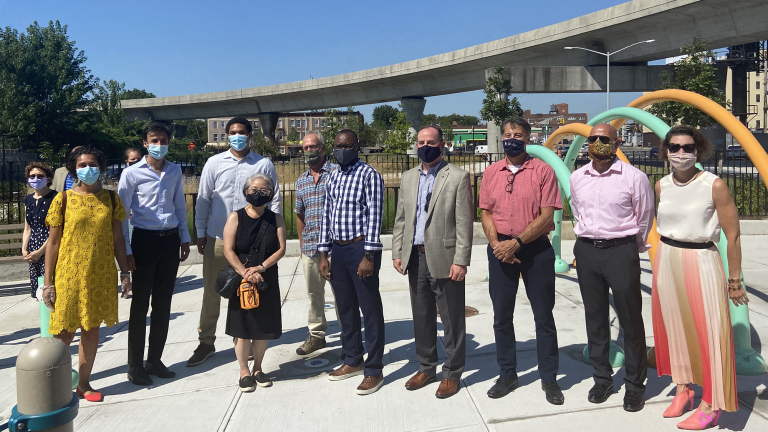 NYCEDC Chief Operating Officer Rachel Loeb, NYC Parks Queens Borough Commissioner Michael Dockett, DOT Commissioner Polly Trottenberg, Council Member I. Daneek Miller, Council Member Adrienne Adams, representatives from Community Board 12 and the Jamaica NOW Leadership Council today celebrated the completion of the Atlantic Avenue Extension project and opened the newly created Gateway Park in Queens.
"Today's unveiling of the Atlantic Avenue extension and opening of the new Gateway Park marks an incredible milestone for the Downtown Jamaica community and the city at large," said James Patchett, President and CEO of New York City Economic Development Corporation. "For years, residents in this community have advocated for safer roadways and more open space, and we're thrilled to deliver on a promise that turns their vision into a reality. We want to thank Parks, DOT, our elected officials and the Jamaica NOW Leadership Council for their collaboration in this effort, which is making this community stronger today and for years to come."
"Transforming this underutilized site reflects our commitment to accessibility as we expand and enhance our green spaces. We are thankful for the partnership of our colleagues at EDC and DOT, and we look forward to maintaining this new parkland," said NYC Parks Queens Borough Commissioner Michael Dockett. "The new Gateway Park brings much needed open space for recreation to the heart of Downtown Jamaica."
"Thanks to years of collaboration among several agencies and community groups, this multi-faceted project will give New Yorkers a smoother transition into the Downtown Jamaica core, creating a gateway to the neighborhood and simplifying traffic patterns with new one-way streets and bicycle facilities," said NYC DOT Commissioner Polly Trottenberg. "We commend our partners at NYCEDC and Parks, along with the Jamaica NOW Leadership Council and Community Board 12 for all their work to make this transformation happen, and we thank FHWA for their funding and support."
"The Atlantic Avenue extension has been in the works for quite a while and I am thrilled that the ribbon cutting is finally happening to support this community," said Council Member Adrienne Adams. "This extension will not only improve traffic patterns and provide a public park in an underutilized area but will provide a significant investment in a community that has been overlooked. I celebrate these improvements and look forward to its completion."
"Expansion and investment in Downtown Jamaica has been a priority for our office, and today's ribbon-cutting is an exciting development to bring additional green space and outdoor recreation to the area," said Council Member I. Daneek Miller.   "As the fate of indoor recreation is yet to be determined, we are grateful that local residents will have access to the pocket parks and playgrounds this summer and thank NYC Parks, EDC, and DOT for their partnership."
"We're thrilled this long-awaited project offering open space and safe roadways is complete for all of the residents in this community to enjoy," said Community Board 12 District Manager Ms. Yvonne Reddick, "We want to thank all of our partners, city agencies and elected officials for their collaboration and continued support to make this project a reality."
"Downtown Jamaica experiences continued growth in the number of people coming to live, shop and do business. The completion of the Atlantic Avenue Extension and Gateway Park provides a much needed infrastructure enhancement to elevate vehicle congestion getting in and out of our downtown core," said Hope Knight, president and CEO of Greater Jamaica Development Corporation. "Thank you to Mayor de Blasio and the NYC Economic Development Corporation helping make this possible."
"After a long wait, and bated breath, the Atlantic Avenue Extension project is now completed and will usher access to the LIRR Jamaica Station/AirTrain Station from the Van Wyck Expressway, said Tameka Pierre-Louis, Co-Chair of the Jamaica NOW Leadership Council, "The Jamaica Now Leadership Council is proud to present three new park areas (aptly named the Gateway Park) leading to the beautiful open plazas at the Jamaica station for the residents of Queens and beyond. This endeavor could not have happened without the collaborative efforts of the JNLC, the Economic Development Corporation (EDC) and the Greater Jamaica Development Corporation."
The project's design and construction was managed by NYCEDC and improves access by creating a gateway between the Van Wyck Expressway and the Jamaica LIRR/Air Train station transit hub. It extended Atlantic Avenue one block South into 95th Avenue, created the new Gateway Park around the new roadway, and improved the streetscape on 94th and 95th avenues from the Van Wyck Expressway Service Road to Sutphin Blvd.
The 0.86 acre park, created as part of the Jamaica NOW Action Plan, boasts a new playground, additional open space, and shaded seating. The Jamaica planning initiative was conducted by the Mayor's Office in partnership with the Office of the  Queens Borough President, to identify community priorities and create a coordinated and equitable economic development strategy in Jamaica, one of our City's great transportation, culture, arts, and commerce centers.
Funding for the $19.8 million project includes $9.3 million in city capital funding (including $5.6 million in funding allocated for projects containing upgrades around the NYC Airports), $3 million from the Office of the Queens Borough President, and a $7.5 million in grant funding from the Federal Highway Administration.
About NYCEDC
New York City Economic Development Corporation creates shared prosperity across New York City's five boroughs by strengthening neighborhoods and creating good jobs. NYCEDC works with and for communities to provide them with the resources they need to thrive, and we invest in projects that increase sustainability, support job growth, develop talent, and spark innovation to strengthen the City's competitive advantage. To learn more about our work and initiatives, please visit us on Facebook, Twitter, or Instagram.