Press Release
NYCEDC Launches Community Solar Garden at Brooklyn Army Terminal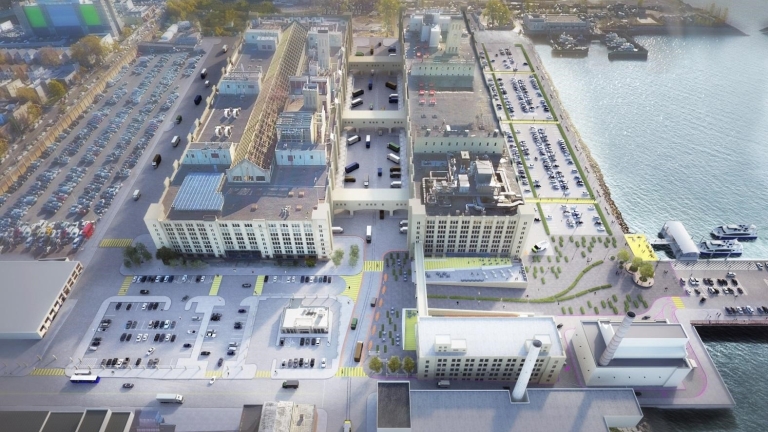 Rooftop solar program will deliver affordable, sustainable energy option for Sunset Park residents and industrial businesses

Seeking proposals from solar providers and community organizations to establish subscription-based membership program in Sunset Park

Program will advance Mayor's goal of installing 1 GW of solar citywide by 2030
NEW YORK, NY—New York City Economic Development Corporation (NYCEDC) today launched an effort to bring a community solar garden to the Brooklyn Army Terminal. NYCEDC will provide up to 100,000 square feet of rooftop space to pilot a subscription-based, shared solar program for Sunset Park residents and local industrial businesses.

While the use of solar technology has increased over the years, installation costs, space requirements, and lack of rooftop ownership has made investing in solar energy challenging for some in New York City. By leveraging space at the innovative Brooklyn Army Terminal campus, NYCEDC can offset individual costs and deliver affordable solar energy to the community.

"The Brooklyn Army Terminal has become a hub for modern industrial businesses, and a true community asset in Sunset Park," said NYCEDC President and CEO James Patchett. "In launching this effort, we're able to deliver clean, affordable energy to the community while adding to the roster of innovative products made at the Brooklyn Army Terminal."

NYCEDC is seeking proposals from experienced solar power providers and local community organizations. As the pilot program aims to establish an affordable alternative to traditional electricity providers, proposals must both demonstrate a cost-savings for Sunset Park residents and a robust community-engagement plan to ensure residents have the opportunity to take advantage of the program.

Subscribers of the program will pay a monthly membership fee, rather than an electricity bill. Similar programs have been launched in Sacramento, Washington State, and University of Maryland, all of which have resulted in energy cost-savings.
Proposals for the shared solar program are due by May 23rd. NYCEDC's request for proposals (RFP) can be downloaded here.
"More than a tree grows in Brooklyn; green energy grows here too. I thank NYCEDC for putting forth a plan to bring a rooftop community solar garden to our burgeoning Brooklyn Army Terminal. This project is in line with the mission of my administration's Renewable and Sustainable Energy Taskforce (ReSET), tapping into the potential of public-private solar programs that could revolutionize the delivery of clean energy to residents and businesses in Sunset Park," said Brooklyn Borough President Eric L. Adams.

"Solar powered energy is where our future is heading. I want to thank the New York City Economic Development Corporation for this initiative. I hope the RFP process allows for community engagement and resident participation," said Council Member Carlos Menchaca. "I look forward for the completion of the community solar garden at the Brooklyn Army Terminal, which will bring Sunset Park residents and small businesses in our area an affordable, clean energy."

"Not only does this initiative make strides towards a greener NYC, it will provide many residents and businesses an alternative option for more affordable energy," said Council Member Vallone, Chair of the Committee on Economic Development. "There is real promise for these public-private partnerships to be successful when they provide tangible benefits to New Yorkers and their small businesses."

"Every step we take towards a renewable future is an important one. There are so many spaces across New York City that can and should be used to generate clean and renewable energy. With the success of IKEA's solar rooftop project in Red Hook, I applaud this pilot program and the city's commitment to expanding solar opportunities along the industrial waterfront corridor. I look forward to seeing the results of this pilot program as we continue to aggressively pursue opportunities to produce renewable resources," said State Senator Velmanette Montgomery.
Brooklyn Army Terminal
The de Blasio Administration has invested over $115 million to transform the Brooklyn Army Terminal into one of the most innovative and accessible industrial campuses in the country. The growing campus is already home to over 100 businesses and over 3,500 jobs.

Last week, the Brooklyn Army Terminal welcomed its newest tenant, FabScrap, an innovative non-profit fabric recycling company that serves local commercial businesses and fashion and design brands.

In February 2018, the Brooklyn Army Terminal launched a Micromanufacturing Hub for small industrial firms needing spaces between 5,500 and 1,000 square feet. The first cluster of micromanufacturing firms included Green Mustache, an organic green smoothies and snack company, PourSteady, a manufacturer of modern coffee equipment, Mudo Fashion, a fashion manufacturing company, and RVinyl, a company producing vinyl car wraps and interior vehicle products.

In late 2016, NYCEDC announced the creation of a food manufacturing hub at the Brooklyn Army Terminal Annex building, designating the entire 55,000-square-foot space to serve growing food manufacturing companies.

Managed by NYCEDC, the Brooklyn Army Terminal operates on a double-bottom-line, deepening affordability for tenants who maximize the City's economic development goals like job-quality and job-density. The City has curated a cluster of tenants in industries with high-growth potential, supporting a modern and accessible industrial economy in New York City.

"Community shared solar is the next frontier for NYC to boost sustainable energy consumption, enhance energy democracy, and keep energy costs affordable. I applaud NYCEDC for its continued partnership in creating a green, healthy and fair city," said Mark Chambers, Director of the NYC Mayor's Office of Sustainability.

"Currently over 70% of NYC's population has no access to solar either because they are renters or have a non-viable roof," said Tria Case, University Director of Sustainability and Energy Conservation at the City University of New York (CUNY) and lead for the NYC Solar Partnership. "CUNY is proud to be working to support Shared Solar in partnership with the Mayor's Office of Sustainability and the New York City Economic Development Program and has launched the Shared Solar NYC gateway. CUNY is excited to add the Solar Garden at the Brooklyn Terminal to the gateway, which is designed to give NYC residents and businesses better access to solar energy by providing the information and support needed to host, develop or subscribe to clean renewable energy."
Administration Solar Efforts
Since the start of the de Blasio administration, solar power capacity has more than quadrupled, providing more than 140 megawatts (MW) of electricity and directly supporting more than 2,700 jobs across the five boroughs. Another 60MW are in the process of being installed. These efforts support the Mayor's goal of installing 1 gigawatt of solar capacity citywide by 2030, enough to power 250,000 homes.

NYC Solar Partnership, led by Sustainable CUNY in collaboration with the NYC Mayor's Office of Sustainability and the New York City Economic Development Corporation, is responsible for advancing the Administration's efforts in solar capacity. The Solar Partnership is working to promote an equitable and self-sustaining solar market through two programs: Shared Solar NYC and Solarize NYC, a community-led group purchasing program. These programs and related efforts to expand solar on public and private buildings are part of Mayor de Blasio's sweeping commitment to reduce greenhouse gas emissions 80 percent by 2050.

Shared Solar NYC supports Community Shared Solar (CSS) programs through the Shared Solar gateway. CSS projects allow anyone to benefit from solar regardless of home ownership. CSS programs install a large solar energy system on a host site and invites the community to subscribe to shares of the solar power in return for credits on their electric bill. CSS creates fiscal rewards for both the host and the community participants.
About NYCEDC
New York City Economic Development Corporation creates shared prosperity across New York City's five boroughs by strengthening neighborhoods and creating good jobs. NYCEDC works with and for communities to provide them with the resources they need to thrive, and we invest in projects that increase sustainability, support job growth, develop talent, and spark innovation to strengthen the City's competitive advantage. To learn more about our work and initiatives, please visit us on Facebook, Twitter, or Instagram.