Press Release
NYCEDC Announces Over $5 Million Federal Grant to Improve Water Freight Service and Bolster New York City's Marine Highway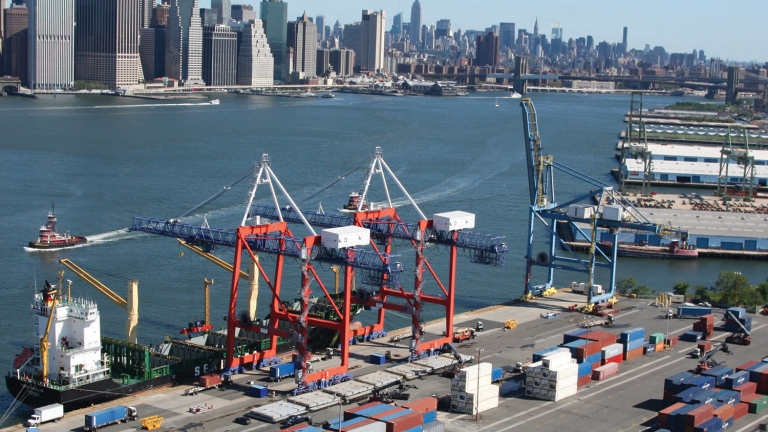 USDOT Grant Will Help Fund Critical New Infrastructure to Equip Harbor Landings to Accommodate Freight by Water and Reimagine "Last-Mile" Deliveries
NEW YORK, NY—New York City Economic Development Corporation (NYCEDC) today announced that New York City has been selected for a $5.16 million federal grant to upgrade and improve six harbor landings. The funding comes from a U.S. Department of Transportation (USDOT) Maritime Administration (MARAD) grant and will be used to strengthen critical freight movement on waterways by enabling these landings to dock watercraft and prepare cargo for local delivery. The harbor landings proposed in the application are located at Stuyvesant Cove (Manhattan), Downtown Manhattan Heliport (Manhattan), Pier 36 (Manhattan), Oak Point (Bronx), 29th Street Pier (Brooklyn), and 23rd Street Pier (Manhattan).
"Thank you to the U.S. Department of Transportation's Maritime Administration for this instrumental funding to aid in the development and expansion of New York City's marine highways," said Deputy Mayor for Economic and Workforce Development Maria Torres-Springer. "The increased use of water freight and last-mile delivery systems will allow for cleaner, more efficient commercial transportation and spark new opportunities for economic growth in the areas surrounding our piers."
"Thank you to the Biden administration and the U.S. Department of Transportation for this investment as part of the America's Marine Highway Program, which will allow New York City to increase our freight capacity and emergency preparedness in the New York City Harbor," said Deputy Mayor for Operations Meera Joshi. "As New Yorkers continue to enjoy e-commerce, which dramatically impacts our roadways, we must invest in a strategy that will reduce emissions and traffic. Doing so will benefit environmental justice communities and help deliver a more equitable city."
"It is high time that New York City capitalize on the opportunities marine highways can provide and reimagine how we move freight across the five boroughs," said NYCEDC President and CEO Andrew Kimball. "The increased utilization of our waterways coupled with this funding will spur the transformation of commercial transportation – resulting in a greener city with reduced congestion and pollution as well as a stronger more resilient economy."
"I am pleased U.S. DOT Maritime Administration has awarded the city a sizeable Marine Highway Program grant to build out multiple water landings to allow more efficient and sustainable freight movement," said U.S. Representative Nydia Velazquez. "A fortified marine freight network will enable greater energy conservation, improve air quality, reduce truck congestion and wear and tear on our roads, bridges, and tunnels, which has become a growing concern with the spike in e-commerce last-mile logistics facilities opening throughout my Congressional District. Though most of these facilities are located on waterfronts, they are not utilizing the waterway. The Federal Government has an opportunity to help lead the way with marine highway investments to shift freight movement to water. This investment is a step in the revival of our working harbor which made New York City great in the first place and builds off the work of city and state agencies and maritime advocates like PortSide NewYork, Jim Tampakis and a coalition of groups seeking to address the impacts of last-mile delivery logistics centers."
"Good infrastructure means good business," said Kevin D. Kim, Commissioner NYC Department of Small Business Services (SBS). "By upgrading our harbor landings, we will speed up the delivery of goods to the small businesses that keep our economy afloat, while easing road congestion."
Each of the six proposed sites has existing access to necessary roadways for the conveyance of "last‐mile" goods to local destinations but lacks the crucial landing infrastructure to dock boats and offload cargo. The upgrades include installing floating platforms with appropriate tie-up and vessel docking hardware to successfully secure vessels and allow for unloading via crane, hand truck, e-bikes, or motorized vehicles. Upon its completion, each landing will be fully equipped to begin docking watercraft, moving cargo to staging areas, and accessing roadways for delivery.
The utilization of marine highway services to transport and deliver cargo helps to reduce emissions, decrease wear and tear on roadways, alleviate supply chain bottlenecks, and move goods more quickly from ships to shelves. Additionally, the competition of each of these sites increases transportation resiliency and redundancy, making New York City better equipped to receive goods during times of emergency or disaster.
This builds off NYCEDC and the Department of Transportation's joint effort, Blue Highways, a pilot program to spur private investments in marine vessels to transport goods into and around the city. The program encourages the use of sustainable last mile delivery solutions like electric trucks and commercial cargo bicycles.
The grant application was prepared by NYCEDC and SBS. Port Authority of New York and New Jersey is a partner and co-sponsor of NYCEDC in the federal marine highway designation.
About NYCEDC
New York City Economic Development Corporation is a mission-driven, nonprofit organization that creates shared prosperity across New York City by strengthening neighborhoods and creating good jobs. We work with and for communities to bring emerging industries to New York City; develop spaces and facilities for businesses; empower New Yorkers through training and skill-building; and invest in sustainable and innovative projects that make the city a great place to live and work. To learn more about what we do, visit us on Facebook, Twitter, LinkedIn, and Instagram.