Press Release
NYCEDC and Fulton Stall Market Announce Free Holiday Fair Celebrating the Best of NYC's Public Markets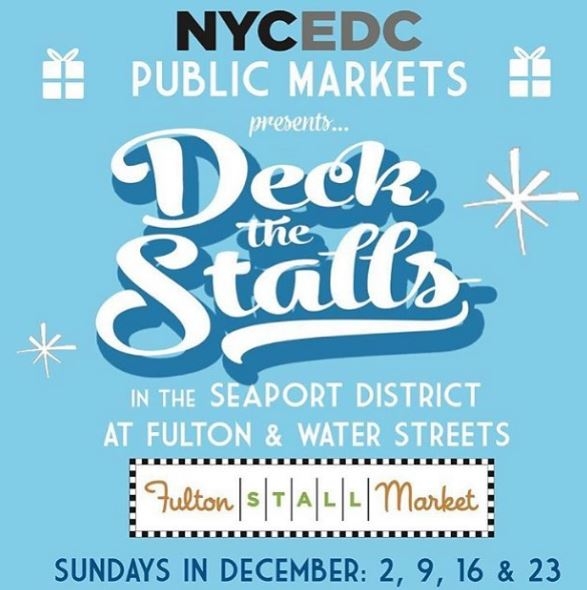 'Deck the Stalls' Will Feature NYC Public Markets for First Time and Offer Unique Holiday Gifts, Locally Made Food, Special Performances and More Sundays in December
December 2 Kickoff Event to Feature Newly Unveiled Snapdragon and Rubyfrost New York State Apple Varieties
NEW YORK, NY—New York City Economic Development Corporation (NYCEDC), Fulton Stall Market (FSM) and the Howard Hughes Corporation (HHC) today announced the first annual 'Deck the Stalls' holiday market to be held in the Seaport District on Water St. between Fulton and Beekman Streets. The market will be open every Sunday in December before Christmas and will include a rotating lineup of guest vendors from the City's Essex Street Market in the Lower East Side, La Marqueta in Harlem, and Moore Street Market in Brooklyn, as well as vendors that participate in the traditional Sunday farmers market at FSM.

The event is free for all ages and will run December 2, 9, 16, and 23 from 11am to 5pm.
Throughout the month, visitors can expect to enjoy a wide range of visiting NYC Public Markets vendors from around the city as well as FSM staples selling homemade food items and beverages as well as gifts and crafts for loved ones.

Throughout the month, 'Deck the Stalls' will feature:
A rotating lineup of vendors from the city's public markets including Chinatown Ice Cream Factory, Top Hops, Body & Soul Vegan Baked Goods, The Harlem Pie Man, Amuse Bouche NYC and many more
Visiting businesses from the Bronx's Arthur Avenue Market" as well as the 13th Avenue Retail Market in Borough Park
Live music from The Good Morning Nags folk band, the Michael Feinberg Jazz Trio, and more
Dance performances from The Peck Slip School Dance Group, The Mencius Society for the Arts, and the Moving Mountains West African Child Dance Troupe
SnapDragon and RubyFrost apples – the two newest New York State-grown varieties, which will be unveiled at the market's kickoff event December 2 at 1 PM
Free tours of the historic seaport and its respective ships
Locally-produced wine and craft beer for sale
"This family-friendly holiday market in the historic Seaport District will showcase vendors from the City's Public Markets while offering visitors a chance to buy one-of-a-kind gifts for loved ones while enjoying performances by local artists," said NYCEDC President and CEO James Patchett. "I look forward to the seasonal cheer and entrepreneurial spirit that will make this event a must-see throughout December."

"We are pleased to support the partnership between NYCEDC and the Seaport District's Fulton Stall Market, as The NYCEDC Holiday Market brings together New York City's diverse array of public markets in a historic district to celebrate the holidays." said Saul Scherl, President of the New York Tri-State Region, The Howard Hughes Corporation.

"Fulton Stall Market is thrilled to be partnering with EDC to add an exciting lineup of public market vendors from across the city to its Sunday market in the Seaport District, where the city's public markets began in the 1700's," said Stephen Dima, President of the Fulton Market Association, Inc., the market's nonprofit sponsor.

"Our vendor-driven markets showcase one of the best things about New York -- you can find anything here," said Manhattan Borough President Gale A. Brewer. "Our unique set of multicultural vendors rivals anything you'll find anywhere else, and bringing them to the Seaport, Manhattan's historic heart, where holiday season visitors and New Yorkers alike can enjoy them makes perfect sense."

"Diversity remains one of New York City's greatest strengths," said Council Member Margaret S. Chin. "I know that the Deck the Stalls event will bring tastes from around the world to the South Street Seaport. I look forward to the community enjoying all manner of international cuisines."

"Manhattan Community Board 1 encourages the Economic Development Corporation to continue spurring economic activity throughout the district and wishes a successful holiday season to all of vendors in the marketplace," said Manhattan Community Board 1 Chairman Anthony Notaro.

"We are very excited to take part in the premier of Deck the Stalls," said Christina Seid, Owner of Chinatown Ice Cream Factory. "Chinatown Ice Cream Factory will be joining Essex Market as a new vendor when it opens in its new location in 2019, and Deck the Stalls offers us a festive opportunity to take part in New York City public market community."

The NYC Public Markets system has been committed to providing affordable space for eateries, artists, merchants and other vendors since the 1940s when Mayor LaGuardia made a dedicated effort to provide street merchants and pushcart vendors with dedicated places to do business. The three markets which are directly operated by NYCEDC are currently undergoing a city-wide revitalization effort that includes upgraded facilities, amplified programming, and a re-branding campaign as part of an updated vision for the markets, to be unveiled early next year.
About NYCEDC
New York City Economic Development Corporation creates shared prosperity across New York City's five boroughs by strengthening neighborhoods and creating good jobs. NYCEDC works with and for communities to provide them with the resources they need to thrive, and we invest in projects that increase sustainability, support job growth, develop talent, and spark innovation to strengthen the City's competitive advantage. To learn more about our work and initiatives, please visit us on Facebook, Twitter, or Instagram.