Press Release
A Recovery for All Of Us: New York City Invests $1 Billion in Life Sciences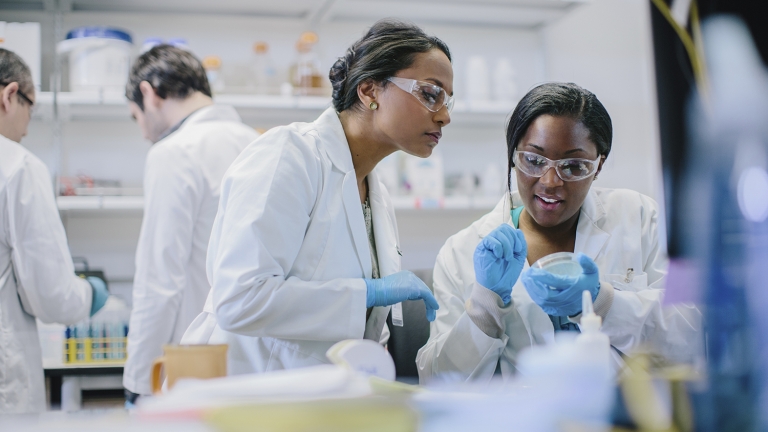 Doubles State of the City Commitment To Make New York City the Public Health Capital of the World
NEW YORK, NY—Mayor de Blasio and the NYC Economic Development Corporation (NYCEDC) today announced a plan to double the City's $500 million investment in life sciences to $1 billion as part of LifeSci NYC, a commitment launched in the Mayor's State of the City address to create jobs and establish New York City as the global leader in life sciences. This expanded initiative is expected to generate 40,000 jobs.
Mayor de Blasio kicked off this next chapter of the city's support for this industry by announcing a Request for Proposals (RFP) to help advance the commercial research and development of new medicines, medical devices, diagnostics, materials, and research tools. The City will provide up to $112 million in City capital to award $20 million to support one or more innovation projects. Multiple awardees can access up to $20 million each.
"New York City can do more than just fight back COVID-19. We can invest in fast-growing sectors like the life sciences to stop the next pandemic before it starts – and become the public health capital of the world," said Mayor Bill de Blasio. "This expansion will accelerate the growth of local researchers and businesses inventing the cures for whatever comes next. It's the key to our economic and public health recovery, and it will produce more effective and more equitable health outcomes for New Yorkers across the five boroughs."
"A recovery for all requires making the City healthier—giving every neighborhood and every household access to the best preventive health care and treatment available. To do that, we are committing today to make New York City the public health capital of the world. Today's investment will foster life sciences research, innovation and manufacturing, making the City the place where diagnostics, therapeutics and improvements in health care delivery are invented, tested and made available to the world, all while providing good-paying jobs to our incredibly talented, well-educated, and driven workforce," said Deputy Mayor for Housing and Economic Development Vicki Been. "By doubling our original investment, we ensure both that health care will be fairer for all New Yorkers, and that New York City will be the incubator for public health innovation—full stop."
"Strengthening our commitment to LifeSci NYC bolsters our pipeline of job opportunities in life sciences innovation and supports the creation of construction jobs as we build new infrastructure," said Senior Advisor for Recovery Lorraine Grillo. "This expanded investment in life sciences affirms New York City's leadership in advancing public health, developing treatments, finding cures, and ensuring a recovery for all of us."
"Building a healthier city means ensuring the life science sector is equipped with the greatest potential for cutting-edge technologies and treatments for all New Yorkers," said Rachel Loeb, president and CEO of the New York City Economic Development Corporation. "With a diverse talent pool, a network of premier academic and medical institutions, New York City is positioned to grow as a global leader in life sciences research and innovation. We're thrilled to expand LifeSci NYC by investing in more talent, companies, and innovative spaces to help us recover and build a stronger economy for all."
Over the next decade, New York City will expand its investment to $1 billion to develop the life sciences industry by launching new commitments as part of LifeSci NYC. The program will invest an additional:
$200 million in City investment to support the construction of much-needed commercial lab space and incubators
$300 million in City capital to support nonprofit facilities to spur new research that translates into companies, jobs, medicines, and advanced technologies
$5 million to enhance the Life Sciences Expansion Fund to support early stage companies
$5 million to expand the LifeSci NYC Internship program to develop the city's life sciences talent pipeline
"I applaud Mayor de Blasio and NYCEDC for investing in the future of New York City with an additional investment of $500M to the city's life science initiative, LifeSci NYC," said Rep. Carolyn B. Maloney (NY-12). "New York City has long been a national leader in life science innovation. This new investment will cement our city as a leader in life science innovation, critical to our preparedness for future pandemics, everyday illnesses, and other maladies affecting human health."
"This pandemic has shown the need to invest in research and development of life sciences. The Bronx, the entire City and State of New York were drastically impacted by COVID-19," said Bronx Borough President Ruben Diaz Jr. "Doubling the initial investment of $500 million to $1 billion dollars, will ensure New York City will stay at the forefront of cutting-edge discoveries, cures and treatments. In order to stay ahead we need to have secured infrastructure. As the Bronx Borough President, I know the need for up-to-date equipment and the announcement of the RFP for $20 million in capital to one or more recipients will assist them tremendously."
"COVID-19 has had devastating consequences for Queens and the entire City, but we can prevent future health emergencies from having a similar impact by investing now in potentially life-saving research and development, said Queens Borough President Donovan Richards Jr. "We are proud that Long Island City in Queens is leading in life sciences innovation, and the investments announced today will help us go even further in the areas of pandemic prevention and preparedness. This funding shows our City is committed to the growing life sciences sector and will not let the lessons of COVID-19 go unheeded."
"I applaud the forward thinking investments that the City will make as part of the LifeSci initiative to expand our capacity as a world leader in fighting pandemics and increase life sciences research and development." said Council Member Paul A. Vallone, Chair of the Committee on Economic Development, "It is more important now than ever to ensure that we have a diversified economy in our city that spurs new research and creates jobs that will prevent future public health catastrophes."
"Recovery means investing in long-term economic opportunities that will grow and physically stay in New York, and we continue to hear how the life science industry views our city as an important partner and geographic foothold into the future. The LifeSci NYC vision for the next decade fosters new businesses and equitably expands technical talent among our residents, which will help keep our city at the forefront of the economy of tomorrow," said Council Member Carlina Rivera.
"By taking a multi-factorial approach---attentive to real estate, taxes, talented workers, academic collaborations, and cash--- the NYCEDC has dramatically expanded the life science industries in our city over the past few years," said Harold Varmus, MD, Weill Cornell Medicine. "The Mayor's decision to extend his successful initiative will sustain the progress already made and encourage further growth as the City recovers from the pandemic and increasingly recognizes the importance of the health-supporting sciences in its future economy."
"It has been exciting for the Advisory Council to contribute to the excellent progress that New York City has made since 2016 in its journey to build a world class biotechnology ecosystem," said Vicki Sato, PhD, Professor of Management Practice, Harvard Business School. "With Mayor de Blasio's commitment to economic growth and the focused work of the EDC, we have visibility to 2M square feet of new laboratory space coming online by 2023, we have seen growth to over $2Bn of venture investment in 2020, we have launched a vibrant internship program that helps young people compete for important jobs, and most important, we have seen the creation of many new companies committed to improving healthcare. We look forward to continuing the work."
"The Lasker Foundation joins leaders across New York City and beyond in celebrating the inspiring vision of a thriving life science ecosystem in our community," said Claire Pomeroy, President, Albert and Mary Lasker Foundation. "Building on our outstanding academic research and healthcare institutions, the increasing presence of biomedical companies and innovative start-ups, experienced investment institutions, and diverse engaged stakeholders, New York City is an ideal place for further growth and expansion of life sciences. As companies specializing in biotechnology, diagnostics, therapeutics, digital health and more choose the City as their preferred location, we see New York City as the home to future innovative breakthroughs that will support better health for all."
"At Kallyope, we have witnessed first hand the benefits of being headquartered in New York City," said Nancy Thornberry, CEO, Kallyope. "As an early-stage biotechnology company focused on pursuing novel therapeutics for diseases of high unmet need in a fundamentally new way, access to the City's extraordinary talent pool, technologies, and academic centers has proven invaluable in our ability to deliver on our mission.  We strongly encourage leaders across the industry to consider building their next life sciences venture in New York City."   
"New York's biotech ecosystem is unique in its diversity – in the kinds of discoveries being made, in the kinds of scientists involved, and in the kinds of impacts that these will potentially have on the world," said Kevin Gardner, Director of Structural Biology Initiative, CUNY Advanced Science Research Center (ASRC). "LifeSci NYC has played a transformational role in recognizing the strength of this diversity, and in turn ensuring that these great ideas and people get their chances to realize their potentials all while staying here in New York. I can't imagine a better investment for our city, our scientists and students, and our ideas."
"LifeSci NYC has established New York as a hub for the life sciences and biotech industry, putting the city on the map for entrepreneurs starting new businesses, while spurring a flood of private sector investment," said Maria Gotsch, President and CEO of the Partnership Fund for New York City. "Last year, the industry hit a record high in jobs and venture capital funding, demonstrating New York's value as a central access point to other industries and commercial activity. The city's decision to double down on this initiative sends a strong message that New York's life science community is a smart bet and will play an essential role in the region's economic recovery."
About LifeSci NYC
With a diverse talent pool, more than 100 disease-specialty foundations, 370 federally qualified health centers, 50 hospitals, and nine world-leading academic medical centers, New York City is home to one of the largest concentrations of life sciences research. Building on these advantages, NYCEDC established Lifesci NYC in 2016 to form industry partnerships, create thousands of good-paying jobs, and drive key life sciences investments in New York City. The program has helped cement New York City's place on the map in life sciences, with pharmaceutical and biotech companies attracting more than $1 billion in annual venture investment in 2020 —up from $130 million in 2016. The city has unlocked two million square feet of new life sciences innovation space, provided 400 students with paid internships at top life sciences companies, and opened six new incubators yielding 150 start-up companies every two to three years.
The City's network of life sciences companies, institutions, and industry partners helped throughout the COVID-19 pandemic with broad response for testing, treatment, and vaccination programs. This included working directly with NYCEDC on the development of local supplies for PPE and test kits, the launch of the Pandemic Response Lab—an award for the local development of a rapid test at Columbia University—and the ongoing development of a Pandemic Response Institute.
LifeSci NYC has invested $38 million in city capital to fund applied research and development facilities at four of New York City's leading scientific research institutions—Columbia University, Einstein College of Medicine + Montefiore Medical Center, the New York Stem Cell Foundation, and Rockefeller University. In addition, the program has launched BioLabs @ NYULangone, the city's largest wet-lab incubator, and partnered with Deerfield Management and King Street Properties to develop more than 500,000 square feet of new lab space. The City will continue to build out research and development to establish LifeSci Avenue – stretching from the Pandemic Response Institute in Kips Bay in the South through East Harlem in the North. This corridor will anchor the City's public health vision with neighborhood clusters across the City –Long Island City, Sunset Park, Central Brooklyn, Hudson Square, Manhattan's West Side, West Harlem, Upper Manhattan, and Morris Park – to build a complete network of life science innovation. To learn more about LifeSci NYC, visit lifesci.nyc.
About NYCEDC
New York City Economic Development Corporation creates shared prosperity across New York City's five boroughs by strengthening neighborhoods and creating good jobs. NYCEDC works with and for communities to provide them with the resources they need to thrive, and we invest in projects that increase sustainability, support job growth, develop talent, and spark innovation to strengthen the City's competitive advantage. To learn more about our work and initiatives, please visit us on Facebook, Twitter, or Instagram.