Press Release
City and State Officials, BioLabs and NYU Langone Celebrate Grand Opening of Cutting-Edge Biotech Incubator in Manhattan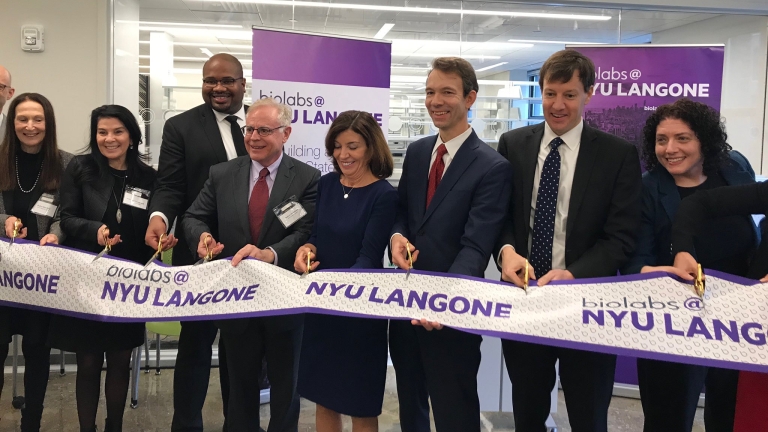 BioLabs @ NYULangone Is the New Home to 22 Biotechnology & Life Sciences Companies and Has Space for up to 40 Companies
NEW YORK, NY—Lieutenant Governor Kathy Hochul, New York City Economic Development Corporation (NYCEDC) President and CEO James Patchett, Deputy Manhattan Borough President Matthew Washington, NYU Langone Health Bob Schneider and BioLabs Founder and President Johannes Fruehauf celebrated the opening of the largest biotechnology incubator of its kind in New York City, BioLabs @ NYULangone. The new facility is designed to attract the nation's most innovative companies working in early stage life sciences to translate research discoveries to new treatments to improve human health and well-being around the world.
Located at 180 Varick Street in Manhattan, BioLabs @ NYULangone currently has 22 companies and is expected to house more than 40 early-stage biotechnology and life sciences companies, 160 scientists, business personnel and support staff, in 50,000 square feet of newly renovated and fully equipped laboratory and office space. The BioLabs staff will provide educational programming and operational support, enabling startups to focus on science and innovation.
BioLabs @ NYULangone received $5 million from NYCEDC's LifeSci NYC initiative, a $500 million commitment to establishing New York City as a global leader in life sciences R&D and innovation, spurring an estimated 16,000 jobs and creating up to 3 million square feet of new space for life sciences companies and researchers. NYU Langone Health, Empire State Development, Bristol Myers Squibb, and a number of other innovative corporations also provided funding to allow for the development of BioLabs @ NYULangone.
"Life Sciences is a fast growing-sector in New York and represents an opportunity to make ground-breaking discoveries and create good jobs for New Yorkers," said NYCEDC President and CEO James Patchett. "It's why we're thrilled to be a founding sponsor for BioLabs @ NYULangone, which will serve as an invaluable space for startups and companies to innovate, grow and thrive. Having industry partners and programming to cultivate a rich ecosystem at the incubator will also help these entrepreneurs bring their breakthrough scientific discoveries to market."
"Thanks to Governor Andrew Cuomo's forward-thinking vision, New York is proud to be building a robust life sciences sector, including our state's emerging biotech industry," said Eric Gertler, Empire State Development Acting Commissioner and President & CEO-Designate. "Strategic investments like the Governor's $620 million Life Science Initiative and our support for BioLabs @ NYULangone will ensure New York capitalizes on existing resources — like top-tier universities and research institutions — to attract the companies that will solve some of the most challenging scientific problems of today, while providing New Yorkers with the jobs of tomorrow."
"With the opening of BioLabs @ NYULangone, New York City continues to be the epicenter of innovation," said Manhattan Borough President Gale A. Brewer. "Congratulations to all who brought this incredible facility to life, and I look forward to seeing how it will change the world."
"With the financial support of our friends at EDC and ESD and the operations experience of BioLabs, we were able to dramatically redesign and reposition this lab as a collaborative hub for commercially-focused innovation and discovery in the life sciences," says Vicki Match Suna, AIA, senior vice president and vice dean for real estate development and facilities at NYU Langone.
"The BioLabs @ NYULangone incubator builds on NYU Langone's proven leadership in scientific and clinical innovation, which has propelled its remarkable success in translating research discoveries to new treatments for the benefit of its patients and the general public," says Robert Schneider, PhD, associate dean for Technology Ventures and Partnerships at NYU Langone Health.
"We're proud to be at the forefront of this expansion, building on the success of our medical center in translating research discoveries into new drugs, devices and technologies to improve the lives of patients and their families," says Robert I. Grossman, MD, dean of NYU Grossman School of Medicine and CEO of NYU Langone Health.
"I have no doubt BioLabs @ NYULangone will be second to none in innovation, research, academic collaboration and the commercialization of our life-saving discoveries," says Dafna Bar-Sagi, PhD, vice dean for science and chief scientific officer at NYU Langone. "We're looking forward to continuing the partnerships with BioLabs @ NYULangone, the EDC, and our other partners as well as the forward-thinking companies that now reside within this new facility."
Today's announcement builds upon a series of recent LifeSci NYC announcements including a new partnership with Deerfield Management to redevelop a 12-story building located at 345 Park Avenue South into a life sciences campus and an expansion of the Alexandria Center for Life Sciences North Tower on Manhattan's East Side offering a 550,000 square-foot facility to provide much-needed commercial laboratory and office space for growth-stage life science companies. NYCEDC also approved a $10 million fund to help NYC companies expand their physical footprint in NYC and launched an internship program to train the next generation of life sciences talent. Since the start of the internship program in 2018, 218 students have participated gaining both business and scientific experience from NYC based companies of which, approximately one third of the students from the 2018 cohort received full time offers.
About NYCEDC
New York City Economic Development Corporation creates shared prosperity across New York City's five boroughs by strengthening neighborhoods and creating good jobs. NYCEDC works with and for communities to provide them with the resources they need to thrive, and we invest in projects that increase sustainability, support job growth, develop talent, and spark innovation to strengthen the City's competitive advantage. To learn more about our work and initiatives, please visit us on Facebook, Twitter, or Instagram.
About Empire State Development
Empire State Development is New York's chief economic development agency. The mission of Empire State Development is to promote a vigorous and growing economy, encourage the creation of new job and economic opportunities, increase revenues to the State and it's municipalities, and achieve stable and diversified local economies. Through the use of loans, grants, tax credits, and other forms of financial assistance, Empire State Development strives to enhance private business investment and growth to spur job creation and support prosperous communities across New York State. Empire State Development is also the primary administrative agency overseeing Governor Cuomo's Regional Economic Development Councils and the marketing of "I Love NY," the State's iconic tourism brand. For more information on Regional Councils and Empire State Development, please visit regionalcouncils.ny.gov and esd.ny.gov.
About NYU Langone Health
NYU Langone Health is a world-class, patient-centered, integrated academic medical center, known for its excellence in clinical care, research, and education. It comprises more than 200 locations throughout the New York area, including six inpatient locations, a children's hospital, three emergency rooms and a level 1 trauma center. Also part of NYU Langone Health is the Laura and Isaac Perlmutter Cancer Center, a National Cancer Institute–designated cancer center, and NYU School of Medicine, which since 1841 has trained thousands of physicians and scientists who have helped to shape the course of medical history. For more information, go to nyulangone.org, and interact with us on Facebook, Twitter, YouTube, and Instagram.
About BioLabs
BioLabs are the premier co-working spaces for life science startups — unique places where you can test, develop and grow your game-changing ideas. As entrepreneurs and investors ourselves, we have first-hand experience with the pain-points biotech start-ups face. Our goal is to change how scientific entrepreneurs do business by building an ecosystem that empowers bioinnovators to grow quickly, while maximizing capital efficiency.