Press Release
Mayor Adams, NYCEDC, Partners Open Civic Hall at Union Square, New Hub for Tech Jobs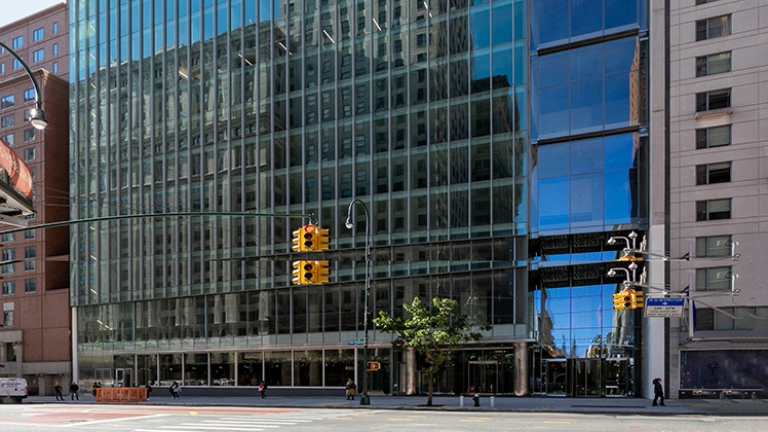 Focus on Digital Skills Training and Entrepreneurship Will Build Inclusive Talent Pipeline for City's Tech Sector
Part of Mayor Adams' "Working People's Tour," After City Set All-Time Total Jobs Record and Recovered All of Nearly 1 Million Jobs Lost During Pandemic
NEW YORK, NY—New York City Mayor Eric Adams today was joined by New York City Economic Development Corporation (NYCEDC) President and CEO Andrew Kimball, The Fedcap Group, and elected and community partners to celebrate the opening of Civic Hall at Union Square, a tech and digital hub training New Yorkers and creating an inclusive talent pipeline for family-sustaining jobs in the city's tech sector. Civic Hall at Union Square will help drive the growth of New York City's tech ecosystem by combining accessible entrepreneurial space with digital skills training for diverse and traditionally underserved communities to allow all New Yorkers to participate in the opportunities this sector offers. It is expected to serve approximately 750 people in the first year.
The opening of Civic Hall at Union Square marks a key stop on Mayor Adams' "Working People's Tour," continuing to create jobs and power New York City's economic recovery after the city set an all-time job high record with 4.7 million total jobs, recovering the nearly 1 million private sector jobs lost during the COVID-19 pandemic.
"With over 355,000 people working in the tech sector, New York City is the second largest technology hub in the world," said Mayor Adams. "And with tech and digital training hubs like Civic Hall providing skill-building and world-class educational training to New Yorkers in diverse and traditionally underserved communities, we are aiming for number one. Today's announcement marks another stop on our Working People's Tour, and it proves we did not recover nearly 1 million jobs by accident."
"This is an exciting stop on the Mayor's Working People's Tour. I am thrilled by the opening of Civic Hall and energized by what's in store in the new world-class space," said Deputy Mayor for Housing, Economic Development, and Workforce Maria Torres-Springer. "In one of Manhattan's most transit-dense neighborhoods, Civic Hall will become the model for talent development and career advancement, offering industry-informed instruction and skill building, networking and career coaching, and pathways to well-paid careers in New York City's tech ecosystem for all New Yorkers."
"The opening of Civic Hall at Union Square marks a huge milestone in New York City's tech and innovation ecosystem as this hub will play a critical role in creating a more equitable tech sector by building robust training and skill-building programs, while generating cutting-edge innovation," said NYCEDC President and CEO Andrew Kimball. "As New York City surpasses pre-pandemic employment numbers, the launch of Civic Hall presents the perfect opportunity to usher in a new generation of tech jobs, that is accessible for all New Yorkers. We look forward to further collaboration with partners at Civic Hall, The Fedcap, and local elected officials, as we launch this critically important milestone for New York City's tech industry."
Civic Hall at Union Square occupies 85,000 square feet across seven floors in RAL Development's Zero Irving Building, with flexible classrooms and workspaces, convening spaces for the nation's leading skills and training organizations, and a customizable conference and events center. It will be supported and operated by Fedcap, an international leader in educational services, vocational training, and job attainment. It will also serve as a central space for tech innovators and entrepreneurs to develop new, cutting-edge applications and advancements, while driving dialogue around advancements in key areas like artificial intelligence.
In collaboration with high-impact tenants and leading training providers — including LaGuardia Community College, part of the City University of New York system, and London-based The Data School New York — this cutting-edge facility will offer an array of best-in-class tech training programs and courses on topics ranging from cybersecurity to data analytics. Many of these opportunities will be offered at no cost or at low, affordable rates to ensure that New Yorkers can pursue their educational and professional goals without financial strain. Civic Hall's partners include Craig Newmark Philanthropies, Google, Amazon, Booth Ferris Foundation, Bread Financial, and the Ford Foundation.
Its opening builds on the Adams administration's ambitious efforts to position New York City as the national leader in technology jobs. The city is ranked as the number two global tech ecosystem in the United States and is home to over 25,000 tech-enabled startups supported by a robust ecosystem of over 200 co-working spaces and 100 accelerators and incubators. The tech ecosystem employs over 300,000 people, having grown by over 30 percent in the last decade. Despite the city's robust growth in tech, the industry still presents barriers to entry for entrepreneurs and workers from historically disadvantaged groups. Earlier this month, NYCEDC launched the Venture Access Alliance, a coalition of more than 70 New York City startup investors with the goal of continuing to increase diversity in the city's tech and venture ecosystem. The alliance will work to develop diverse workforces; source deals from Black, Indigenous, People of Color (BIPOC) and female founders; rethink due diligence practices; track improvement in diversity data each year; and directly mentor founders.
"I applaud today's opening of Civic Hall, which will help cultivate the next generation of tech professionals here in New York City," said U.S. Representative Jerrold Nadler. "I look forward to seeing the impact of this cutting-edge facility in Union Square that will support learners of all levels at little or no cost for many programs."
"I congratulate Civic Hall on their grand opening and appreciate the hard work that goes into this type of endeavor," said New York State Assemblymember Deborah J. Glick. "After a lengthy and at times contentious planning process, it is good to see a space for innovation and education come to fruition. I look forward to seeing the ways in which Civic Hall will contribute to the community through workforce development and programming that is free and open to the residents of the Lower East Side and the East Village. Robust community engagement is essential to ensuring that this cutting-edge tech hub becomes an inclusive and accessible resource for all."
"Expanding access to opportunities in New York City's tech sector is crucial to the growth of our economy and the success of our communities," said New York City Speaker Adrienne Adams. "The opening of Civic Hall at Union Square will bolster the invaluable contributions of this sector by opening doors for talent from historically underserved communities. The resources and training offered at this hub will advance our commitment to equity and diversity in one of the city's rapidly growing industries. I look forward to seeing the impacts of these efforts to shaping a more innovative and inclusive future for our tech ecosystem."
"Civic Hall at Union Square is poised to become a beacon for the New York City tech community, serving as a catalyst for innovation and inclusion. This visionary initiative will provide a space where creativity, entrepreneurship, and learning converge," said New York City Councilmember Carlina Rivera. "As we finally mark the opening of Civic Hall, we must ensure that all New Yorkers have access to opportunities that build skills to meet the challenges of a changing economic landscape. I look forward to further collaboration in supporting our neighbors and community through investments like this one."
"The grand opening of Civic Hall at Union Square is a testament to The Fedcap Group's ongoing commitment to fostering inclusive growth and technological advancement in partnership with the mayor and NYCEDC within New York City," said Christine McMahon, president and CEO, The Fedcap Group. "Civic Hall at Union Square will help bridge the digital divide, train the workforce of the future, and ensure that all New Yorkers can access the opportunities presented by the ever-evolving tech industry. I want to thank The Fedcap Group team, and our great partners including Mayor Adams, NYCEDC, Cross Management, Gensler, Ira Schuman, and so many others for their hard work and dedication to make this essential project happen."
"I'm extremely excited to be part of the team launching Civic Hall today. The promise of Civic Hall is to create the first full-service ecosystem in the world collaboratively catering to the needs of educational institutions, civic and social entrepreneurs, and industry partners, as well as to build a model for an interlocking, integrated, workforce system that works harmoniously to support students and adult learners," said Seema Shah, executive director, Civic Hall. "We are grateful to the training providers who have already joined us in our mission to foster innovation, education, and collaboration in New York City's tech economy with a commitment to expanding opportunities for all. We look forward to serving the New York City innovation and technology economy for years to come."
"From its beginning, the vision of Civic Hall has been to create a new model for a 21st Century community center where learners, makers, and sharers could meet and collaborate to advance themselves and the common good," said Andrew Rasiej, founder, Civic Hall at Union Square. "With this new facility, built in the heart of New York City's tech ecosystem, we will ensure that thousands of people from underestimated populations will get the training, the connections, and the supportive resources they need to build a better future for themselves and a better future for all."
"The official opening of Civic Hall at Union Square as a critical program element of Zero Irving, marks a major milestone for this development team that set out in 2015 together to deliver a 'new type of development' in response to the NYCEDC's request for proposal," said Spencer Levine, president, RAL Companies & Affiliates, LLC. "This ribbon cutting is a testament to the time and passion that the entire team put into this project, which delivers and supports a vertically integrated ecosystem of uses, creating and sustaining the 21st century workforce in New York City and beyond. We could not be more proud of the physical space and pedagogical ambitions that the Civic Hall and Fedcap team have and will continue to deliver."
About NYCEDC  
New York City Economic Development Corporation is a mission-driven, nonprofit organization that works for a vibrant, inclusive, and globally competitive economy for all New Yorkers. We take a comprehensive approach, through four main strategies: strengthen confidence in NYC as a great place to do business; grow innovative sectors with a focus on equity; build neighborhoods as places to live, learn, work, and play; and deliver sustainable infrastructure for communities and the city's future economy. To learn more about what we do, visit us on Facebook, Twitter, LinkedIn, and Instagram.