Press Release
Mayor Adams, NYCEDC, Councilmember Hanks Double Down On Support For Staten Island's North Shore With New Action Plan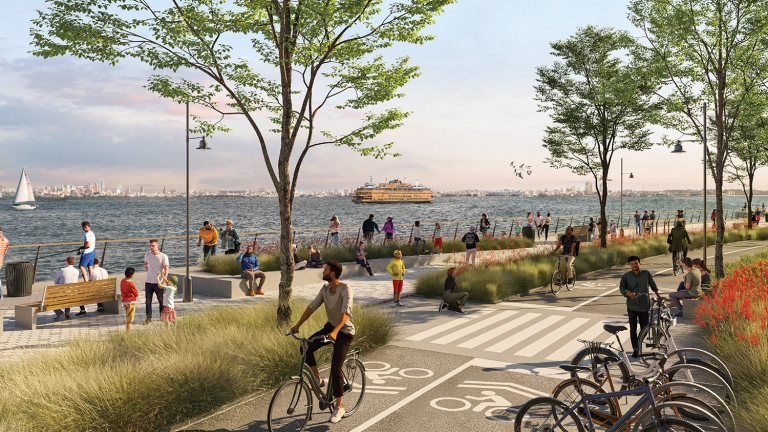 Staten Island North Shore Action Plan" Outlines Vision for Approximately $400 Million Investment in Vibrant, Mixed-Use Waterfront Community, Estimated to Generate Nearly $4 Billion in Economic Impact
Goals Include Expanding Waterfront Access, Accelerating Housing Creation, Reimagining and Redeveloping Key Sites, and Prioritizing Local Hiring and Career Pathways
Delivers on Major Commitment from Mayor Adams' "Working People's Agenda
NEW YORK – New York City Mayor Eric Adams, New York City Economic Development Corporation (NYCEDC) President and CEO Andrew Kimball, and New York City Councilmember Kamillah Hanks today recommitted to prioritizing the future of Staten Island's North Shore by unveiling the "Staten Island North Shore Action Plan: Building a Vibrant, Mixed-Use Waterfront Community." The four-year roadmap delivers on calls from the local community for a clear and unified vision for the North Shore and emerges from months of collaboration between the NYCEDC, Councilmember Hanks, and numerous city agencies and community partners.
Building on a generational city investment of approximately $400 million, the plan details strategic investments to the North Shore of Staten Island that will unlock 20 acres of public open space, create over 7,500 family-sustaining jobs, generate an estimated economic impact of $3.8 billion, and accelerate the completion of over 2,400 units of housing. The plan delivers on a major component of Mayor Adams' "Working People's Agenda," released in January 2023, which launched community engagement on a North Shore community engagement process with the goals of building new housing, expanding waterfront access and flood resiliency, creating job opportunities, and fostering mixed-use development.
"For too long, our economic development plans have focused on Manhattan and slices of Brooklyn and Queens — but New York is a five-borough city," said Mayor Adams. "Our plan for the North Shore executes on a once-in-a-generation investment of more than $400 million to bring homes, a school, jobs, open space, waterfront access, and flood resiliency to Staten Island — but, more importantly, it offers more breaks to hard-working New Yorkers who have historically faced long commutes and fewer economic opportunities. We're grateful to Councilmember Hanks for her invaluable leadership in helping us shape this plan and invest in a neighborhood where New Yorkers can truly live and thrive."
"Our administration's top priority has always been an equitable and comprehensive economic recovery that sets up New Yorkers in all five boroughs for the future. This action plan delivers on that promise and puts forward a comprehensive revitalization for Staten Island's North Shore that will deliver affordable housing, create good-paying jobs, and build a world-class waterfront," said Deputy Mayor for Housing, Economic Development, and Workforce Maria Torres-Springer. "I want to thank Councilmember Kamillah Hanks and EDC President Andrew Kimball for their determined efforts and renewed commitment to the Staten Island community."
"The North Shore of Staten Island is home to endless possibilities, and now, thanks to the leadership of Mayor Adams and collaboration with Councilmember Hanks, we have a clear roadmap to deliver results for Staten Islanders once and for all," said NYCEDC President and CEO Kimball. "This action plan prioritizes reclaiming the waterfront for public access, making strategic investments throughout the community, and prioritizing career pathways and good-paying jobs for residents. We look forward to working alongside our partners in the public and private sector to bring this plan to life and bolster a community that has long been promised a vibrant, mixed-used neighborhood."
"From day one, our office hit the ground running on putting the pieces together — that meant assessing the damage, identifying the key players, and ultimately advocating for what I knew this community wanted, and that's an accessible, walkable, and connected waterfront," said Councilmember Hanks. "For many years, the residents of the North Shore have been subjected to failed projects and broken promises. With the implementation of this action plan, we will have a roadmap to build a vibrant waterfront for Staten Islanders to enjoy. We deserve a publicly accessible waterfront that balances commerce, industry, housing for all income levels, and recreation. Now we have an action plan which represents a framework that reflects what this community has been demanding for decades. The goal is to finally have a waterfront that is comparable to others across the city and our country."
Additional core components of the Staten Island North Shore Action Plan include:
Redeveloping and Reopening Pier 1: Originally built for marine transportation and partially closed since 2017, NYCEDC plans to reactivate Pier 1 for public waterfront access and is currently working with local elected officials to secure additional funding to complete the project.
A New Request for Proposals for the Bank Street Site: At the site of the former New York Wheel project, NYCEDC plans to release a new request for proposals later this year to solicit plans to activate the terminal building with year-round programming and events, along with new waterfront open space.
A Request for Proposals for the New Stapleton Waterfront Site: The first six-acre phase of open space opened in 2016, advance the ongoing transformation of a 35-acre former U.S. Navy base into a campus with public open space, more than 2,000 mixed-income homes, new community facilities, and a 600-seat public school. NYCEDC will issue a new development request for proposals for the site's southern phase in fall 2023 and plans to conclude its open space development in 2027.
Restoring Public Access at the St. George Esplanade: Alongside the Bank Street site, NYCEDC plans to restore public waterfront access to this three-acre stretch that has been closed to the public in recent years and which faced severe weather damage.
Lighthouse Point and Staten Island Urby: NYCEDC will work to accelerate completion of these two existing housing projects.
Construction will resume in the fall of 2023 on this $400 million public investment, focusing on executing the long-promised, two-mile waterfront esplanade, stretching from Stapleton to Tompkinsville to St. George — creating 20 acres of continuous waterfront access. The plan will also fully unlock the potential of the 2019 Bay Street rezoning, the 2008 St. George rezoning, and the 2006 Stapleton Waterfront rezoning.
These public investments, including 20 acres of waterfront open space, 2,400 homes on city-owned land, and 600 new New York City Department of Education K-8 school seats are anticipated to leverage significant additional privately developed homes and commercial space. Building on NYCEDC's work with local schools and community groups in the offshore wind industry, NYCEDC and its partners will connect development in the action plan with local job placement and career pathway opportunities on Staten Island's North Shore.
The action plan pledges ongoing work with Mayor Adams, Councilmember Hanks, and existing private sector partners to ensure past commitments are delivered on, while also highlighting the unique development opportunities on Staten Island's North Shore to new private sector partners. At Empire Outlets, for example, NYCEDC will support efforts to create a more dynamic retail experience. NYCEDC will also support capital upgrades and a new brewpub and dining experience at the Staten Island University Hospital Community Park.
In addition to detailing public investment on the North Shore, the action plan includes initiatives to leverage public investment to support private development, continue supporting arts and culture on the North Shore, and facilitate partnerships between NYCEDC and private stakeholders to prioritize economic mobility and job opportunities for the local community.
"The North Shore of Staten Island is one of New York City's diverse, up-and-coming waterfront neighborhoods and it deserves strong investments in its future. Thanks to this action plan, and the Department of City Planning's upcoming collaborative planning work for Richmond Terrace, we're ready to create new homes, jobs, amenities, and waterfront access to help these communities thrive," said New York City Department of City Planning Director Dan Garodnick.
"Improving waterfront access across the city can provide exciting opportunities to create important recreational and transportation corridors for cyclists and micromobility users," said New York City Department of Transportation Commissioner Ydanis Rodriguez. "We look forward to working with the EDC, our sister agencies, and Staten Islanders to build better connections to the North Shore waterfront."
"We're thrilled that this action plan will create 20 acres of continuous waterfront access — connecting Staten Islanders with open spaces to enjoy spectacular views, get fresh air and exercise, and enjoy opportunities for recreation. It will also bolster flood resiliency for our public spaces as the city deals with the effects of climate change and severe weather," said New York City Department of Parks & Recreation Commissioner Sue Donoghue. "We're grateful to Mayor Adams, NYCEDC, and Councilmember Hanks for their commitment to revitalizing the esplanade and making the North Shore a more vibrant place for New Yorkers and visitors alike."
"The new roadmap laid out by Mayor Adams and President Kimball is a major milestone in our mission to unleash the potential of Staten Island's North Shore," said New York City Department of Small Business Services Commissioner Kevin D. Kim. "These plans will guide the development of a world-class waterfront district that everyone can enjoy, while also bringing in new, good paying jobs for Staten Islanders. Not only will new businesses and residents flock to the North Shore, but the small businesses that already call the neighborhood home will thrive, grow, and expand."
"It is our hope that this North Shore Action Plan will transform our waterfront into the dynamic and accessible public space that Staten Island deserves while bringing much welcome economic activity and revenue to our community," said U.S. Representative Nicole Malliotakis.
"The North Shore waterfront has incredible potential. This plan unlocks public access that has been cut off for years, creates new jobs for Staten Islanders, and helps with smart development of much-needed housing," said New York State Senator Jessica Scarcella-Spanton. "I commend Councilmember Hanks, NYCEDC, and Mayor Adams for ensuring that this plan gives the North Shore the waterfront we deserve."
"As we unveil the Staten Island North Shore Action Plan, we stand at the cusp of a transformative era for our borough. This is an unprecedented $400 million commitment that signifies our profound belief in Staten Island's vibrancy, spirit, and future," said New York State Assemblymember Charles D. Fall. "By expanding waterfront access, accelerating housing creation, and emphasizing local hiring, we are ensuring that the prosperity we cultivate benefits every corner of our community. The North Shore Action Plan embodies more than just bricks, mortar, and green spaces; it stands as a testament to our commitment to progress, community, and the very essence of the Staten Island spirit."
"We believe the North Shore waterfront is an untapped jewel. That jewel should be shined for the whole world to see and for all Staten Islanders to enjoy," said Staten Island Borough President Vito Fossella. "We must commit ourselves to use this time to enhance and to improve the waterfront once and for all. We are thankful that Mayor Adams and NYEDC delivered on their promise to invest in Staten Island and revitalize an area that has long been ignored. We are excited for the prospect that someday soon, the waterfront will be fully accessible for the community to enjoy and utilized fully for recreation, housing, and community engagement. Additionally, we are excited to see this project be utilized to provide good-paying jobs and economic opportunity for Staten Islanders."
"New York City is making history and fulfilling Staten Island's destiny thanks to Mayor Eric Adams, Borough President Vito Fossella, Councilmember Kamillah Hanks, and NYCEDC's Andrew Kimball," said Peter Lisi, president, Van Duzer Civic Association. "Collaboratively, they have managed to catch a dropped ball and slam dunk it for the whole community. Their efforts will finally bring a long overdue workable and walkable waterfront to life, creating a beautiful destination for generations to enjoy. Pier 1 will be brought back to its original glory, unlocking the full potential of Staten Island's North Shore waterfront."
"For years, the St. George waterfront has been closed to the community and allowed to deteriorate after it was taken hostage for an unpopular and unsuccessful wheel project. On behalf of the St. George Civic Association, I am very pleased to learn that there are plans to intelligently reopen our waterfront and cohesively link it to developments in our neighboring communities of Tompkinsville and Stapleton," said Eileen Harrington, president, St. George Civic Association. "I look forward to working with Mayor Adams and his administration to develop the plans for much-needed community access and recreation."
About NYCEDC  
New York City Economic Development Corporation is a mission-driven, nonprofit organization that works for a vibrant, inclusive, and globally competitive economy for all New Yorkers. We take a comprehensive approach, through four main strategies: strengthen confidence in NYC as a great place to do business; grow innovative sectors with a focus on equity; build neighborhoods as places to live, learn, work, and play; and deliver sustainable infrastructure for communities and the city's future economy. To learn more about what we do, visit us on Facebook, Twitter, LinkedIn, and Instagram.