Press Release
The Major R. Owens Health & Wellness Community Center Opens its Doors in Crown Heights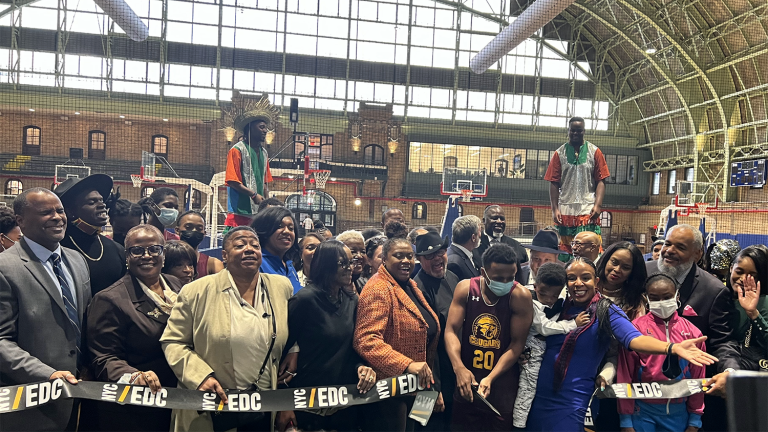 NYCEDC Joins Crown Heights Community to Celebrate with a Ribbon Cutting at the Former Bedford Union Armory, Named in Honor of Former Congressman Major Robert Odell Owens
NEW YORK, NY—Mayor de Blasio, New York City Economic Development Corporation (NYCEDC), members of the Owens family and Crown Heights community, along with the Major R. Owens Community Advisory Committee, and elected officials gathered on Wednesday to celebrate the grand opening of the Major R. Owens Health & Wellness Community Center. The state-of-the-art, 60,000 square-foot retrofitted drill shed will serve Crown Heights as a neighborhood recreation center, complete with a 25-meter, six-lane competitive swimming pool, basketball courts, and a multi-purpose court able to accommodate a wide variety of sports, including soccer and community programming.
The project was made possible by the de Blasio administration, NYCEDC, community members and lawmakers who took on efforts in 2013 to redevelop the previously vacant armory site and transform it into a space for housing, jobs, and the community. After years of extensive engagement with residents, business owners, elected officials, and other local stakeholders to better understand the needs of Crown Heights, it was evident residents shared former Congressman Major Robert Odell Owens's desire for a place that would positively support the vibrant communities of Crown Heights and greater Central Brooklyn. In 2015, NYCEDC selected BFC Partners to develop the large space and bring to life the long-held community vision. And in 2018, the Community Advisory Committee was formed to hold monthly meetings to inform residents about the project and ensure community representation and input was incorporated throughout.
"Investing in our people and communities, especially in ones that have often been overlooked, is how we build a recovery for all of us," said Mayor Bill de Blasio. "The Major R. Owens Health & Wellness Community Center will provide New Yorkers a place to thrive and grow for generations to come."
"The Major R. Owens Health & Wellness Center is a transformational project that exemplifies New York City's commitment to providing historically underserved communities with critical resources for generations to come," said Deputy Mayor for Housing and Economic Development Vicki Been. "This center honors the legacy of Congressman Owens -- a tireless advocate for the residents of Crown Heights. I want to thank all of the leaders who partnered together to help bring this vision to fruition as we continue to work towards a Recovery for All."
"The Major R. Owens Health & Wellness Center is rooted in community and is for the community," said NYCEDC President & CEO Rachel Loeb. "NYCEDC and our partners worked hard to deliver a recreational center that captured former Congressman Major Owens' vision, a place where people of all ages, all walks of life and from different communities could come together and have access to critical services and programming that open doors to opportunity. Now, children, families and seniors can benefit from this center for years to come and be inspired when they walk inside. We thank the Mayor, the State, Majority Leader Cumbo, BFC Partners, the Community Advisory Committee, our nonprofits, and all who worked on and supported this project."
"Congressman Major Owens had a vision for Central Brooklyn, and this new community resource makes real one part of that vision -- providing Central Brooklyn's communities with the world-class recreational and educational resources they deserve," said Chris Owens, son of the late Congressman Major R. Owens.
"The new Major R. Owens Health & Wellness Center will offer needed recreational and enrichment opportunities for the surrounding community. We have seen in the past year how young people in underserved areas can fall victim to cycles of violence when they are not given proper outlets, and Crown Heights was no exception. By ensuring local kids have a place to go, and effective youth programming at their fingertips, this center will ensure we are creating a safer, healthier Crown Heights for all residents. In particular, I am very proud to have allocated funding toward the new Brooklyn Pride Center headquarters inside the armory, which will be a critical resource for the borough's LGTBQ+ community. I thank Majority Leader Laurie Cumbo and all the local stakeholders for ensuring this center serves the needs of the community," said Brooklyn Borough President Eric Adams.
"Former Congressman Major Robert Odell Owens committed his life to advocating for those who have been unfavorably impacted by unjust systems," said Council Member and New York City Council Majority Leader Laurie Cumbo. "Whether it was speaking out on civil rights, disability rights, education rights, and furthermore, all aspects of social justice, he did so with conviction, compassion, clear vision, and he delivered. The Major R. Owens Health & Community Wellness Center is a reflection of years of dedication from Major Owens, and all those who were focused on the bigger picture both then and now, a testament to those who had the capacity to see how this space could support and enhance the rich and unique communities within Crown Heights and beyond. The hard work between BFC Partners, NYCEDC, Community Board 9, and my office has revived the Bedford Union Armory as the jewel of Crown Heights, and I look forward to all the generations who will learn, grow, and thrive within this great community."
"Major R. Owens was a visionary. His passion and dedication towards public service will continue to inspire so many with this community center named in honor of him," said Trenelle Gabay, wife of the late Carey Gabay. "In these unprecedented times a safe haven space where creative solutions and resources are needed to strengthen and improve lives. This community center will address issues in our communities today, but also dynamically adapt to solve the issues of tomorrow as well."
"Mom would be honored to have a performing arts space that's devoted to the betterment of her beloved Brooklyn community named after her," said Betty Carter's son, Myles Redding.
"After tremendous outreach, selling, convincing and just "you betta'," we are finally here! The point where all of our works will be measured, not just by Major Owens' family, friends, students and others familiar with him, but community members and ourselves," said Beverly Newsome, Ebbets Field TA President. "With every tour, I looked at each person's face as we passed the spaces to capture their reaction. We worked to provide as much information as possible to each question, not just to the person asking, also to the listeners. Every meeting, every decision, every presentation was for this moment. This is one of the biggest challenges I have ever experienced! Can you imagine years from now people will be using the space I helped to formalize? Wow!"
"We are absolutely thrilled to stand alongside our partners in celebration of the Major R. Owens Health & Wellness Center, welcoming in Crown Heights and Central Brooklyn residents. From afterschool programming and dance lessons to camps and lifesaving swim classes, the Major Owens Center will become a key part of the lives of local Brooklynites," said Donald Capoccia, Principal of BFC Partners. "We are grateful for the support of our elected officials, community advocates and representatives, and nonprofit partners. All of it was necessary to bring this project to life, and we are ecstatic to begin providing safe, reliable and accessible programming and social services to this community."
The wellness center is now open to the public. Standard memberships for the gym within the center cost $30 per month, while seniors and low-income adults below the 200% Federal Poverty Level can join for $10 per month and youth memberships are as little as $8 per month. Additionally, 50% of memberships will be discounted to $10 per month for residents who live in Community Board 9.
"Brooklyn Community Board 9 is excited for the grand opening of the Major R. Owens Health & Wellness Community Center," said Fred Baptiste, Chair of Community Board 9. "There is a critical need for enriching programs that provide positive outlets of physical and mental creative energy, training and skills for a 21st century economy, and the promotion of overall wellness. The Board looks forward to working with the various vendors and organizations in servicing the residents of the district and Central Brooklyn."
"In 2008, Congressman Owens began to envision a future for the Armory as a full-time community center with recreational opportunities and gathering spaces for Crown Heights children, families, and local community stakeholders," said Joseph Coello Sr., Chairman, Major R. Owens Community Ctr., Advisory Committee. "As we celebrated today's ribbon cutting, we honor and cherish the legacy of the late Congressman Major R. Owens, our longtime advocate, our fearless leader, and trusted loved one."
"This Center has already begun to live up to its promise as the place where young people from every racial, economic, and religious background can play, swim, and participate in activities, in a positive environment. The community's needs and aspirations have been heard, and the result is amazing," said Rabbi Eli Cohen, Executive Director of Crown Heights Jewish Community Council.
The Major Owens Center will also welcome a variety of tenants to provide the following services and community programming at an accessible rate. With 35,000 square feet of office space for nonprofits, members will have access to a number of Brooklyn community-based organizations that will be permanently housed at the Center, including the Boys' Club of New York will be the operator of the gym at the Center, providing high quality and diverse programming to the community.
Other local groups offering classes and programs include Imagine Swimming, Inc.; New Heights Youth; Brooklyn Pride; Digital Girl, Inc.; Ifetayo Cultural Arts Academy; Globall Sports Center; and Betty Carter Auditorium for the Arts (BCAA). The partners who operate classes, camps, and programs at the Major R. Owens Health & Wellness Community Center will work to ensure that their offerings are available to those across the Crown Heights community.
"We are excited to extend our mission rooted in youth empowerment to Brooklyn with The Major R. Owens Health & Wellness Community Center," said Carlos Velazquez, Chief Program Officer, The Boys' Club of New York. "We want to thank Crown Heights for welcoming us into the neighborhood, and we look forward to bringing BCNY to you."
"We cannot overstate how life-changing this new space for our College Bound program will be for thousands of underserved youth throughout New York City," said Ted Smith, New Heights Executive Director. "Our new home at the Major Owens Center will give kids every advantage they need to thrive on the court, in the classroom and in their communities. We are delighted to become a part of this spectacular new community."
"We are thrilled to have this opportunity to expand into Crown Heights and to develop new partnerships and activities that promote health and wellness for LGBTQ+ Brooklynites," said Floyd Rumohr, Chief Executive Officer, Brooklyn Pride. "We are excited to learn what will best serve the community, whether that's fitness courses presented in tandem with our tenant neighbors, recovery programs, peer-led support groups, sexual wellness and STI prevention, or connecting our community with culturally appropriate health services. We also expect to just have a lot of fun with art classes, movie screenings, or game nights that will augment behavioral health services provided by Callen-Lorde Community Health Center. More information will be available at lgbtbrooklyn.org."
"We are thrilled to be a part of this historical moment. For the first time Digital Girl, Inc. will be able to offer consistent STEM programming from our own dedicated space and soon to be a State of the Art Technology Center. The Center will be the first of its kind located within Central Brooklyn and will be accessible to the community for their digital needs," said Michelle Gall, Executive Director of Digital Girl, Inc.
"Ifetayo starts from an African-centered perspective to help young children explore who they are, where they come from, and how to see themselves. These are some of the most important questions for a young person," said Naima Oyo, Ifetayo Cultural Arts Academy, Inc. Executive Director. "We are excited to be able to offer our community a space to COME HOME to at MOCC! A safe space to develop their identity, artistic talents, creative experiences, and gain a deeper understanding of their ancestral roots."
"The rebirth of the West Indian American Carnival Association continues with the organization taking full occupancy at Major R. Owens Health & Wellness Center," said Michelle Gibbs, Board Chair Of West Indian American Carnival Association (WIADCA). "We are excited to welcome a bright future for our organization at our new home. This move is definitely a huge step for our organization. We will be able to provide additional programs and be more accessible to our youth, young adults and seniors within the community in ways we never imagined."
"Since the beginning of discussions, six years ago, Imagine Swimming has been a committed partner and advocate in the development of the Bedford Union Armory. Swimming is a fundamental, lifesaving skill that, too often, does not find its way into underserved communities. With the opening of the Major R. Owens Health & Wellness Community Center, Imagine is thrilled to bring its programming to all - and save lives in the water," said Casey Barrett, Founder and Co-CEO, Imagine Swimming, Inc.
"We are very excited to provide the community access to a state-of-the-art turf field," said Peter Zaratin, Globall Chief Executive Officer. "The 60 x 40-yard field, with a 90-foot ceiling height, provides that open-outdoor space playing feeling, but with the benefits of being indoors while allowing multi-sport organizations the needed home to schedule multi-year programming."
Designed by Marvel, the Major Owens center will offer comprehensive resources, energy efficiency and housing to the community.
"Marvel is thrilled to be part of the team that has preserved a significant piece of Brooklyn's history and transformed it into a magnet for Crown Heights," said Jonathan Marvel, founding partner of Marvel. "We oriented our design around this iconic early 20th-century structure while adding new homes for many, abundant community amenities and services, and a variety of recreational spaces, which are uncommon in New York. In addition to reusing the existing building, we incorporated sustainable features to reduce energy and water use that will lessen its impact on the environment."
The Major Owens Center also has an onsite cogen plant, which will meet all of the project's heating, cooling and electrical demand, effectively taking the entire 500,000 square-foot project off the ConEd grid, and providing safe haven to the community during brownouts or blackouts during periods of extreme heat.
Also part of the Major Owens Center project is 415 units of housing, 60% of which will be much needed affordable housing for low income New Yorkers, as well as a 25,000 square-foot health center, run by Brooklyn Plaza Medical Center. These projects are expected to be completed by 2023.
About NYCEDC
New York City Economic Development Corporation is a mission-driven, non-profit organization that creates shared prosperity across New York City by strengthening neighborhoods and growing good jobs. NYCEDC works with and for communities to provide them with the resources they need to thrive, and invests in projects that increase sustainability, support job growth, develop talent, and spark innovation to strengthen the City's competitive advantage. To learn more about our work and initiatives, please visit us on Facebook, Twitter, or Instagram.