Press Release
City of New York Celebrates Start of Construction on Pier 42 Upland Park and Pier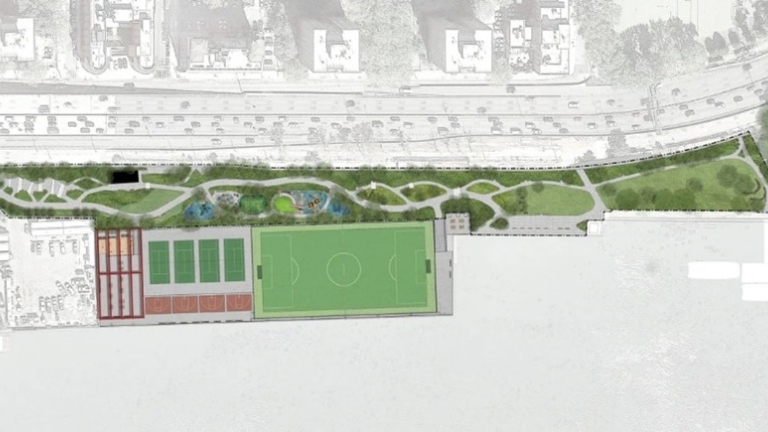 Project to Transform Eight Acres of Formerly Industrial Waterfront Land into New Parkland Including Playground, Recreation Deck, and Improved Bike Path
NEW YORK, NY—Yesterday, New York City Economic Development Corporation (NYCEDC), NYC Parks, Borough President Gale Brewer, Councilmember Carlina Rivera, and community members celebrated the start of construction on the Pier 42 project. When complete, the former industrial waterfront land will include a new park with a playground, comfort station, a picnic area, a designated bike path, shoreline access, and a recreation deck with a soccer field, tennis courts, adult fitness equipment, and picnic tables.
The plan to revitalize Pier 42 began in 2012 when the Lower Manhattan Development Corporation (LMDC) spearheaded the project with funding from the US Department of Housing and Urban Development (HUD). LMDC partnered with NYC Parks to envision, design, and implement improvements at the pier, which until then was a visible sign of blight and decay that also blocked community access to the waterfront. The next phase of the resulting community-driven master plan is now coming to fruition.
NYCEDC joined the project team in 2017 and first managed the demolition of the vacant shed and preservation of structural steel bays. Work has now begun on the next phase of the master plan – the upland park, which will deliver much-needed waterfront open space and amenities by Summer 2023. The project also features a comfort station with a green roof, added in response to community feedback and to comply with Local Laws 92 and 94 of 2019, governing sustainable roofs.
In late 2019, NYCEDC and NYC Parks added activation of the pier deck to the project scope in order to provide additional recreation space for the Lower East Side community during the construction of the East Side Coastal Resiliency project. The design and construction of this portion has been fast-tracked and will open a year earlier than the upland park – in Summer 2022 – to mitigate park closures while critical resilience infrastructure is built.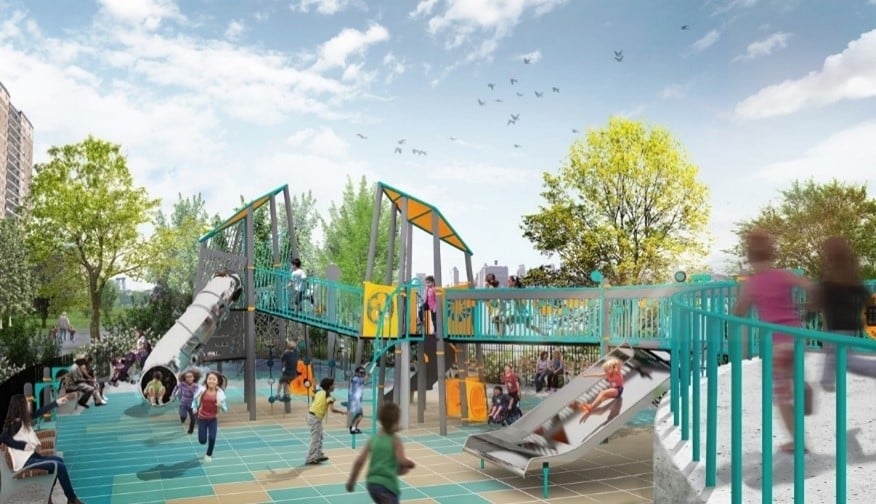 "Revitalizing Pier 42, until now an underutilized former parking lot and industrial pier, is a huge step forward for the Lower East Side's community vision," said NYCEDC President and CEO James Patchett. "We are thrilled that this area will now be transformed into sprawling open space with something for everyone – complete with ample space to play sports, a beautiful new playground, an improved bike path, a new comfort station, and more. Congratulations to our elected official partners and sister agencies on breaking ground!"
"We are thrilled to join the Economic Development Corporation in transforming this industrial area into waterfront parkland for the Lower East Side," said NYC Parks Commissioner Mitchell J. Silver, FAICP. "Guided by community feedback, the project is delivering quality open space for the neighborhood with a brand new playground, pathways, and more. The Pier 42 Deck will offer recreational opportunities while East River Park is made more resilient than ever through the East Side Coastal Resiliency project."
"Today we mark the beginning of Pier 42 Upland Park and Pier's construction, and the transformation of this site into a recreational amenity for the community," said Manhattan Borough President Gale A. Brewer. "This tranquil landscape will bring much-needed waterfront space to enjoy for the people who live in this neighborhood and is a terrific addition to the Manhattan Greenway."
"A new vision for the Pier 42 area has been a longstanding priority for my community, and I am thrilled to see work on the Upland Park with its much-needed amenities break ground, along with an expedited activation of the Pier 42 Deck," said Councilwoman Carlina Rivera. "Calls for a multi-purpose, resilient, and integrated East Side greenway infrastructure has taken a major step forward today, and I applaud community advocacy for getting us here."
"Community Board 3 has advocated for the transformation of this waterfront site into a beautiful public park for our community for over two decades," said Trever Holland, Chair of Parks, Recreation, Waterfront, & Resiliency Committee for Community Board 3. "At long last and after dozens of community meetings we are finally seeing this project come to fruition. Eight acres of new and accessible space for a community often ignored when it comes to equitable parks and waterfront amenities. We thank everyone who has been involved over the many years including those tireless advocates who live along this stretch of waterfront."
"Gouverneur Gardens' residents have been waiting many years for the development of Pier 42 into a usable park where Lower East Side families can gather safely and enjoy the spectacular waterfront views," said Frank Avila-Goldman, Vice President - Board of Directors, on behalf of Gouverneur Gardens Housing Corporation. "We are thankful the park construction is fully funded and will also be integrated with upcoming flood protection for vulnerable communities hit hard by Hurricane Sandy. We celebrate this opportunity and look forward to working with EDC and NYC Parks in fulfilling the construction of a world class public park."
When complete, Pier 42 will be a waterfront park and open space benefiting the local community, nearby residents, and all of Lower Manhattan. For more information please visit: edc.nyc/project/pier-42
This project is made possible by a grant from the Lower Manhattan Development Corporation, which is funded through the Community Development Block Grants from the US Department of Housing and Urban Development.
About NYCEDC
New York City Economic Development Corporation creates shared prosperity across New York City's five boroughs by strengthening neighborhoods and creating good jobs. NYCEDC works with and for communities to provide them with the resources they need to thrive, and we invest in projects that increase sustainability, support job growth, develop talent, and spark innovation to strengthen the City's competitive advantage. To learn more about our work and initiatives, please visit us on Facebook, Twitter, or Instagram.