A Brooklyn Tradition
With everything from fresh produce to delicious fish and meats, Moore Street Market is a Brooklyn tradition, ripe and ready for you.
One story building with mezzanine and basement, used as retail food and dry goods market with space for community programming. The Market is approximately a 15,000 square foot building located in the East Williamsburg section of Brooklyn. It was constructed in 1943 as part of a City-wide program to remove pushcart vendors from the streets. In 1992/93, NYCEDC undertook approximately $2.5 million of renovations at the Market to create 26 stalls. The Market was leased to the Brooklyn Economic Development Corporation but was taken over by NYCEDC in 2014 where it remains a directly managed asset, and part of the NYC Public Markets network.
Moore Street is a multi-tenanted retail market where the local community can find a diverse selection of authentic Caribbean cuisine, fresh fruits & vegetables, dry goods as well as services from a tailor, barbershop and salon. Humboldt Plaza is located on the Humboldt Street side of the Moore Street Market, which NYCEDC and the Merchants Association activate during the warmer months. The market has 15 vendors and 5 vacancies. Presently, NYCEDC is transforming one of these vacancies into a demonstration kitchen to provide engaging programming for the community.
Address
Moore Street Market 
110 Moore Street 
Brooklyn, NY 11206
Hours
Monday–Thursday: 9am–6pm 
Friday–Saturday: 9am–7pm 
Sunday: 10am–5pm
Moore Street Market Offers:
Spacious walkways and high ceilings
Access to multiple entrances
On-site security and maintenance
Available basement storage for vendors
Loading dock and cardboard baler
Stalls outfitted with hood and ventilation
Public restrooms and an open public plaza
Several small businesses in the surrounding shopping area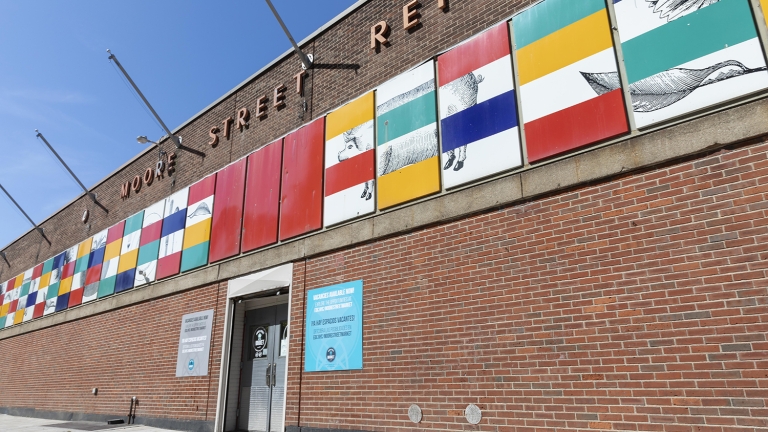 Humboldt Plaza Application
Interested in hosting an event at Moore Street Market? Click here to learn more and apply.
Learn More
Merchants
Produce & Groceries 
La Union Fruit & Grocery
YR Market Fresh
Eateries 
American Coffee Shop 
Ramonita's Restaurant
Beverages  
Beauty
Latin American Barbershop 
Neida's Beauty Salon
Bakeries 
Art, Leisure, & Accessories 
Botanica La Esperanza 
Jerez Tailor Shop 
Las Gemelas
The Rose Thrift Shop 
Torie's Treasures
Contact Us
Interested in becoming a merchant at Moore Street Market? Inquire today!
Already a vendor at the market? eBilling allows you to view your current bill, make online payments, and enroll in paperless billing.
Interested in bringing your goods to Moore Street Market as a stall vendor?