Transportation
Our ports are the gateways for the goods New Yorkers need to thrive, and they connect the world to all NYC has to offer.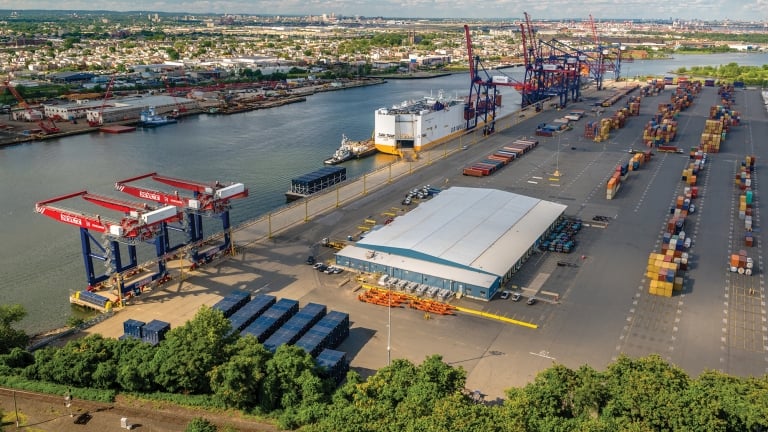 Leveraging the largest port on the East Coast and an extensive network of waterways, railways, landings, and cargo facilities, NYC's transportation industry is central to the city's prosperity, enabling the movement of goods—and people—into, out of, and around NYC.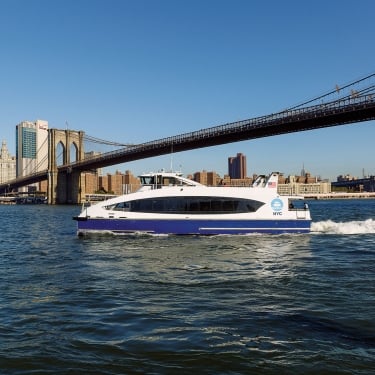 By The Numbers
$60K
Average salary in rail freight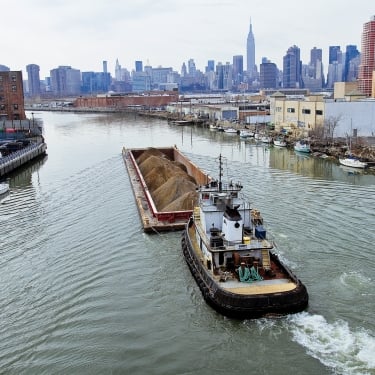 By The Numbers
$300M
Contributed annually to NYC's economy by borough waterways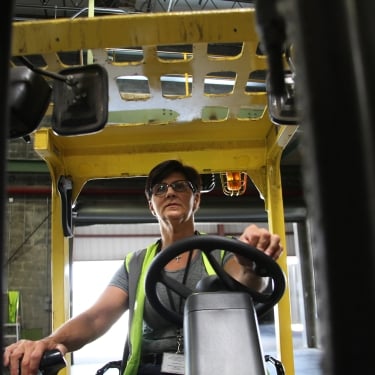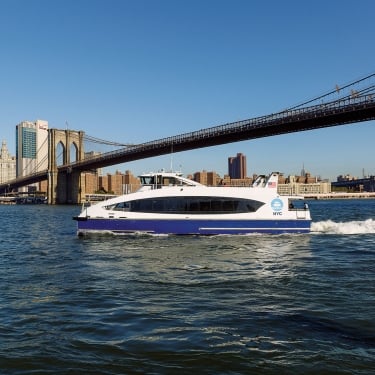 By The Numbers
$300M
Contributed annually to NYC's economy by borough waterways
By The Numbers
$60K
Average salary in rail freight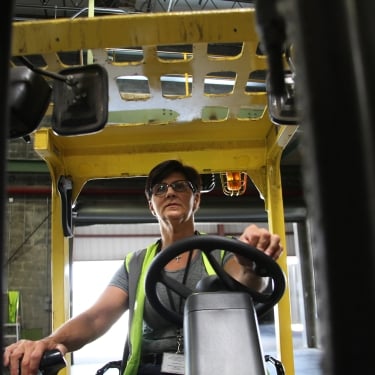 PortNYC: A Backbone of Commerce
From terminals to piers, the PortNYC group at NYCEDC plans for growth, forges strategic industry partnerships, and manages the city's port facilities. PortNYC develops freight and passenger infrastructure to strengthen the region's economic growth, while connecting New Yorkers to good-paying jobs.
Cargo Terminals
NYC's ports are America's gateway to the largest and wealthiest consumer market in the US. PortNYC supports the local economy by enabling firms to bring goods to market by vessel, the most efficient mode of freight transportation.
By the Numbers
7.2M
20-foot equivalent units (TEUs) of deep-sea shipping containers moved through NY's waterways in 2018.
Approximately 400,000 of these containers moved through the city's seaports, and recent infrastructure upgrades to marine cargo terminals will allow more than a million tons of cargo to arrive by water instead of truck. The City secures and promotes strategic areas along the waterfront by designating these areas Significant Maritime and Industrial Areas (SMIAs). Some of the North Atlantic's largest concentration of workboats and vessel repair operations are located within NYC SMIAs.
Red Hook Container Terminal is well positioned to bring goods into the heart of NYC. By directly shipping into the city, we eliminate thousands of truck trips each year… improving air quality.
Mike Stamatis
President, Red Hook Container Terminal, LLC.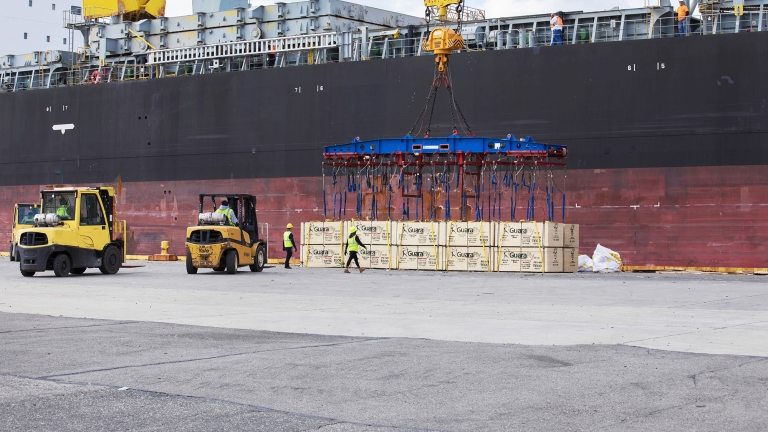 PortNYC
Developing the city's freight and passenger infrastructure to bolster economic growth
Investing to:
Modernize facilities

Increase efficiency

Improve sustainability
Cruise Terminals
Through NYCruise, the City manages the Manhattan and Brooklyn Cruise Terminals, which serve the world's most spectacular passenger ships. With a recent $250 million investment in the terminals, the City modernized facilities to provide passengers a smooth and efficient embarking and debarking experience. Continued investments, and the industry's top awards, have made NYCruise the departure point for more than 1.2 million passengers annually, creating lasting memories and supporting over $228 million in local economic impact from tourism spending.
NYCEDC manages the Waterfront Facilities Maintenance Management System, an an interactive resource that proves access up-to-date info, maps, and reports on the NYC waterfront.
Learn More
Piers
Part of PortNYC, the DockNYC service helps vessels—including those used for tug and barge operations; excursions; recreational outings; and cultural, historic, and educational trips—access berthing locations throughout the city, offering a variety of amenities and utilities throughout the harbor. Through the DockNYC program, NYCEDC also oversees the seaplane facility located at the Skyport Marina on E. 23rd Street.
Ferry Landings
PortNYC maintains 23 ferry landings throughout the city, supporting both the incredibly popular NYC Ferry service as well as a variety of private ferry operators. These ferry services have unlocked the economic potential of the city's waterfront communities, supporting millions of passenger journeys by facilitating frequent, dependable service to and between the five boroughs.
The Future of Freight and Maritime
Through PortNYC and other initiatives, we're working to ensure both the long-term health of the maritime and freight industries in NYC and the city's economy as a whole. Our efforts include:
Career Awareness and Training – The future of the industry relies on a well-trained workforce. PortNYC partners with schools, organizations, and companies to ensure that New Yorkers have access to industry education and skills training that lead to good-paying, long-term opportunities.
Delivering Green: a vision for a sustainable freight network serving NYC – the City's interagency plan to restructure freight distribution and reduce overreliance on diesel trucks.
Freight NYC – NYC's visionary plan to develop a freight system that is modern, environmentally sustainable, and resilient—all while creating good jobs for New Yorkers.
2019 Shared Harbor Survey – a survey of NYC and NJ maritime community, who is the maritime community in the port of NY, where it is located, and local industry trends.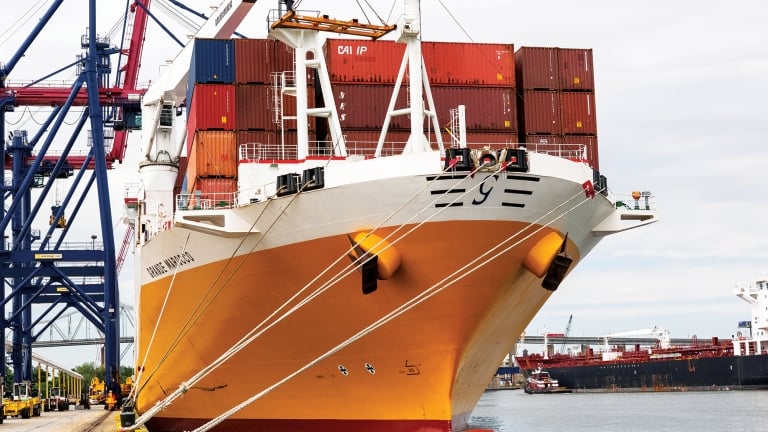 Freight NYC
NYC's visionary plan to develop a freight system that is modern, environmentally sustainable, and resilient—all while creating good jobs for New Yorkers.
Read the plan
Aviation
Airports
In 2004, the City of New York and the Port Authority of New York and New Jersey (PANYNJ) signed a 50-year lease for both JFK and LaGuardia airports, which was spurred by the mutual desire to redevelop NYC's aging airports. The renegotiated lease created the Aviation office within NYCEDC for the purpose of maintaining the long-term economic viability and competitiveness of NYC airports in coordination with PANYNJ and relevant stakeholders.
In 2012, NYCEDC and PANYNJ conducted a study of air cargo at JFK Airport to understand the needs and opportunities of a sector that is both critical to moving goods into NYC and greatly contributes to the local economy in Southeast Queens.
Facing tough economic circumstances created by the COVID-19 pandemic, the City extended the airports lease with PANYNJ in 2021 to catalyze the transformation of JFK. The JFK Redevelopment Program—led by PANYNJ—will greatly improve all aspects of the airport and is expected to create over 20,000 direct jobs, many of which will come from adjacent communities.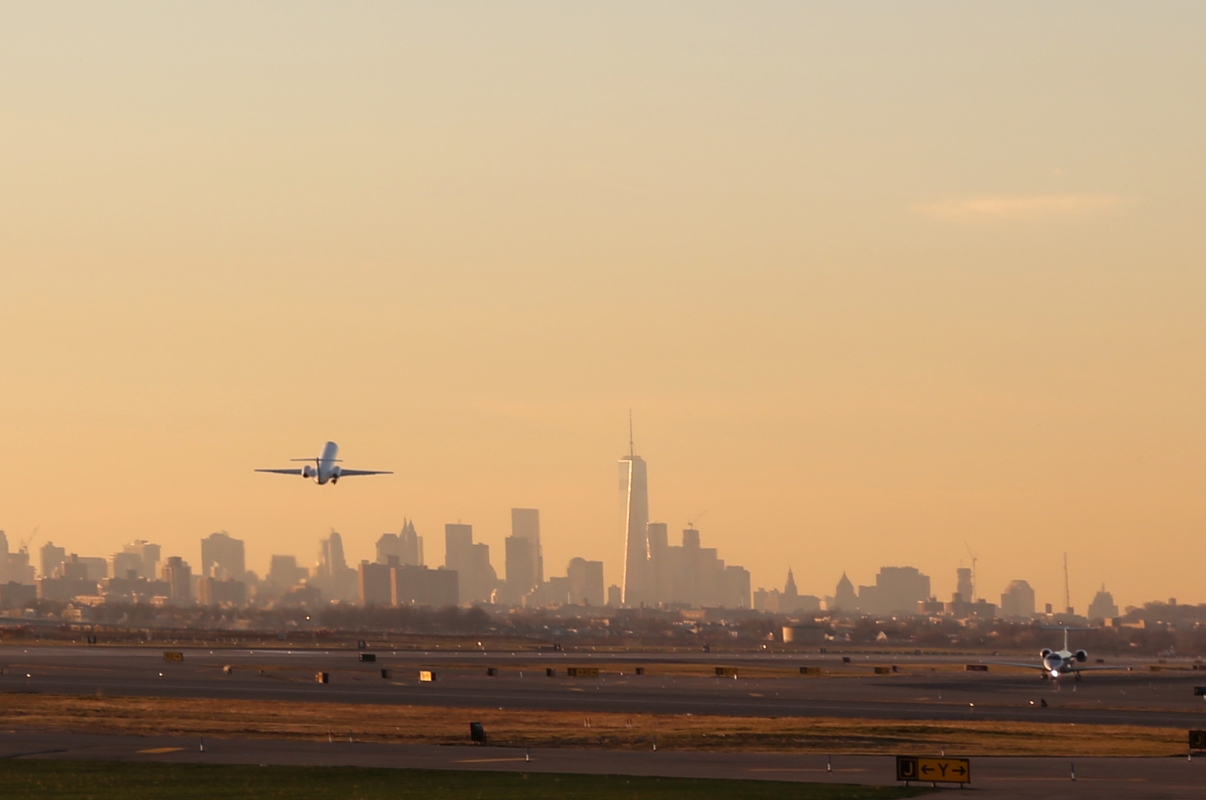 Heliports
NYCEDC is the contract administrator for two of the three heliports located in Manhattan—East 34th Street and Downtown Manhattan Heliport. 
The East 34th Street Heliport supports a range of services for hospitals, the NYPD, media outlets, corporations, and independent commuters. The Downtown Manhattan Heliport, located at Pier 6 on the East River, is used for public sightseeing tours that must follow overwater routes over New York Harbor and the Hudson River; by charter flights and emergency flights; and is the only regional heliport that can service Presidential flights by Marine One.
Both heliports are designated as "public use heliports" by the Federal Aviation Administration (FAA) and must accept all helicopters that wish to land at the heliport. NYCEDC works with the operators to determine hours of operation, maximum annual flight volumes, and reporting requirements like air quality monitoring and route compliance. For regulations pertaining to flight altitudes, flight pathways, and all use of air space over New York City, the FAA is the sole regulator.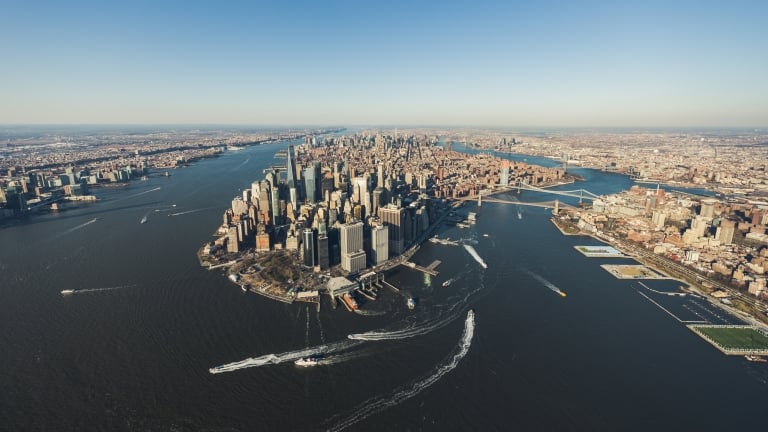 NYC Waterfront Inspection Guideline Manual
Guidelines for the inspection, assessment and monitoring of waterfront structures

Download the Manual
Includes new standards reflecting current environmental conditions