Cyber NYC Internship FAQs
Frequently Asked Questions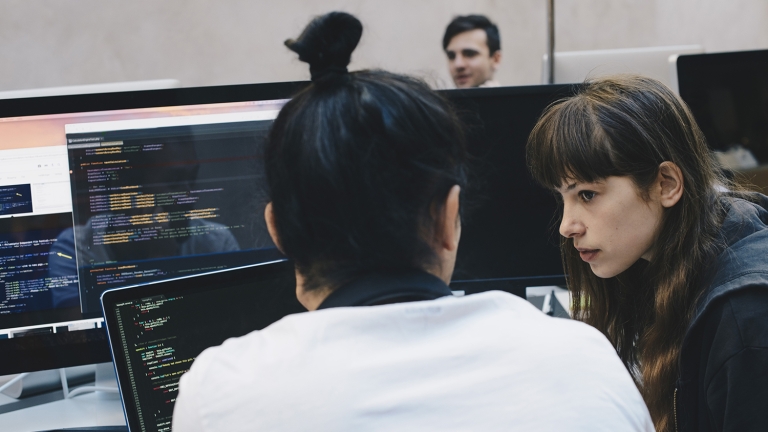 General
Are the interns paid? How much?    
All interns will be paid at a rate determined by the partner company. Rates are expected to vary based on factors including the internship role, level of experience, and partner company. All participants will earn at least $15/hour.
What work will the interns do?    
Participants will perform meaningful, educational work in the cybersecurity field. Specific job responsibilities will vary by partner and position.
What are the date and time requirements of the program?    
Internships can be part-time or full-time positions, with dates and length determined by mutual agreement between partner and intern. Summer internships are generally full-time positions for 10-12 weeks, with dates and times also determined by mutual agreement between partner and intern. See Key Dates for more information.
Where are partner companies located?    
Partner company work sites may be located anywhere within New York City's five boroughs.
Can interns work from home?    
The schedule will be determined by the partner company, and the expectation is that internships will be hybrid or in-person.
For Participants
Do you offer placements for full-time jobs or for internships at times of year other than summer? 
The program is initially focusing on internships for summer 2023. We hope to expand the program in the future and expect that would include academic-year internships, and potentially full- and part-time jobs.
Where can I learn about other programming or opportunities that would appeal to participants or professionals interested in the cybersecurity industry? 
The Cyber NYC Internship Program has launched a Meetup group where we share occasional programming opportunities for people interested in cybersecurity. These may include career panels and other events. We will also share job and internship opportunities that come to our attention. If you are interested in such notifications, please join our free Cyber NYC Internship Program Meetup group.
Do interns work directly for the Cyber NYC Internship Program? 
No, if you are selected by a company or organization for an internship, you will be working for that company or organization. The Cyber NYC Internship Program collects applications, contacts companies to host internships, and then facilitates the matching of applicants with positions available at these companies. The program itself does not employ interns.
Eligibility
What are the eligibility requirements for interns?
Participants must be New York City residents.
Participants must be in one of the following categories:

US citizens or US permanent residents (including DACA participants)
Individuals with TPS
Individuals with visas that allow completion of the internship without sponsorship

Participants must be at least 18 years of age.
Participants must be able to commit to a standard, full-time work week for full-time positions and to the agreed-upon schedule for part-time positions; commit to the work requirements of their partner site; attend and actively engage in all scheduled seminars, events, and activities; and remain active as program alumni.
Participants must agree to all terms and conditions and sign the participant agreement to participate.
I have no Social Security Number. Am I eligible to apply?           
You must have a Social Security Number (SSN) to be able to work in a Cyber NYC Internship. If you are legally eligible to work in the United States, but do not have a SSN, visit the Social Security Administration website or visit a local Social Security office for guidance on how to apply for one.
I am an international student, and my visa does not allow me to be paid for an internship. May I apply to work on an unpaid basis?           
Unfortunately, no.
Are high-achieving high school students eligible to apply?           
Participants must be at least 18 years of age. We recommend that people under 18 look into the NYC Science Research Mentoring Consortium, Girls Who Code, and other STEM programs for high school students.
I am transferring to a college in NYC at a later date. May I apply?           
You must be currently residing in New York City to be eligible to apply.
I do not live in NYC or attend a NYC college, but I am interested in moving to NYC. Can I apply?           
Unfortunately not. This program is a New York City program, and you must live in New York City to apply and participate.
Do I need to be a cybersecurity major to apply?           
No. Potential applicants do not need to be cybersecurity majors to apply.
Application Process
Is it a problem if my reference is submitted prior to my completing my application?
It is fine if the person providing your (optional) reference submits it before you complete your application. We will match the reference with your application.
Do my references have to be from a professor / teacher / instructor?
While references that can speak to your skills in your area of expertise are extremely helpful to us in evaluating your application, any reference that can speak to your interest in cybersecurity, your work ethic, initiative, creativity, and/or other skills that are relevant to how you may perform in an internship, is a useful addition to your application. References can be from professors, teachers, instructors, academic advisors, work supervisors, coaches, extracurricular group advisors, or personal references -- just not from family members or friends.
I am in my first semester/year of college/graduate school, or I have just transferred to my current school. What can I submit as a transcript?
We do not require that you submit a transcript. If you would like to submit a transcript, please use one from your current school, if available. If you have no transcript or if you have transferred, you may submit one from your previous school. Graduate students who have only recently begun graduate school can submit their undergraduate transcript.
If I submit a transcript, does it need to be an official copy?
No, an unofficial copy is acceptable.
Can I update my application after I have submitted it?
Yes, but once you submit your application, it is no longer editable by you. To update your application, please email your changes or updated documents (i.e., resume) in pdf format to [email protected].
Placement
Am I guaranteed a placement? 
No. We expect to receive far more applications than there are available positions. Whether you are selected as a candidate for submission to one or more companies depends upon your qualifications and application quality, as well as the number of other candidates interested in the same role. Final selections are ultimately made by those in charge of the hiring process at each individual partner company.
If I am offered a position, can I still choose to opt out of the program before accepting an internship from a partner? 
Once you have completed your Cyber NYC online application and received access to our job listings, we urge you to apply only for positions that you would plan to accept should you receive an offer. We expect that once you have accepted an offer, you will withdraw other applications. Employers (and our program staff) view an accepted offer as a formal commitment. It reflects poorly on you, your school, and the Cyber NYC program if you back out once you have made a commitment.
How does the placement process work? 
For each internship role, Cyber NYC will evaluate both your application and your individual cover letter (optional and submitted per the instructions in the "Currently Available Internship Roles" document that is accessible to all those who have completed applications) to determine if you will be submitted for any given position. If you are submitted by Cyber NYC as a candidate, it is then up to the partner company to determine whether they wish to further evaluate your candidacy via an interview or other selection method. You should revisit the job listings in the Job Portal regularly to view new positions that may have been added. If you have not yet been hired for a position, you may submit expressions of interest for additional roles that are posted and for which you are qualified.
How many positions may I apply for through the Cyber NYC Internship Program? 
Once you receive access to our Job Portal, you may apply for as many of the positions listed as are a good fit for your interests and experience.
I have received access to the Job Portal following submission of my application, but I don't see any positions that are a good fit for me. 
While you may not see anything in the Job Portal that interests you at present, we will be posting new positions on a rolling basis. Please return regularly to check the listings. While some companies may be ready to begin the search and selection process now, others may not begin until closer to the summer. We encourage you to keep checking for positions that are a good fit for you on an ongoing basis.
Why do I have to submit expressions of interest for specific roles? 
When applying for any job through our program or elsewhere, you are likely competing against many other applicants, and you need to demonstrate your strong interest in the job. A cover letter (expression of interest) in specific roles provides the perfect opportunity to do this. While we understand that writing a cover letter may be difficult and time consuming, it is important to tailor each cover letter specifically to each company and job description to show genuine interest. Your cover letter should summarize why you believe you are a good fit for the company and share related experience for that position. When you are applying for jobs, other candidates will be sending cover letters, so you want to make sure you are giving yourself every possible edge! For more advice, take a look at our Cover Letter Cheat Sheet, and then feel free to schedule time in office hours if you need additional help.
I have submitted expressions of interest for three positions. Will I receive a confirmation email from you, or will the companies contact me? 
If we think you are qualified for the positions for which you submitted expressions of interest, we will forward your application to those companies and send you a confirmation. Please note that submitting an expression of interest for a specific role does not guarantee an interview / placement at a company or even that your application will be selected for submission to a company.
How can I prepare for an interview? 
Please consult our Interview Preparation Guide.
Internship Expectations
What is expected of me during the internship?
The Cyber NYC Internship Program expects that interns will properly represent the program. This includes showing up to work on time and properly dressed, diligently and professionally completing all work assignments, and completing all weeks of the internship as agreed with the partner organization. It is also expected that all interns will attend all training, curriculum, and other events organized by the program.
For Partners
Is there a cost for companies to participate in the Cyber NYC Internship Program?   
No. Companies are expected to pay interns, but there is no additional cost to participate in the program.
Are the interns employees of my company?   
Yes. Interns must be W-2 employees of your company (not contractors), and you will serve as the employer of record for the interns for the duration of the internship. All applicable payroll taxes and costs (such as workers' comp and unemployment insurance) must be paid by you.
Can I host more than one intern?   
Yes. There is no limit to the number of interns you can host.
What are the eligibility requirements for participants in this program?   
The Cyber NYC Internship Program is primarily recruiting from Fullstack Academy Cybersecurity Bootcamp and the City College Cybersecurity Master's program. The program also welcomes all CUNY enrollees; enrollees from other universities, schools, and academies; and other New York City residents interested in cybersecurity. The Cyber NYC Internship Program does not accept applicants under the age of 18.
What experience do the interns have?   
The Cyber NYC Internship Program is designed to give work experience to New Yorkers. Participants are selected based on their interest in the field and relevant academic and professional experience, including some who demonstrate potential and core competencies but have no professional experience in cyber. Partners are welcome to indicate specific requirements in their job descriptions to ensure that Cyber NYC can select candidates who will have appropriate skills and experience for the role being filled.
Do I need to check participants' work eligibility?   
Yes. The Cyber NYC internship program application asks participants to confirm that they meet the program's criteria, but as the employer of record, you will need to check their employment eligibility and have them complete an I-9, as you would for any employee.
Can Cyber NYC help me find an intern for times of year other than summer?   
Yes. We are happy to support both participants and partners in the cybersecurity industry by helping them connect for internships (or full- or part-time jobs) at other times of year. Partners who are interested in finding candidates for positions other than summer internships should fill out our partner application.