Rockaway Boardwalk Reconstruction Project
Project Status:
Completed
Rockaway Boardwalk
When Hurricane Sandy landed in the Rockaways on October 29, 2012, it destroyed large sections of the approximately 5-mile boardwalk and devastated homes in the area. The Rockaway Boardwalk originally opened in 1931 and became a landmark of the peninsula. In the aftermath of Hurricane Sandy, the reconstruction of the boardwalk was a signal of hope that these shoreline neighborhoods would be reconnected once again. This came to fruition when the Rockaway Boardwalk opened on time and under budget for the 2017 Memorial Day signaling the beginning of beach season.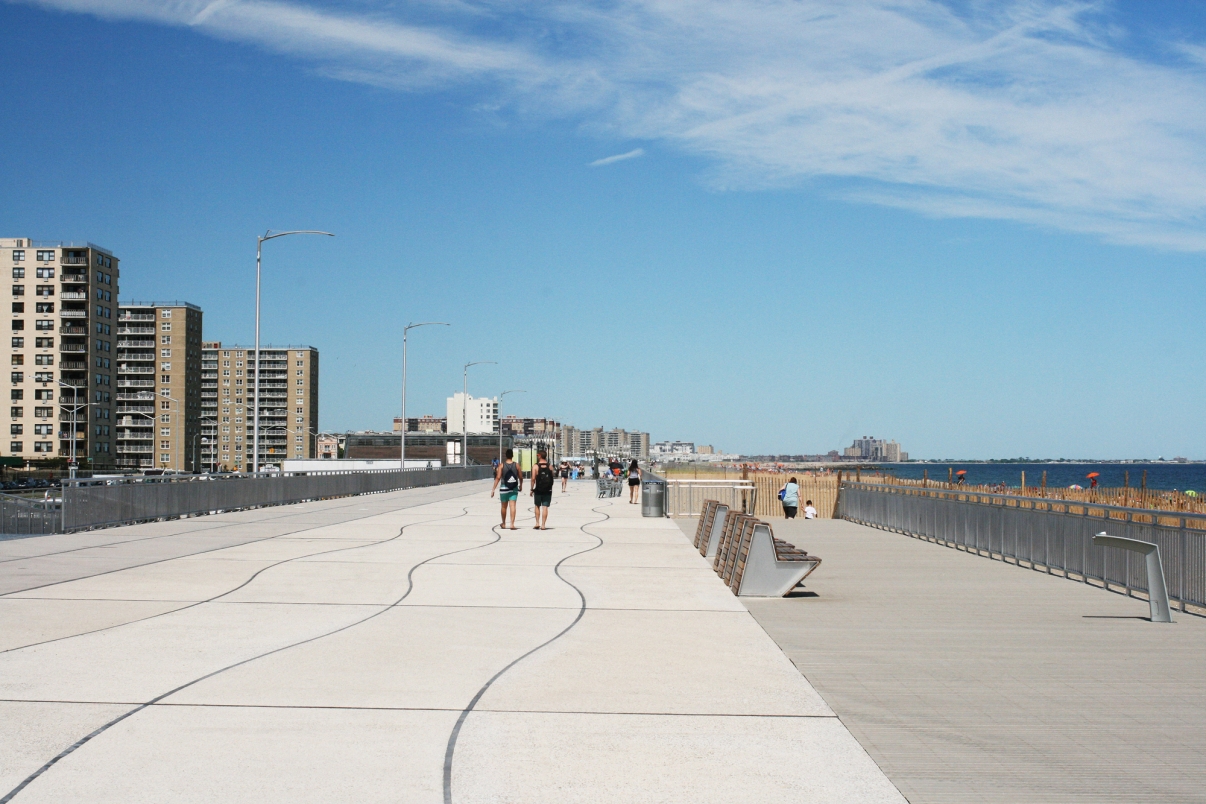 Background
In 2014, Parks partnered with NYCEDC to reconstruct over 5 miles of the Rockaway Boardwalk. Improvements include state of the art amenities, a more resilient concrete boardwalk and various coastal protection measures such as a sand retaining wall, sand backfill of the Army Corps of Engineers dune, sand infill underneath the new boardwalk, as well as dune plantings.
Throughout the design and construction process, NYCEDC, in coordination with NYC Department of Parks & Recreation, hosted many meetings with community members to incorporate their feedback into a stronger, more resilient Rockaway Boardwalk design. From the accessible ramps to amenities to spelling out "ROCKAWAY" in a different color of concrete within the boardwalk, residents had a voice at the table throughout the process.
In the Summer of 2015, Phases 1 and 2 (B86th - B106th Streets) of the boardwalk opened to the public with an unprecedented turnout of more than 7 million visitors during the beach season. In Summer 2016, a continuous boardwalk from B9th -B126th Streets was opened for the first time since 2012. The final segment of reconstruction (B19th - B39th) took place between September 2016 and May 2017. The boardwalk project was substantially complete on time and under budget, where the last segment opened to the public Memorial Day weekend 2017. For presentation downloads and all other inquiries regarding the Rockaway Boardwalk Reconstruction Project, check the dedicated NYC Parks website.