The Lower Concourse Infrastructure Investment Strategy is a $194 million investment to provide open space, create new connections to the waterfront, catalyze jobs, and support mixed-income housing in the Lower Concourse neighborhood of the Bronx.
Project Overview
Lower Concourse is a true mixed-use (residential, commercial, and industrial) community in the South Bronx with excellent transit access to key centers in Manhattan, other parts of the Bronx, and further north. The neighborhood serves as an important gateway to the Bronx, defined by strong anchor institutions and assets such as Lincoln Hospital, Hostos College, and Gateway Center. While the area has historically been an active industrial waterfront, it does not currently permit safe public access to the waterfront or have the infrastructure necessary to support growth or jobs.
In 2009, this 30-block stretch along the Harlem River was rezoned to allow for residential and commercial development, provide access to the waterfront, increase open space, retain light industrial development, and promote new community facilities. This rezoning included the mapping of parkland between E. 144th and 146th Streets. It also included the Waterfront Access Plan, which requires developers to provide a continuous, publicly accessible walkway along the waterfront.
In the 2015 State of the City address, the mayor announced a $194 million infrastructure investment to further the goals of the rezoning. Following this announcement, NYCEDC worked with other City agencies and the community to develop a comprehensive strategy for this investment. This strategy builds on the neighborhood's assets and strengthens infrastructure to create jobs, support housing, and promote connections within the neighborhood to the waterfront and new open spaces. The Lower Concourse Infrastructure Investment Strategy consists of these key projects:
Bronx Point, a mixed-use development sited on the Harlem River waterfront
New 2.3-acre park on the Harlem River waterfront
Exterior Street reconstruction and infrastructure improvements
Bronx Point
Bronx Point is a dynamic, mixed-use development that will transform this long vacant site with affordable housing, community and cultural facilities, retail, and waterfront open space. This development will be delivered in two phases.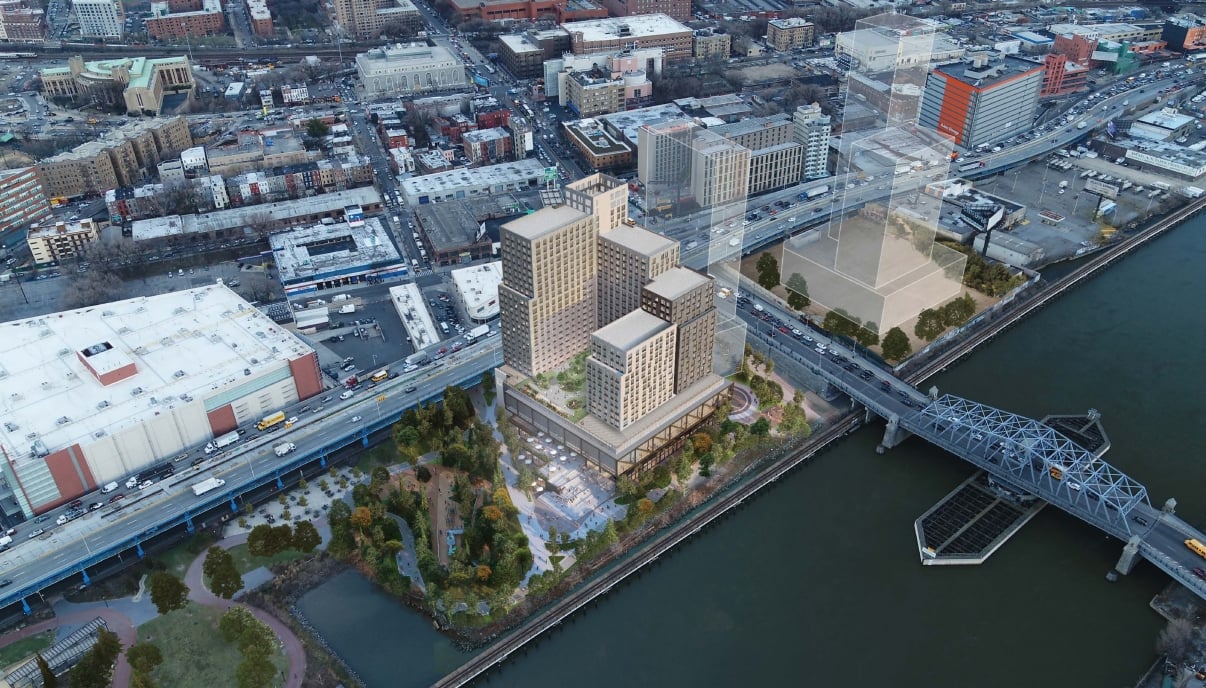 Phase 1 will include:
Approximately 540 units of 100% permanently affordable housing
New open space with waterfront programming
Universal Hip Hop Museum, the first of its kind
Other education and community facility space
State-of-the-art movie theater
Local retail
Phase 2 will include:
Up to approximately 500 units of affordable housing
30,000 square feet of community facility space, including a commissary kitchen, artists' studios, a rehearsal space, and space for BronxWorks, a local community service provider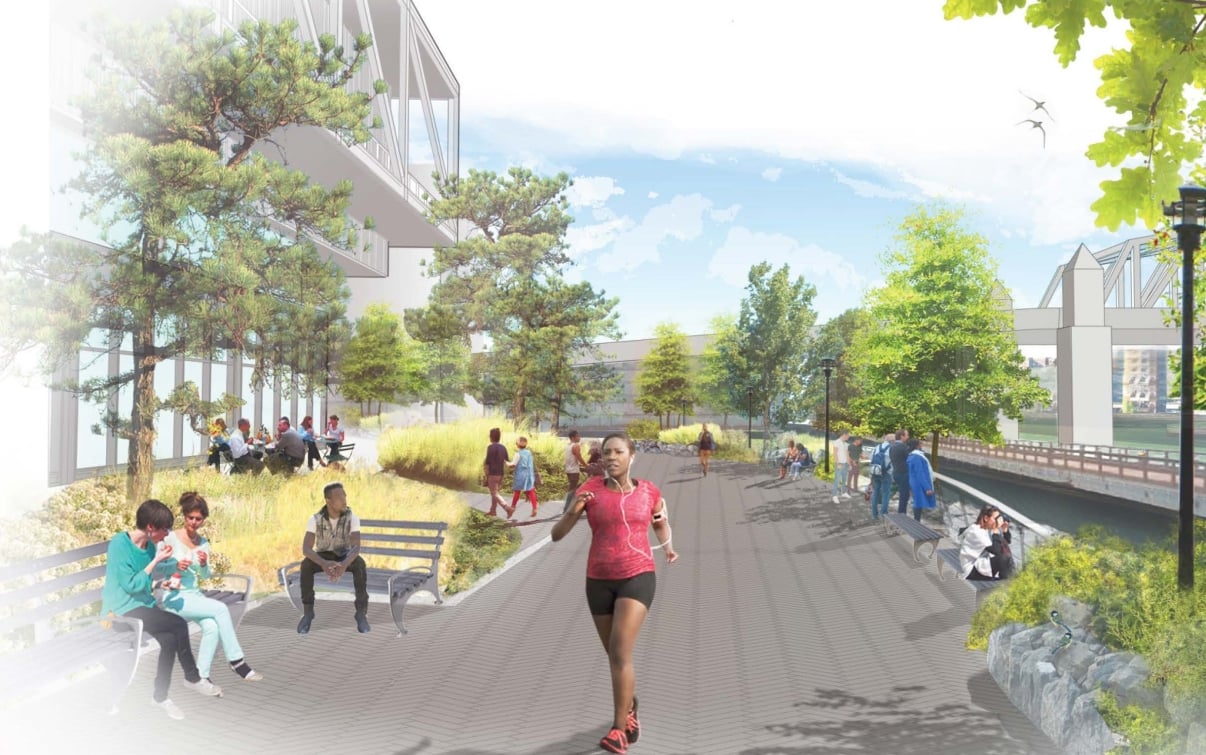 In 2017, the City rezoned the site, formerly known as Lower Concourse North, from manufacturing to mixed-use commercial and residential, and announced the selection of a joint venture partnership between L+M Development Partners and Type A Projects to develop Bronx Point. Phase 1 is scheduled to break ground in 2020.
Harlem River Park
As part of the comprehensive neighborhood rezoning in 2009, the City mapped a new 2.3-acre park on the Harlem River waterfront at the intersection of East 144th Street and Exterior Street. The City obtained title for the site in November 2018. EDC is managing the design and construction of the park in coordination with NYC Parks and kicked off the design process in September 2019 to fulfill this long-standing commitment to the public. The new park is expected to include a waterfront walkway along the river, visual corridors connecting Exterior Street with the waterfront, and public programming, as well as a comfort station with restroom facilities and space for maintenance workers. Construction is expected to begin in 2022.
Community engagement for the park design will kick off with a first public input meeting hosted by NYCEDC and NYC Parks on November 14th, 2019, 6pm at Hostos Community College.
Exterior Street Infrastructure Improvements
NYCEDC is designing and constructing 11 blocks of full street and intersection reconstruction along Exterior Street, from East 149th Street to East 138th Street. Currently, much of this area lacks pedestrian crossings and sits under the Major Deegan Expressway, which creates dark and unsafe conditions. This project will provide upgrades to streetscape design, lighting, and signals to make the streets safer for pedestrians, improve traffic flow, and facilitate connections from the neighborhood to the waterfront. NYCEDC will also be providing upgrades to utilities, including new water mains and sewers, to support growth in the area. Construction is scheduled to begin in Spring 2020.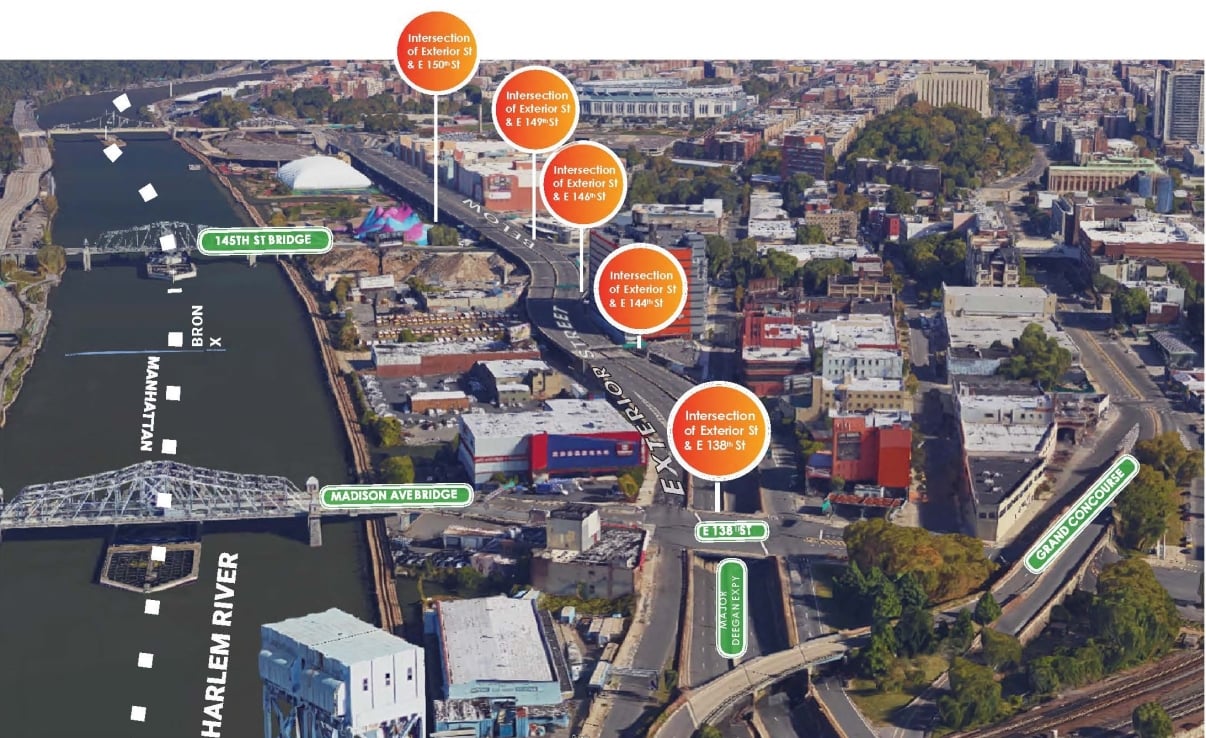 To learn more about Lower Concourse or provide us feedback, please contact us.