42nd Street Development Project
Project Status:
Completed
For New York City, the rebirth of 42nd Street was a part of a dramatic turnaround. 
Once the heart of the city's thriving theater district, 42nd Street gradually declined to become the center of vice and crime in New York City. The block, from Seventh to Eighth Avenues, served as visual symbol of NYC's decline in the 1970s and 80s, and it stymied westward expansion of commercial development in Manhattan.
By the Numbers
8
Broadway theaters were redeveloped as part of the project.
Starting in the early 80s, however, 42nd Street slowly transformed from an area that people avoided at all costs, to one where millions of people pass through each year. This transformation was thanks to continued collaboration between the City of New York, the State of New York, and private developers and investors.
It didn't happen overnight, but today the block is revitalized, full of brightly lit theaters, attractions, and restaurants, constantly brimming with people from all over the world. NYCEDC was proud to help lead the effort to transform this once dangerous and rundown 42nd Street into an economic engine and tourist destination.
We've taken an area that was the symbol of the worst of the city and transformed it into the symbol of the best of the city.
Carl Weisbrod
Former President, 42nd Street Development Project and NYCEDC
Documenting the Transformation
The documentary film Against All Odds: Transforming 42nd Street tells the story through interviews with the people who made this transformation happen—project leaders, real estate developers, architects, law enforcement officials, and historic preservationists.
Learn more about the transformation in the film below.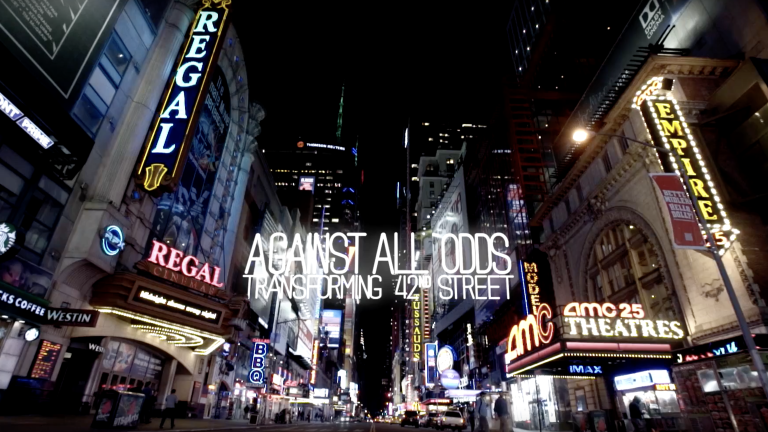 Guided by NYCEDC
The predecessor of today's New York City Economic Development Corporation, the Public Development Corporation (PDC), represented the City of New York in the 42nd Street Development Project. Together with NY State's Urban Development Corporation (now Empire State Development Corporation), PDC led the multi-decade development of the block. This project was the City's first major development project and helped establish PDC/NYCEDC as a major player in city planning and development.
Today, NYCEDC oversees the 13-acre project site, serving as the asset manager of the block as well as overseeing design and construction to ensure adherence to the design guidelines established during the project.
42nd Street Development Project