RLab is the first publicly funded virtual and augmented reality (VR/AR) facility in the country. The RLab supports new ventures with workspace and early-stage capital, makes the industry accessible to all New Yorkers through workforce development initiatives, and convenes stakeholders to collaborate in NYC's emerging VR/AR sector.
For the Future of VR/AR
Opened in October 2018, RLab is a unique addition to the city's tech and innovation ecosystem, fueled by a $5.6 million investment from NYCEDC and the Mayor's Office of Media and Entertainment. The center will fuel Innovation, entrepreneurship, and education through powerful partnerships and a suite of programs.
RLab: The First-City Funded VR/AR Center in the Country Opens at Brooklyn Navy Yard.
Learn More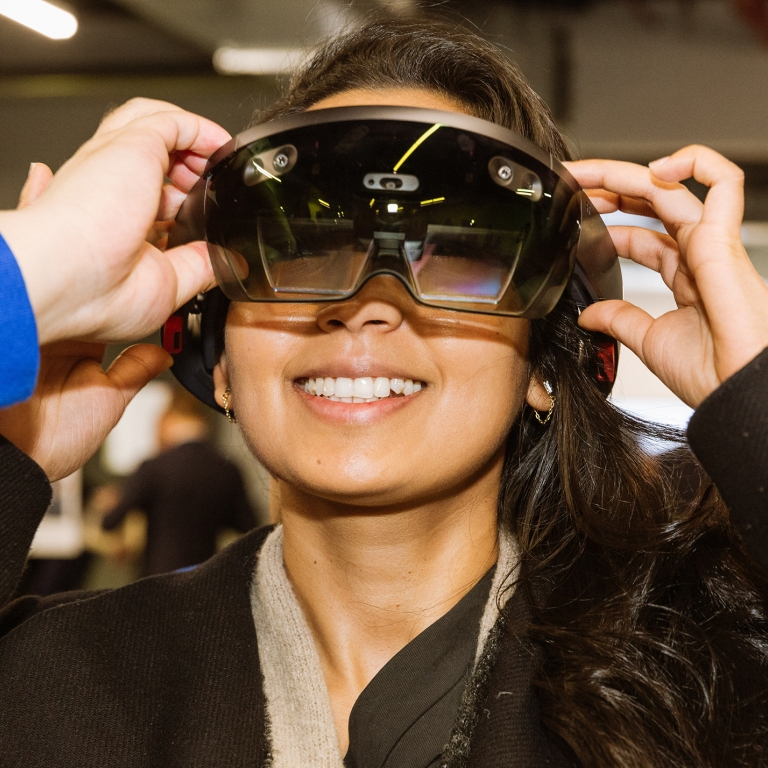 By the Numbers
$5.6M
The City's investment in RLab
Powerful Partnerships
RLab will leverage the leadership of NYC Media Lab and its founding university partners (NYU Tandon School of Engineering and Columbia University) to manage and operate the space at the Brooklyn Navy Yard as well as a workforce development center at CUNY Lehman College in the Bronx.
"VR/AR platforms will revolutionize how we live, work and play. Here in New York, it also promises to open very real doors to opportunities in a vital new sector that will impact fields as diverse as design and architecture, education, entertainment and medicine."
Jelena Kovačević
Dean, NYU Tandon School of Engineering
NYC Media Lab has an unprecedented partnership network with a range of academic, industry, civic and cultural organizations such as the CUNY Graduate School of Journalism, the CUNY Macaulay New Media Lab, and the Downtown Brooklyn Partnership to ensure the lab is accessible to a diverse range of New Yorkers with a specific focus on job creation.
By the Numbers
750
The number of good-paying jobs that will be created through RLab
A Suite of Programs
To solidify New York City's status as a global leader in VR/AR, RLab will:
Support New Ventures, by providing workspace, equipment, infrastructure, and early-stage capital (through leading VC firm Super Ventures) to startups; connecting them to a community of mentors and investors; fostering the creation of new companies through entrepreneurial programming and resources
Expand and Increase Access to the Talent Pipeline by establishing a presence at CUNY Lehman College's VR/AR Training Academy to develop a citywide VR/AR talent pipeline; building a curriculum of executive and professional education programs; offering hands-on learning opportunities, apprenticeships, and scholarships for students
Foster Research by creating the preeminent VR/AR research center in the country by drawing on the expertise of faculty and students from NYU, Columbia, CUNY, The New School, and other partner institutions to push boundaries and create breakthroughs to lead to new ventures
Build VR/AR Community by convening investors, university researchers, cross-industry leaders, and civic and cultural partners through programming and events
Spur Corporate VR/AR Innovation by offering membership and consultative services to companies, including access to startups, projects, and corporate innovation programs to prototype new solutions and launch new ventures
Upcoming Reality
Take a sneak peek of what RLab will look like when completed in late 2019