A $500 million investment in life sciences research and development (R&D) and related innovation, LifeSci NYC is expected to create nearly 16,000 new jobs—many accessible to New Yorkers without advanced degrees.
With 9 major research centers, over 50 hospitals, more than 100 research centers, a highly talented and diverse workforce, and venture capital growing to $2B in 2018, New York City has all of the resources to lead the life sciences industry. NYCEDC is committed to growing the ecosystem in New York City, with specific focus to connect existing researchers and institutions to the resources needed to advance programs to commercialization, unlock space for life sciences companies to grow within the city, and further build a pipeline for the talent and workforce needed to support these companies across the five boroughs.
Making it Happen
The City has created strategic initiatives to strengthen the life sciences ecosystem, create jobs, and advance research and development of treatments for diseases with high unmet needs. The plan covers three key areas:
Connecting research to industry, creating jobs, and advancing healthcare and technology.
Investing $100 million to create a new Applied Life Sciences Hub.
Providing $50 million to expand the network of life sciences R&D facilities.
Unlocking space for companies to grow and employ New Yorkers.
Committing $300 million in tax incentives to attract investment in commercial lab space for life sciences businesses.
Investing $10 million to expand the network of incubators for life sciences startup facilities.
Modernizing land-use policies, encouraging new space for life sciences firms.
Building a pipeline for diverse life sciences talent.
Investing $7.5 million to internship and life sciences curricula creation.
Commiting $20 million in matching funds to support early-stage businesses.
Providing $7.5 million to create a Life Sciences Management Corps.
Providing $3.8 million to expand training programs for entrepreneurs.
Launching the mayor's Life Sciences Advisory Council.
Submitting Your Proposal
Each proposed project will be evaluated on a number of key qualifications, including:
Jobs created and economic impact
Development size
Benefits per square foot
Term of leases to tenants
Rents offered to tenants
Current development usage
Anchor tenant/partnership
Location
Project timing
Landlords and developers should respond with a specific property that will be brought to market, in part or in its entirety, as a life sciences asset as a result of the incentive.
A Note on RFPs
We don't currently have any open, but there will be a lot of opportunities coming out of this initiative, so keep an eye on this page for upcoming opportunities.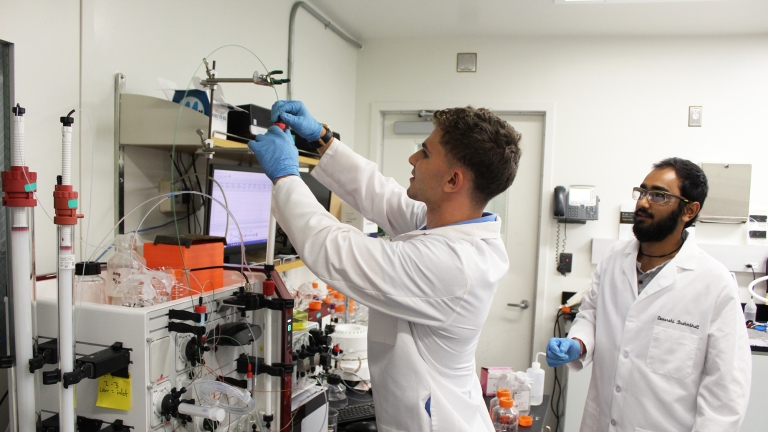 NYCIDA Life Sciences Program
Creating new space for commercial life sciences in New York City.
Learn More