Press Release
women.nyc: Woman-Owned Venture Capital Firms and Accelerator Selected as WE Venture Consortium Partners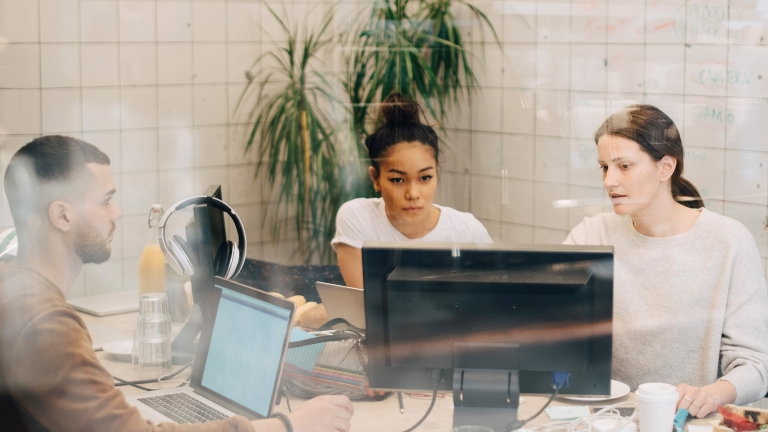 New women.nyc Program Invests in Women and Minority Founded Tech Start-Up Companies

Archer Gray, Future\Perfect Ventures, Golden Seeds Venture Fund, Wocstar Fund, and the Multicultural Innovation Lab at Morgan Stanley Will Partner with City to Invest $30M over Five-Year Period
NEW YORK, NY—Deputy Mayor Alicia Glen and New York City Economic Development Corporation (NYCEDC) today announced the selection of Archer Gray, Future\Perfect Ventures, Golden Seeds Venture Fund, WOCstar Fund, and the Multicultural Innovation Lab at Morgan Stanley as partners of WE Venture, the City's first Venture Capital Consortium designed to support New York City based tech start-up companies founded by women and minority entrepreneurs.

The partners were selected because of their experience with raising and deploying capital to women and minority-owned companies and their commitment to support New York City's growing tech ecosystem. The partners are responsible for identifying and evaluating NYC based early stage companies in various sectors and providing capital in partnership with the City to support the companies. The partners have agreed to a matching ratio of 2:1. Using this ratio, EDC is co-investing $10M alongside $20M from the venture capital partners for a total amount of $30M over the next five years.

"WE Venture is a real life example of the City of New York putting our money where our mouth is," said Deputy Mayor Alicia Glen. "By partnering with these five firms, more women will have the access to capital that they need to start and grow their great ideas."

WE Venture was created to close a persistent funding gap for women and minority owned startups. Over the past decade, venture capital investors have invested billions into thousands of New York City based startups. Despite the industry's strength, there is a still a persistent funding gap for women and minority entrepreneurs. Women make up nearly half of the workforce in the United States and are 36% business owners, however only 12% of the venture capital funding goes to startups with at least one women founder and 2% is directed to all women teams.[1] In 2015, only 0.2% of venture capital funding has benefitted firms founded by women of color.[2]

"We need to bridge the opportunity gap for underrepresented startup companies," said NYCEDC President and CEO James Patchett. "We are thrilled to work with our expert venture capital partners to provide funding and support the next generation of talent, innovators and entrepreneurs."

"Deputy Mayor Alicia Glen and NYCEDC know that New York City's greatest asset is human talent, and that our biggest challenge is broadening the base of humans who get to demonstrate that talent," said Susan Lyne, President and Founding Partner, BBG Ventures. "WE Venture is a big step towards changing the ratio of entrepreneurs building new products, platforms and services. Diversity drives innovation -- and programs like this one will have a lasting impact on the city's tech ecosystem."

"As chair of the City Council's Committee on Women, I am delighted at the news that the City is connecting women and other minority entrepreneurs with game-changing venture capital, including $10 million in public funds," said Council Member Helen Rosenthal (Manhattan, District 6). "Through the innovative WE NYC partnership, women across our city have a growing number of tools to turn their dreams into reality and contribute to our local economy. I want to thank the NYC Economic Development Corporation and the Mayor's Office for all their efforts to advance women's financial and social empowerment."

"As we work to support our rapidly growing technology sector, underrepresented startups cannot be left behind," said Council Member Paul Vallone, Chair of the Committee on Economic Development. "The funding gap that exists for women and minority owned startups must be addressed to ensure we don't miss out on the large and valuable talent pool that makes our city so unique."

"It's important for us to work together to ensure women and minorities are engaged in the new generation of economic development. Initiatives like WE Venture guarantee opportunities and level the playing field for all," said NYS Assembly Member Clyde Vanel, D. 33.

"A recent Morgan Stanley report revealed that investors are missing out on a trillion-dollar opportunity due to the funding gap we are seeing today," said Carla Harris, Morgan Stanley Vice Chairman, Global Wealth Management and Multicultural Client Strategy Group Head. "This partnership with the NYCEDC highlights the extraordinary opportunity that exists in investing in startups led by women and multicultural entrepreneurs."

"We are excited to partner with the NYCEDC on this important initiative that will help increase access to capital for New York-based startups led by women and multicultural entrepreneurs," said Alice Vilma, Morgan Stanley Managing Director and Multicultural Client Strategy Co-Head. "This partnership promotes inclusive investing that will further advance the overall start-up ecosystem and work towards closing the funding gap."

"There exists an enormous opportunity to invest in women of color tech startups who historically have received shamefully less venture capital funding despite female founders generating higher returns in their businesses," said Pialy Aditya, General Partner, WOCstar Fund. "We are delighted the NYCEDC WE Venture program agrees that investing in women is the pathway to growing the economy, stimulating the next generation of innovation and talent while fueling NYC's competitiveness in the tech space."

"In NYCEDC Archer Gray has found a partner that shares our commitment to amplifying underrepresented voices and creating an ecosystem where they can thrive," Amy Nauiokas, Founder and Chair of Archer Gray and Founder, President and CEO of Anthemis. "I'm proud to have built three businesses in New York, a city that has always led the way in diversity and inclusion, and we're excited to be a part of that continued evolution."

"Future\Perfect Ventures is honored to be selected as a WE Ventures Partner. Since our inception five years ago, we have operated on the premise that investing in diverse teams leads to alpha performance, and that the strongest companies of the future will have management teams that reflect the diversity and usage models of their customers," said Jalak Jobanputra, Founding Partner of Future\Perfect Ventures. "By founding this program, NYEDC has firmly established NYC as a leader in recognizing where value creation will occur in the 21st century."

"NYC represents the most diverse population in the world and has been welcoming entrepreneurs to its shores for hundreds of years," said Jo Ann Corkran, Managing Partner of Golden Seeds Fund II. "This program will have a significant impact by not only providing capital to entrepreneurs, but also a support infrastructure through networking and business development opportunities. By highlighting role models that are growing successful early stage businesses, the program will also inspire new generations of entrepreneurs to follow in their footsteps."

The WE Venture consortium is part of the City's women.nyc initiative, which supports women by connecting them with resources and tools, including free expert legal advice, financial assistance, networking and mentorship opportunities. Launched last spring, the initiative aims to make New York City the best place in the world for women to succeed. The WE Venture consortium is also part of Women Entrepreneurs NYC, which has worked with over 5,000 women to start and scale their businesses.
About NYCEDC
New York City Economic Development Corporation creates shared prosperity across New York City's five boroughs by strengthening neighborhoods and creating good jobs. NYCEDC works with and for communities to provide them with the resources they need to thrive, and we invest in projects that increase sustainability, support job growth, develop talent, and spark innovation to strengthen the City's competitive advantage. To learn more about our work and initiatives, please visit us on Facebook, Twitter, or Instagram.
SOURCES
[1] Fortune-Fortune, January 21, 2018, "Female Founders Got 2% of Venture Capital Dollars in 2017" http://fortune.com/2018/01/31/female-founders-venture-capital-2017/
[2] Harvard Business Review, September 18 2017, "The Comprehensive Case for Investing More VC Money in Women-Led Startups" https://hbr.org/2017/09/the-comprehensive-case-for-investing-more-vc-money-in-women-led-startups