Press Release
Renovation Transforms Historic Battery Maritime Building Into a Symbol of Economic Recovery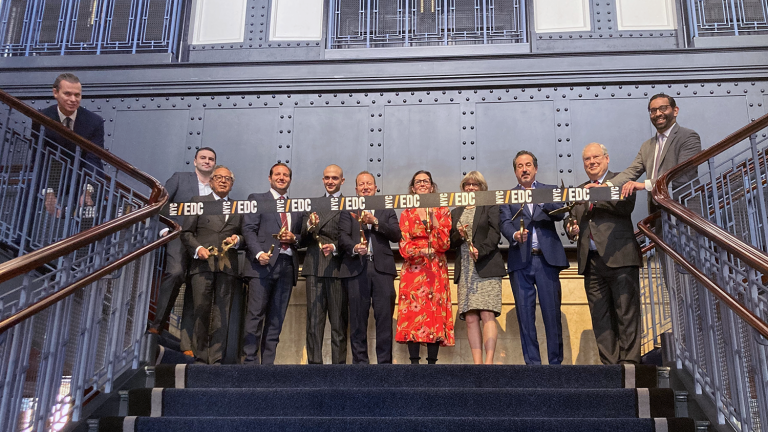 NEW YORK, NY—New York City Economic Development Corporation (NYCEDC), Cipriani, Midtown Equities, and Centaur Properties joined elected officials and community partners at The Battery Maritime Building in Lower Manhattan on Tuesday to celebrate the completion of extensive renovations on the landmark building.
A ribbon cutting took place to mark this milestone, which was completed amid the challenges of COVID-19. As a symbol of economic recovery, this transformative project will help reimagine hospitality, an industry continuing to make its comeback from the pandemic. The renovated historic Beaux-Arts structure includes multiple grand event spaces, a hotel, spa and wellness center, as well as restaurants, bars and lounges. The building brings with it 150 full-time jobs and 200 part-time jobs.
"We are proud to join with our partners to re-introduce New Yorkers to the great architectural gem that is the Battery Maritime Building, which has been transformed as a symbol of the recovery," said NYCEDC President and CEO Rachel Loeb. "We want to thank all of our elected officials for supporting this magnificent project, and the team from Midtown Equities, Centaur Properties, and Cipriani for forging ahead with the work despite the challenges brought on by the COVID crisis, including delays and higher costs across the board. Despite that, we are so excited to present this beautiful gift to the city and bring new jobs to Lower Manhattan."
The Battery Maritime Building redevelopment project was spearheaded by the Cipriani family, Midtown Equities, and Centaur Properties, along with Marvel Architects and Thierry W. Despont Ltd. overseeing the design, restoration, and construction of the landmarked property. It reopened as Casa Cipriani, a one-of-a-kind destination managed and operated by Cipriani, featuring three major components:
A 30,000-square-foot event space centered around the historic Great Hall on the 2nd floor that provides a location for both private and public events.
A 47-key luxury boutique hotel on the 3rd and 4th floors that offers Manhattan's most sweeping views of New York Harbor, in addition to a world-class spa and fitness center.
A spacious club with restaurants and lounges on the 5th floor that has unobstructed panoramic views of the Statue of Liberty, Governors Island, and the Brooklyn Bridge.
Under an agreement between NYCEDC and the developer, the interrelated spaces on the second floor known as the Great Hall will have designated public hours and will be made available for public events and programming.
"As a longtime supporter of expanded access to New York City's maritime resources, I am thrilled to be celebrating this renovation," said Congressman Jerrold Nadler. "The Battery Maritime Building is a landmark that has been a staple of this city for more than a century. This new renovation will not only create jobs but bring state-of-the-art hospitality, dining and public space to our community. I thank all of those involved for working so diligently throughout this pandemic, and I am proud to have helped give this landmark a new life for my constituents."
"I applaud the City, Midtown Equities and Centaur Properties, and Cipriani for this thoughtfully crafted, aesthetically pleasing renovation," said Senator Brian Kavanagh. "The completion of the project will enable New Yorkers to regain access to this historic building and learn about and appreciate New York's rich maritime history. It will also provide an economic boost at a critical time in our recovery from the COVID-19 pandemic, with its 150 full-time jobs and 200 part-time jobs in the hospitality sector, which is essential to the health of our economy. I personally look forward to visiting."
"The Battery Maritime Building is a beautiful reminder of the rich maritime history of Lower Manhattan," said Manhattan Borough President Gale A. Brewer, "Congratulations to Midtown Equities, Centaur Properties, and Cipriani for completing the restoration of one of Lower Manhattan's most special historic places. I encourage all New Yorkers to take the ferry to Governor's Island from the Battery Maritime Building and to visit the newly restored Great Hall while there."
"The Department of Buildings applauds the restoration of this historic landmark to its former glory," said Buildings Commissioner Melanie E. La Rocca. "New York City's ongoing economic recovery is being fueled by necessary projects like the one just completed at the Battery Maritime Building, providing critical repairs to keep the building in safe condition, while providing much needed employment opportunities for our fellow New Yorkers."
"We applaud EDC and their partners for their work to restore this historic building," said DOT Commissioner Hank Gutman. "What was once a critical transportation link in years past is now transformed to a symbol of New York's economic recovery that will serve our city well for generations to come."
"For over a century the Battery Maritime Building has stood as a symbol of New York City's rich maritime history, and today serves as an important gateway to Governors Island," said Clare Newman, President and CEO of the Trust for Governors Island. "We're thrilled to see this iconic landmark for Lower Manhattan restored, and congratulate the team for making its transformation a reality."
"At long last the Battery Maritime Building has been restored." said Tammy Meltzer, Chairperson of Manhattan Community Board 1. "The Lower Manhattan Community has anticipated this day since 2008 when we were first presented with the plan to bring this historic jewel at the edge of our shorelines back to its former glory and create world class public access. We look forward to enjoying the public events and programming in the Great Hall."
"We are so pleased to celebrate the completion of the beautiful and iconic Battery Maritime Building in Lower Manhattan, another proof point of our City's continued vibrancy and strength as we emerge from the pandemic," said NYC & Company President and CEO Fred Dixon. "This 'destination within a destination' offering a boutique hotel, event space, club, wellness center and restaurant will ensure that Downtown Manhattan continues to offer visitors and locals world-class amenities right on our city's bucolic waterfront."
Designed by architects Richard Walker and Charles Morris, the Battery Maritime Building (BMB) was built in 1909 at the tip of Manhattan as a grand ferry terminal. The historic structure is the last surviving East River ferry building from an era when 17 ferry lines traveled between Manhattan and Brooklyn. The ferry services shut down in 1938 and the under-utilized terminal suffered severe deterioration due to a lack of maintenance and loss of significant architectural features. Today, ferry service between Manhattan and Governors Island runs to and from the Battery Maritime Building.
The building was designated as a New York City Landmark in 1967 and was added to the National Register of Historic Places in 1976. In the early 2000s, New York City began investing millions to renovate portions of the pier and the building's exterior to attract investment into the project. The current developers, Midtown Equities and Centaur Properties re-envisioned the project and invested additional funding. Their restoration has since won the prestigious Lucy G. Moses Preservation award from the New York Landmarks Conservancy.
About NYCEDC
New York City Economic Development Corporation is a mission-driven, nonprofit organization that creates shared prosperity across New York City by strengthening neighborhoods and creating good jobs. We work with and for communities to bring emerging industries to New York City; develop spaces and facilities for businesses; empower New Yorkers through training and skill-building; and invest in sustainable and innovative projects that make the city a great place to live and work. To learn more about what we do, visit us on Facebook, Twitter, LinkedIn, and Instagram.