Press Release
Officials Celebrate the Start of NYC Ferry Service at The Brooklyn Navy Yard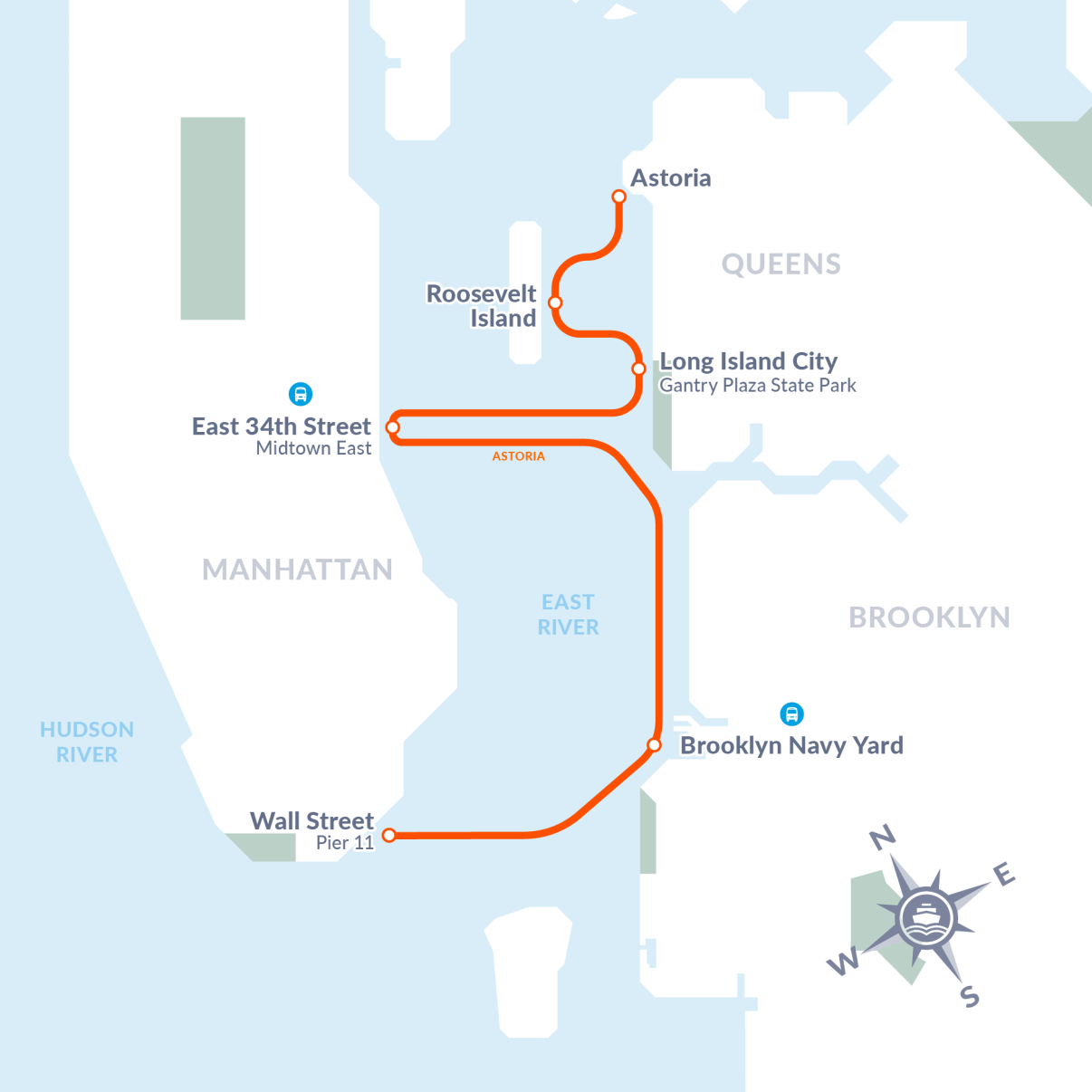 Newest Addition to the City's Ferry Commuter System Will Be Part of the Astoria Route
BROOKLYN, NY—Officials with the Brooklyn Navy Yard Development Corporation (BNYDC), New York City Economic Development Corporation (NYCEDC), Rudin Development Company, Boston Properties, Hornblower NY and WeWork today held a ceremonial ribbon-cutting to celebrate the start of NYC Ferry service at the Brooklyn Navy Yard, one of New York City's premier manufacturing and innovation hubs that currently employs over 9,000 people and is the home of Dock 72, one of the largest NYC ground-up developments to be built outside of Manhattan in decades. The Brooklyn Navy Yard also serves as NYC Ferry's homeport, where the fleet is housed and maintained.
The new Brooklyn Navy Yard ferry stop has been added to the Astoria Route, which currently runs from Astoria, Roosevelt Island, Long Island City, East 34th Street, and Wall Street/Pier 11. The Brooklyn Navy Yard stop will be between Wall Street/Pier 11 and East 34th Street. The route will connect residents, workers, students, and more, shortening commute times for thousands of New Yorkers. NYC Ferry riders are also able to transfer for free to all other existing ferry routes at the East 34th Street and Wall Street/Pier 11 ferry terminals. Members of the public will be able to access the BNY ferry landing by walking through the publicly accessible BLDG 77, which is located at the intersection of Flushing and Vanderbilt Avenues. Detailed timetables for the Astoria route, along with a map of all NYC Ferry routes, can be viewed here.
"NYC Ferry service at the Navy Yard provides a critical new transportation option for our tenants and will connect thousands of workers to our growing business district," said David Ehrenberg, President and CEO of the Brooklyn Navy Yard. "The addition of NYC Ferry to the Yard comes at an ideal moment as we near completion of our largest expansion since WWII and reach 20,000 jobs in the next few years."
"NYC Ferry has become one of the most reliable, affordable, and beloved transit systems in the city," said James Patchett, New York City Economic Development President and CEO. "The addition of the Brooklyn Navy Yard landing is our first ferry stop at a dedicated job center, and we know it will help boost access to jobs, schools, and other neighborhoods while shortening commutes and creating new opportunities for New Yorkers."
"Bringing NYC Ferry to the Navy Yard is a major win for tens of thousands of current and future employees at the Navy Yard, including those who will soon be working at Dock 72," said Bill Rudin, Partner at Rudin Development Company. "We are grateful to Mayor Bill de Blasio, NYCEDC President and CEO James Patchett, Brooklyn Navy Yard Development Corporation President and CEO David Ehrenberg, and many local stakeholders for their work to advance another transportation option that will have a transformative impact on driving growth along the Brooklyn waterfront."
"This new ferry stop is just the latest step in the ongoing, and truly remarkable, transformation of the Brooklyn Navy Yard," said Sebastian Gunningham, Vice Chair of The We Company. "We are incredibly proud to be a part of this moment, which will allow more New Yorkers to experience the diverse and vibrant community of the Navy Yard for years to come."
The addition of the new NYC Ferry stop at the base of Dock 72 in the Brooklyn Navy Yard provides an additional transportation option to Navy Yard tenants and nearby residents, including several New York City Housing Authority complexes. The improved access to the Navy Yard will allow for its continued reemergence as a central hub for accessible, middle-class jobs. The new ferry service comes as the Navy Yard undergoes a $1 billion expansion, its largest since WWII, which will add 11,000 jobs to Yard's existing 9,000 in the next few years. The Navy Yard recently released its Master Plan, which envisions new vertical manufacturing and creative office buildings to chart a path to 30,000 jobs.
"I commend the expansion of NYC Ferry service to the Brooklyn Navy Yard and the adjacent communities of Vinegar Hill and Wallabout. It has been a goal of my administration to increase mass transit options around our borough and better activate our waterfront, and commuters will find this service achieves both of those goals, especially the growing number of New Yorkers who work at or visit the Yard," said Brooklyn Borough President Eric L. Adams.
"I believe this new stop, and the expansion of NYC Ferry service, benefits more than Fort Greene and Clinton Hill – it will benefit all our shared communities. Having more transportation links means less congestion, more accessibility, easier work commutes, more options and an overall easier time getting around our City," said Councilmember Robert E. Cornegy. "As New Yorkers, we all want to get from here to there, and we want to do it quickly. Getting New Yorkers where they need to go isn't a thankless task today. On behalf of all those fast-moving New Yorkers who aren't here today, thanks to everyone involved in bringing us this new ferry stop."
"During my tenure, I have watched the Brooklyn Navy Yard transform from an underutilized Navy shipyard to a cutting-edge incubator for businesses and ideas," said Assemblyman Joseph R. Lentol. "The Yard will continue to grow by leaps and bounds over the next decade and this new ferry stop will ensure easier and more environmentally friendly access to the Yard. I look forward to continuing to watch the Yard and the NYC Ferry expand in the years to come."
"Since its establishment The Brooklyn Navy Yard has been at the forefront of manufacturing and at its height it employed thousands of New Yorkers during World War II. With manufacturing for war now in the Navy Yard's past, its focus is now on growing the modern manufacturing sector, creating 30,000 jobs, and making the Yard more inclusive, attractive and accessible to its surrounding communities. I am proud of its accomplishments and its continued effort to economically benefit Brookylnites. The expansion of the NYC Ferry with the Dock 72 stop will help increase The Navy Yard accessibility, as well as create the jobs essential for its operation and maintenance. I look forward to the opening of NYC Ferry at Dock 72, and the increased economic justice this access will help create for New Yorkers across the borough." said Assemblyman Walter Mosley.
"Brooklyn's continued economic growth depends on connecting its neighborhoods and providing access to other commercial hubs throughout the city," said Hector Batista, President and CEO of the Brooklyn Chamber of Commerce. "The expansion of NYC Ferry service to the Navy Yard will bring more entrepreneurs, jobs and development to Brooklyn. People want to live and work here. More reliable and convenient public transportation will allow them to do that."
Earlier this year, the de Blasio Administration announced that the City will expand the NYC Ferry system to more waterfront communities with growing neighborhoods and burgeoning job centers, while connecting all five boroughs. The NYC Ferry expansion includes the St. George route (2020), the Coney Island route (2021), and a new stop in the Throgs Neck/Ferry Point Park section of the Bronx (2021) on the Soundview route. More information on the 2020-2021 expansion can be found here.
In 2015, Mayor Bill de Blasio announced his vision for a six-route citywide ferry service that would expand transportation access across the city affordably and reliably. Launched in May 2017 with 21 landings throughout New York City, NYC Ferry has served nearly nine million riders to date across the East River, Rockaway, South Brooklyn, Astoria, Lower East Side and Soundview routes. Revised annual ridership forecasts project the system will reach 11 million annual riders by 2023 with the addition of the St. George and Coney Island routes and stops in Throgs Neck and now the Brooklyn Navy Yard.
NYC ferry has created over 350 jobs such as captains, deckhands, customer service agents, ticketing, operations and more and is currently accepting applications. Hiring in advance of the system's expansion in 2020 and 2021 has already begun. New Yorkers of all backgrounds and skill levels are encouraged to apply. Jobseekers can apply directly at ferry.nyc/careers.
About NYCEDC
New York City Economic Development Corporation creates shared prosperity across New York City's five boroughs by strengthening neighborhoods and creating good jobs. NYCEDC works with and for communities to provide them with the resources they need to thrive, and we invest in projects that increase sustainability, support job growth, develop talent, and spark innovation to strengthen the City's competitive advantage. To learn more about our work and initiatives, please visit us on Facebook, Twitter, or Instagram.
About the Brooklyn Navy Yard
The Brooklyn Navy Yard Development Corporation (BNYDC) is the not-for-profit corporation that serves as the real estate developer and property manager of the Yard on behalf of its owner, the City of New York. BNYDC's mission is to fuel New York City's economic vitality by creating and preserving quality jobs, growing the City's modern industrial sector and its businesses, and connecting the local community with the economic opportunity and resources of the Yard. BNYDC's vision is a vibrant and dense, modern manufacturing community where businesses are provided the stability needed to invest, grow, and thrive and where diverse jobseekers can come to find a high-quality, middle-class job.
About Dock 72
Dock 72 is being built through a unique partnership between Boston Properties, Rudin Development, WeWork and the Brooklyn Navy Yard Development Corporation. Started in 2016 and slated to open late summer of 2019, Dock 72 is the first major ground-up commercial office building to be constructed in Brooklyn in over a decade. Originally a former shipbuilding facility, the site has been reinvented as an innovative and collaborative workspace. The 675,000 square foot office building integrates state-of-the-art amenities and modern Class-A office infrastructure with a unique design by S9 Architects, Perkins Eastman and Fogarty Finger Architects that honors the Navy Yard's maritime history. The building features 14' floor to floor heights with 8' of vision glass, intensifying the light and air throughout and building and highlighting the unobstructed views of Manhattan and Brooklyn. The building's dual cores and two entrances provide access from the land and water side of the site. Amenities span 35,000 SF, including an indoor/outdoor roof deck with panoramic views of Manhattan and Brooklyn, a fitness/wellness center, specialty food and beverage offerings, conference center, valet bike storage, dedicated parking, and a 10,000 SF landscaped recreational area with a basketball court for all Navy Yard tenants. Dock 72 is a place to plug in, to refuel and to be inspired.
About The We Company
Founded by Adam and Rebekah Neumann and Miguel McKelvey in 2010, The We Company comprises three distinct business lines - WeWork, WeLive, and WeGrow - that further our mission to elevate the world's consciousness. WeWork's mission is to create a world where people work to make a life, not just a living; WeLive's mission is to build a world where no one feels alone; and WeGrow's mission is to unleash every human's superpowers. The We Company currently has 485 locations in 105 cities across 28 countries, and has over 466,000 members, which includes over one-third of the Global Fortune 500. For additional information, please visit we.co