Press Release
NYCEDC Welcomes Start of ESPN Broadcasting at South Street Seaport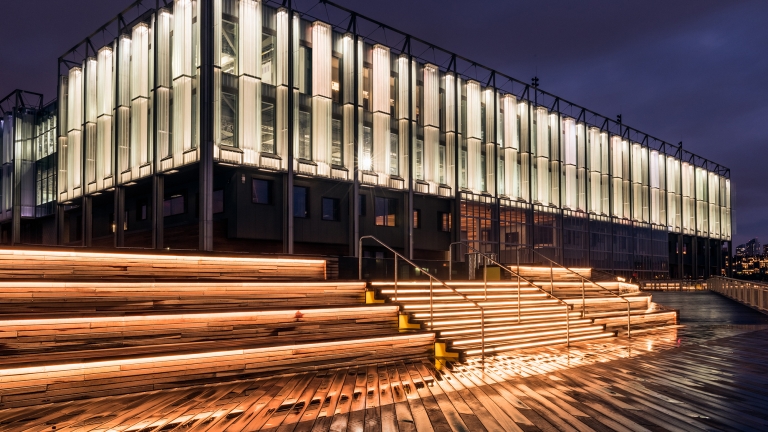 ESPN launches morning program 'Get Up' bringing good jobs to Pier 17
NEW YORK, NY—New York City Economic Development (NYCEDC) today welcomed ESPN Broadcasting Studios as the first occupant of commercial space at Pier 17 in South Street Seaport. The popular sports network will use a portion of the space for their newest morning program, "Get Up!", which began airing today. The show will air from 7-10 AM on weekdays and stars Mike Greenberg, Michelle Beadle, and Jalen Rose.

Howard Hughes Corporation (HHC) recently completed the reconstruction of Pier 17, which is ground leased from the City. Last year, NYCEDC amended that lease to allow office and broadcast studio uses, in addition to the previously permitted retail uses, providing new job opportunities for New Yorkers.

Pier 17 is anticipated to become an entertainment destination, including restaurants, a 1.5-acre rooftop and a venue for special events when it opens this summer. With continued investment in its revitalization, the wider South Street Seaport will encompass more than 400,000 square feet of culinary, fashion, entertainment and cultural experiences.

"The reimagined South Street Seaport district is now home to dynamic companies like ESPN that will create quality jobs in lower Manhattan," said NYCEDC President and CEO James Patchett. "The launch of 'Get Up!' is both a win for sports fans and a win for our city's creative economy - a major focus of Mayor de Blasio's plan to create 100,000 quality jobs."

Pier 17 includes more than 200,000 square feet of rentable commercial space. ESPN Broadcasting Studios will utilize 21,000 square feet of the space and will generate quality jobs on site. The activation of commercial space at Pier 17 will contribute to Mayor de Blasio's goal of creating 100,000 good jobs over the next ten years, through the New York Works strategy.

South Street Seaport is an iconic part of New York's history dating back over 300 years. The area served as a landing site for boats stopping at the Dutch West India Company's post at Manhattan's south end and later evolved into a central commercial hub, with trade houses and historic buildings.
About NYCEDC
New York City Economic Development Corporation creates shared prosperity across New York City's five boroughs by strengthening neighborhoods and creating good jobs. NYCEDC works with and for communities to provide them with the resources they need to thrive, and we invest in projects that increase sustainability, support job growth, develop talent, and spark innovation to strengthen the City's competitive advantage. To learn more about our work and initiatives, please visit us on Facebook, Twitter, or Instagram.