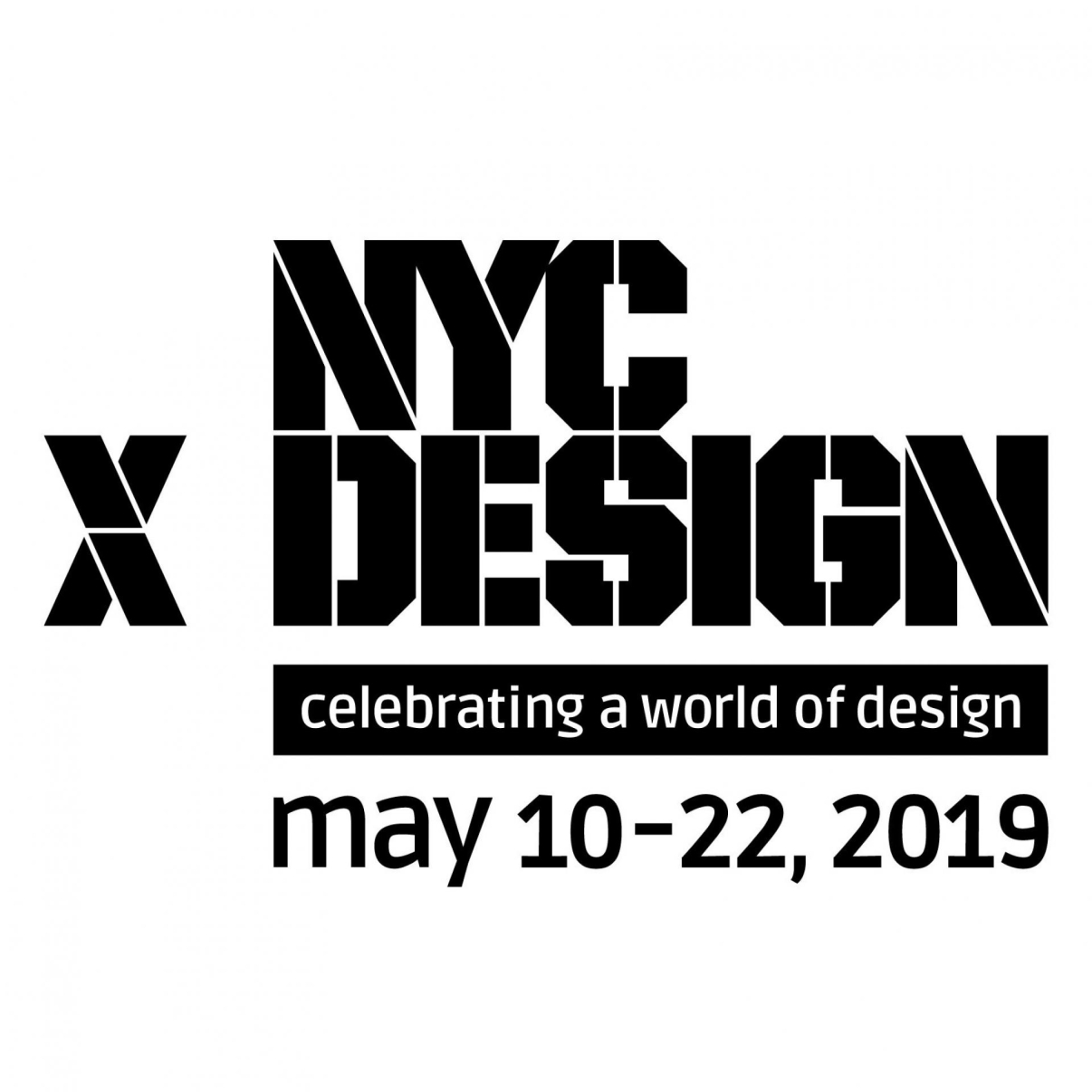 Annual Citywide Celebration of Design Runs From May 10 to 22, 2019

SANDOW Selected as Future Operator of NYCxDESIGN
NEW YORK, NY—New York City Economic Development Corporation (NYCEDC) today previewed programming that will be part of NYCxDESIGN 2019, New York City's annual celebration of design. The seventh edition of the festival will include hundreds of events throughout the five boroughs from May 10 to 22, 2019. The citywide celebration of design unites culture, craft, education, and entertainment with a wide array of programming, including product launches, exhibitions, installations, trade shows, talks, open studios, and more.

Additionally, NYCEDC today announced the selection of SANDOW as the operator of NYCxDESIGN starting in 2020. Following a successful seven-year period growing the festival from inception to its current scale, it was determined that the program would realize its full potential being managed by an external entity. Following review of the proposals submitted in response to a public Request for Expressions of Interest issued in Summer 2018, NYCEDC selected SANDOW, a global leader in design media and innovation. SANDOW will leverage its large media portfolio to help NYCxDESIGN expand its reach across the globe and will tap their Material Bank platform and new venture in partnership with Questlove, Creative House, to bring dynamic programming to communities and audiences across the five boroughs. The news, as well as programming highlights for 2019, was unveiled today during a press conference at the Parsons School of Design.

SANDOW's Interior Design brand has partnered with NYCEDC and ICFF to host the annual NYCxDESIGN Awards since 2016 and Luxe Interiors + Design has partnered with ICFF for the Luxe Pavilion and Luxe Lounge at ICFF since 2015.

"NYCEDC is proud of the remarkable success NYCxDESIGN has had over the last several years. The program has grown into one of the biggest and most far-reaching design festivals in the world, adding over $50 million to the gross city product and attracting over 330,000 attendees to nearly 400 events," said NYCEDC President and CEO James Patchett. "We're thrilled to partner with SANDOW and look forward to their vision coming to fruition in 2020 and beyond."

"When I set out to build SANDOW more than 15 years ago, we always thought differently. We've worked incredibly hard to build an innovative and powerful media platform that today serves as a foundation to launch, acquire, and reimagine research, technology, logistics, and experiential businesses that serve the design industry," said Adam Sandow, CEO and founder of SANDOW. "We are incredibly excited to work with businesses, organizations, and institutions across the city to build on the strong foundation that NYCEDC has already created for NYCxDESIGN. Our goal is nothing short of creating the most engaging, expansive, and inclusive design platform in the world. We look forward to working collaboratively with partners across the city to accomplish great success and continue to make New York the center of design."

Hosted at venues throughout New York City, NYCxDESIGN 2019 will include events such as product launches, exhibitions, installations, discussion forums, trade shows, tours, and open studios that focus on a wide range of disciplines such as architecture, industrial design, technology, graphic design, fashion, interior design, product design, and more. The annual event supports New York City's thriving design sector, which boasts over 53,000 designers, upwards of 8,000 design firms, more than 800 museums and galleries, and 10 of the best architecture and design schools, which graduate twice as many students as any other city in the country.

NYCxDESIGN's programming is informed by a steering committee made up of leaders in New York City's design community, representing a broad swath of design-related programs, events, organizations, and both academic and cultural institutions. Some key NYCxDESIGN events include ICFF, WantedDesign, Brooklyn Designs, NYCxDESIGN Awards, Design Pavilion, Design Districts (SoHo Design District, Tribeca Design District, NoMad Design District, and the Downtown Alliance), American Design Club, the New York Design Center, graduate shows from the city's leading design schools, museum exhibitions, and more.

Below are programming highlights for this year's NYCxDESIGN, to date:

(NEW) The Diner by David Rockwell and Surface with 2x4 - The all-American eatery is back in vogue. Following the pop-up at last year's Salone del Mobile in Milan, The Diner is being recreated during this year's NYCxDESIGN. The fully operational pop-up restaurant will immerse visitors in a coast-to-coast journey through the United States, riffing on aesthetic ideas from around the country with a modern twist. A celebration of American design now, The Diner is a democratic space where strangers become a community.

NYCxDESIGN Awards (May 20) - The fourth annual NYCxDESIGN Awards, organized in partnership with Interior Design magazine and ICFF, will take place on May 20. Winners will be determined over a week-long deliberation by a panel of NY design luminaries. Submissions will open on February 1
at www.NYCxDESIGNAwards.com and close on April 5.

DESIGN PAVILION in Times Square (May 10-22) - DESIGN PAVILION features an NYCxDESIGN information kiosk, dedicated dance and performance space, interactive and engaging design-driven installations, performances, talks, and retail. It's free, open to the public daily from May 10 to 22, and expects to attract more than 3 million local and international visitors. This year's PAVILION will again include a collaboration with Nasdaq to create and display live and visually engaging imagery and content on Nasdaq's seven-story, cylindrical video tower.
(NEW) Sound & Vision A Show to Celebrate the Collision of Design, Technology, and Sound Shaping the Future - This May, the American Design Club will challenge designers to create products, environmental experiences, and performances using the collision of design, technology, and sound. The two-week long show at the Times Square Design Pavilion will be called Sound & Vision. This is your chance to connect with people in public spaces, retail stores, private events and through the media. The mission of the American Design Club has always been about giving designers a platform to showcase their ideas and sell their work. We invite you to join us to explore how your ideas will play a part in the shaping of the future.
(NEW) A Sense of New York (May 12) - A Sense of New York is a workshop series that aims to explore and encourage a multi-sensorial interaction with our urban environment. We will explore how we can create a richer interaction with our cities by utilizing and experiencing it with our five senses of touch, taste, smell, sound, and sight. In the workshop we come up with urban interventions that address specific wants and needs by creating new sensory interactions with the metropolitan fabric of New York City.
Times Square Design Lab - The Times Square Design Lab (TSqDL) will feature commercial models of Island Collection by Brad Ascalon and Drop Sign by Louis Lim. Both are manufactured & distributed through Landscape Forms. TSqDL will also be presenting new urban outdoor seating by Joe Doucet, and produced and distributed by Urbastyle: a refined version of The Village (2018) and a new bench/traffic barrier. A new competition will also be unveiled for a public-space furniture element. All shown as part of Design Pavilion.
DESIGN TALKS NYC TM (May 14–18) - In conjunction with DESIGN PAVILION, DESIGN TALKS NYC (TM) will present a program of insightful design thought-leaders, who will discuss the role and impact of design in the enhancement and improvement of our future.
DESIGN MARKET NYCTM - Established as part of Design Pavilion, DESIGN MARKET NYC offers an annual pop-up, curated design shopping experience. The full line-up of vendors, designers, and participants will be announced in the spring.
ICFF 2019 - For over 30 years, ICFF has built a solid reputation as North America's platform for global design. Taking place May 19 to 22, 2019, over 900 exhibitors from across the globe will present to more than 38,000 industry professionals looking to be inspired and find what's best and what's next for luxury interiors. New additions to the show this year include ICFF Contract and ICFF Connect.
ICFF Contract - ICFF Contract features designers of better commercial spaces showcasing the latest in lighting, furniture, flooring, wall coverings, seating and materials. Participants include Bernhardt, Arper, Poppin, Blå Station, and Kartell. Tom Dixon and ICFF will present a very special on floor demonstration in technology and design that everybody will want to experience.
ICFF Connect - ICFF Connect, powered by CEDIA Expo, will highlight the latest innovations in connected technology for the Smart Home and Smart Office and Hospitality spaces including automated media, lighting, temperature, security, surveillance, networking, integrated room control, phones, and video conferencing.
(NEW) Ventura New York - After two successful editions in 2016 and 2017, Ventura New York - the Dutch edition will return in 2019. This time as part of ICFF during NYCxDESIGN. Ventura New York - the Dutch edition showcases the best of Dutch contemporary design. Our mission is to support Dutch designers, design studios, and brands to conquer the US market by offering them a stage at a well-known American design fair.
WantedDesign - With its marquee events during NYCxDESIGN in May, WantedDesign is a platform dedicated to promoting design and fostering the international creative community at large throughout the year. This year's highlights include:
WantedDesign Brooklyn - WantedDesign Brooklyn at Industry City will highlight what the campus is all about: a place where innovators and makers meet. This fair will feature exhibitions around design research, immersive installations, workshops, and cultural collaborations. Design education will be a major focus with the largest grad show ever seen during NYCxDESIGN with over 30 international schools participating. This is part of the IC Design Festival, which has extensive programming for the entire family.
OUI Design - Oui Design has been developed by the Cultural Services of the French Embassy and its partner foundation FACE, in order to foster creative exchange in design between France and the US. Launched in 2016, it is the first program initiated by the French Embassy to support fruitful and durable partnerships between design professionals on both sides of the Atlantic. WantedDesign Brooklyn will be presenting the third edition of "Transatlantic Creative Exchange".
WantedDesign Manhattan - WantedDesign Manhattan is one of the leading destinations for international design, featuring designers from France, Mexico, Brazil, El Salvador, Colombia, Chile, Canada, and more. This design fair includes several notable programs to interest both established and emerging designers and design fans alike: The Launch Pad design competition: The Look Book, a showcase of US and Canadian designers. Design Milk, Clever, and WantedDesign will co-host a series of engaging conversations.
(NEW) Tools for the Apocalypse - At WantedDesign Manhattan, the students of SVA's MFA in Products of Design present "Tools for the Apocalypse," an interactive exhibition of new products and methods for a world ravaged by climate change. Thematically organized around the four classical elements of Fire, Air, Earth and Water, Tools for the Apocalypse explores both the essential needs of humanity in a time of environmental crisis, and the ways in which those needs can be addressed by design.
Industry City Design Festival (May 16–21) - Over the course of the past six years, Industry City has become a destination for design throughout the year. In conjunction with NYCxDESIGN, the IC Design Festival will showcase Brooklyn as a hub for diverse, multidisciplinary thinkers, makers, and entrepreneurs. The entire campus will be activated and there will be programming for the entire family.
BROOKLYN DESIGNS (May 10–12) - Brooklyn's premier design event showcasing furniture, lighting, accessories, and technology.

Design Districts - This year's NYCxDESIGN includes a growing number of design districts. As in years past, most of the districts will host design nights within their districts. Details are forthcoming.
(NEW) Downtown Design District - Spearheaded by the Downtown Alliance, this new district represents design happenings south of Chambers Street in Manhattan.
(NEW) AIA Architecture Walks | Downtown Design District - Discover the Downtown Design District with AIA, the American Institute of Architects, New York chapter and the Downtown Alliance, which are leading two walking tours through the incredible architecture of Lower Manhattan that spans New York City's history from the time of the Dutch settlers through the future-focused construction underway today. Tours will end with a cocktail at one of the Downtown Design District's hotels participating in the DRINKSxDESIGN program.
(NEW) The Oculus at Westfield World Trade Center Tour - Guided tour of Westfield World Trade Center with art curator.
(NEW) Madison Avenue Design District
"Madison Avenue: High Fashion & Historic Preservation" - An Architectural Walking Tour (May 21, 5–7 pm) - New York City historic district regulations have played a major role in maintaining Madison Avenue as an eclectic, enticing, and elegant shopping destination. Tour Madison Avenue with leaders from its business and preservation communities to learn how cutting-edge retail design has been successfully incorporated with historic building fabric.
Tribeca Design District (May 16) - In conjunction with NYCxDESIGN 2019, Tribeca Design District is opening its doors to the public on Thursday, May 16, 2018. A variety of showrooms and galleries in the neighborhood will be open for extended hours, cocktail receptions, and exhibit openings. Hours and events vary from showroom to showroom. Key showrooms include Colony at 324 Canal St., 2nd fl, David Weeks Studio at 38 Walker St., and Stillfried Wien at 40 Walker St. 2019 will mark the fifth annual Tribeca Design District Night.
SoHo Design District (May 18) - In conjunction with NYCxDESIGN 2019, SoHo Design District is opening its doors to the public on Saturday, May 18, 2018, from 6 to9 pm. A variety of showrooms and galleries in the neighborhood will be open for extended hours, cocktail receptions, and exhibit openings. Hours and events vary from showroom to showroom.
Artemide Celebrates NYCxDESIGN (May 10–22) - Celebrate NYCxDESIGN at the Artemide flagship store in SoHo and see the brand's latest lighting innovations on display.
NoMad Design District
(NEW) Jacopo Foggini Installation at ddc - Artist Jacopo Foggini created a sensation with his installation in Milan during Salone del Mobile last April. In honor of NYCxDESIGN, he will be creating a custom installation at ddc using his signature industrial material. Heating to almost 400 degrees, Foggini extrudes a filament from the melted material which he then models quickly by hand before it hardens. The same technique has been used to create stunning furniture & lighting pieces, in addition to these breathtaking installations.
(NEW) Baccarat la Maison Debut - The highly anticipated launch of Baccarat la Maison will make its US debut at the Luxury Living Showroom in NoMad during NYCxDESIGN. On the heels of the full collection being unveiled in Europe, this sneak peek at the extensive and already celebrated collection will offer visitors a unique chance to experience the masterful use of Baccarat's signature crystal combined with the elegant and sophisticated lines of a full range of furnishings. Unique, stunning, and uniquely Baccarat.
Retail - During NYCxDESIGN, the following retailers and pop-up markets will be showcasing the best of design products from around the world:
(NEW) WallpaperSTORE* - The WallpaperSTORE* will bring its online destination with some of the best in design from around the world to life at a pop-up store being created exclusively for NYCxDESIGN. The store will feature an exclusively curated offering of some of the WallpaperSTORE*'s best design including some exclusive pieces that will only be offered at NYCxDESIGN Look for details about the pop-up's location and offerings soon.
(NEW) 1stdibs NYCxDESIGN Exhibition (May 21) - During NYCxDESIGN, the new 1stdibs Gallery will host a curated exhibition along with editor-led tours for the design public.
(NEW) New York Cottages and Gardens' First Annual Design Guide Launch - New York Cottages & Gardens will launch its first annual Design Guide featuring the very best firms as well as product resources for the ultra-affluent consumer looking to buy, renovate, build, and decorate. The guide will also feature "THE LIST," a comprehensive list of architects, builders, landscape architects, and designers previously featured in New York Cottages & Gardens. Please join New York Cottages and Gardens for a cocktail celebration as they unveil the new resource guide and toast the current issue.
(NEW) Brooklyn Navy Yard Design Market (May 10–15) - A diverse group of businesses and entrepreneurs calls the Brooklyn Navy Yard home, where traditional and modern designers and manufacturers intersect at the cutting edge of urban industry. Join the Brooklyn Navy Yard to shop a range of products all designed and produced in Brooklyn.
(NEW) Kinder MODERN + USM - What happens when you cross a design classic with a design disrupter? Come see USM & kinder MODERN in an amazing exhibition of color and design.
(NEW) Errata: Books Do Clutter a Room (May 16–31) - Errata is an exhibition hosted from May 16 to 31 at Mast Books, celebrating an assemblage of works that question the physical condition of both books and design objects. It will bring together new work from various Spanish designers, ranging in material and typology. Participating designers include Pablo Alabau, Tomas Alonso, Colectivo la Cosa, Miguel Leiro, Jorge Penadãs, Sara Regal, and Julen Ussã.
(NEW) NYC Jewelry Week Spring Edition (May 10–22) - An outpost of NYC Jewelry Week will this year take part in NYCxDESIGN featuring NYC-based jewelry designers and artists.
Tala Open Studio - British lighting brand Tala opens the doors to its new Dumbo studio during NYCxDESIGN. Experience the latest lighting innovations and hear from the team on how you can incorporate sustainability into your designs.
MoMA Design Store Celebrates Dutch Design - MoMA Design Store will shine a spotlight on current Dutch design in Soho and Midtown during NYCxDESIGN.
Fashion, Art, and Design (FAD) Market (May 11–12) - FAD Market is a roving fashion, art, and design marketplace that travels seasonally to unique venues in Brooklyn. This spring, in celebration of NYCxDESIGN, FAD Market takes up residence at The Invisible Dog Art Center to present over 50 thoughtfully curated designers. Join FAD Market for a special showcase of locally designed handcrafted goods from tableware and textiles, to fashion and accessories; discover the best up-and-coming designers from the city and beyond.
Exhibitions
(NEW) NYC Department of Transportation Art – Self-Guided Public Art Tour - Explore temporary artworks on display across the city presented by the New York City Department of Transportation's Art Program (DOT Art). Visit as many sites as you can! NYC DOT Art invigorates the city's streetscapes with engaging temporary art installations. The Program partners with community-based organizations and artists to present murals, sculptures, projections, and performances on the city's canvas—plazas, fences, barriers, bridges and sidewalks—for up to 11 months.
(NEW) Studies on Reuse by the7thFl Studio - A product design exhibit displaying beautiful objects that are made using recycled HDPE plastic. Sustainability is the future, and objects made from recycled materials can be beautifully designed and visually stunning. The exhibit presents a wide array of everyday home-use products, as well as sculptural art pieces.
UNEARTH ASIA by DESIGN PIER - In its latest exhibition DESIGN PIER proposes an exploration of Asian design that plays a defining role in the richness and cultural diversity in contemporary design by rediscovering and imposing its own unique traits and origins. The exhibition presents 30 collectible furniture and design objects curated from China, Hong Kong, Japan, South Korea, Thailand, Indonesia and Singapore, most of them arriving to New York for the first time.
The One Show - The One Show is one of the most prestigious awards competitions in advertising, design, interactive, and branded entertainment. Judged every year by top industry professionals, a Gold Pencil is the ultimate symbol of creative excellence.
Design Galleries
(NEW) An Accelerated Culture at Friedman Benda - Curated by Brent Dzekciorius and Libby Sellers, the exhibition investigates pioneers in contemporary design born between 1965 and 1980. With works by Michael Anastassiades, Aldo Bakker, Maarten Baas, Tord Boontje, Ronan and Erwan Bouroullec, Nacho Carbonell, Paul Cocksedge, Martino Gamper, Konstantin Grcic, Thomas Heatherwick, Joris Laaarman, Max Lamb, Julia Lohmann, nendo, Raw Edges, Jerszy Seymour, Wieki Somers, Studio Job, and Tokujin Yoshioka.
Cocktail Reception at the Carpenters Workshop Gallery (May 20) - This reception will be in celebration of Aldo Bakker's exhibition 'Slow Motion.' For more information, please visit http://www.carpentersworkshopgallery.com.
Carpenters Workshop Panel Discussion (May 16) - This panel discussion will feature art and design world luminaries in conversation with Aldo Bakker on his exhibition 'Slow Motion.' For more information, please visit http://www.carpentersworkshopgallery.com.
Museums - Multiple prestigious cultural institutions will be participating in this year's celebration to cross-promote their special exhibitions, activities, and program offerings.
Nature - Cooper Hewitt Design Triennial (Opening May 10) - Co-organized with Cube design museum in the Netherlands, the exhibition will feature more than 60 groundbreaking works from designers across all disciplines who are collaborating with scientists, engineers, farmers, environmentalists, and nature itself to design a more harmonious and regenerative future. Nature - Cooper Hewitt Design Triennial seeks to inspire ideas, collaboration, and dialogue to address the most significant and consequential environmental and humanitarian issues.
The Museum of Modern Art - Featuring objects from domestic furnishings and appliances to ceramics, glass, electronics, transport design, sporting goods, toys, and graphics, The Value of Good Design explores the democratizing potential of design, beginning with MoMA's Good Design initiatives from the late 1930s through the 1950s, which championed well-designed, affordable contemporary products.
Museum at FIT - The 2019 Graduating Student Exhibition - FIT's School of Art and Design will present the 2019 Graduating Student exhibition throughout campus, including in The Museum at FIT and the Marvin Feldman Center. The exhibition will display the finished works of more than 800 students receiving BFA degrees in such areas as Accessories Design, Fashion Design, Fine Arts, Graphic Design, Interior Design, Jewelry Design, and Packaging Design.
Museum of Arts and Design - Too Fast to Live, Too Young to Die: Punk Graphics 1976-1986 - Too Fast to Live, Too Young to Die: Punk Graphics, 1976-1986, explores the visual language of the punk movement through hundreds of its most memorable graphics, flyers, posters, albums, promotions, and zines. Since its rebellious inception in the 1970s, punk has always exhibited distinctive forms of expression that transcended music to influence wider visual culture.

Design Schools - Several of NYC's design schools will also present their annual end-of-year events to highlight cutting-edge student work.
Student Design Showcase Night (May 13) - At this year's NYCxDESIGN, the design schools are out in full force. In addition to the year-end gallery shows and exhibitions, the schools will be hosting their annual "Student Design Showcase Night" at Parson's School of Design, featuring leading design students from five different schools including Parsons, SVA, Pratt, FIT, and Cooper Union. The theme of this year's event will be "Power."
Pratt Shows: Design (May 16–21) - The annual exhibition of work by Design, Architecture, and Art students in disciplines including: Advertising, Architecture, City and Regional Planning, Communications Design, Construction Management, Facilities Management, Fashion, Graphic Design, Illustration, Industrial Design, Interactive Design, Interior Design, Jewelry Design, Package Design, Sustainable Environmental Systems, Urban Design, and Urban Placemaking and Management. Reception for Alumni and Industry Professionals: Wednesday, May 15.
Parsons Festival 2019 (May 1–20) - The Parsons Festival is an annual series of art and design events in which cutting-edge work that highlights critical inquiry and social concerns is presented to the Parsons community and the public. The festival takes place at the end of each academic year and includes thesis exhibitions and critiques, thought-provoking public programs, interactive installations, gallery openings, workshops, and special events leading up to Commencement.
FIT Art & Design Gallery - The Future Is in the Making Exhibition - FIT's School of Art and Design will present The Future Is in the Making exhibition in the Art and Design Gallery of the Pomerantz Center, a new venue that exhibits the work of students, faculty, FIT alumni, and outside artists in every exhibition. The Future Is in the Making exhibition will feature the process of creating original work, and the 2019 Graduating Student Exhibition will display the work of some 800 BFA students.
Cooper Union End of Year Show (Opening May 20) - This annual exhibition transforms the classrooms, hallways, and studios of The Cooper Union into galleries showcasing work from the Irwin S. Chanin School of Architecture, the School of Art, and the Albert Nerken School of Engineering. The opening reception will be on Monday, May 20, from 5 to 9 pm.
Architecture
(NEW) FM/S TINY HOUSE - Fernando Mastrangelo Studio is building its largest installation to date: a Tiny House. Using commonplace materials and casting techniques synonymous with the firm, the House will be composed entirely of sand, silica, cement, and glass throughout its three rooms; a Living Room, Bedroom, and exterior Garden. After an opening party at the studio's gallery space in Brooklyn, the house will be placed on a trailer and parked around the city for the general public to enjoy.
(NEW) Empire Outlets Design and Architecture Tour - Empire Outlets, New York City's only outlet shopping destination, will open this April adjacent to the Staten Island Ferry in St. George, Staten Island. Designed by SHoP Architects, Empire Outlets will feature expansive open corridors to the water, contemporary materials reflective of the industrial waterfront, and a sweeping sustainable green roof visible from the harbor. Join Empire Outlets and SHoP Architects on a tour of the center to reveal the design story behind the new waterfront destination.
Discover El-Space 2.0 (May 16) - Join the Design Trust for Public Space and NYC Department of Transportation for a conversation to discover El-Space, the nation's first design experiment to create a more hospitable pedestrian experience, greater environmental resilience, and enhanced lighting beneath and adjacent to elevated transportation infrastructure citywide. The event will include a sneak peek at the latest pilot installation in Long Island City and preview the planning framework and inventory of the millions of square feet of El-Space across the five boroughs.
Archtober Preview (May 14–18) - The Center for Architecture will host an Archtober preview from May 14 through May 18. The preview will include five iconic Building of the Day tours across the five boroughs. The Center for Architecture will also preview another popular Archtober program, Workplace Wednesday, featuring an exciting behind-the-scenes look at an architecture firm in NYC.
2019 Gil Oberfield Memorial Lecture: Annabelle Selldorf (May 16) - The annual Oberfield lecture was founded as a memorial to Gil Oberfield, AIA, former member and chair of the AIANY Interiors Committee. The lecture brings to the podium speakers whose work excels in the field of interior architecture. Annabelle Selldorf, FAIA, is the Principal of Selldorf Architects. She serves on the Board of the Architectural League of New York, the World Monuments Fund, the Chinati Foundation, and the Center for Curatorial Studies at Bard.
Talks
(NEW) Emre Arolat: Scent of the Trace (May 17) - RIBA 20 top buildings of 2018 and Aga Khan award winning architect Emre Arolat in conversation about his new book "Scent of the Trace."
(NEW) Better Future – Design in the Boardroom (May 16) - At the 2018 New York Design Awards, $58 billion USD economic activity was awarded. Design is no longer a million-, but a billion-dollar industry. The session will see a panel of four industry leaders as they examine the wave of enterprise design that is currently sweeping across corporate America. The panel will provide insights as to how enterprise level design is operating in the C-Suite and boardrooms across the United States.
Design Talk Roundtable at Michele Varian (May 21) - Michele Varian's Design Talk Roundtables tackle subjects like the Internet's disruption on the design industry, the economy of jewelry design, how social media interacts with the analog and tactile world, and more. Featuring experts spanning fields of art, design, business consulting, real estate, and other creative and entrepreneurial experts, she guides discussions that probe into the design industry's orbits and underbellies in substantial, thought-provoking ways.
Plan Your Visit
NYCxDESIGN will again partner with a curated group of hotels that place design at the heart of their hospitality experience. Each hotel will offer exclusive NYCxDESIGN rates which can be secured at nycxdesign.com/hotels. Many of the hotels will also partner with designers to activate their public spaces with design installations during the festival in May. The 2019 NYCxDESIGN hotel partners include: Arlo NoMad, Arlo SoHo, Gansevoort Meatpacking NYC, Moxy NYC Downtown, Mr. C Seaport, The Beekman, and The William Vale.

Event Submissions
Design-related organizations are encouraged to submit event proposals to the NYCxDESIGN websitefor inclusion in this year's program prior to the kickoff in May. To be included in the Metropolis printed guide, events must be submitted for consideration no later than March 15, 2019.

Follow Along
If you'd like to receive daily design updates during NYCxDESIGN and our monthly newsletter, you can subscribe here. And be sure to follow us on Instagram @NYCxDESIGN so you don't miss any of the action! Closer to the event's kickoff, you'll be able to pick up your copy of the Official NYCxDESIGN 2019 Guide produced by Metropolis magazine at various locations throughout the city. A digital copy of the guide will also be made available.

Missed 2018 NYCxDESIGN?
If you missed last year's celebration, check out this video featuring 2018 highlights. Please be sure to visit www.NYCxDESIGN.com for more details, updated event information, and to learn how you can be a part of the action.
About NYCEDC
New York City Economic Development Corporation creates shared prosperity across New York City's five boroughs by strengthening neighborhoods and creating good jobs. NYCEDC works with and for communities to provide them with the resources they need to thrive, and we invest in projects that increase sustainability, support job growth, develop talent, and spark innovation to strengthen the City's competitive advantage. To learn more about our work and initiatives, please visit us on Facebook, Twitter, or Instagram.