Press Release
NYCEDC Seeks Operator to Develop New Marine Terminal on the Hunts Point Peninsula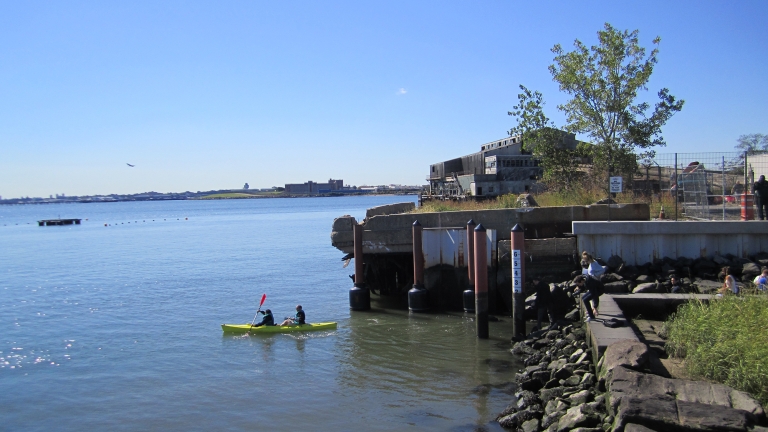 New Direct, Environmentally-Friendly Transportation Link to Wholesale Businesses and the Hunts Point Food Distribution Center in the South Bronx Will Improve the City's Supply Chain

Development of the Marine Terminal is part of the City's FreightNYC Plan to Modernize City's Freight and Distribution System
BRONX, NY—New York City Economic Development Corporation today released a Request for Proposals (RFP) that seeks to identify entities interested in operating a new marine terminal in the South Bronx. The new terminal would serve businesses on the Hunts Point Peninsula in the South Bronx by providing an alternative to trucking to move food and other products. The proposed project seeks to reduce truck traffic and to improve air quality, particularly in the South Bronx. The investment in a new marine terminal utilizes the region's vast network of waterways, also designated as "American Marine Highways" by the US Department of Transportation.

The Hunts Point location would take advantage of the nearby Marine 95 (M-95), Interstate 95's waterway equivalent. The Hunts Point site is linked by the M-95 to other ports located on the East Coast. The recently created North Atlantic Marine Highway Alliance (NAMHA), which includes port facilities from Maine to Virginia, has begun to identify the port facilities that can be best linked by barge to New York City's growing economy.

"Activating a new marine terminal in Hunts Point is critical to diversifying our freight distribution system and keeping New York one of the most eco-conscious cities on the planet," said NYCEDC President and CEO James Patchett. "New York became the global capital of commerce because of our waterways; by reinvesting in this vital asset and moving more freight by barge, we are creating 21st century maritime jobs and ensuring goods reach New Yorkers faster."

"In a city rediscovering its waterways for commuters through the amazing NYC Ferry, it's time to rediscover our waterways for commerce," said Waterfront Alliance President and CEO Roland Lewis. "Hunts Point, the City's food pantry, is also one the highest concentrations of truck congestion. Activating maritime service to the Hunts Point Food Distribution Center will eliminate scores of trucks every day, relieving congestion, improving the health of local residents and saving wear and tear on our roads."

"The I-95 Corridor Coalition, welcomes NYCEDC's plan to develop barge service that moves forward the vision of the I-95 Marine Highway corridor—a network of interconnected facilities, encompassing the waterways paralleling and complementing the Interstate 95 highway and rail network on the Eastern Seaboard from Maine to Florida," said I-95 Corridor Coalition Executive Director Patricia Hendren. "We commend the NYCEDC action to implement solutions that address growing congestion, reduce greenhouse gas emissions, conserve energy, and lower landside infrastructure maintenance costs."

"The New York and New Jersey chapter of the Council of Supply Chain Management Professionals (CSCMP) applauds NYCEDC's efforts to strengthen New York's City's freight transportation systems by increasing multimodal choices," said Suzanne Richer, President, CSCMP NY/NJ Roundtable. "Using waterways to move freight will improve the reliability of regional freight delivery while improving air quality and increasing redundancy in the good movement network."

"SUNY Maritime is excited to see NYCEDC following through with its FreightNYC announcement to jumpstart a barge network in New York Harbor, and beyond," said SUNY Maritime Captain Eric Johansson. "This will strengthen the industrial maritime economy of New York, combat roadway congestion, and improve air quality. The Hunts Point peninsula businesses will benefit greatly by having a new transportation option on their doorstep."

The RFP is part of the City's Freight NYC action plan. Released last summer, the plan seeks to create nearly 5,000 jobs by strengthening the City's freight distribution system, reduce New York City's over-reliance trucking, and invest in more environmentally friendly modes of transportation like rail and maritime. Aside from reducing truck traffic, moving goods by water is significantly more energy efficient. One ton of freight can be moved over 500 miles on one gallon of fuel by water, whereas trucks can only move that some ton of freight roughly 60 miles on one gallon of fuel.

With freight volumes forecast to increase by nearly 70% by 2045, and subsequent added roadway congestion due to trucks, moving goods by water has become essential. In 2017 alone, truck congestion and delays cost New York City $862 million in lost economic activity.
About NYCEDC
New York City Economic Development Corporation creates shared prosperity across New York City's five boroughs by strengthening neighborhoods and creating good jobs. NYCEDC works with and for communities to provide them with the resources they need to thrive, and we invest in projects that increase sustainability, support job growth, develop talent, and spark innovation to strengthen the City's competitive advantage. To learn more about our work and initiatives, please visit us on Facebook, Twitter, or Instagram.