Press Release
NYCEDC Seeks Operator to Assist with Building M/WBE Firms in Growing Waterfront and Offshore Wind Industries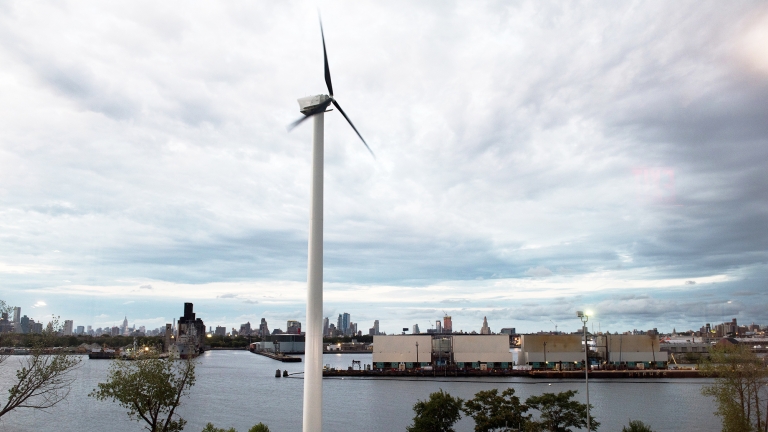 NEW YORK, NY—New York City Economic Development Corporation (NYCEDC) announced a Request for Proposals (RFP) from operators seeking to establish a program designed to assist minority-owned, women-owned, and disadvantaged business enterprises (MBE/WBE/DBE) with current and upcoming opportunities in New York City's waterfront construction, including offshore wind (OSW) infrastructure development. The proposed program will target M/W/DBEs based in New York City or New York State that are currently operating in or are seeking to pivot to these industries.
"Identifying an operator to assist M/W/DBE firms with gaining access to contracts in waterfront construction and offshore wind infrastructure development industries is key to our vision for making New York a renewable energy hub," said NYCEDC President and CEO Rachel Loeb. "By getting this important work into the hands of minority-, and women-owned contractors and disadvantaged businesses, we can help assure the equitable spread of good jobs across the five boroughs. We look forward to providing support and resources to these companies that will help ease the barriers to entry that they face."
"The work to fight the climate crisis—the defining challenge of the years to come—is one that requires all of us coming together and doing our part," said Congressman Nadler. "New York should and will lead the way in this endeavor, but we can only do so if make it easier for all members of our community to contribute. I'm thrilled by the NYC EDC's efforts to ensure that women-owned, minority-owned, and disadvantaged business enterprises can access the green contracts and jobs of the future. Our economy, our environment, and our city will all be better for it."
"I applaud the efforts of NYCEDC to sustainably develop our waterfront with a focus on equity for minority and women owned businesses," said Council Member Paul Vallone. "This RFP will jump start the city's transition to renewable energy and ecologically responsible shorefront development while creating new spaces for investment and opportunity for those enterprises most in need of access."
"This RFP, which will support M/WBE participation in the City's renewable energy hub, exemplifies this Administration's historic focus on advancing diversity across industries and sectors" said Magalie D. Austin, Senior Advisor to Mayor and Director of the Mayor's Office of M/WBEs. "I applaud EDC's efforts to build the capacity of M/WBE's in this most important sector which will undoubtedly transform our City while supporting the growth of our local communities."
Through this program, NYCEDC will provide educational and networking opportunities, and resources to support these businesses.
This support will include:
Facilitating networking opportunities and in-depth relationships among emerging and established firms to identify potential partnerships between those firms and original equipment manufacturers or developers in the industry.
A cohort-based curriculum for M/W/DBE firms on a range of topics including insurance, bonding, bidding, project management, contract administration, financial literacy, marine equipment, union labor and hiring, and more.
NYCEDC and the operator will provide one-on-one management consultations to assist firms with accelerating growth and/or entry into the offshore wind and waterfront markets.
New York City is positioned to become an offshore wind business development hub in the Northeast and Mid-Atlantic regions. Across the country, states have established targets to procure a total of over 29 gigawatts of OSW by 2035. The northeast region accounts for 23 GW of that total, with the New York State target at 9 GW. New York City is positioned to seize upon this activity with advantages including:
A central location on the East Coast, within 250 miles of the overwhelming majority of planned wind farm developments
A robust pipeline of local offshore procurements, including a planned 9 GW of OSW in New York State
A ready, willing, and able workforce to connect to OSW careers
A thriving R&D and entrepreneurial ecosystem that can help create new solutions for the OSW industry
Responses to this RFP are due no later than August 5, 2021, at 4:00 PM. For more information on how to download the RFP, visit edc.nyc/rfps.
About NYCEDC
New York City Economic Development Corporation is a mission-driven, non-profit organization that creates shared prosperity across New York City by strengthening neighborhoods and growing good jobs. NYCEDC works with and for communities to provide them with the resources they need to thrive, and invests in projects that increase sustainability, support job growth, develop talent, and spark innovation to strengthen the City's competitive advantage. To learn more about our work and initiatives, please visit us on Facebook, Twitter, or Instagram.