Press Release
NYCEDC Releases Against All Odds: Transforming 42nd Street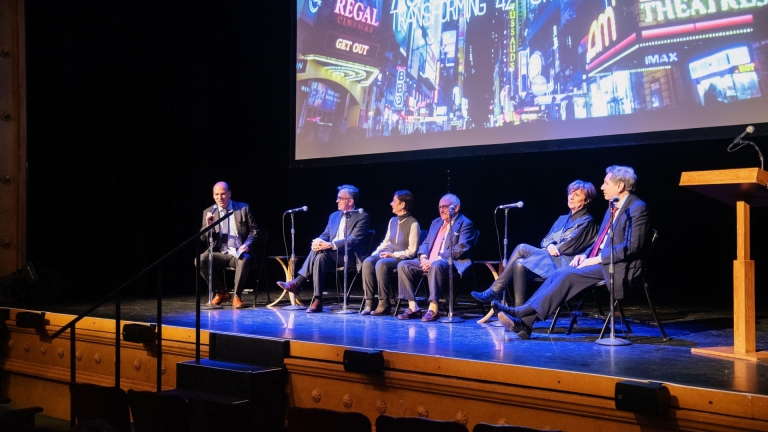 30-Minute Documentary Highlights the Redevelopment and Revitalization of 42nd Street Into a World-Class Entertainment District

Film Will Premiere Tonight on NYC Life (Ch.25) at 10pm
NEW YORK, NY—New York City Economic Development Corporation (NYCEDC) released Against All Odds: Transforming 42nd Street. The 30-minute documentary film chronicles the revitalization of 42nd Street in Times Square, one of the most successful economic development projects in the City's history. The release of the film comes as redevelopment of the historic Times Square Theater kicks off, the last to be developed after almost 30 years of inactivity.

"The revitalization of 42nd Street is one of the most powerful economic development projects New York City has carried out to date," said NYCEDC President and CEO James Patchett. "We are proud to have produced a documentary that highlights this critically important chapter of the city's past. We thank our production partner Townhouse, and all of the pioneers who have worked tirelessly over the years to turn Times Square into the crossroads of the world it is today."

"The Mayor's Office of Media and Entertainment is thrilled to give this terrific documentary its world television premiere," said Mayor's Office of Media and Entertainment Commissioner Julie Menin. "We congratulate the filmmakers and thank all the architects, city planners, and developers who have worked so diligently for decades to truly transform 42nd Street into one of the most iconic streets in the world."

"In a city that is under constant change it's easy to forget a neighborhood's past reputation. Growing up my parents avoided 42nd Street and now as an adult I take my nephews to see Aladdin," said Jesus Sepulveda, Editor, Townhouse. "What the city and the state have done on 42nd Street was a massive cultural and financial undertaking. I'm honored to have been able to work on this project and tell a part of this city's history."

The film, produced by New York-based production agency, Townhouse, includes interviews with project leaders, real estate developers, architects, law enforcement officials, and historic preservationists such as Carl Weisbrod (former president of the 42nd Street Development Project, first NYCEDC president of NYCEDC, and former DCP Commissioner), Rebecca Robertson (former president of the 42nd Street Development Project, currently president of Park Avenue Armory), William Daly (former head of Office of Midtown Enforcement). In partnership with the Mayor's Office of Media and Entertainment, the documentary will air tonight at 10pm on NYC Life (Channel 25 on most NYC cable providers). The film will also be available online starting on Monday, December 17.

In the 1980s, the City, still stemming from a crippling economic collapse, partnered with the Empire State Development Corporation to spur economic development and eradicate blight in Manhattan's core. The 42nd Street Development Project (42DP), preserved 10 historic theatres, all located on 42nd street between 7th and 8th Avenues, making it one of the largest economic development projects between the City, State and private partners. Over the years, Times Square has drastically transformed from an area with a storied past to become one of the world's premier entertainment districts for residents and tourists from all corners of the world, with over 50 million visitors annually.

In 1990, the City and State formed The New 42nd Street, a non-profit organization that oversees the redevelopment of the historic theaters. The collaboration between the public and private sectors were arranged through the State's General Project Plan, which included a master plan with specific design, operating uses and signage guidelines. The historic Times Square Theater is the last parcel under that plan to be redeveloped. NYC-based Stillman Development International, a veteran real estate and construction firm known for iconic projects and Daishin Securities, will invest over $100 million to convert the theater into a 52,000 square-foot retail and entertainment center that will feature an outdoor viewing space. The project is expected to be complete by 2020 and generate over 100 good-paying jobs. Since 2011, NYCEDC has become the sole manager of over 13 acres and 15 ground leases to all of the properties included in the 42DP, which are home to over 22,000 jobs.

"Everyone at The New 42nd Street is delighted that the last of 42nd Street's historic theaters has an exciting, forward-thinking tenant, Stillman Development International, who appreciates the Theater's and the block's unique character," says Cora Cahan, President of The New 42nd Street. "Together with NYCEDC, our aim has always been to marry the past and the future to create a diversity of uses on 42nd Street that serve New Yorkers as well as visitors from around the globe. Stillman's vision to celebrate the great historic elements of the Times Square, as realized by Beyer Blinder Belle, is a bold reinvention of the Theater."

"We have an enormous responsibility to reinvent an architectural masterpiece and return it to its splendor," said Roy Stillman, president of Stillman Development International. "We take great pride in working alongside a myriad of talented professionals to achieve our vision to make the Times Square Theater a vibrant destination. We have assembled an incredible team of artisans and are honored to be a part of the renaissance of the 42nd Street corridor."

"As one of the most iconic districts known throughout the world, nothing says New York like Times Square. Likewise, nothing says Times Square, like Broadway," said Council Member Vallone, Chair of the Committee on Economic Development. "This massive investment in the Times Square Theater will not only create jobs and drive further revenue, it will also ensure that Times Square will remain a modern icon for decades to come."
About NYCEDC
New York City Economic Development Corporation creates shared prosperity across New York City's five boroughs by strengthening neighborhoods and creating good jobs. NYCEDC works with and for communities to provide them with the resources they need to thrive, and we invest in projects that increase sustainability, support job growth, develop talent, and spark innovation to strengthen the City's competitive advantage. To learn more about our work and initiatives, please visit us on Facebook, Twitter, or Instagram.