Press Release
NYCEDC Names Members of Two Key Life Sciences Advisory Groups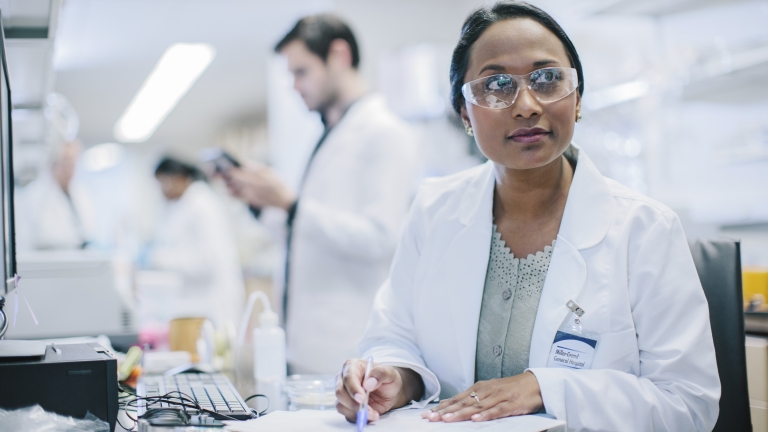 NEW YORK, NY—New York City Economic Development Corporation (NYCEDC) announced the members of its expanded Life Sciences Advisory Council and newly created Real Estate Life Sciences Advisory Board under Mayor Adams. Both panels will be made up of industry-leading experts who will help guide the city's continued exponential growth of life sciences, as supported by LifeSci NYC, a $1 billion, 10-year initiative. Under Mayor Adams the initiative will be focused on new types of investments that will magnify New York City's impact on the global life sciences community, bring more life sciences businesses to New York City, and ensure that New York City's growth benefits local New Yorkers.
"I'm thrilled to see NYCEDC continue to add experts from across the life sciences industry to the Life Sciences Advisory Council," said Deputy Mayor for Economic and Workforce Development Maria Torres-Springer. "And the creation of a new real estate-focused board will ensure that we continue to provide the industry with the infrastructure and flexible space that companies at every stage need to thrive. I look forward to working with both advisory groups to execute the mayor's vision for growing a life sciences industry that has at its core a focus on creating economic opportunity for thousands of New Yorkers to find careers in this rapidly growing field."
"We have an opportunity with world class universities, hospitals, and talent to drive groundbreaking research, discover lifesaving cures, and prepare for future pandemics. We see biotech diversifying our economy and creating jobs, and with the right experts at the table there is no stopping what our city can achieve," said NYCEDC President and CEO Andrew Kimball.
To deliver on the Mayor's new priorities for LifeSci NYC, NYCEDC has added new leaders with deep expertise and leadership in industry growth, venture, and talent development to the Life Sciences Advisory Council. Formed in 2017, the council will continue to offer key input, leadership, and strategic guidance on LifeSci NYC, which will create an estimated 40,000 good-paying jobs in the next 10 to15 years and establish New York City as a global leader in life sciences. The Life Sciences Advisory Council members come from academia, commercial R&D, finance, and philanthropy.
The new Real Estate Life Sciences Advisory Board will be made up of experienced developers, brokers, and investors. The board will offer guidance on how the City's real estate assets can best be used to foster and support continued growth of the life sciences sector with a focus on the mayor's bold plan to more than double lab space in Kips Bay and make it a central hub for the sector, as outlined in the mayor's State of the City address. With new life sciences projects led by NYCEDC across the City, the goal is to create a hub and spokes model with Kips Bay becoming an anchor location for scientists, students, startup founders, and executives to connect and innovate to create pathways for New Yorkers to participate in today's and tomorrow's economy, while growing the sector's spokes across the city.
Both groups will meet regularly over the course of the year and plan to have one joint meeting to discuss key policy and strategic areas of interest.
"Our Advisory Council works closely with the NYCEDC to cultivate a thriving life sciences industry in New York City. We believe that industry can create and commercialize novel drugs, diagnostics, and other products here that will be useful in the health sector nationally and globally, while also opening a diverse set of career paths accessible to the City's talent," said Dr. Harold Varmus, Co-Chair of the Mayor's Life Sciences Advisory Council. "Indeed, with strong support from the past and present Mayors, the NYCEDC, and the academic sector, New York's life science industry has come a long way recently, and it has built a strong public/private sector partnership with unlimited potential."
"The Life Sciences NYC Advisory Council brings together experts in science, business, and finance to provide insights into innovative ways to create and support a thriving life sciences ecosystem in the City," said Dr. Claire Pomeroy, Co-Chair of the Mayor's Life Sciences Advisory Council.  "The diverse and synergistic perspectives of the members position the Council well to help define approaches that will leverage the powerful assets of New York City, including leading research institutions, a well-trained science workforce and a legacy of entrepreneurial spirit, and to catalyze programs that both advance knowledge and provide economic stimulus for people across the five boroughs and around the world."
"To cultivate and maintain a dominant life sciences hub, New York City needs to create world-class environments that respond to the needs of life science companies throughout their life cycles," said Rob Speyer, Chair of the Mayor's Real Estate Life Sciences Advisory Board. "By bringing together the region's leading developers and operators of cutting-edge life science ecosystems, the Advisory Board is well-positioned to assist the City in crafting the tools and policies necessary to attract and retain a critical mass of life sciences companies and talent."
The Mayor's Life Sciences Advisory Council includes the following members:
Harold Varmus, MD, Lewis Thomas University Professor, Weill Cornell Medicine; Senior Associate Member, NY Genome Center
Claire Pomeroy, MD, MBA, President & CEO, Lasker Foundation
Mikael Dolsten, MD, PhD, CSO and President, Worldwide Research, Development and Medical, Pfizer Inc.
Tony Evnin, PhD
Linda P Fried, MD, MPH, Dean and DeLamar Professor, Mailman School of Public Health
Kevin Gardner, PhD, Director of Structural Biology Initiative, CUNY Advanced Science Research Center
Maria Gotsch, President and CEO, Partnership Fund for New York City
David Hirsh, PhD, Chairman, New York Structural Biology Center, Professor, Columbia University
Rick Lifton, MD, PhD, President, The Rockefeller University
Elizabeth McCombs, EVP and CTO, Becton, Dickinson and Company
Wayne J. Riley, MD, MPH, MBA, MACP, President, SUNY Downstate Health Sciences University & Chair, Board of Trustees, New York Academy of Medicine
Euan Robertson, COO, Simons Foundation
Carlo Rizzuto, PhD, Partner, Versant Ventures
Paul Sekhri, Founder and CEO, Lyv Advisors LLC
Susan L. Solomon, CEO and Founder, New York Stem Cell Foundation Research Institute
Mary Tanner, Senior Managing Director, Evolution Life Science Partners
Nancy Thornberry, Chair, R&D and founding CEO, Kallyope
R. Nolan Townsend, CEO, LEXEO Therapeutics
The Mayor's Real Estate Life Sciences Advisory Board includes the following members:
Rob Speyer, CEO, Tishman Speyer
Marty Burger, CEO, Silverstein Properties
Tommy Craig, Senior Managing Director, Hines
Robert Green, Chairman, Longfellow Real Estate Partners
Anthony Giuliano, General Manager, Life Sciences Construction, Lendlease
Paul Pariser, CEO, Taconic Partners
Thomas Ragno, Founder & Principal, King Street Properties
Ariel Aber, Managing Director & NY Regional Head, Investments, DivcoWest
James Flynn, Managing Partner, Deerfield Management
Steve Purpura, President, Beacon Life Science, Beacon Capital Partners
Tim Schoen, CEO, BioMed Realty
John Cahill, Senior Vice President, Jones Lang LaSalle
Bill Harvey, Director, Newmark
Mary Ann Tighe, CEO, New York Tri-State Region, CBRE
Amrit Chaudhuri, CEO, SmartLabs
Johannes Fruehauf, Founder & President, LabCentral; CEO, BioLabs; General Partner & Co-Founder, Mission BioCapital
Glennis Mehra, Director, BioLabs @ NYU
About LifeSci NYC
NYCEDC's LifeSci NYC initiative is focused on expanding commercial lab space, supporting company growth, and developing talent. Since 2016, LifeSci NYC has helped cement New York City's place on the map in life sciences. According to a recent report authored by Department of City Planning and NYCEDC, the City is part of a thriving tri-state region that created 150,000 jobs in the sector last year, resulting in about $23 billion in wages. The City has seen more than $2 billion in annual venture investment over the past two years and has unlocked three million square feet of new life sciences innovation space to date. In addition, over 500 students, a majority of whom are women and people of color, have received paid internships at top life science companies through the LifeSci NYC Internship Program with about 40 percent of internships extended or made into full-time jobs.
Successful public-private partnerships led by LifeSci NYC and guided by the Life Sciences Advisory Council have also spurred research, good companies and good jobs. In January of last year, LifeSci NYC allocated $29 million to infrastructure grants at three applied research and development facilities at Columbia University, Montefiore-Einstein, and the New York Stem Cell Foundation to bring together top researchers and entrepreneurs from around the world to work on new treatments for patients. Also last year, LifeSci NYC allocated $50 million to BioBAT, Inc., which offers research and manufacturing space to biotechnology and related companies in Brooklyn, fostering the growth of the life sciences industry and creating jobs. In 2019, LifeSci NYC helped provide Deerfield Management with cost-saving support for the redevelopment of The Cure, a 12-story innovation hub of premier life sciences lab space, which is now home to three incubator/accelerators and several companies looking to advance health care solutions, including therapeutics targeting cancer, Alzheimer's, and other diseases. And in 2017, LifeSci NYC invested $5 million to launch Biolabs@NYULangone, one of eight incubators now in the city, hosting approximately 35 start-up companies at a time.
To learn more, you can visit LifeSci.nyc.