Press Release
NYCEDC Launches Inaugural Cyber NYC Internship Program to Develop and Promote the Next Generation of Talent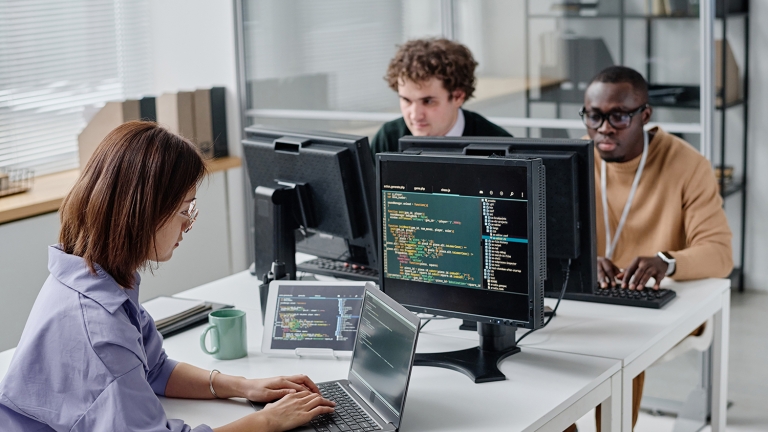 The Program will Build an Equitable Talent Pipeline for Rapidly Growing Tech Ecosystem
Interns will Receive the Experience and Resources Needed to Convert the Opportunity into Full-Time Positions in the Cybersecurity Industry
NEW YORK, NY—Today, applications open for the New York City Economic Development Corporation (NYCEDC) Cyber NYC Internship Program. The pilot program facilitates placements into paid internships for qualified candidates, building a talent pipeline for the industry and connecting diverse New Yorkers to one of the fastest growing sectors in tech. The initiative will provide hands-on training, networking, and real word experience to interns with the goal of converting the opportunity into full-time jobs.
Skilled and diverse talent is key to supporting the rapidly growing tech ecosystem in New York City. This internship will prepare New Yorkers from diverse backgrounds for good-paying jobs in the cybersecurity field and accelerate the growth in the industry as outlined in Mayor Eric Adams' Blueprint for Economic Recovery.
"As the administration's Blueprint for Economic Recovery made clear, the tech sector is a vital part of the city's economy and will play a prominent role in keeping New York City competitive and prosperous. We need to further catalyze high-growth sectors of the economy, like tech, and make sure that jobs in these sectors are accessible to all New Yorkers. I am thrilled that the Cyber NYC Internship Program will help accomplish both these goals and look forward to seeing what our first cohort of interns will accomplish," said Deputy Mayor for Economic and Workforce Development Maria Torres-Springer.
"Creating equitable career and employment pathways is essential to ensuring New York City's leading industries continue to flourish and grow. Through initiatives like the Cyber NYC Internship Program, the LifeSci NYC Internship Program, and the new state-of-the-art SPARC campus, we are building an equitable talent pipeline that meets the growing demand from key sectors," said NYCEDC President and CEO Andrew Kimball. "This innovative program will build the cyber workforce of the future by providing diverse candidates with the resources and training needed to seize the opportunities presented by this growing industry. NYCEDC is proud of its role in expanding equitable opportunity to diverse talent and looks forward to expanding its reach in the coming years."
"The NYCEDC Cyber NYC Internship Program will help some of New York's best and brightest minds gain the experience they need to excel in the cybersecurity industry," said U.S. Senator Kirsten Gillibrand. "Cybersecurity is a top priority for our national security, and it will take committed action in the public and private sectors to address the challenges we face. While I have worked to create pathways into federal government through the Cyber and Digital Service Academy scholarship program, the NYCEDC Cyber NYC Internship Program will be vital in recruiting and training diverse individuals who will be on the virtual frontline of protecting our state's infrastructure."
"The area of cybersecurity remains one of the fastest growing sectors in all of technology today," said Rep. Ritchie Torres (NY-15). "That's why it's imperative that we take meaningful action now to make sure we're preparing a new generation of skilled talent to meet the challenges of tomorrow in the ever-evolving cyber ecosystem. I applaud NYCEDC for establishing this internship initiative that will create opportunities for diverse participants across the city, preparing them for good-paying, full-time jobs, providing invaluable hands-on training and real-world experience, and establishing a talent pipeline for years to come."
"The Cyber NYC Internship Program is an exciting initiative that will create a pipeline for New Yorkers across all five boroughs to enter the rapidly growing cybersecurity industry. I applaud the NYCEDC and Mayor Eric Adams for their commitment to providing New Yorkers with good paying jobs of the future. New York has more talent than any other city and this program will help to exemplify why we need to continue to invest in our workforce. I look forward to working with NYCEDC and Mayor Adams to find more ways to bring increased employment opportunities to our students and diversify our emerging industries," said Council Member Amanda Farías.
In this inaugural program, participants will come from communities across the city and will develop technical expertise, soft skills and workplace experience, building a strong portfolio and professional foundation that will help them secure full-time employment. The program will also allow cybersecurity interns to think critically, creatively and collaborate with industry experts to further develop knowledge needed for success.
New York is uniquely positioned to meet the ever-changing challenges of cybersecurity, with a 60,000-person cybersecurity workforce, more than 300 dedicated cyber companies, and the most robust fundraising ecosystem in the world ranging from pre-seed to the public markets. The sector's growth is projected to continue, in large part because of the increasing complexity, frequency and cost of cyberattacks.
In 2018, NYCEDC launched Cyber NYC with a coalition of education and industry partners that aims to champion and catalyze the cyber ecosystem in New York and build the cyber workforce of the future. To ensure that the talent base is representative of the diversity of New York, NYCEDC helped to launch the Fullstack Academy Cybersecurity Bootcamp, one of the longest-running and most successful technology bootcamps in the nation, and the City College of New York (CCNY) Cybersecurity Master's Program, which offers an industry-informed curriculum that provides students with the practical skills required for professional success. Both programs work to address the urgent need for a more inclusive cyber workforce.
While 51 percent of the U.S. population is female, only 24 percent of the cybersecurity workforce is. Similarly, the overall U.S. population is 19 percent Hispanic, compared to four percent of the cyber workforce. There is significant room and an urgent need for a more inclusive cyber workforce in NYC, one that truly reflects the city's diversity.
The Cyber NYC Internship Program is primarily recruiting from Fullstack Academy Cybersecurity Bootcamp and the City College Cybersecurity Master's program. The program also welcomes all CUNY enrollees, enrollees from other universities, schools, bootcamp programs and academies, and other New York City residents interested in cybersecurity.
"City College is excited to again partner with the New York City Economic Development Corporation to promote the development of the cybersecurity ecosystem in the city. Linking students to industry internships in the cybersecurity field is invaluable for their professional growth and will forge important new links between industry and academia. This reflects City College's broader goal of having the Cybersecurity M.S. Program incorporate an industry-informed curriculum that combines a strong theoretical grounding with applied learning," said City College Cybersecurity M.S. Program Co-Director and Professor Tarek Saadawi.
"This initiative addresses two vital needs for New York City: Filling the massive cybersecurity talent gap across a variety of industries, and connecting the city's high potential, underserved populations with viable pathways into high-paying and rewarding jobs," said Huntly Mayo-Malasky, Vice President of Partnerships and Operations at Fullstack Academy. "NYCEDC's leadership in launching the Fullstack Academy Cybersecurity Bootcamp has been instrumental in helping to solve these challenges, and adding these internships will increase the positive impact on New Yorkers participating in the program."
NYCEDC is actively recruiting industry partners to help train the next generation of New York City's cybersecurity workforce. Cyber NYC will provide access to local, diverse talent, helping source participants for internships to provide extra support from those with fresh learnings and new ideas.
All interns will be paid at a rate determined by the partner company based on a number of factors including the internship role, level of experience, and partner company. NYCEDC is funding the recruitment and matchmaking efforts that aim to strength the cyber workforce.
Internships can be part-time or full-time positions, however, summer internships are generally full-time positions for 10-12 weeks, with dates and times also determined by mutual agreement between partner and intern. Participants must be New York City residents.
Applications are currently open for internships, with a deadline of March 31, 2023. Interns are placed on a rolling basis.
Firms interested in partnering with NYCEDC on this program can find more information here.
About NYCEDC  
New York City Economic Development Corporation is a mission-driven, nonprofit organization that creates shared prosperity across New York City by strengthening neighborhoods and creating good jobs. We work with and for communities to bring emerging industries to New York City; develop spaces and facilities for businesses; empower New Yorkers through training and skill-building; and invest in sustainable and innovative projects that make the city a great place to live and work. To learn more about what we do, visit us on Facebook, Twitter, LinkedIn, and Instagram.