Press Release
NYCEDC Launches Applications for International Innovators Initiative (IN2NYC)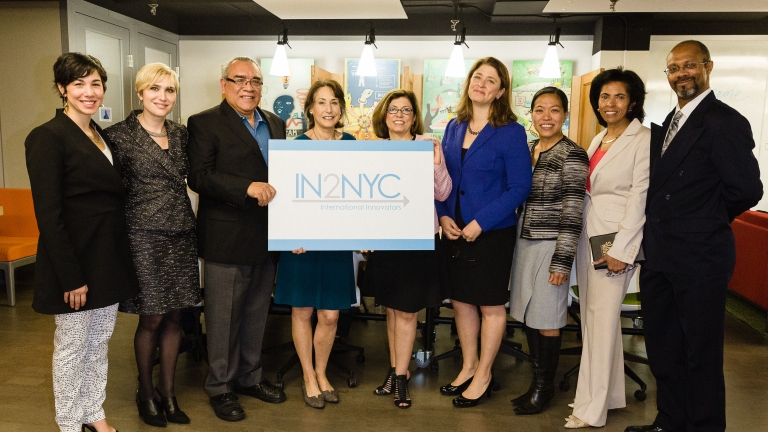 Program Will Support 80 International Entrepreneurs and Create More Than 700 New Jobs for New Yorkers in First Three Years
Applicants Can Apply Through the Program's Website at in2.nyc
Applications Will Be Reviewed on a Rolling Basis Until July 29 Application Deadline
NEW YORK, NY—New York City Economic Development Corporation (NYCEDC), in partnership with the City University of New York (CUNY), today announced the opening of applications for its International Innovators Initiative (IN2NYC), the first municipal program in the nation designed to help international entrepreneurs access visas so they can create jobs in the United States. IN2NYC will help up to 80 entrepreneurs gain access to the visas they need to grow their businesses in New York City and is projected to create more than 700 jobs for New Yorkers in its first three years. Applicants can apply for IN2NYC through the program's website at in2.nyc. Applications will be reviewed on a rolling basis until the program's July 29th deadline. A second round of applications will become available in late 2016.

Starting today, five out of the program's seven CUNY partner schools will immediately begin to accept applications. These schools include City College, LaGuardia Community College, Medgar Evers College, Queens College and the College of Staten Island. The two remaining CUNY partner schools, Baruch College and Lehman College, will begin accepting applications later this year. Entrepreneurs selected through a competitive process will be matched with one CUNY school to form a collaborative partnership that will enable entrepreneurs to qualify for cap-exempt H-1B visas. As part of these mutually-beneficial partnerships, entrepreneurs will have the opportunity to build their businesses in CUNY co-working spaces alongside other innovators, while also furthering the mission of their partner CUNY school by contributing to academic research, developing curricula, providing students with internship and employment opportunities or serving as mentors.
"IN2NYC is huge, not only for our universities and students, but for all New Yorkers," said Mayor Bill de Blasio. "By attracting world-class entrepreneurial talent and further enabling our students and workforce to compete on a world stage, we can ensure New York City remains a hotbed for the cutting-edge industries of a 21st century economy."

"We could not be more proud and enthusiastic about IN2NYC – the country's first city-run program to help international entrepreneurs access visas to create jobs in the United States. This exciting initiative will help New York City remain a magnet for the world's best and brightest innovators and, in turn, grow high quality jobs for New Yorkers," said Deputy Mayor for Housing and Economic Development Alicia Glen.

"This program is for all of us. It's for the international entrepreneurs who will grow their businesses in New York City; it's for the CUNY students who will work alongside of them; it's for the hundreds of New Yorkers who will find jobs at IN2NYC companies; it's for the vibrancy of our city, that will undoubtedly benefit from a more diverse and equitable economy," said NYCEDC President Maria Torres-Springer.

"For decades, CUNY has been an engine of innovation, training, equipping, and supporting many of the entrepreneurs who have made our city what it is today," said Manhattan Borough President Gale A. Brewer. "Through the IN2NYC initiative, CUNY will continue in its role of guiding entrepreneurs and supporting the growth of new businesses, driving job creation and economic growth in New York's rising tech and innovation sector."

"New York City is ready to support immigrant entrepreneurs with open arms. The International Innovators Initiative program that CUNY and NYCEDC have created is unique. IN2NYC will support immigrants who want to remain in New York and contribute to our economy. It will also foster employment that supports working families. I believe this program, once established, will prove so valuable here that it becomes a national model," said Council Member Carlos Menchaca, Chair of the Committee on Immigration.

"We need to find ways to attract the very best talent from around the world to participate in our local economy," said Council Member Dan Garodnick, Chair of the Committee on Economic Development. "This program will help us encourage entrepreneurs from around the world to grow their businesses and to create jobs right here in New York City."
Ann Kirschner, special advisor for strategic partnerships to CUNY Chancellor James B. Milliken, said: "New York has always been a beacon of opportunity for international entrepreneurs, and the IN2NYC program will make it shine even brighter. The International Innovators Initiative will make it easier for CUNY to expand our technology and entrepreneurship offerings and to create partnerships that involve our students in new and dynamic businesses. This is a great initiative for the city, CUNY and the talented community of international entrepreneurs."

"IN2NYC reinforces New York City's position as a global hub for innovation and a great place for international startups to come and grow," said Danny Kadishson, Director of Economic Development in the Mayor's Office for International Affairs. "By pairing these startups with CUNY campuses, we are connecting some of the world's most promising entrepreneurs with some of the world's brightest and most diverse communities – and thereby creating jobs for New Yorkers. All are welcome here, and we encourage entrepreneurs of all genders, races, nationalities, religions, and backgrounds, to apply to make New York City their startup's new home."

"It is great to see IN2NYC come to fruition," said Assistant Commissioner Kavita Pawria-Sanchez of the Mayor's Office of Immigrant Affairs. "This program underscores how immigrants are integral to the economic, social, and cultural life of our City. We look forward to seeing the impact of this initiative, as it will allow immigrant entrepreneurs to have opportunities to build their businesses."

David Teten, Partner at ff Venture Capital, said, "ff Venture Capital has invested in almost a dozen companies from Canada, Israel, the UK, and the Netherlands, not to mention that many of our US companies were founded by immigrants. We are excited that our local government is taking responsibility to make it easier for brilliant people born elsewhere to build great companies here and meaningfully contribute to the economy."

"Immigrants founded two of New York State's largest companies, Pfizer and Verizon," notes attorney Peter F. Asaad, the founder and managing attorney of Immigration Solutions Group PLLC, which partnered with NYCEDC to develop the IN2NYC program. "IN2NYC builds on that momentum by creating innovation ecosystems through collaboration between international entrepreneurs and local colleges. International entrepreneurs who were looking for a way to relocate and succeed in New York now have it. I believe we will see the next Elon Musk or Sergey Brin in New York City through this program."
"As a Fwd.us innovation board member I am thrilled and grateful to support the IN2NYC program. New York City is the best place in the world to found a startup and any program that makes it easier for the best and brightest minds from around the world to build their companies in our city. I look forward to working with and investing in the amazing entrepreneurs this program is sure to attract," said Aaron C. Cohen, Venture Director, Fueled.
IN2NYC is designed for international entrepreneurs who have started a business overseas and would like to relocate or expand their business to the United States. International students graduating from U.S. universities who have started their own businesses are also eligible to apply. All applicants must have an established business offering a product and/or service suitable for the NYC market at time of application.

Our current federal immigration system makes it difficult for many foreign-born entrepreneurs to start or grow businesses in the United States. Meanwhile, countries like Canada and the United Kingdom have created "founder visa" programs that encourage entrepreneurs to locate companies within their borders, threatening to deprive the United States - and New York City - of the jobs of the future.

The H-1B visa can provide a pathway for foreign entrepreneurs seeking to work in the United States. However, entrepreneurs working to grow their own businesses are faced with the challenge of demonstrating eligibility for an H-1B visa, as H-1B visas require individuals to be part of an employer-employee relationship.
Moreover, recipients of H-1B visas are chosen based on a random selection or lottery system that occurs only once a year and awards merely 65,000 to 85,000 H-1B visas annually, a number that represents approximately a quarter of the applications received. The New York City metro area alone has contributed more than 50,000 applications in recent years, the highest demand for H-1B visas in the nation.

IN2NYC will allow international entrepreneurs to overcome these challenges in two key ways:
By providing entrepreneurs with the support to form an independent board of directors, which establishes an employer-employee relationship between the company and the entrepreneur, enabling the company through its board to sponsor an H-1B petition on behalf of the entrepreneur.
By partnering entrepreneurs with CUNY schools, which enables entrepreneurs to provide direct contributions to the United States through their work on behalf of institutions of higher education and qualify for an exemption to the H-1B cap, allowing entrepreneurs to apply for a cap-exempt H-1B visa at any time during the year.
IN2NYC demonstrates a model that can be scaled and expanded at both public and private schools throughout New York City, with the potential to ultimately contribute thousands of jobs to the city's innovation economy. The program advances the de Blasio administration's goals of encouraging entrepreneurship and supporting international partnerships to build a diverse and inclusive economy for New Yorkers in every borough.
About NYCEDC
New York City Economic Development Corporation creates shared prosperity across New York City's five boroughs by strengthening neighborhoods and creating good jobs. NYCEDC works with and for communities to provide them with the resources they need to thrive, and we invest in projects that increase sustainability, support job growth, develop talent, and spark innovation to strengthen the City's competitive advantage. To learn more about our work and initiatives, please visit us on Facebook, Twitter, or Instagram.