Press Release
NYCEDC Expands Founder Fellowship Program to Support 100 Underrepresented Entrepreneurs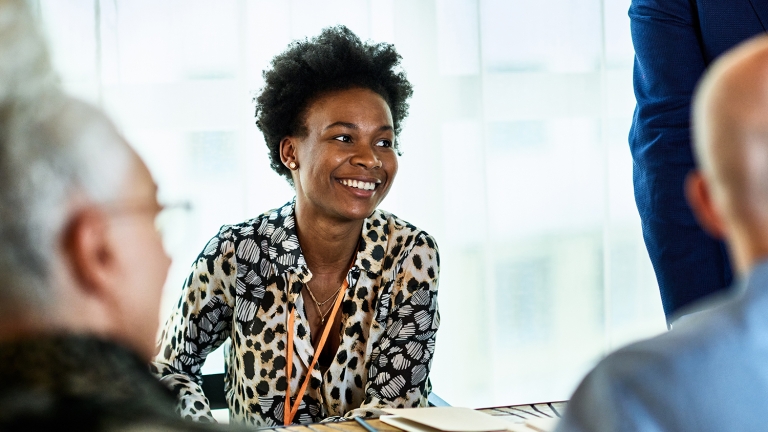 Applications Are Now Open for The Second Installment of the Founder Fellowship, a Program that Supports Diverse Tech Entrepreneurs to Grow and Raise VC Investments
Program Expands Thanks to $1.5 Million Investment from Mayor Eric Adams' Economic Blueprint for Economic Recovery
NEW YORK, NY—New York City Economic Development Corporation (NYCEDC) today announced the second installment of the Venture Access NYC Founder Fellowship. The Founder Fellowship supports a diverse community of tech entrepreneurs across industries and sectors by providing them with access to networking, fundraising, mentorship, business development, and other opportunities necessary to build and scale their enterprises in New York City. Applications are currently open and will close on December 16th, 2022.
Through Mayor Eric Adams' Blueprint for Economic Recovery and a $1.5 million investment from the City of New York, NYCEDC is scaling the Founder Fellowship in 2023 to serve additional tech entrepreneurs in NYC. The expansion of the program comes after the success of the pilot Founder Fellowship cohort that launched in February 2022 in partnership with Newlab. The pilot currently supports eight founder teams working on urban-tech solutions.
"Initiatives like the Founder Fellowship are a prime example of how New York City is leading the effort in building a more inclusive and diverse tech industry," said Deputy Mayor for Economic and Workforce Development Maria Torres-Springer. "Building on its pilot successes, the program's expansion will ensure that underrepresented founders receive the resources they need to overcome systemic barriers, achieve their potential, and build stronger products, services, and platforms to serve all New Yorkers."
"The Founder Fellowship program ensures that all New Yorkers are able to seize the opportunities presented by tech and build towards a more vibrant and inclusive future for the city," said NYCEDCPresident and CEO Andrew Kimball. "New York City continues to remain the global epicenter of innovation and we are thrilled to build off the success of last year's program and expand to more entrepreneurs. We look forward to working with our partners to review a diverse pool of applicants from all communities and backgrounds."
"Supporting entrepreneurs across the City is how we make sure our local economies recover at the same rate as the City. As the Chair of the Committee on Economic Development, I have been laser focused on recovery and this is a fantastic initiative that has given and continues to give community-forward entrepreneurs the resources to create innovative ideas and solutions," said Council Member Amanda Farías. "Thank you again to NYCEDC and congratulations to all the new fellows and cohort partners. I look forward to working together to ensure we continue to bolster our emerging tech industry."
The Founder Fellowship is part of NYCEDC's Venture Access NYC initiative to bring together investors, tech entrepreneurs, and industry leaders to build a more inclusive tech startup ecosystem in New York City.
NYCEDC selected the following operator partners to host five unique Founder Fellowship cohorts in 2023 with a goal of serving approximately 100 diverse tech founder teams.
Chloe Capital, a seed-stage venture firm that invests in women-led innovation companies.
Company Ventures, a seed-stage venture firm that offers a zero-equity pre-accelerator for underrepresented founders.
Newlab, a community of experts and innovators applying transformative technology to solve the world's biggest challenges.
Tech Incubator at Queens College, a startup incubator where underserved and underrepresented entrepreneurs can thrive.
Visible Hands, a platform that holistically supports early-stage, underrepresented founders in building high-growth startups.
Each operator will provide unique value and offerings to their respective Founder Fellowship cohorts. All Fellow teams will receive individualized work plans to identify key needs and interests; cohort convenings to discuss challenges and receive business administration support; connections to capital providers and potential collaborators; and access to mentors and advisor networks. 
"Chloe Capital is committed to the thesis that unless we are intentional about providing access to capital and support to companies led by underrepresented founders, the gender and diversity gap in entrepreneurship will continue to widen," said Elisa Miller-Out, Managing Partner at Chloe Capital. "When we saw NYCEDC's call for Founder Fellowship accelerator operators, we jumped at a chance to be a part of this incredible initiative. Chloe Capital's Founder Fellowship will bring together a talented and diverse cohort focused on solutions in Climate, Education, and Health. We look forward to working with the city on the monumental effort to make New York City's economic recovery as innovative and inclusive as possible."
"We are excited to be part of the Founder Fellowship program and support extraordinary entrepreneurs as they build their companies," said Lindsay Siegel, Head of Impact at Company Ventures. "Company Ventures has a long history of partnering with NYCEDC to align the tech ecosystem with the City's priorities. This effort to support underrepresented founders is critical to New York City's commitment to building a more equitable future and a more resilient tech economy."
"Solving the complex, interdependent challenges we face today will require entrepreneurs from all backgrounds who can bring diverse perspectives to bear," said Liz Keen, Chief Business Officer at Newlab. "We are excited to be building on the success of last year's programs with NYCEDC and Bank of America, combining the initiatives into a single, more ambitious Founder Fellowship program. Thanks to our longstanding partnership with NYCEDC and Bank of America's scaled up commitment, we will be able to dedicate even more resources to advancing our shared mission of increasing diversity and inclusion across the early-stage ecosystem of New York, supporting 28 founder teams through November 2023."
"The Tech Incubator at Queens College is honored to collaborate with NYCEDC to support entrepreneurs in New York City who are starting tech-related or tech-enabled businesses. We will be able to deliver much-needed resources for historically marginalized and underrepresented founders to grow and thrive thanks to NYCEDC's broad connections and NYC's tech ecosystem," said Ying Zhou, Executive Director of the Tech Incubator at Queens College.
"We're thrilled to partner with NYCEDC to support overlooked founders across the city in growing their businesses," said Nashaira Ofori, VP of Product at Visible Hands. "At VH, we see a sizable number of applicants coming from the NY tech ecosystem. We know that partnerships like this one that provide funding, resources, and programming can be game-changing and we're excited to help these founders change the face of entrepreneurship."
Program alumni will receive year-long free WeWork All Access memberships. Selected Fellow teams will also receive free or low-cost tools and resources from startup ecosystem partners, including transactional legal support from the Lex Mundi Pro Bono Foundation.
"Being in the Founder Fellowship at Newlab has been a great opportunity to connect with amazing public sector leaders within NYCEDC as well as Mayor Eric Adams and Deputy Mayor Maria Torres Springer," said Atif Qadir, founder of REDIST, a current Founder Fellow in the pilot cohort. "These conversations have helped us move our product forward. The association with NYCEDC has also helped us further establish ourselves in our space of financing for social impact real estate in the eyes of our customers and in the eyes of investors as we closed our $1.9 million seed round."
New York City is ranked as the number two global tech ecosystem and is home to over 25,000 tech enabled startups. The tech ecosystem employs over 300,000 people, having grown by over 30% in the last decade. However, nationally, startups led solely by women founders received about two percent of venture funding in 2021, while startups led by Black and Latinx founders generally receive less than three percent of total funding raised. To address this challenge, NYCEDC designed the Founder Fellowship to ensure entrepreneurs traditionally underrepresented among venture-backed startups can successfully build and grow their enterprises in NYC. 
Applications are now open through December 16, 2022. An info session will be held on November 30, 2022. Learn more about the Fellowship and apply here.
About NYCEDC
New York City Economic Development Corporation is a mission-driven, nonprofit organization that creates shared prosperity across New York City by strengthening neighborhoods and creating good jobs. We work with and for communities to bring emerging industries to New York City; develop spaces and facilities for businesses; empower New Yorkers through training and skill-building; and invest in sustainable and innovative projects that make the city a great place to live and work. To learn more about what we do, visit us on Facebook, Twitter, LinkedIn, and Instagram.