Press Release
Ahead of 1 Year Anniversary of Mayor Adams Unveiling of Willets Point Transformation, NYCEDC and Development Partners Begins Uniform Land Use Review Procedure (ULURP) for Phase 2 Development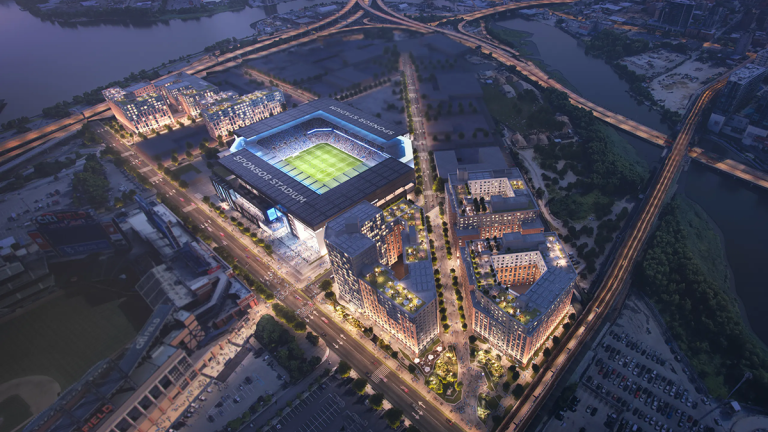 New Neighborhood to be Built on 23-acres of Land that Will Include Largest All-Affordable Housing Project in a Generation, New Public School, 40,000 Square Feet of New Public Open Space and the City's First Soccer-Specific Stadium
Willets Point Transformation Will Add Over $6 Billion to City's Economy and Create 16,000 Jobs with Priority and Training for Local Residents
NEW YORK, NY—New York City Economic Development Corporation (NYCEDC) announced today the beginning of the Uniform Land Use Review Process "ULURP" for the Willets Point Phase 2 development that was announced last fall by Mayor Adams. The next phase of development will bring 1,400 units of 100% affordable housing, a new public school, 40,000 square feet of new public open space, retail space, a 250-key hotel and the City's first soccer-specific stadium that will be privately financed.
"Today, we take a major step closer to creating 2,500 affordable homes — New York City's largest fully affordable housing project in decades — while simultaneously creating 16,000 good-paying jobs to provide a true pathway to the middle class, right in the heart of Queens," said New York City Mayor Eric Adams. "With this plan, our administration is seizing a once-in-a-generation opportunity to create a brand-new neighborhood — a Willets Point that offers opportunity for working people and all New Yorkers. As we begin the land use review process, we look forward to building on our extensive engagement by continuing conversations with community members and building a true 'City of Yes.'"
 "The Willets Point Transformation is a once-in-a-generation opportunity to finally deliver on a promise that has been in decades of discussion. Our administration's dedicated efforts to deliver 2,500 affordable homes, a world-class soccer stadium, open space, and local retail to Willets Point reaches another milestone today as the Phase 2 begins the ULURP process." said Deputy Mayor for Economic and Workforce Development Maria Torres-Springer. "We are excited to work with the community, Borough President, local councilmember, and development partners through the city's public review process." 
"NYCEDC is excited to begin the ULURP process for the transformational Willets Point development and looks forward to working alongside our development partners, Council Member Francisco Moya, Queens Community Board 7, and Queens Borough President Donovan Richards throughout this review process," said NYCEDC President & CEO Andrew Kimball. "We've made substantial progress in the environmental remediation and generational investments in infrastructure that will serve Willets Point and all of Queens and are looking forward to breaking ground on the first phase of 2,500 units of affordable housing before the end of the year – one year ahead of schedule."
The first 1,100 units of housing of the total 2,500 units within the Willets Point Transformation, has already completed the ULURP process and is expected to break ground by the end of 2023.
The Willets Point Transformation is a generational project that will bring significant long-term economic opportunity to a community that has long been underserved. The project is expected to generate $6.1 billion in economic impact over the next 30 years, creating 1,550 permanent jobs and 14,200 construction jobs. Phase 2 will deliver 1,400 of the 2,500 total affordable homes as well as a new 650-seat standalone public school, new public open space, and significant infrastructure investment. The City and development partner QDG have undertaken significant remediation of the formerly contaminated soil on the Willets Point site, allowing construction of the first affordable homes to begin in 2023, one year ahead of the original timeline.
With the creation of a new soccer stadium, Willets Point will become the city's premier sports hub, with the New York Mets' Citi Field and U.S. Tennis Association Billie Jean King National Tennis Center both also within walking distance of the MTA's Mets-Willets Point subway and LIRR station.
"We are one step closer to finalizing a project that has it all. This is a once-in-a-generation project that prioritizes housing in a city that is currently facing a severe housing crisis. It's not just about providing homes but also about creating stable job opportunities, helping alleviate the burden of our neighboring schools which are overcapacity, enhancing open spaces, and establishing a state-of-the-art privately funded soccer stadium, which will act as the economic engine driving this entire vision. I eagerly anticipate continued collaboration with Mayor Eric Adams, development partners, Community Board 7 and all other stakeholders, as well as our dedicated community leaders and members, whose support is essential for a project that simply makes sense." said Council Member Francisco Moya.
"We are excited to see (15) years of everyone's hard work come to fruition. A vibrant new community of 2,500 affordable housing units with a new elementary school, a soccer stadium and a hotel will rise from the remediated ashes of the former Willets Point junkyards. In addition, we look for the City's support to increase public safety in Community Board 7 Queens." Chuck Apelian - Vice Chairman Community Board 7 Queens.
"The potential at Willets Point cannot be overstated, and I'm looking forward to continuing to work with all our partners to ensure this transcendent project delivers for everyone involved and everyone it will touch in the future," said Queens Borough President Donovan Richards Jr. "As this project continues through the land use process, we must all be steadfast in scoring goals not just for those who will eventually call Willets Point home, but also for the surrounding immigrant-heavy communities of Corona and Flushing through capitalizing on local economic development and empowerment opportunities that this effort will generate."
"This is another important step for a transformational project that will bring the most significant development of affordable housing to New York City in decades," said Jeff Blau, CEO, Related Companies; and Jeff Wilpon, representing Sterling Equities. "Under Mayor Adams leadership, and together with our partners at NYCFC and NYCEDC, we're committed to creating the model neighborhood at Willets Point featuring thousands of units of affordable housing and the world's game in the world's borough."
"For ten years, NYCFC proudly invested in our great City with a focus on soccer and community. Today marks the continuation of the conversation with the community and elected officials to approve our building a privately-funded soccer stadium with 100% union labor alongside our development partner QDG, who will anchor this new community by delivering 2,5000 units of 100 percent affordable housing," said NYCFC Vice Chairman, Marty Edelman. "Queens and New York City need and deserve this transformational new community in Willets Point. We promised our growing fan base we would build their home in the five boroughs, and with their continued enthusiastic support, we continue our journey to have that home as part of this unprecedented new housing community."
"Phase 2 of the Willets Point development will be crucial in moving forward plans to build New York's soccer teams and fans a world-class stadium, all while creating family-sustaining union careers through project labor agreements that will support economic growth in the surrounding community," said Gary LaBarbera, President of the Building and Construction Trades Council of Greater New York. "It is encouraging to see that crucial steps are being taken to get this initiative off the ground. Our city's hard-working tradesmen and tradeswomen look forward to skillfully and efficiently driving this project forward, all while pursuing an accessible path to the middle class."
"The revitalization of Willets Point represents an incredible opportunity for Queens and our entire city," said Tom Grech, President and CEO of the Queens Chamber of Commerce. "This project will bring much-needed affordable housing, retail space, park space, a state-of -the-art soccer stadium, along with a school and a hotel. We applaud Mayor Adams and everyone at NYCEDC for their commitment to this important project that will create jobs and catalyze economic activity that supports local businesses."
The New York City Charter requires certain actions that are reviewed by the City Planning Commission to undergo a Uniform Land Use Review Procedure (ULURP). ULURP is a standardized procedure whereby applications affecting the land use of the city are publicly reviewed. The Charter also mandates time frames within which application review must take place. Key participants in the ULURP process are the Department of City Planning (DCP) and the City Planning Commission, Community Boards, the Borough Presidents, the Borough Boards, the City Council and the Mayor.
About NYCEDC  
New York City Economic Development Corporation is a mission-driven, nonprofit organization that works for a vibrant, inclusive, and globally competitive economy for all New Yorkers. We take a comprehensive approach, through four main strategies: strengthen confidence in NYC as a great place to do business; grow innovative sectors with a focus on equity; build neighborhoods as places to live, learn, work, and play; and deliver sustainable infrastructure for communities and the city's future economy. To learn more about what we do, visit us on Facebook, Twitter, LinkedIn, and Instagram.